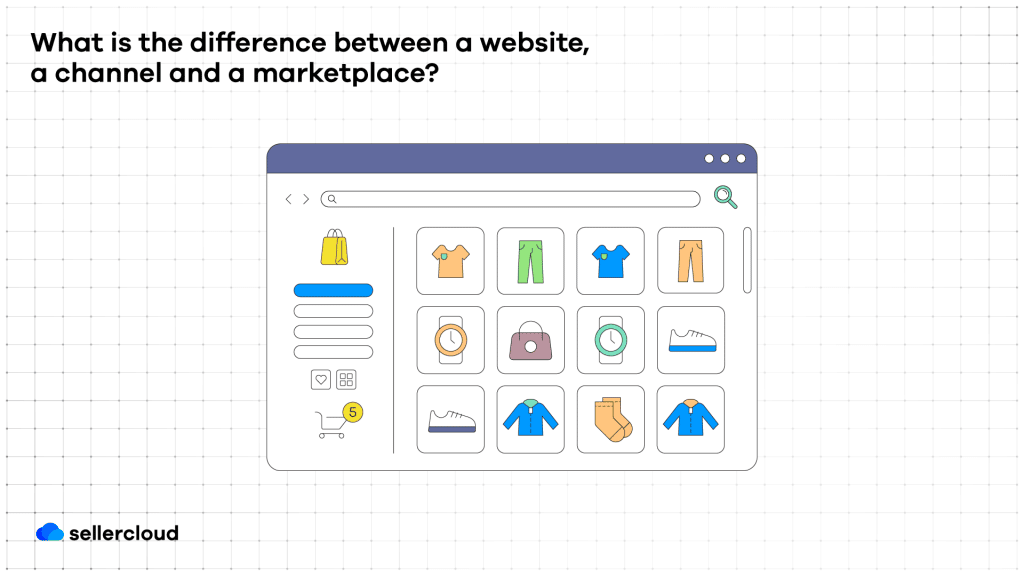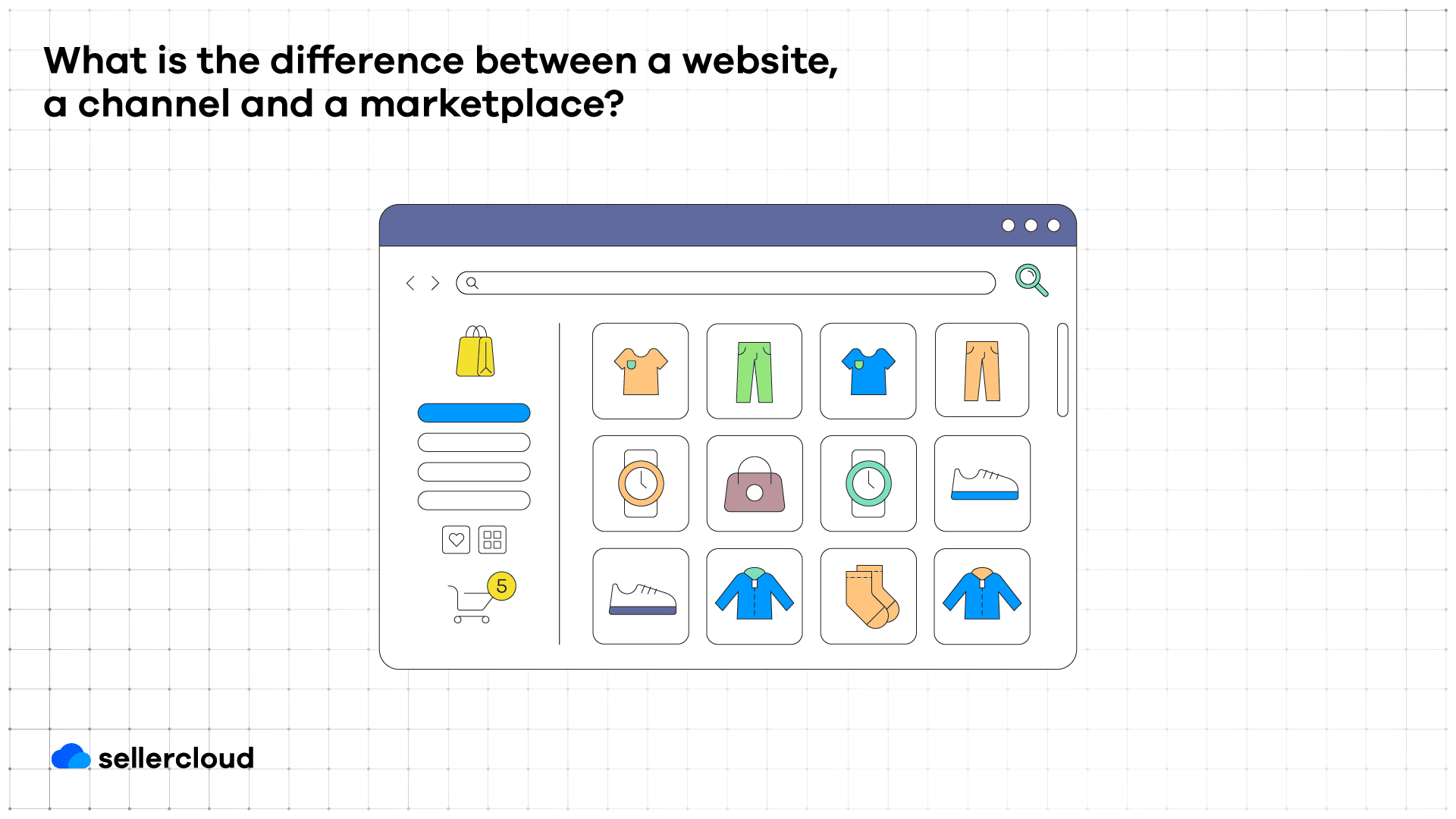 E-commerce is a profitable and dynamic way to grow a retail business. That said, e-commerce can take on a number of different forms depending on what, where, and how a business chooses to market and sell their products.
The direct approach involves a business creating and maintaining a first-party e-commerce website where products are listed and sold directly to customers. This comes with notable amounts of upkeep and responsibility, but it can pay off big for businesses looking to maintain control over every aspect of their marketing and sales.
Alternatively, some businesses opt to list products on third-party e-commerce marketplaces. These shopping destinations, including popular sites like Amazon, Ebay, Walmart Marketplace, and Etsy, are established landing pages for customers looking to buy online. They are also rife with competitors and compliance expectations for sellers.
For many businesses, it isn't an either/or situation. Many choose to adopt hybrid, multichannel approaches leveraging a combination of first- and third-party sales opportunities.
As with all things e-commerce, there is no one-size-fits-all answer to which approach is ideal for your business. To truly know what is best for your online sales, you need to understand and assess the differences between marketplace-based e-commerce and first-party website sales. From there, you must also consider what fulfillment support, if any, is required to ensure you can deliver for your customers.
What is an E-commerce Marketplace?
An e-commerce marketplace is a centralized online shopping hub where a variety of brands and sellers create their own digital stores to sell products to customers. While each of these marketplaces has its own approach to online sales, they all share many of the same operating principles.
Customers visit the websites of these online marketplaces and search or browse for items and products. The marketplaces use their own data and algorithms to surface relevant listings and product categories. The customer is then free to comparison shop across the stores of multiple sellers.
When a purchase is made, the marketplace serves as the middleman—accepting the customer's payment and passing the order details along to the corresponding store owner for fulfillment. In exchange for facilitating the sale, the marketplace charges a fee of some type. These fees commonly include a commission based on the sale price, a listing fee, and/or a subscription fee.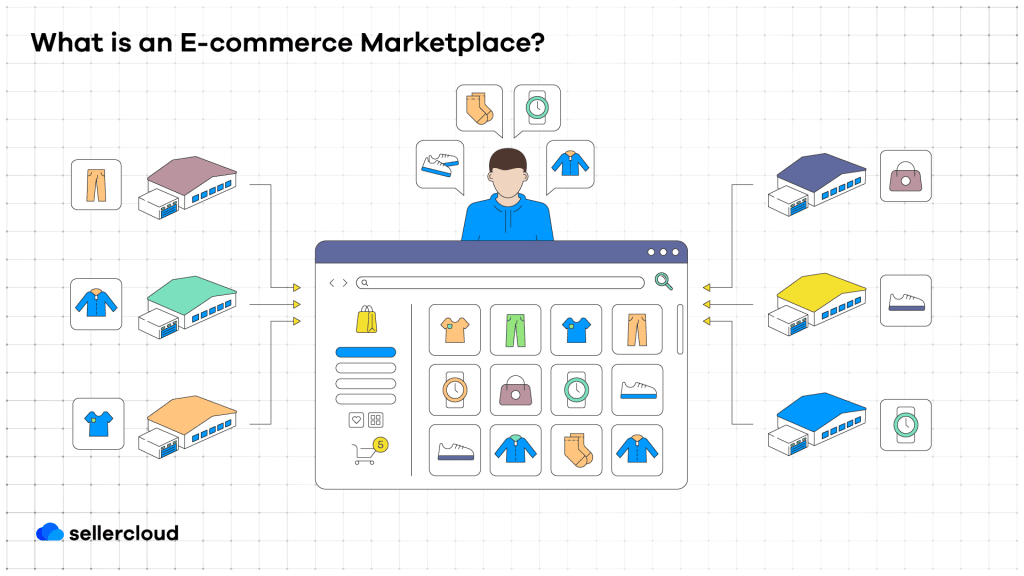 From there, the seller is responsible for ensuring that the customer receives the product they ordered, in the appropriate condition, and in an acceptable amount of time. This can be done piecemeal on an order-by-order basis or with the support of a fulfillment channel partner (more on this later).
If a seller is unable to comply with the expectations and terms of service of a marketplace, it can lead to a seller being suspended or removed from the platform. This makes logical sense. An unhappy customer is unlikely to return to make future purchases, which negatively impacts the marketplace's bottom line. Therefore, it is crucial for sellers to remember that the customer base is one of the most valuable commodities to an e-commerce marketplace. It is a key factor that attracts sellers to a platform and, at the same time, a critical source of marketplace revenue. For this reason, a marketplace's focus often leans toward its customers over its sellers.
E-commerce Marketplaces Generate Profitable Opportunities for Committed Sellers
There is a reason why e-commerce businesses opt to list and sell products on online marketplaces: it's an undeniably effective retail strategy.
For e-commerce sellers just getting off the ground, the ability to tap into a marketplace's existing customer base can prove invaluable. To these ends, most marketplaces have a low barrier to entry, making it easy for sellers of all sizes to get started selling quickly.
Similarly, established businesses and brands often turn to marketplaces as part of either a multichannel or omnichannel strategy for expanding their products' reach. Whether a seller is selling a single item or an entire product line of SKUs, e-commerce marketplaces represent a valuable pathway to scaling online retail efforts. However, success is not as simple as listing items and waiting for the orders to roll in.
Just as brands compete for shelf space in brick-and-mortar retail environments, sellers on e-commerce marketplaces must compete for search rankings and customer attention. Success depends on making the right SEO choices (which can vary from marketplace to marketplace), pricing items competitively, and earning positive customer feedback. Businesses that commit to these types of goals and optimizations have an outstanding opportunity to get noticed and drive sales on e-commerce marketplaces
How is an E-commerce Marketplace Different From an E-commerce Website?
Despite their advantages, e-commerce marketplaces are not always the ideal sales channel for some brands and products. In some cases, high rates of competition or even elements of the marketplace experience itself inhibit important aspects of online retail growth. Enter e-commerce websites.
Rather than relying on a third-party company to facilitate an online sale, companies can (and should) invest in a first-party website to be able to sell directly to customers (D2C) without a third-party in the middle. To do so, there are a number of key considerations that sellers who rely exclusively on marketplaces do not typically contend with:
Generating attention – Marketplaces attract customers based on the fact that they have a wide variety of products, a familiar shopping experience, and competitive prices. They serve as the digital equivalents to a brick-and-mortar department store or mall. E-commerce websites are more like boutiques dedicated to a singular product or brand. The entire shopping experience is self-contained, and on-site competition can be entirely eliminated. 

The downside is that, unlike marketplaces which are established shopping destinations for many customers, e-commerce websites need to do extra work to get customers through the virtual door. Customers are less likely to simply happen upon a business's first-party website without some degree of shopping intent beforehand.

This means that businesses need to invest time and energy into marketing efforts like search engine optimization (SEO), online advertising, and brand development to attract customers to an e-commerce website. Customer acquisition must always be front of mind.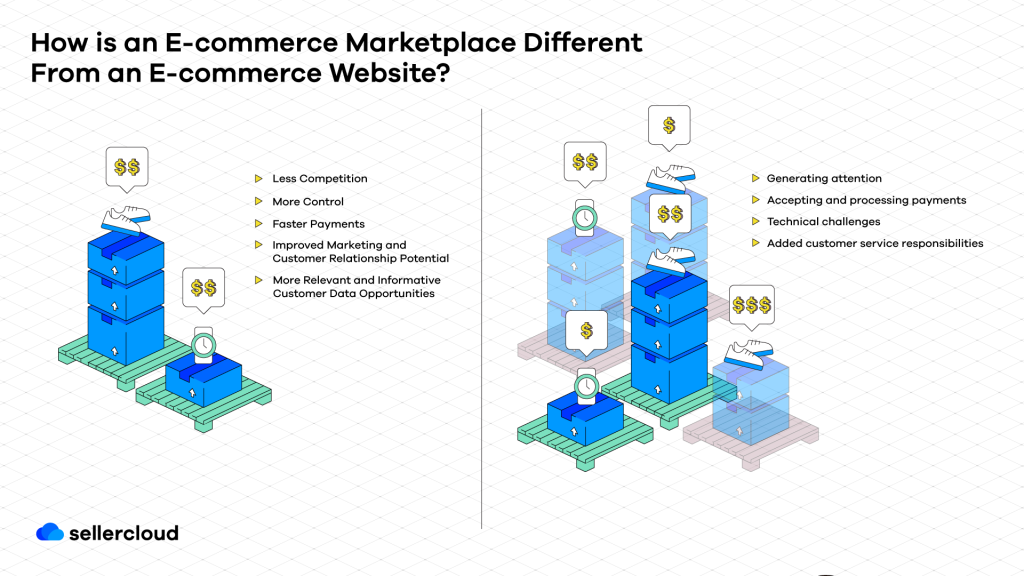 Accepting and processing payments – One of the major perks of selling on a marketplace is that the marketplace usually plays a role in accepting and processing customer payments. As a result, this typically affords additional layers of protection to ensure that transactions are completed smoothly and sellers get paid. Likewise, marketplaces help facilitate returns and exchanges to ensure that money and products flow in the proper directions.

Conversely, sellers that sell on a first-party website need to have their own secure payment gateways and point-of-sale (POS) systems in place to be able to accept customer payments. There also needs to be clear and responsive reverse logistics procedures in place for customers to initiate and complete returns.
Technical challenges – Registering for an e-commerce marketplace is, in most cases, a quick, straightforward proposition. First-party e-commerce websites, on the other hand, require securing domains, coding web pages, honing the on-site user experience, integrating services from third-party partners, maintaining site and data security, and regular maintenance.

There are a number of website platforms like Magento, Shopify, BigCommerce, and WooCommerce that can simplify many of these elements; however, sellers still need a dedicated technical team to make sure their site is set up and running smoothly.
Added customer service responsibilities – While marketplace sellers must be quick with their customer-response time to avoid punitive actions, responsiveness is just as important on first-party e-commerce websites (if not, more so). Sellers must make it simple for customers to reach out about products and issues and, on the flip side, be prepared to respond with quick and customer-focused solutions. Failure to do so can make all the extra customer acquisition efforts in vain and hamstring a business's prospects to scale their website's sales potential.
Despite these challenges, there are some noteworthy advantages to selling on a first-party e-commerce website:
Less Competition – A first-party website features only the products, brands, and sellers the website owner wishes to feature. This allows for a level of insulation against the on-site comparison shopping that sellers face on third-party marketplaces. This opens the doors to sales-boosting opportunities like onsite cross-selling and upselling.
More Control –  As mentioned previously, an e-commerce web page serves as a self-contained online boutique. Businesses have the ability to customize every facet of the customer experience including the site design, featured media, listing copy, product organization, and more. This is in stark contrast to the often rigid rules and limits placed upon sellers' storefronts and product pages on e-commerce marketplaces. This freedom sets the table for layers of brand development and customer-focused decision making that are often inhibited on third-party sales channels.

Beyond brand development, running an online store outside the confines of a marketplace means that sellers are free to integrate third-party partners, services, and systems as they see fit. These integrations can provide all types of benefits including fulfillment support, inventory management, warehouse management, and more. In many cases, these types of integrations can simultaneously boost convenience and profitability of an e-commerce business's first-party sales efforts.
Faster Payments – Marketplaces traditionally make sellers wait for scheduled payout dates. This allows the marketplaces to hold on to sellers' profits for a period of time to safeguard against customer complaints, returns, or other order issues. This is a non-issue for first-party website sellers. When customers pay, the money is available as soon as it clears.
Improved Marketing and Customer Relationship Potential – Communicating directly with customers is a tightly controlled proposition on e-commerce marketplaces. Contact is usually limited to on-site channels to prevent communications that could compromise the marketplace's integrity or circumvent the marketplace's control entirely.

Obviously, first-party e-commerce websites do not have such restrictions. This makes it possible to explore direct marketing and customer relations management strategies on a deeper level that can foster repeat business and brand loyalty.
More Relevant and Informative Customer Data Opportunities – Of course, effective brand development and omnichannel marketing strategies require sellers to have an intimate knowledge of their customer bases. While many marketplaces offer dashboards with curated customer data, there are even greater opportunities for data collection on a first-party e-commerce website. The knowledge gained can fuel customer acquisition and retention strategies based on business intelligence rather than following hunches and instincts alone.
There are certainly challenges in establishing and running a first-party e-commerce website, but the removal of the restrictions and limitations imposed by third-party marketplaces opens up avenues for marketing and customer relations management that can help online retailers of all sizes scale and grow.
What is an E-commerce Fulfillment Channel?
Whether a seller converts a sale on a third-party marketplace or through a first-party website, they need to have a way to get products from their door to their customers. This means picking, packing, and shipping every order efficiently and reliably—whether it originates from an e-commerce marketplace or a first-party website.
In some cases, it makes fiscal and logistical sense for some sellers to handle this in-house. The combination of the right warehouse locations, workflows, staffing, and warehouse management system (WMS) can ensure that inventory is properly accounted for and orders are handled efficiently. In these cases, arrangements are typically made with third-party shipping providers to keep costs manageable and merchandise moving. What's more, the entire end-to-end inventory management component of an e-commerce business can be woven together using a centralized, omnichannel management platform to ensure that every item, order, and customer is accounted for along the way.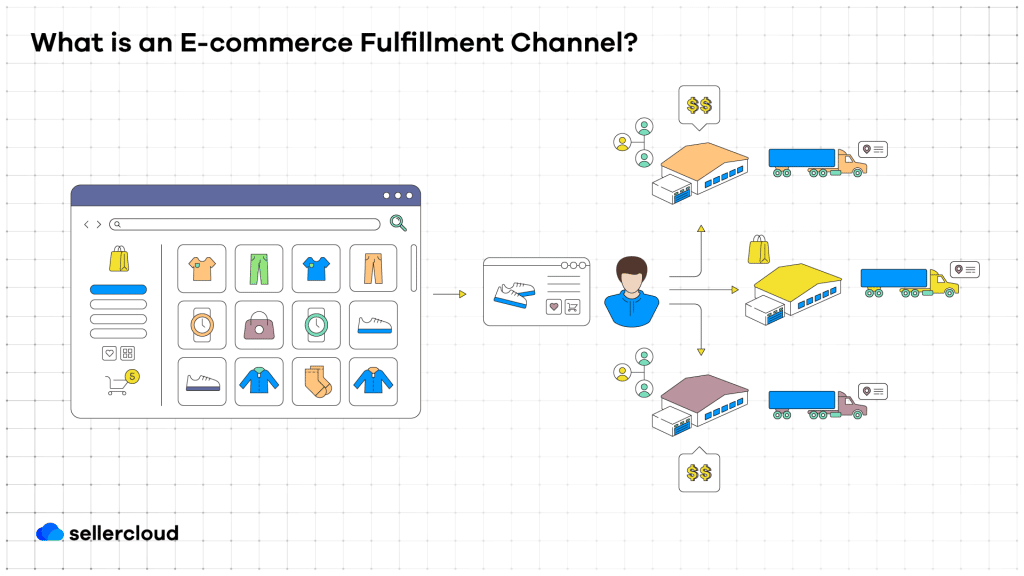 In other instances, sellers may decide that it is easier to outsource some or all of these responsibilities. That's where e-commerce fulfillment channels come into play. A fulfillment channel is a valuable e-commerce partner that helps sellers manage inventory and fulfill customer orders. These orders can come from any number of sources, including e-commerce marketplaces or websites.
Fulfillment channels all tend to operate in a similar fashion. A seller ships bulk quantities of inventory to a warehouse or distribution center. As orders come in, the fulfillment provider handles picking, packing, and shipping the order to customers on the seller's behalf. This support saves time and labor on the seller's end while also saving money on shipping costs.
Some fulfillment channels are marketplace-based, like Amazon's FBA and Walmart's WFS. They include additional benefits like fast, free shipping and simplified returns, which can make third-party listings stand out in crowded search results.
Some marketplaces also offer multichannel fulfillment services, like Amazon's MCF, that can complete orders from external sources like first-party websites or other marketplaces.
For sellers that do not want to commit to a fulfillment channel that is attached to a marketplace, there are independent third-party logistics (3PL) providers that offer similar benefits to FBA and WFS like fast shipping, omnichannel order fulfillment, and localized inventory storage.
Just like with the decisions surrounding third-party marketplace and first-party website e-commerce, fulfillment channels provide a variety of different pros and cons to consider. Sellers must pay attention to things like shipping costs, storage rates, warehouse locations, and fulfillment accuracy when deciding on the best fulfillment channel options.
For most sellers, effective e-commerce growth hinges upon making the right decisions about where to sell and how to keep inventory flowing smoothly. While plenty of businesses find success in a single lane, a hybrid, omnichannel approach is often best. It allows sellers to strike a balance between product reach, brand development, and customer acquisition.
With all these moving parts, sellers shouldn't go it alone. Sellercloud's omnichannel e-commerce growth platform integrates with over 120 channels, marketplaces, shopping carts, logistics providers, and more to help businesses scale and maximize their profitability.
Are you ready to take your online retail sales to the next level? Contact us today for a free demo.