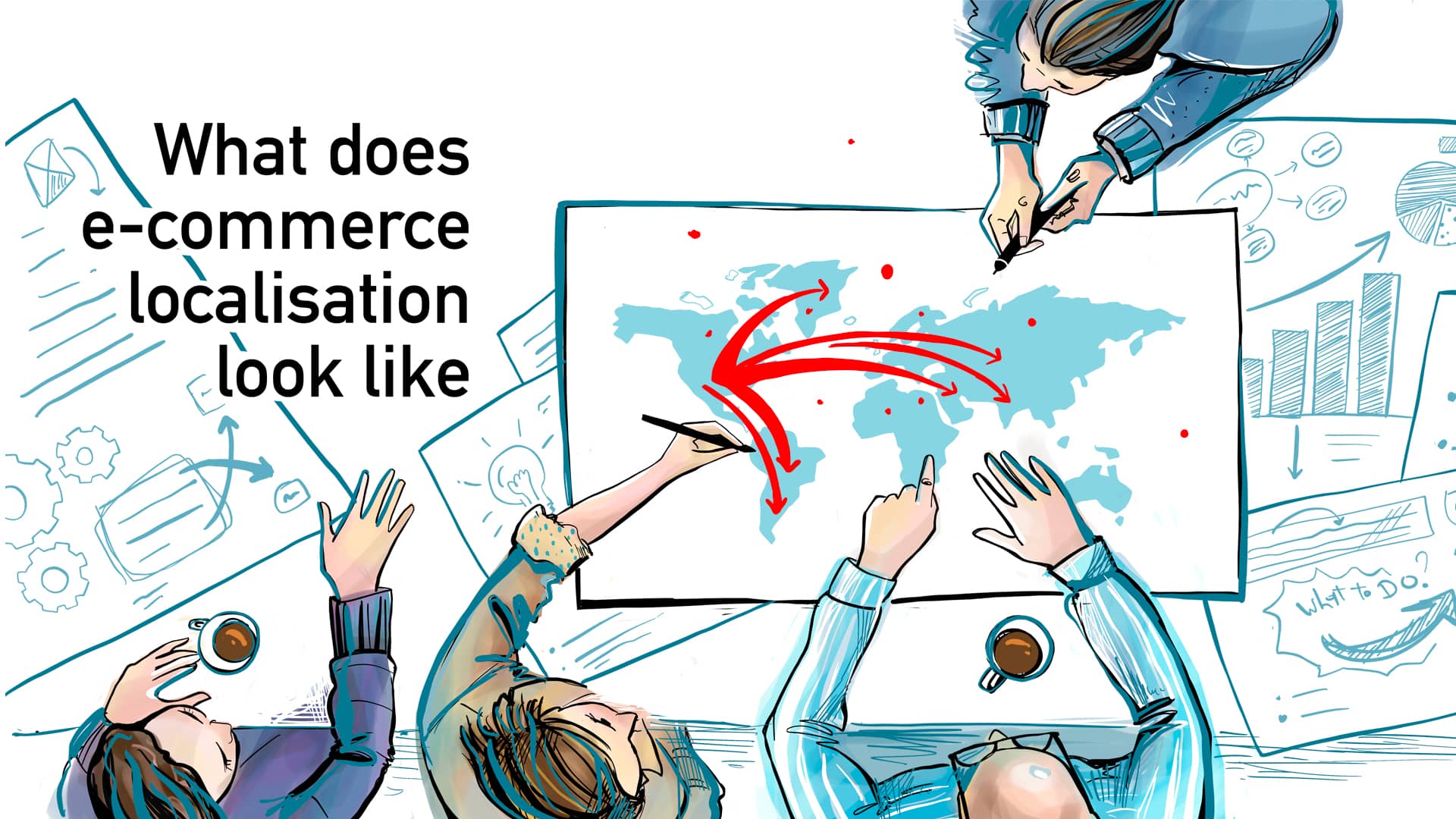 As e-commerce has continued to grow and thrive, omnichannel sellers have increasingly turned to international customer bases as a way to expand their reach. There are a host of factors that play into how successful those efforts are, including:
The products you market
The way you market your products
How tailored your catalog offerings are to international customers
Your international fulfillment capabilities
Your ability to accept international payments
Your ability to serve and support multilingual customer bases
All of the factors listed above are considered to be examples of e-commerce localization – and they all matter.
According to an in-depth analysis into SimilarWeb's July 2021 Top 50 eCommerce websites data report, one of the most essential considerations for sellers looking to find success selling in foreign markets is a brand's ability to localize their online offerings.
What Does E-Commerce Localization Look Like?
Simply put, you can't expect to have optimal success with international e-commerce if you aren't optimizing your approach for international customers.
The most obvious form of localization is translation. Perhaps one of the largest takeaways from Blend's analysis of SimilarWab's Top 50 eCommerce websites was that "46% of the top 50 websites offer more than four language choices to their overall audience to enable a localized and native experience." That said, just because a customer can read your listings and marketing materials doesn't mean that you've landed a sale.
Beyond language variations, selling to a foreign audience requires several other high-value types of localization to be in place throughout the sales funnel. If, at any point throughout the purchasing and post-purchase lifecycle, a customer is made to feel unsupported and/or like an outsider in any way, your conversion rate will inevitably suffer.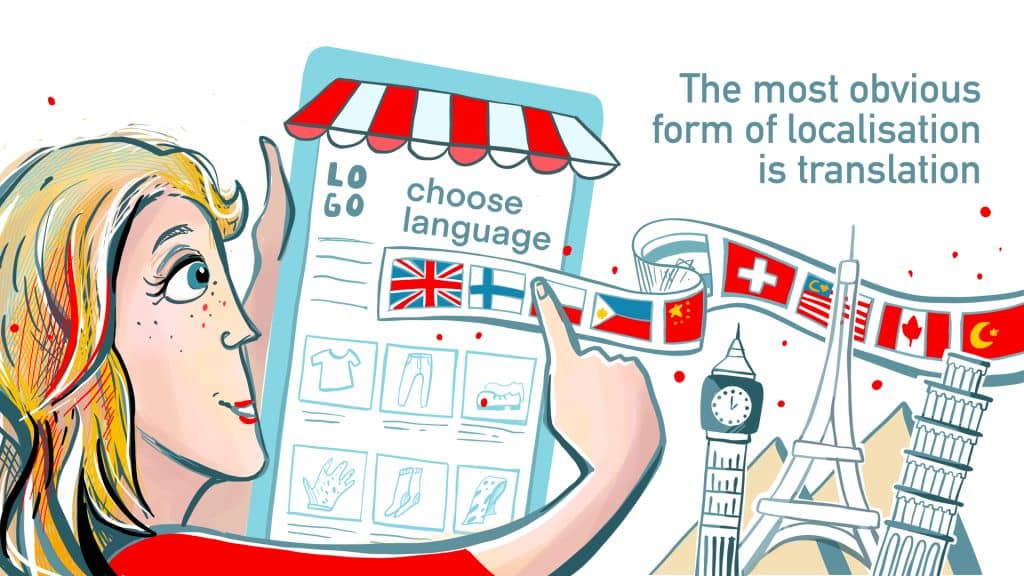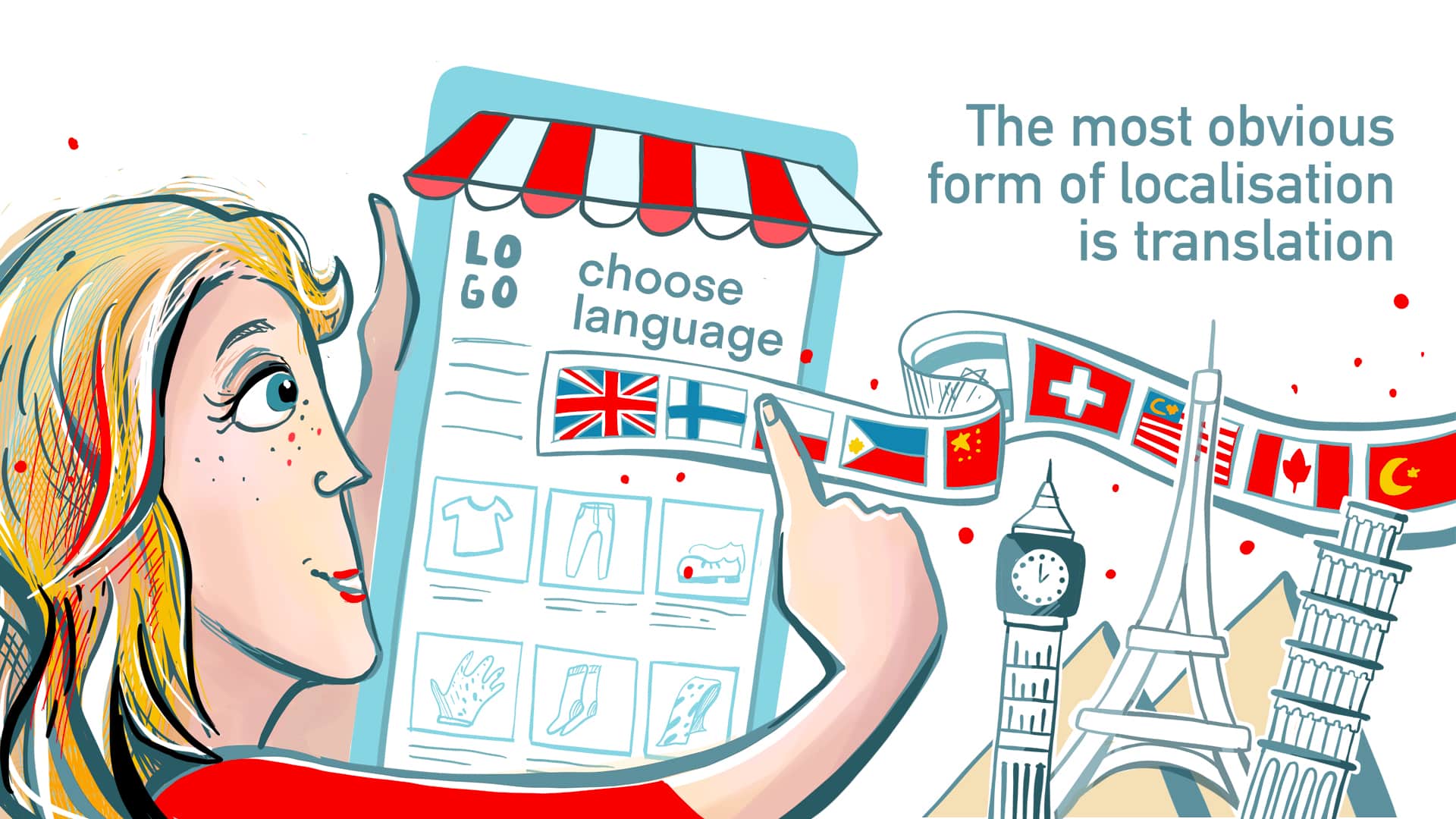 Top-of-the-Funnel Localization – The Awareness Stage
As with any e-commerce growth plan, it starts with customer awareness. If shoppers don't know that your product exists, they'll never buy it. Likewise, if customers are looking for your product or a product like yours, but can't find it (or understand what it is), you are not on the pathway to a sale either.
To attract international customers to your products, you need to start with all of the traditional domestic top-of-the-funnel marketing best practices, and refine them to the foreign secondary audiences you are targeting:
SEO optimization will help ensure that your products surface in search engine and marketplace search results pages (SERPS). It is important to recognize that search results look different in various regions and languages. Just as you need to do keyword research to get the best results from your domestic catalog, international listings require their own optimizations.

Most SEO research tools offer the option to change the locale of your results. Be sure to take advantage of this feature (and other locale-focused SEO options) to create listings and website content with the highest potential for international appeal.

When making adjustments to your listings for international markets, consider taking advantage of Sellercloud's Shadow Products feature to create and test catalog variations that all pull from the same parent listing inventory.
Advertising is not a one-size-fits all proposition. Where you advertise, how you market your products, and what products you choose to promote internationally all need to be deliberate, data-based decisions. Simply rolling out your US strategy – unchanged – could essentially amount to fishing with the wrong bait.
Listing media – both images and videos – should reflect the diverse audiences you are trying to attract to your products. This includes both language and cultural representation. While the former can be handled with minor typography and subtitling adjustments, the latter requires a more focused, nuanced approach. The same images and videos that work for your domestic audiences will likely need to be adjusted to match the most effective and popular media styles and content offerings abroad.
Middle-of-the-Funnel Localization – The Consideration Stage
Once you have an interested international customer, you need to be sure that they have the information and support they need to make the decision to purchase. The middle-of-the-funnel stage is a particular make-or-break point for sales conversions. It is here where your localization efforts need to be strong enough to compete with customers' domestic alternatives.
Reviews and testimonials are a proven way to move interested customers from the consideration stage to the decision stage of their sales-conversion journey. If you are trying to bolster your international appeal, the testimonials you choose to feature on your website and in your marketing should reflect the broad, international customer bases you are trying to attract. 
Customer support needs to be both trained and available to service your international customer base.  Beyond the ability to simply communicate across borders and cultures, your customer support team needs to have access to answers to questions that are of particular interest to international customers. This could include anything from power standards to product material, international shipping to accepted payment options.
Speaking of which…
Bottom-of-the-Funnel Localization – The Decision Stage
Once a customer has decided that your product is the one they want to purchase, you need to be sure that your bottom-of-the-funnel order processing and fulfillment infrastructure is prepared to make that choice possible.
Shipping speed can be either a major selling point or roadblock to attracting international e-commerce customers. Shoppers worldwide have come to expect and appreciate speedy delivery. If international sales are a priority, adding international warehouses and/or 3PL support can greatly speed up your fulfillment turnaround time and boost customer satisfaction. At the very least, offering bi-coastal US fulfillment warehouse locations can minimize the time it takes orders to get overseas, and help you compete against competitors in your customers' locales.
Payment options are an obvious, but critical, component of converting an international sale. Many payment gateways and shopping carts supported by Sellercloud offer user-friendly currency options that can benefit both you and your customers.
Localized customer service needs to continue into the bottom-of-the-funnel experience. Everything from product support to returns needs to have an international component to ensure maximum customer satisfaction and set the table for growth-spurring results like positive feedback and repeat orders.
The Sellercloud omnichannel growth platform offers you all of the tools and support you need to accept, process, and fulfill e-commerce orders – both foreign and domestic. Not only does our cloud-enabled interface allow you to process and track inventory across orders, warehouses, fulfillment partners, and shipping providers, but you can also both tailor and optimize your entire e-commerce catalog across all the channels where you sell.
Contact us directly for a free demo and see for yourself how Sellercloud is the partner you need to take your online retail brand to the next level of efficiency and customer satisfaction.