A Warehouse Management
System that does the work
for you
Seamless Inventory Management with unparalelled visibility into your warehouse operations.
A step beyond inventory management
Skustack's easy-to-use warehouse and inventory management systems are designed to improve efficiency for receiving POs, picking orders, preparing shipments and processing returns.
Lower your overall costs and increase your employee productivity with our WMS and barcode scanner app.
Learn more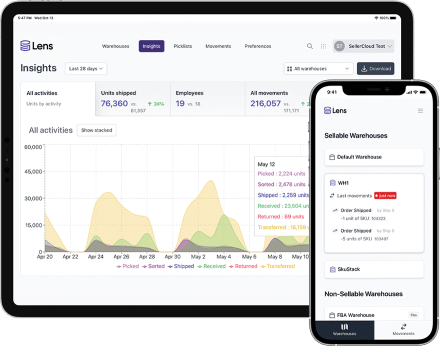 Real time warehouse visualization
Skustack provides cloud based warehouse visualization to give you unparalelled visibility into every part of your workflow and operation. Track your inventory down to the bin location and monitor employees to know their precise location and historical movements.
Learn more
Give your management team the tools they need to control your entire warehouse workflow. Manage purchase orders, inventory, orders, shipments and everything in between, all in real time.
Assign warehouse regions, picklists and tasks to specific employees and connect every picklist, order, shipment and movement to the employees responsible for it.
Learn more
Eliminate sorting and shipping mistakes with our intelligent sorting system.
Skublox is our integrated pick-to-light and put-to-light technology that reduces errors and boosts efficiency in your order fulfillment workflow. It's the only DIY consumer-grade system on the market that takes just hours to set up.
Learn more