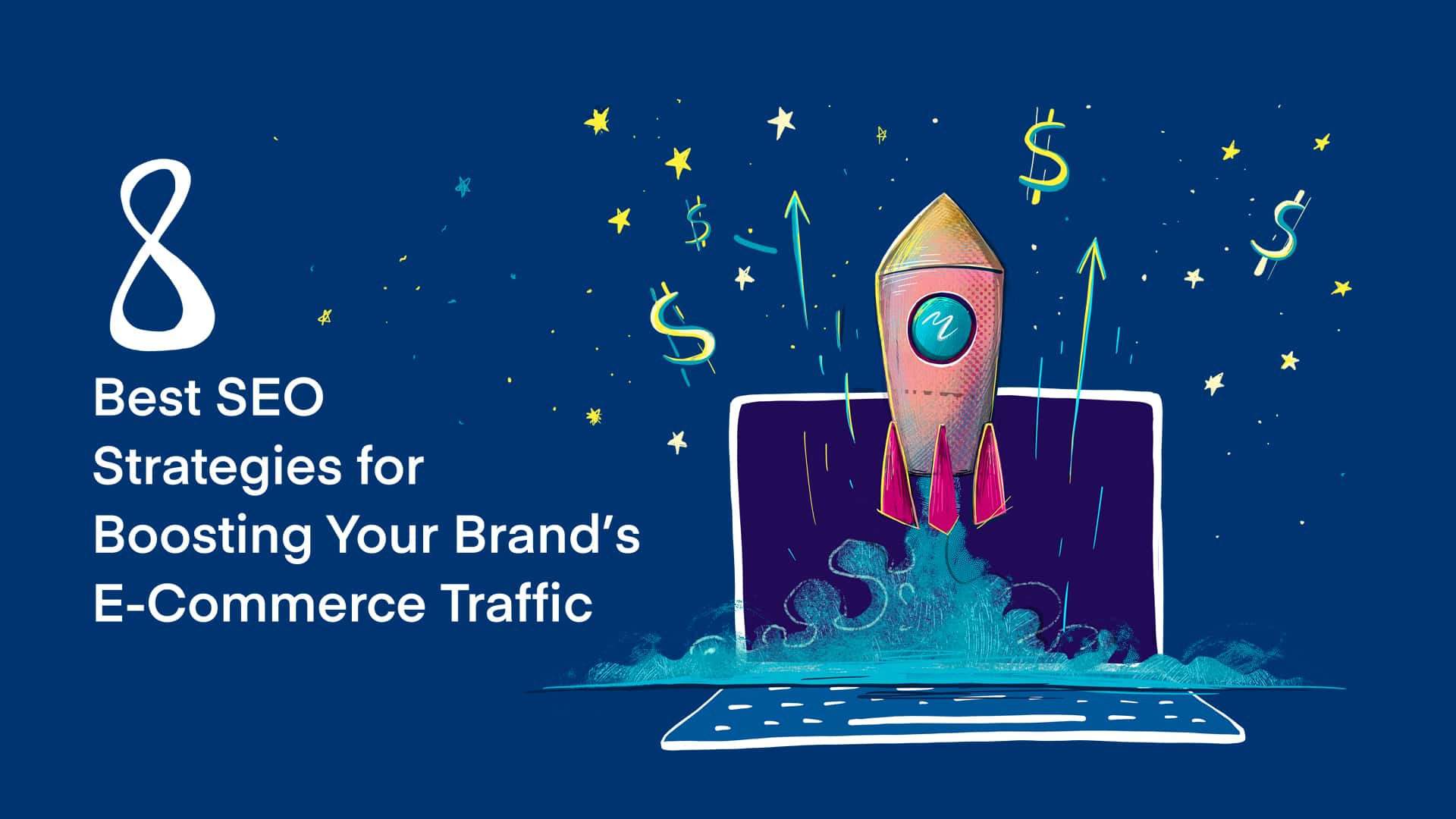 Search engine optimization (SEO) is crucial to an effective e-commerce marketing strategy.
In most cases, the ability of customers to search for and find your products is the primary driver of your top-of-funnel (TOFU) sales experience.
Simply put: if potential customers can't find your products, they are likely buying from your competitors.
Optimizing your omnichannel e-commerce brand's exposure on third-party marketplaces and internet search engines must be a priority.
A lot goes into driving web traffic—especially web traffic with the intent to purchase.
SEO strategies constantly evolve and change as marketplaces and search engines adapt and modify their search algorithms.
At the same time, there is an ever-growing web of internet destinations vying for clicks.
It should be no surprise that SEO services designed to help users improve their online visibility have become upwards of $80 billion a year industry.
That said, SEO best practices aren't the exclusive domain of expert consultants. There are several simple SEO steps every e-commerce business can (and should) employ on their own.
These will help direct customers to your listings, and most are future-proof best practices that will remain relevant regardless of the latest algorithm evolutions.
1. Properly Categorize Your Products
Whether optimizing your listings on third-party marketplaces like Amazon, Walmart, or eBay or setting up your own first-party website, providing users with accurate and useful product categories is essential.
Categories make it simpler for customers to come upon your products while browsing.
Clicking through a tree of nested product types and features helps users find the items they are looking for.
You may miss out on potential views and sales if your products aren't properly oriented in that organizational structure.
Search engines like categories, too. Properly classified listings make it easier to return relevant results when users search.
For most products, selecting the appropriate category is a multi-step process. Start with the most general descriptor you can, and gradually drill down into specifics.
It is worth noting that some marketplaces will take your most specific category and nest it appropriately within its existing category structure.
For instance, assigning an item to the category "griddle pan" may automatically include it in the more general categories of "kitchen cookware" and "home & kitchen."
However, some marketplaces (or first-party hosting services) may require you to do a bit more legwork to ensure your listing is included in all the appropriate subcategories.
2. Target Long-Tail Keywords
Not all keywords are created equal. Regarding SEO, the more general a keyword or a search term, the more competition there is for clicks.
So, when you focus on generic, highly competitive search terms as your main keywords, you are unlikely to see any substantial uptick in traffic.
As a rule, less-popular results get pushed so far down the search engine results page (SERPS) that they are hardly ever seen. 
The best way to get noticed and climb in the SERP rankings is by hyper-focusing on longer, more-specific keyword phrases—often referred to as "long-tail keywords."
The more specific you are, the less competition you have and the more likely you attract customers looking for your products.
Take the griddle pan example. Searching for the word "pan" on Google generates over 1.5 billion results.
"Griddle pan" narrows that down to 17.1 million—still far from ideal. "Griddle pan nonstick" brings that number down to 1.56 million.
That may still seem like a lot of competition (to be fair, it is), but it is a far cry from the 1.5 billion results from the first search.
Including additional related long-tail keywords like "for glass cooktops" and "dishwasher safe" can enhance your specificity even further.
Focusing on long-tail keywords increases your odds of being seen by a potential customer and drives down the cost per click of web marketing campaigns like Google Adwords and Amazon Advertising.
A winning bid costs less when fewer people compete for the same keyword phrase.
3. Use Search Boxes to Your Advantage
Unsure if you have the right keywords or categories? Let the auto-complete features of major marketplaces and search engines help you out.
Try typing relevant product categories into Google and Amazon search bars.
The list of autocomplete suggestions is a treasure trove of keywords and SEO insights.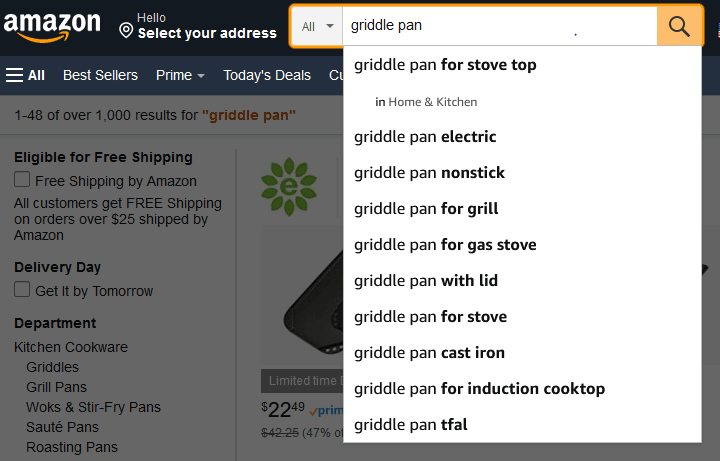 Not all of what pops up will be 100% relevant to your products, but it lets you see what both the algorithms and site users tend to look for based on the term you enter.
If the results are way off from your particular product, that can be a surefire sign that you may not have selected the best categories or keywords.
On the other hand, if the fit seems good, you may have just scored a few more keywords and categories to attach to your listing.
Taken a step further, clicking on different suggestions will let you see the top-ranking competitors for each long-tail keyword.
Check out their categories, descriptions, and keywords to see if you missed any in your own listings.
4. Sign Up for Google Analytics
If you haven't done so already, consider signing up for Google Analytics. This free service keeps tabs on how users arrive at and engage with your website. 
Many useful metrics can help you refine your SEO strategies and identify how the pages on your site are performing.
You can track the keywords attracting visitors to your pages, which pages they visit, where they are visiting from, how long they view your pages, and what visitor actions correlate most directly to sales conversions.
Getting set up can take a little tinkering, but once you do, the provided data can be extremely helpful in honing your SEO strategies.
5. Keep Your Page Structure Simple
When you create a listing on a marketplace, you don't have control over your URL.
However, you do have agency when creating the URL structure of your own first-party website. Take advantage!
It turns out that both customers and search engines appreciate short, keyword-rich URLs.
It makes it easier to figure out what the page contains and makes sharing cleaner and easier.
As a rule, try including both category and long-tail keywords in your URLs whenever possible.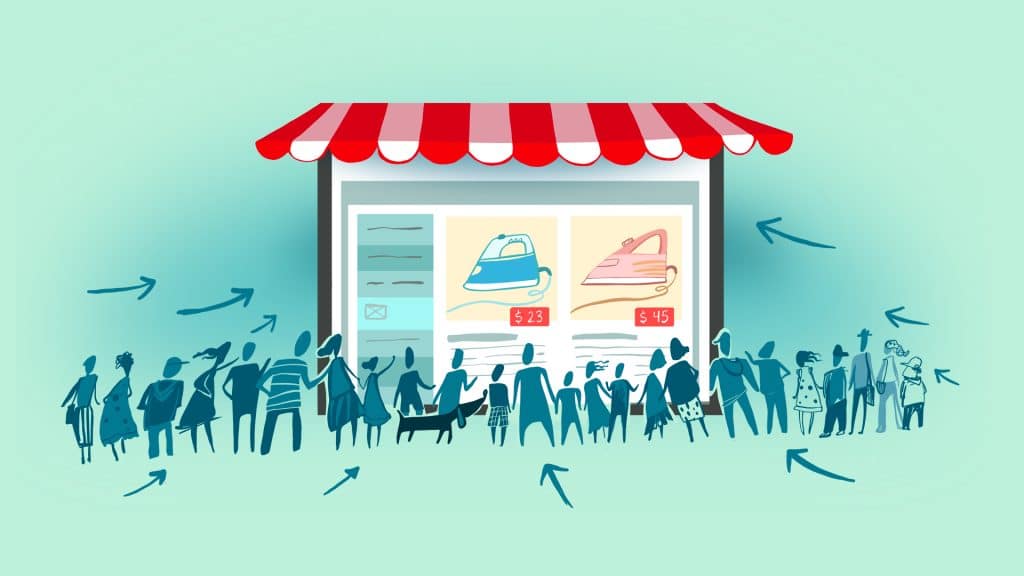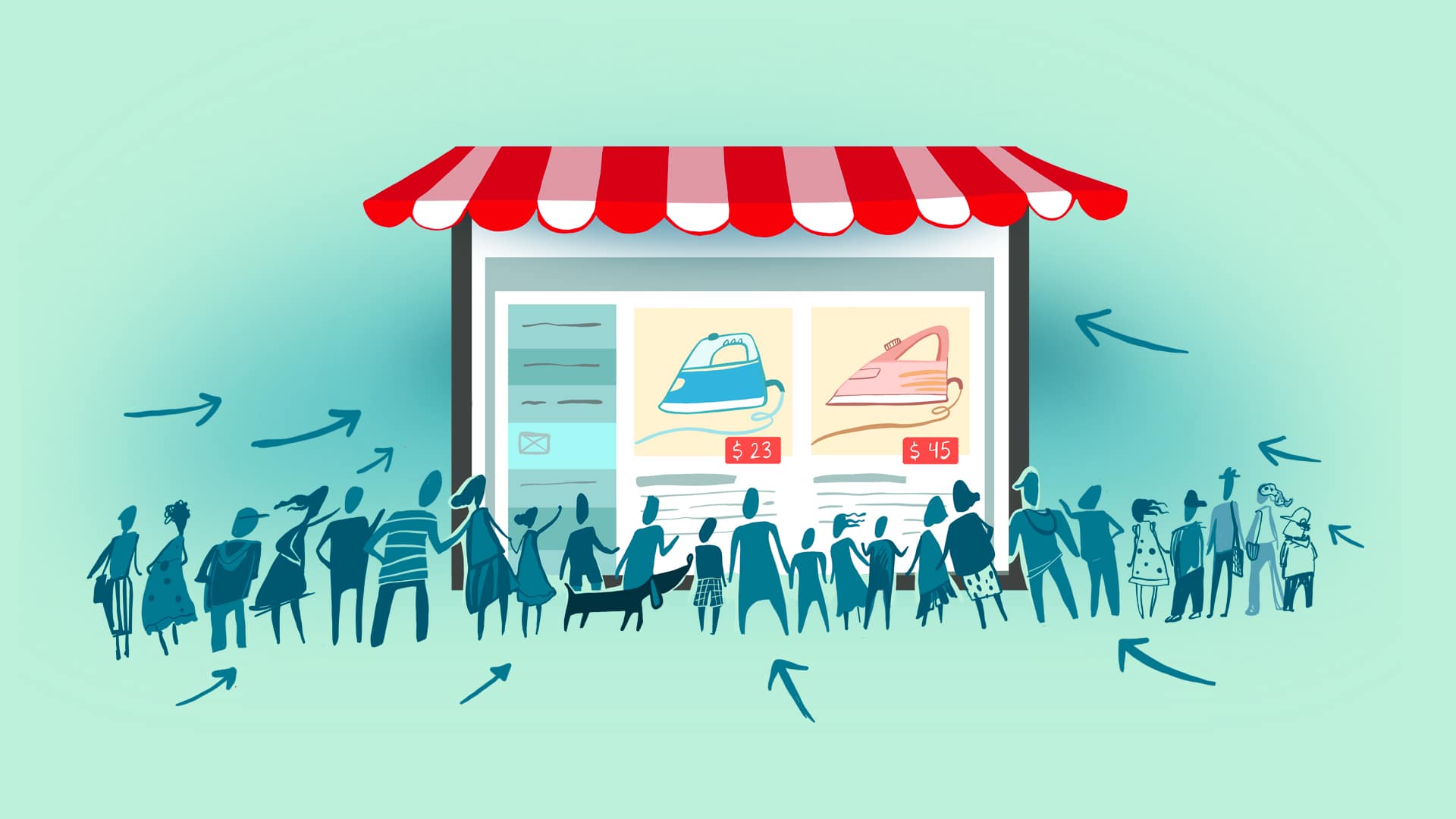 6. Optimize Your Title Tags
Few things matter more to SEO than a strong title.
Titles are the first thing both search engine scrapers and internet users encounter when deciding about your web content.
The goal is to create titles that are as engaging and accurate as possible.
In most cases, title accuracy is measured based on your visitors' actions.
If your bounce rate is low (meaning visitors don't quickly leave your page after arriving), this sends a signal to the search engine that the user likely found what they were searching for.
Actions like clicking on additional links and pages from the same domain are also positive signs.
The more a search engine sees positive user engagement, the more users will be steered to your pages.
Of course, getting users to click on your page in the first place is about more than just descriptive accuracy.
Including certain high-value, high-action terms can help attract more clicks to your listings.
Some of the best terms to boost your e-commerce click-through rate (CTR) include:
Cheap.

Deals.

Review.

Best.

Online.

Free shipping.

Fast shipping.

Lowest price.

Overnight shipping.

Sale.

Guarantee.

X% off.
Data has shown that including these words and phrases in both your title tags and descriptions can help steer potential customers your way.
Getting started might be challenging—especially when character counts limit how much you can write, but tools like Sharethrough's headline analyzer can help you try out different phrasing and title lengths to find the most SEO-friendly result.
7. Write Longer, Keyword-Rich Content
In the early days of SEO, people tried to game the system by cramming their titles, descriptions, and code full of keywords.
The result was a word salad of horrible copy that search engines loved but actual human visitors could hardly digest.
Thankfully, keyword stuffing is now largely a thing of the past (and can actually negatively impact your SEO).
However, keywords still matter to search engines. To get the best results, place your strongest keywords 3-5 times throughout your pages in ways that make logical sense.
As algorithms have improved, so has the focus on rewarding content that meets visitors' expectations.
Creating titles and listing descriptions that properly describe your products is important, but so is doing so with an engaging tone and visual appeal that draws readers in.
Generally speaking, the longer a visitor remains engaged on your page, the better your page is deemed a fit for their search intent.
The result: better SERP ranking and more clicks.
Sellers often overlook the SEO value of longer-form content.
Sure, visitors aren't looking to e-commerce pages for engaging prose, but making quality, purposeful written content available provides insights into your brand that both customers and search engines alike may be looking for.
Take advantage of opportunities to provide useful and descriptive content in your listings and brand pages.
Aim to hit the upper limits of character counts afforded to you by third-party marketplaces.
Consider adding a blog, a testimonials page, or other long-form content to your e-commerce storefront.
These opportunities will increase the odds that the right visitors come to your listings, stay longer, and convert into customers.
8. Prioritize Omnichannel Keyword Consistency
Like your other branding and marketing efforts, unified, consistent messaging is important.
SEO-focused revisions to your listing content are most valuable when applied across all your channels.
This is where Sellercloud's omnichannel e-commerce platform can be a tremendous asset.
Our robust catalog features allow you to make changes to listing titles, descriptions, and categories that can populate across all of the channels where you sell.
Staying on top of your content and messaging can be done from within a single, user-friendly interface—saving you time and effort.