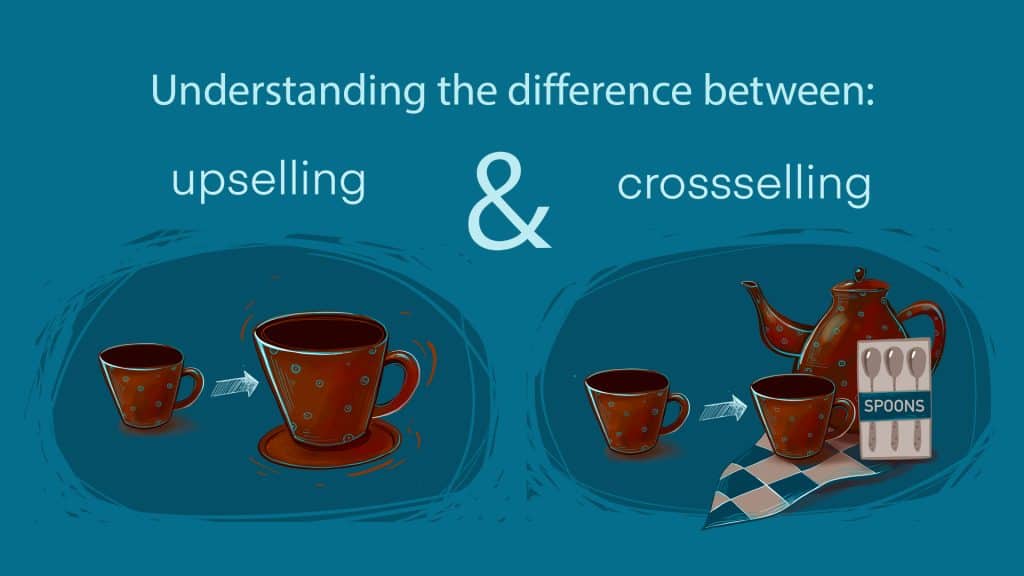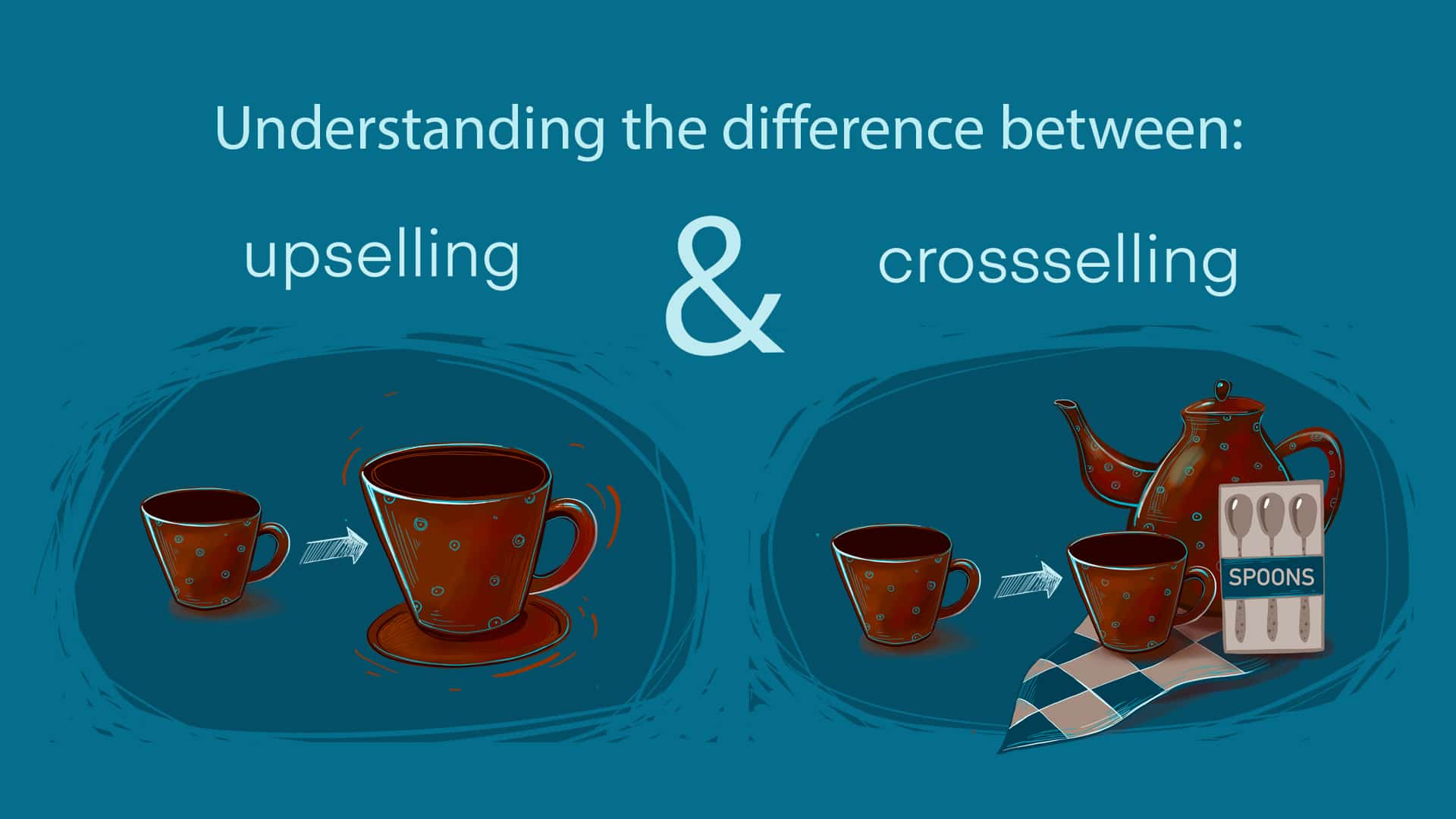 Average order value (AOV) is an important metric to track when assessing the strength of your omnichannel e-commerce brand. When your AOV is on the rise, it means that you are reaching customers with the quantity and quality of products they are looking for. When your AOV is stagnant – or worse, in decline – it's a surefire sign that you need to take action.
There are several common-sense ways to generate short-term boosts to your AOV such as limited-time discounts, coupon code marketing campaigns, and free shipping offers. However, growth-focused e-commerce sellers should be sure to focus on more sustainable, long-term tactics to keep your AOV trending upwards.
One of the most effective ways to do so starts with your product catalog. The combination of the products you offer, the products you choose to feature, where you choose to feature them, and the ways in which you approach creating your listings all play a role in a strong, growth-focused approach to improving AOV.
This type of tactical focus on your catalog can increase your potential for cross-selling and upselling products. If done effectively, customers are likely to spend more per order and you should see strong AOV numbers as a result.
Understanding the Differences Between Upselling and Cross-Selling
Both upselling and cross-selling are crucial components in generating positive AOV growth, but they are each different in their function.
Upselling is convincing a customer to swap their initial product selection for a higher-priced and/or higher-value alternative. Classic upselling examples include scenarios like a movie theater enticing customers to purchase a bigger tub of popcorn or a tech company offering alternative product configurations with boosted specs. In an upsell, the customer is walking away with a larger or higher-value product than they may have initially sought, and the seller increases their AOV.
Cross-selling is different. You are not convincing customers to abandon their initial product selection; rather you are offering additional, related products that may enhance the functionality, appearance, and/or their enjoyment of the original product.
For example, customers purchasing a portable music player may be interested in cross-sale opportunities like headphones, protective cases, charging stations, or additional batteries. Suggesting the right cross-selling opportunities to customers can increase the number of products a customer adds to their cart and improve AOV.
If your omnichannel e-commerce business sells more than a single SKU, you should be looking for ways to incorporate both upselling and cross-selling into your product-listing strategies.
Your Top Performing Products Are the Keys to Upselling and Cross-Selling
When it comes to your upselling and cross-selling potential, your chances for success and AOV improvement rest heavily on your most successful and popular SKUs. They are truly the "rising tides" that will "lift all boats." You must identify these products and use all of the tools at your disposal to market and promote them at the forefront of your brand. In doing so, you can maximize the potential of other products to succeed on their coattails and, in turn, improve your AOV.
To properly identify these products, pay attention to metrics like views, interactions, and conversions. As an omnichannel brand, you will want to be sure and to uncover your best performing listings across each of your sales channels – there is no guarantee that your top SKUs on one marketplace are the same everywhere you sell.
Once identified, you need to evaluate the quality and content of these top-performing listings – ensuring that they are optimized with keywords, testimonials, and images that offer SEO value and social-marketing potential. You may even want to consider doing some competitor research to see how similar products are being listed across your sales channels.
The thing to remember is that these are the listings that will draw customers to your products across multiple platforms, so they need to be as strong as possible. Furthermore, your ability to piggyback on this quality with listings for related products will help build a coordinated catalog ideally suited for capitalizing on upselling and cross-selling opportunities.
Upselling and Cross-Selling Are All About Making the Right Connections
On your own website, you have a granular control over the way products are displayed and featured. This means that you can lock in suggested products that perform well as cross-selling and upselling opportunities. Since you know your products best, you can use your internal sales data, business intelligence findings, and customer feedback to curate the perfect combinations of products to showcase together across your catalog. Typically, this involves starting with your most popular SKUs, and branching out from there.
On third-party marketplaces, things get more complicated. You are not the one deciding which products to feature alongside your listings. Instead, the on-site algorithms make upsell and cross-sell suggestions based on all of the available products. Some may be from your brand, but many will likely be from your competitors.
That said, the process can just as easily work in your favor, as well. Marketplaces give you the potential for your products to be surfaced as the upselling and cross-selling suggestions for your competitors' products. Taking advantage of this fact can boost your bottom line at the expense of your rivals'.
It all comes down to making the connections between your products and those ripe for upselling and cross-selling. To investigate these connections, regularly search your products and see which alternatives are suggested by marketplace and search engine results. By mimicking consumer behavior in this way, you can better understand the way algorithms and search routines categorize and connect your products. This awareness is critical when creating an upselling and cross-selling strategy.
Once you have this information,  you need to be sure you have listings that connect to other relevant products through the use of similar keywords, descriptive content, customer histories, and audiences.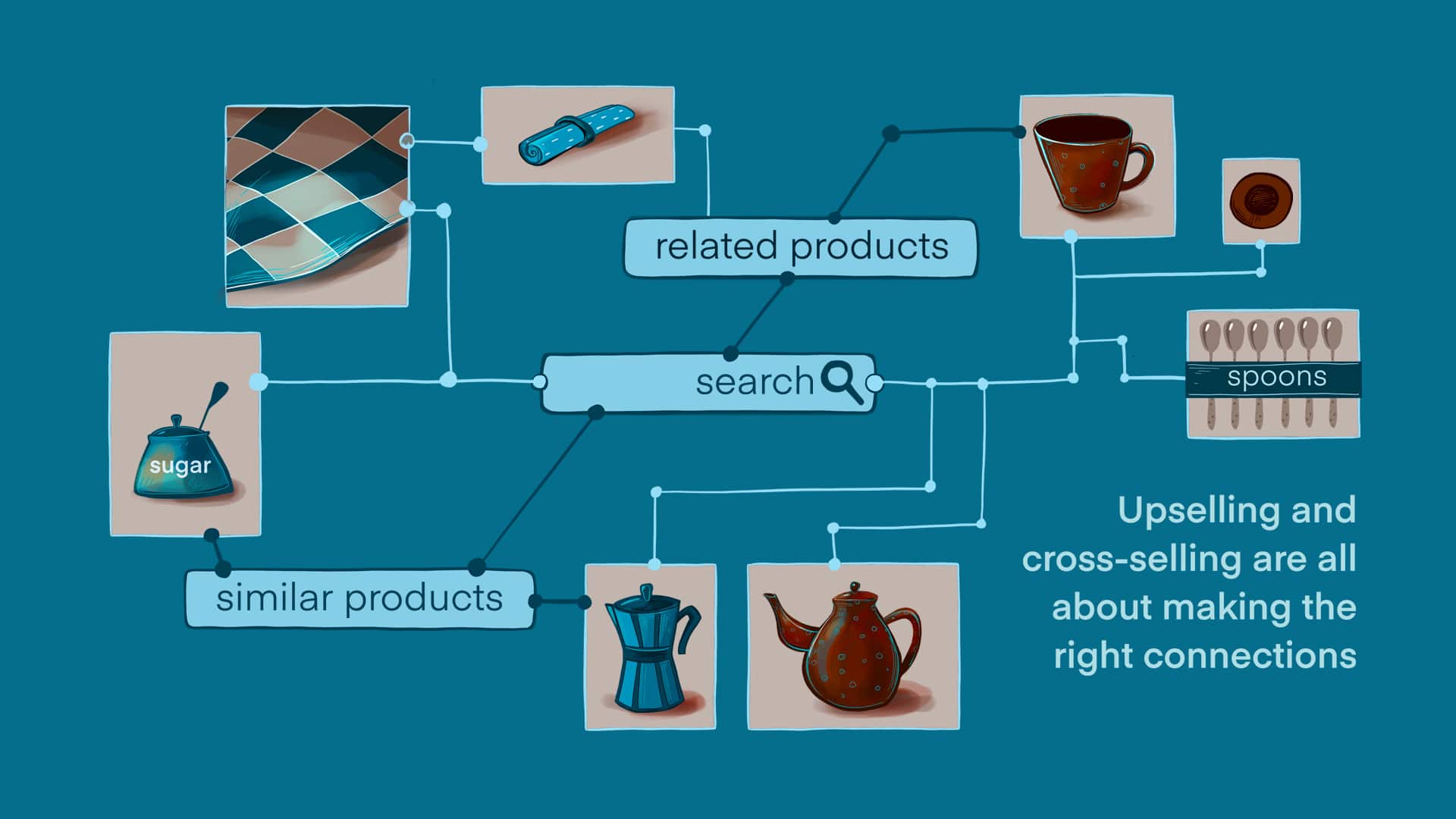 How to Create Catalog Listings That Improve Your Upselling and Cross-Selling Odds
Once you select products to target as upselling and cross-selling opportunities, the real work begins. Some of the most important strategies and considerations for maximizing your upselling and cross-selling success include:
Sell high-quality products – This may seem obvious, but products with high customer satisfaction ratings and low rates of return perform best on third-party marketplaces. As such, they are more likely to be featured as cross-selling or upselling suggestions for yours or others' products.
Synergize written content descriptions – When upselling, your product listing titles and descriptions should closely mirror those of the lesser valued product. When cross-selling, titles and descriptions should carry clear connections to the item(s) they support. Not only does this make it easy for prospective customers to recognize the connection that you want them to make, but it will allow search engine and marketplace algorithms to pick up on them as well.
This is not to say that you want to lift the copy directly from your other listings (or anyone else's), but keywords and essential descriptors should definitely be aligned.
Create product kits and bundles – You can take some of the guesswork out of cross-selling by combining certain products into pre-packaged or kitted orders. This gives customers the chance to order multiple items from you, rather than waiting for them to add additional cross-sold and up-sold items from your competitors to their carts. Skustack allows you to create and fulfill customized bundles that can be made to order or pre-assembled as ready-to-order SKUs.
Leverage visual media – When aiming for cross-selling and upselling opportunities,  product images and videos mimic the look of the original product enough for customers to see the desired correlations at a glance. When it comes to upselling, you want to be sure to include media that hones in on the significant aesthetic and/or technical upgrades between your product and the original – particularly in cases where this is not blatantly apparent at a glance. Similarly, cross-selling is most effective when customers can see how one product fits with another.
Of course, you must be careful if you do not have the IP rights for the product that you are trying to cross-sell with or upsell. Some extra creativity or care may be in order to be sure that you aren't violating copyright or terms-of-service rules.
Pay attention to customer behavior – Whether you use Google Analytics or some other data-tracking tool to monitor customer behavior on your website, pay attention to the shopping journey visitors go through on your page. Where do they land when they arrive? What are the most common click-through paths when moving between product pages? What on-site search terms are visitors using?
Create perks and discounts tied to order thresholds – Consider tying things like coupon codes, free shipping, or customer loyalty perks for orders that cross certain spending levels. This can be a big motivator to get customers to consider an upgraded product option or throwing an accessory (or two) into their cart before checkout.
Use an Omnichannel Growth Platform to Simplify Catalog Management – Sellercloud's robust catalog features allow you to create and modify your listings across all of the channels where you sell from a single, easy-to-use database. This makes it simple to fine-tune your product titles, descriptions, and media one time and then push them out to all of your marketplaces and webpages at once – rather than doing so piecemeal.
A catalog-based approach to upselling and cross-selling is one of your best bets for lasting AOV improvement. Sellercloud has the catalog tools and e-commerce integrations to make the process easy and convenient. Contact us directly for a free demo and get started growing your retail brand today.