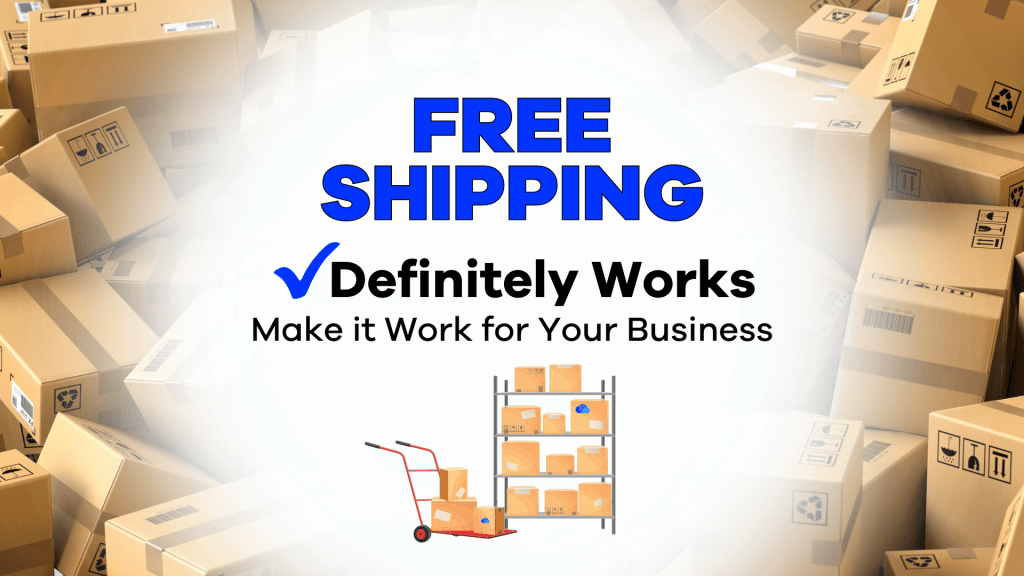 Ever since Amazon changed the e-commerce game with their free Prime shipping offerings, every other retailer has had to reckon with the ultimate fulfillment cost question: to offer free shipping or not to offer free shipping?
Pretty much no matter which angle you take when you examine the free shipping question, the answer is almost always, "yes, you should be offering free shipping."
From a customer's perspective, there have been countless studies and surveys that prove customers prefer free shipping over having to pay for shipping. No shock there.
One of the leading causes of abandoned carts is the sudden appearance of additional fees at checkout. Online sales tax collection has become an anticipated part of every e-commerce transaction, but when a shipping or fulfillment cost suddenly increases what customers were expecting to pay, they can quickly reconsider completing their purchase. A June 2021 Shopify study found that a whopping 49% of abandoned carts are caused by extra costs at checkout.
What is surprising, however, are the studies – like the one referenced by Penn's Wharton School of Business professor David Bell – that showed that "a free shipping offer that saves a customer $6.99 is more appealing to many than a discount that cuts the purchase price by $10." Similarly, a 2020 Delottie holiday retail study found that 85% of customers would prefer free shipping to fast shipping. At least as far as customers are concerned, the allure of something free is strong. 
From a seller's perspective, free shipping can be a boon. It provides undeniable marketing value, improves your competitiveness with both small and large online retailers, boosts sales conversion rates, reduces cart abandonment, and increases order volume.
However, if you aren't deliberate in how and when you offer free shipping, the costs can outweigh the benefits. Especially in the current climate of rising shipping and fulfillment costs, free shipping may cut too deeply into your profit margins unless you tailor the strategy to your brand.
Find the Free Shipping Option that Works for Your Business
There are a number of ways you can offer free shipping to customers. Each comes with its own pros and cons, but only you can determine what makes the most sense for your fulfillment workflows and your bottom line.
Free shipping for all – When it comes to free shipping, you can simply opt to go all in and offer free shipping on everything. This is a simple, straightforward promise that your customers would surely appreciate. It also would make you especially competitive. Choosing to go this route involves a host of other considerations, though (more on these later).
Free shipping on qualifying orders – This is a great way to offer free shipping, but also protect against fulfillment costs cutting too deeply into your profit margins. Free shipping on large numbers of smaller orders can add up very quickly. This is why the vast majority of online marketplaces and brands use some variation of this strategy when offering free shipping options to their customers.
What's more, offering free shipping only on particular products, quantities, or checkout totals can be a strong catalyst for upselling. As mentioned earlier, customers have shown more of a willingness to spend a little more on merchandise than they are to spend an even lesser amount on shipping. This model is ideal for capitalizing on that psychological response.
Free shipping subscription – This is essentially the Amazon Prime / Walmart+ model. Customers pay a fee (typically monthly or annually) and receive free shipping perks. Not only does this give you a way to offset some shipping costs and generate some additional recurring revenue, but it also can help promote customer loyalty. Customers are more likely to start their online shopping with you – or at the very least, include your brand in their comparative shopping routines – if they have already made an investment.
Buy online, pickup in store (BOPIS) – Consumer interest in BOPIS has grown substantially since before the pandemic. In the past few years, more and more retailers of all sizes have offered customers the option to make a purchase online and pick up their merchandise from a physical location – often within hours and for no additional fulfillment cost. This fulfillment choice has become so popular that even companies not traditionally associated with brick-and-mortar (like Amazon) have gotten into the BOPIS game.

If you have physical stores or locations that you can leverage for BOPIS, it can be a great way to both dual-purpose your physical and e-commerce inventory and offer a free fulfillment option to customers that is also cost-effective for you. If you are looking to take this approach, Sellercloud currently offers BOPIS support for Amazon Local Selling orders.
Introduce free shipping on a trial basis as a promotional incentive – Offering anything of value to customers and then taking it back can create a shock to the system that your brand may not be ready to absorb. If you aren't totally sure how free shipping may impact your e-commerce business, consider offering it as a promotional value to target new or returning customers. This can be a viable way to both boost your first-party business while also generating some actionable data about your free shipping offerings.
The "free-plus-shipping" model – While not as popular as it was in decades past, you will still see some brands using this technique to try and game marketplace "sort by price" results. Essentially, the way free-plus-shipping works is you offer a product for sale for $0 or $0.01, and then tack all of the cost onto that price as "shipping." While not technically the same as offering free shipping, it can produce a similar effect where customers perceive the low cost of the product as justification for paying the higher fulfillment fees.

This strategy has become less practical as more marketplaces now offer listing search results filters that include "price + shipping" rather than just the list price alone. Even when these listings do appear in results, most modern e-commerce customers are savvy enough to recognize this for what it is – a trick. Not only that, but at its core, this strategy amplifies the potential for the checkout shock and abandoned carts that free shipping ideally aims to eliminate.
In making free shipping decisions for your brand, it is important to recognize that even Amazon – the marketplace that supercharged the push for free shipping in the first place – does not offer free shipping on all products. Customers either pay a subscription fee to unlock free shipping on Prime listings or must meet certain purchasing thresholds to qualify. That said, there are many third-party marketplace sellers that still charge additional shipping fees at checkout – even for Prime subscribers.
Again, if and how you offer free shipping depends on a lot of factors that are unique to your business, your fulfillment costs, and your customer base.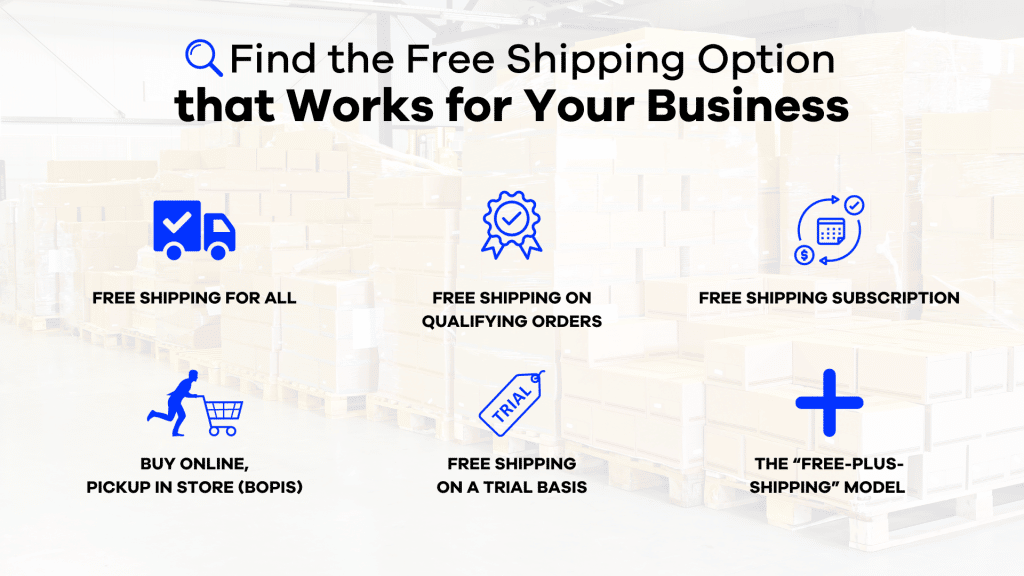 The Most Important Considerations When Offering Free Shipping
So, which style of free shipping is a match for your omnichannel brand? There are several pieces of the puzzle that you need to analyze when developing a free shipping strategy:
Increased conversions vs. increased costs – In just about every case, a well-crafted free shipping offering is going to lead to an increase in your sales volume. The critical calculation is do these increases in sales lead to enough revenue to offset the increased costs of footing the bill for shipping? Sellercloud's profit and loss (P&L) tracking can give you the information you need to assess any free shipping strategy you want to implement.
Omnichannel free shipping choices – For sellers who sell on multiple channels (which you should be), you do not need to decide to offer free shipping everywhere. Programs like Fulfillment by Amazon (FBA) and Walmart Fulfillment Service (WFS) allow you to cost-effectively offer customers free and speedy shipping comparable to the marketplaces' own private label offerings. That said, offering free shipping is also possible for merchant-fulfilled sales as well.

Once more, it likely comes down to numbers. Especially when starting out, it may make sense to just start offering free shipping with your first-party sales and on channels where it is already baked into your fulfillment arrangements. From there, you can incrementally add free shipping options on other channels as it makes sense to do so.
Keep an eye on the competition – Free shipping can be something that either helps you keep pace with your rivals or surpass them entirely. Online shoppers have become increasingly comfortable and willing to comparison shop before making final purchasing decisions. Free shipping can be the difference maker that puts your products over the top.
Don't forget about returns – Just as customers have become accustomed to the availability of free shipping, many also have come to expect free returns. Allowing customers to send items back (for whatever reason) at no cost, can send a powerful message about the confidence you have in your products as well as your commitment to customer service. Rolling out a clear and customer-friendly returns policy at the same time that you implement a new customer-friendly shipping policy can yield an even stronger positive response.
Sellercloud's cost of goods sold (COGS) calculations and reporting features can be especially helpful throughout this decision-making process. Our omnichannel growth platform allows you to see exactly how your fulfillment choices are affecting your profits. This way you can ensure that you are making data-driven decisions about all of your fulfillment offerings and partnerships.Contact us directly for a free demo and see for yourself how Sellercloud can not only help you implement and manage your shipping offerings, but also optimize countless other aspects of your online selling experience.