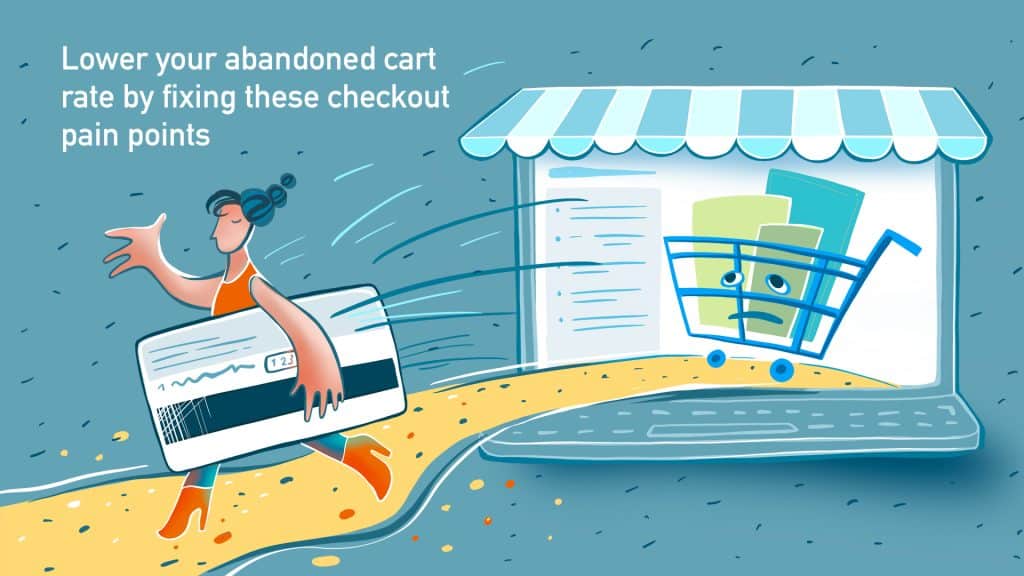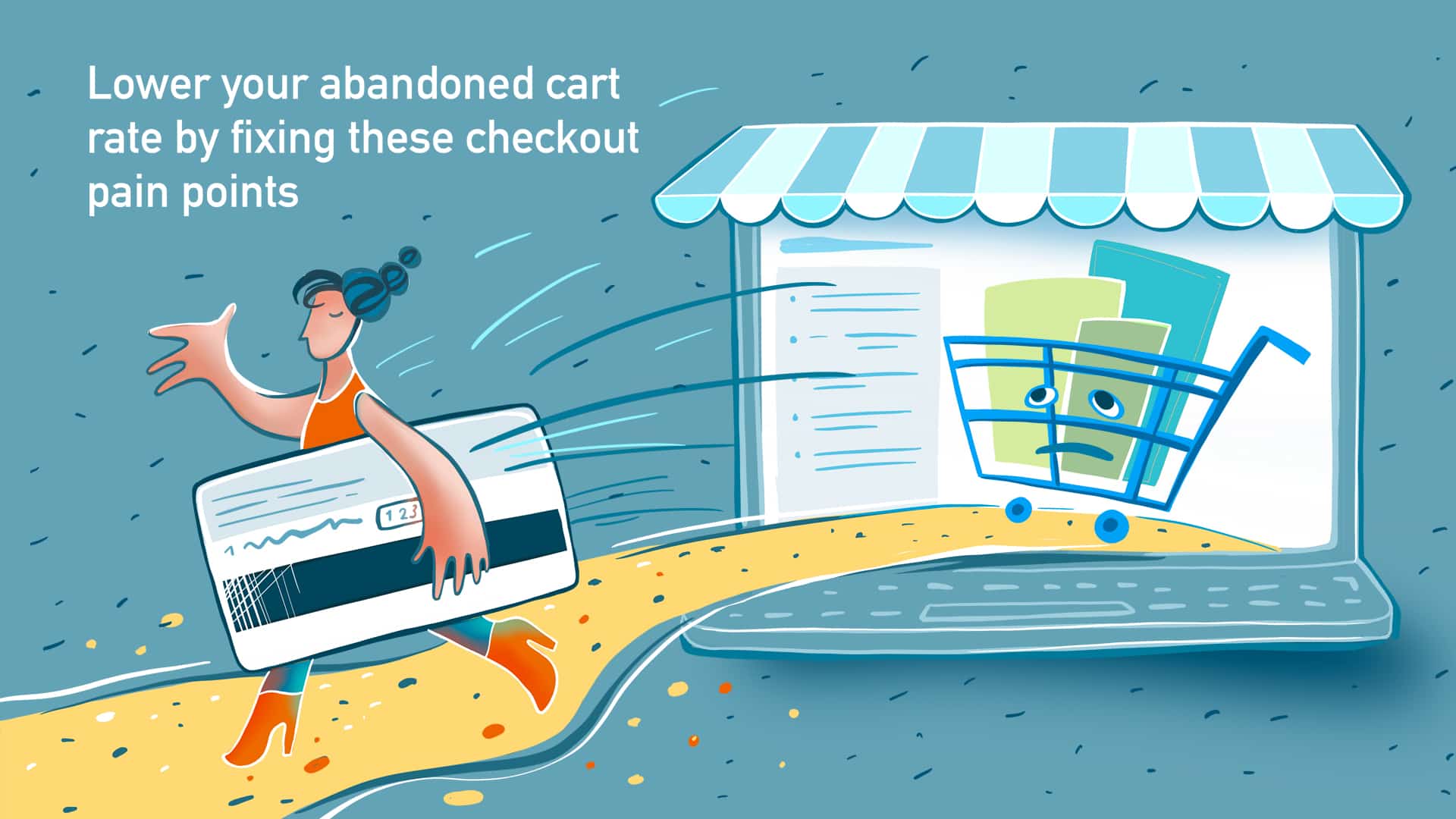 Your abandoned cart rate is one of those e-commerce metrics you should be keeping an eye on when self-assessing the effectiveness of your online sales funnel. An abandoned cart occurs when a user adds one or more items to a shopping cart, but leaves the site without completing the purchase.
To calculate this figure for your business, you first need to divide the number of abandoned carts over a period of time by the total number of created shopping carts over that same timespan.
Obviously, the lower your abandoned cart rate, the better. That said, it is a figure that is unlikely ever to hit zero. Much of this has to do with the nature of online retail and how customers utilize e-commerce shopping carts.
While anyone who works brick-and-mortar retail will tell you, abandoned carts are not exclusive to online sales. Customers have been known to enter a store, fill a cart with items, leave the filled cart in an aisle, and then exit the store. That said, it is much simpler and guilt-free to abandon a virtual shopping cart than a physical one.
It is not uncommon for online shoppers to treat your site's shopping cart as an impromptu wish list or layaway rack – stashing items so they can consider them later or compare them to others as they continue to browse other sites. In fact, a 2020 Baymard Institute study revealed that "58.6% of US online shoppers have abandoned a cart within the last 3 months because 'I was just browsing / not ready to buy'."
However, that same Baymard Institute study determined that as of December 2020, the average cart abandonment rate across US e-commerce is 69.8%. Not all of these abandoned carts were caused by window shoppers. There are a large number of these instances that reflect more serious sales-funnel issues.
While there are steps you can take to market to those who abandoned carts for browsing reasons, there are even more critical steps that must be taken to avoid losing customers who filled carts with the initial intent to purchase. To reduce your abandoned cart rate, start by taking a closer look at your checkout.
Remove Surprises at Checkout and Convert More Sales
Any sales transaction requires a base level of trust. This is particularly important when it comes to online sales. Since customers are not physically putting their eyes and hands on merchandise before purchase, they need to have faith that they can believe the information being provided to them by e-commerce merchants and marketplaces. Any breach of consumer trust throughout the online sales process can lead to an abandoned cart and/or lost customer.
Some of the most typical offenses that lead to abandoned carts include:
Surprise fees – Customers are conditioned to expect to pay a little more than sticker price when making an online purchase. For instance,  sellers have been required to collect sales tax on online sales for several years now. Similarly, free shipping is great, but many marketplaces and online-sales channels do charge fees for that as well.
The problem is when the order total far exceeds customers' initial expectations. If extra charges drive purchase prices up too far, carts get abandoned and sales get lost. Doing what you can to avoid these checkout surprises – particularly by both eliminating extraneous processing fees and keeping shipping and handling costs down – will help reduce cart abandonment.
Lower-than advertised inventory levels – In a retail store, if you can take an item off the shelf and put it into your cart, you can walk to the checkout and purchase it. Customers have the same expectation for online retail: if the item can be added to their cart, it is available to buy. When you fail to be clear about your stock levels, customers can be in for an unpleasant surprise when they go to complete their orders.
Out-of-stock and backorder notifications at checkout can result in frustrated customers looking elsewhere. While being up front about this at checkout is better than overselling and driving up your canceled-order rate, the better option is to make inventory visibility a priority at the listing level. This eliminates another potential checkout surprise and a proven driver of abandoned carts.
Longer than expected shipping times – For customers, waiting to receive an order is one of the biggest knocks against online shopping. Unlike brick-and-mortar where customers walk out of the store, product in hand, e-commerce has an unavoidable  logistical component. Simply put, this means waiting.
The fact that many marketplaces now offer same-, one-, or two-day expedited shipping options as the norm has skewed customers' expectations for how long they should be expected to wait to receive an online order. As such, if a customer goes to check out and sees an estimated arrival date that is weeks, a month, or more in the future, there is instantly a motivation to seek speedier alternatives – even if it means a higher price or even an inferior product choice.
You need to make sure that you offer customers speedy and reliable shipping options. Regular audits of your shipping partners, as well as maintaining bi-coastal warehouses can help keep your shipping speeds up to par and avoid losing customers to impatience.
In each of these cases, customers placed a product into their cart with an expectation of what they were getting, what they would pay, and when they would reasonably expect to receive their purchase. Any violation of these basic transactional details will lead to increases in your abandoned cart rate.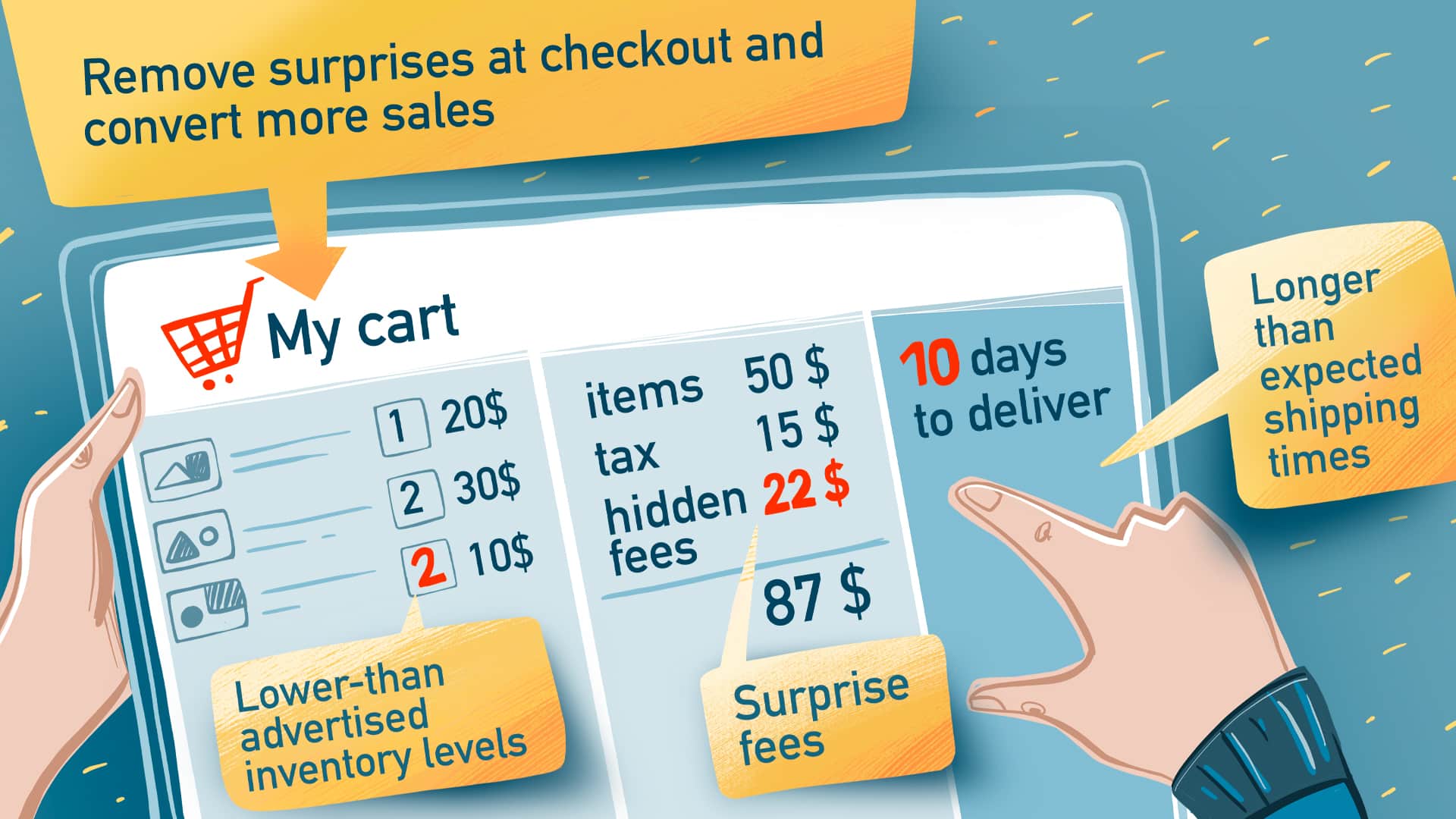 Simplify Your Checkout Process
Sometimes cart abandonment is less about the numbers customers see at checkout and more about the logistical hurdles of the checkout process itself. Some of the most common sins that lead to customers abandoning their carts include:
No guest checkout – Not all customers are comfortable with filling out lengthy registration forms and offering up extraneous personal information just to make an online purchase. While social-based signups through customers' existing accounts can speed up the process, some people will naturally have a reluctance to hand over their contact information to third-parties for fear of unsolicited marketing contact or more serious data breach potential.
For this reason, you should always provide a quick and simple guest checkout option. Give customers the opportunity to select a product and provide the bare minimum information required to complete the transaction. You may not get as much useful marketing data out of guest checkout sales, but you'll get the sales and the potential for return customers.
Too many clicks – There's a reason why Amazon and other marketplaces offer a "Buy it Now" one-click checkout option. The more clicks between adding an item to a cart and checking out, the more opportunities for a customer to change their mind, delay a purchase, and/or abandon their cart.
When it comes to sales on your own website, keeping loading times down and minimizing the number of pages customers have to click through will drive conversions. You can audit these metrics fairly simply using Google Analytics and surface where the pain points are occurring in your website navigation from catalog to checkout.
Not enough convenient payment options – Imagine a customer at your final checkout page, favorite payment method in hand, ready to complete their purchase. This bottom-of-the-funnel moment is such a critical sales conversion point. Whenever possible, you need to be sure that whatever payment method that customer is hoping to use is one that you are prepared to accept. Failure to do so could mean an abandoned cart and the loss of a highly-motivated customer.
Sellercloud offers integrations with a number of popular payment gateways, as well as the leading shopping cart providers, making it easy to give your customers the ability to choose the payment methods they prefer and expect.
Abandoned carts may not be something you will ever be able to eliminate completely from your e-commerce business, but monitoring your cart abandonment rate and taking proactive steps to reduce it should remain an evergreen priority. As much as any other customer behavior metric, an abandoned cart is particularly suited to surface pain points in your sales funnel that are ripe for optimization.
When it comes to optimizing your e-commerce business, Sellercloud's omnichannel growth platform is ready to support you with tools and integrations to both streamline your end-to-end logistical workflows and create an efficient and effective customer experience. Contact us directly for a free demo of how Sellercloud can help you increase your sales and keep customers coming back.