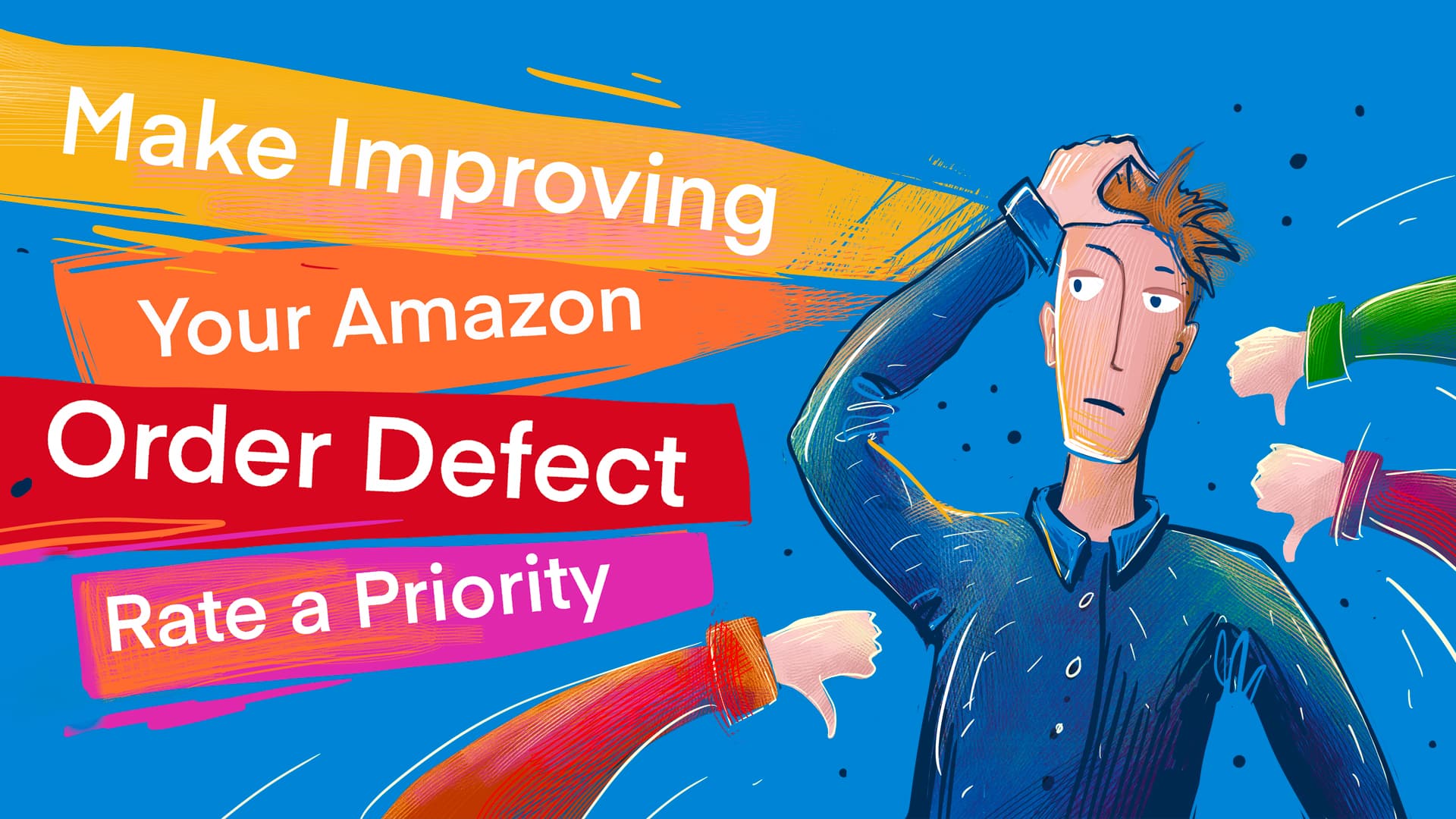 Compliance is critical when selling on third-party marketplaces. Failing to live up to a channel's terms of service can mean account suspension or even termination.
For Amazon sellers, being compliant also means keeping up specific seller metrics. Perhaps the most important of these is Order Defect Rate (ODR).
ODR is measured over 60-day intervals and is calculated using a simple formula: the total number of orders with at least one defect divided by the number of total orders.
Amazon calculates "defects" in the following categories:
Negative Feedback Rate – This metric is negatively impacted when customers leave 1 or 2 star reviews on their experiences ordering from your e-commerce business.
A-to-Z Guarantee Claims – These claims are made by customers when they do not receive their product on time, receive the wrong product, receive a damaged product, and/or you fail to respond to a refund request.
Credit Card Chargebacks – Every time you issue a refund to a customer (or a bank does so on a customer's behalf), this rate increases. While Amazon is clear that this rate calculation does not include chargebacks due to customer fraud, in some cases, the burden of proof may be on the seller.
Any time an order qualifies for at least one of the defects listed above, your ODR rate increases (NOTE: orders with multiple defects only count as a single defective order). Once your ODR rises above 1%, Amazon reserves the right to deactivate your account – temporarily or permanently.
Account suspension is no joke. Amazon instantly removes the "Buy Box" from all of your non-FBA listings. Payments from customers are frozen so that they can be used to refund customers. You are given 17 days to issue a written remedy plan detailing exactly how you will get your account back on track. Ask any seller who has gone through the process – it's a headache you most certainly want to avoid.
Be Proactive About Your ODR
Even for merchants with large order volume, 1% doesn't leave much wiggle room. If you take your Amazon sales seriously, you need to keep an eye on your ODR metrics and be proactive about keeping them in check. You can be sure Amazon will be watching.
The Customer Service Performance section of Amazon's Account Health page gives you the ability to download your Order Defect Rate report at any time. This should be a regular part of assessing your third-party marketplace efficiency. Ignorance will never be a valid excuse should Amazon find fault with your ODR numbers. Be proactive and ensure you have the proper tools and workflows to prevent customer satisfaction issues.
Compliance is a key component of the Sellercloud family of products and services. Our omnichannel inventory management platform features native integrations with Amazon to help our customers keep on top of every aspect of their marketplace orders – end-to-end. No matter what the issue, you can feel confident that you know where all your orders, payments, and inventory are at all times.
Skustack is our patented warehouse management system (WMS) that gives you even more granular access to the ins-and-outs of your inventory movement. It doesn't matter whether your products are in your own warehouses, sitting in an FBA fulfillment center, being handled by a 3PL provider, or in transit somewhere in between, every movement is tracked, recorded, and instantly accessible.
Tools like these help you keep negative customer experiences to a minimum while also giving you instant access to the information you need to help respond to customer complaints promptly.
That said, selling on a third-party marketplace all but ensures that you will have customer service issues to respond to. There are several ways you can keep them to a minimum and prevent them from disrupting your Amazon sales.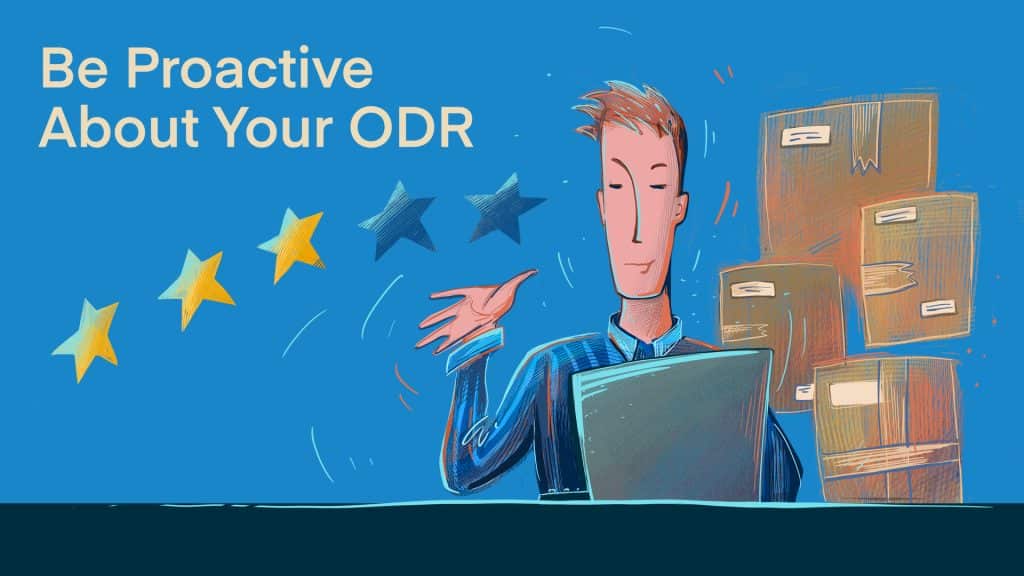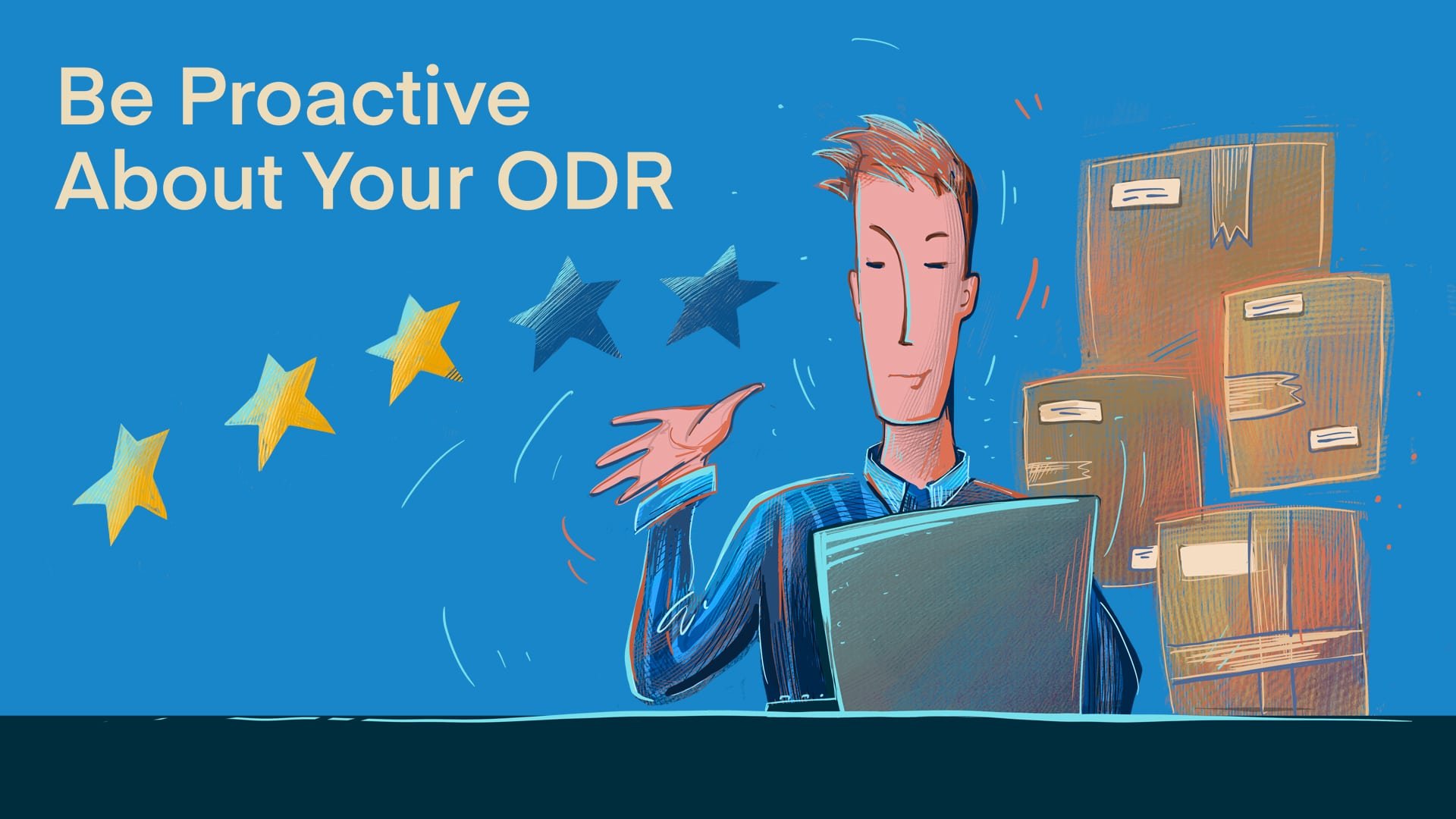 Improving Your Negative Feedback Rate
You can't control what people say about your products or your service, but you can do your very best to ensure as positive an experience as possible. Negative feedback can provide useful opportunities to interact with customers and find ways to improve your e-commerce business.
Reply – Use negative feedback as the start of a conversation about the areas where your products, sales, and/or fulfillment experiences aren't delivering – literally or figuratively. Negative feedback is a cry for attention. Be prepared to offer that attention as quickly, calmly, and professionally as possible. Will you be able to make every customer happy? Probably not. However, there is a lot to be gained from the effort.
Look for patterns – A random negative comment is bound to appear from time to time, but when the comments appear with regularity, it can be the sign of a larger underlying issue. Pairing negative feedback with order data can surface issues stemming from product defects, fulfillment center issues, packaging mishaps, or other order processing slip-ups.
Assess your product quality – The higher quality your products, the less likely customers will be dissatisfied when their packages arrive. Negative feedback could be a sign that you need to adjust your catalog or seek alternative suppliers. While upgrading your products or cutting certain items entirely can eat into your margins, both are much better options than losing your Amazon account altogether.
Catch cancellations quickly – Order cancellations can trigger hits to your ODR once payments have been processed. Resolving a cancellation quickly can sometimes help you avoid this negative outcome.

Not only can catching these errors early help minimize customer dissatisfaction scores, it can also help prevent unnecessary losses. Using an inbox management platform, like Memaila, allows you to automate order holds the second cancellation request emails are received. Your products stay in your warehouse, and your customer's payments stay in their accounts.
Reducing Your A-Z Guarantee Claims
Most A-Z Guarantee claims boil down to customers feeling that you were unable to deliver on the promise of your transaction. The problem could be anything from an incorrect item, a lost shipment, a damaged item, or a claim of false advertising. Much like negative feedback, there are elements of A-Z Guarantee claims that may feel like they are beyond your control. Yet, when patterns emerge, you need to take notice and remedy them as quickly as possible.
Listing accuracy – One of the big challenges in online shopping compared to brick-and-mortar retail is that customers can't put their hands on the products before they purchase them. As a result, they are left to trust the listings and product information you provide. Routinely review your listings to ensure they are as accurate and truthful as possible. Everything from the color clarity of your images to your shipping policies need to be crystal clear to avoid the potential for dissatisfied customers. This both reduces the odds of receiving an A-Z Guarantee claim and also cuts down on credit card chargebacks.
Fulfillment workflows – Even if customers are 100% satisfied with the physical products they purchase, a poor order fulfillment process can sour the entire transaction. One of the leading causes of A-Z Guarantee claims is orders that arrive after the maximum estimated delivery date (or simply don't arrive at all). Keeping order processing times as low as possible is a must for selling on Amazon and avoiding ODR spikes. Regularly audit your order processing routines and be prepared to remain flexible in your shipping options.
Looking to up your order processing game? Sellercloud products like Shipbridge, Memaila, Skustack, and Skublox can keep your order fulfillment workflows quick and optimized. Contact us directly for a free demo of our entire family of omnichannel e-commerce platforms.