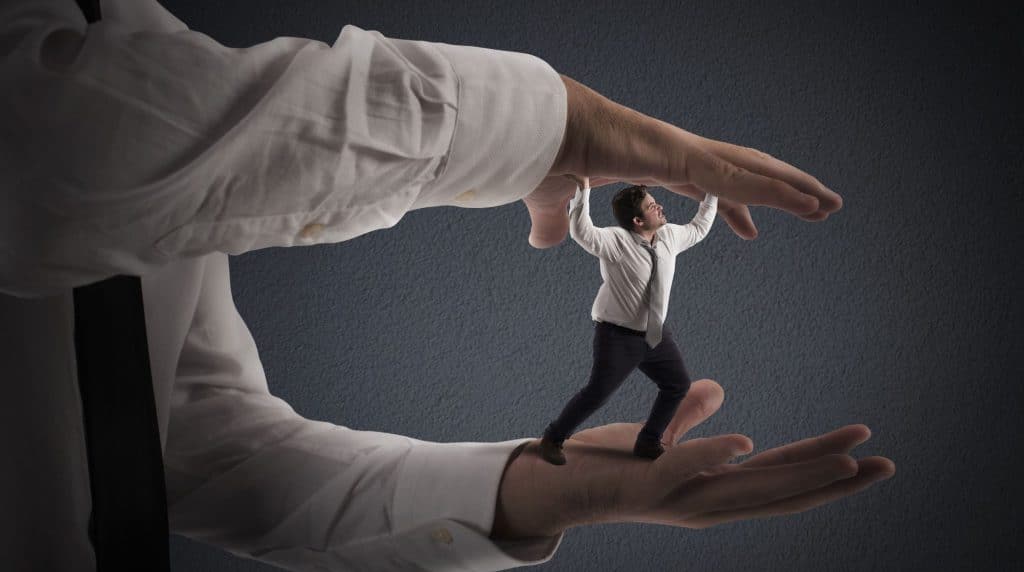 For some e-commerce sellers, Amazon is a highly lucrative and reliable long-term business investment.
The principal ingredient among these sellers is not bags of cash or business acumen as you might imagine, but something a lot more sinister:
Fear.
With all their vague guidelines, various policies, and lengthy regulations, the only way to make Amazon work in the long run is by living in fear of their wicked and unrelenting ways.
New sellers don't know this and think of Amazon as their business partner. Sellers who've been dealing with them for a while start to realize who holds the power in the relationship. The most seasoned and successful sellers understand they were never anything close to partners.
These sellers have heard the stories or personally experienced the wrath of Amazon and survived to tell the tale. They know if they don't keep up to their stringent standards, Amazon won't hesitate in CRUSHING them. Out of the blue, their account will be suspended, and it will be impossibly difficult to get it back.
Bloomberg recently reported on Amazon's harsh guilty-until-proven-innocent approach and how they are coming down harder than ever on sellers, closing accounts with little notice after single complaints from customers or manufacturers.
One seller recounted how he built a $2 million health and beauty business only to have his account suspended earlier this year. He hired a lawyer and filed a complaint with the Better Business Bureau, but to no avail. The seller was forced to lay off 10 employees and shift his inventory to other sites like eBay.
Some of the common reasons for suspended seller accounts include:
Negative Feedback: According to Amazon, the customer is God and their reviews are sacred. If even a couple are any less than raving, you better immediately offer a refund or more unless you want to risk account suspension.
Selling Prohibited Items: An exact list of all of Amazon's hundreds of restricted and banned items is hard to find. But if you sell any unrightfully, you can guarantee you will be banned.
Inauthentic Reviews: Amazon loves positive reviews but only if they are based on legitimate transactions. That means if you're found giving away free items for reviews, you guessed it: you'll be banned.
Late Shipping: Having a late shipment rate is not accepted by Amazon and will lead to an account suspension if it exceeds 4 percent.
Cancellation Rate: Sellers regularly report suspended accounts due to high order cancellation rates. Amazon takes this very seriously and uses it as a clear indication that you're failing to keep a good enough track of your inventory.
Sellers can also be punished for products not being as advertised, expired items, and high return rates, among other things.
If your account is closed for one of these reasons but you're fortunate enough to get it reinstated, the weeks if not months of downtime can seriously impact your sales, not to mention your credibility in the eyes of Amazon.
Andy Ayers makes a living reselling everyday products for a markup on Amazon. On a normal day, while walking through a Big Lots parking lot with a trolley full of goods to sell, he received an alert on his phone informing him his Amazon account had been suspended.
Ayers, who estimates he'll sell $500,000 worth of goods on Amazon this year, had received a complaint from a customer claiming one of his products was fake. He quickly disputed the claim and provided receipts as proof but by the time his account was reinstated, several weeks had passed and thousands of dollars had been lost in sales.
Running an Amazon business is like walking a tightrope that can be pulled out from under you at any moment. But this doesn't mean the most resilient sellers just get used to the constant anxiety that it could happen to them — they put the appropriate systems in place to manage it.
Inventory management platforms like SellerCloud take care of all the triggers that may cause Amazon to look at your account with a discerning eye and take unwanted action.
Rather than worrying about keeping on top of every stage of every order, the software does every-thing from keeping customers informed and organizing tracking numbers to ensuring all products are shipped on time. It also takes care of your inventory, letting you know when a product is running low and automatically updating listings when an item is out of stock.
All these features help sellers avoid a pounding from Amazon, whether it's because they would have failed to ship products quickly enough, had to cancel orders due to no stock or overlooked a review from a customer who wasn't impressed by their service. SellerCloud tracks your inventory and orders to ensure none of this ever happens and you stay Amazon compliant.
The long term Amazon game is stay compliant or die. But you have to be a superhuman to keep up with the workload Amazon makes for your business. It only makes sense that it takes a just as impressive piece of technology like an inventory management system to tame the Amazon beast and make it the lucrative and reliable 'partner' it can be.