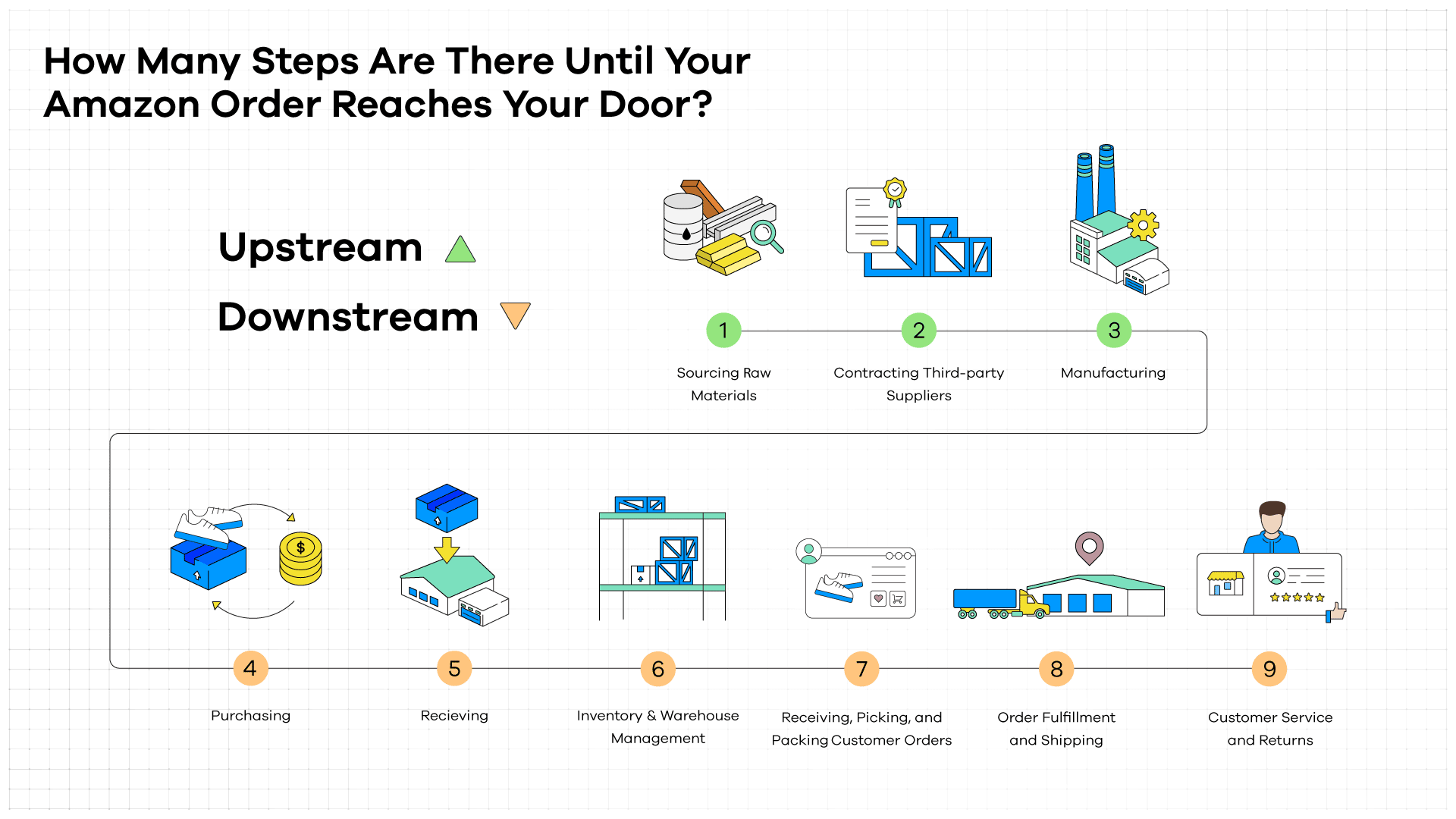 Shopping on Amazon is fast, convenient, and simple. In some cases, a customer can make an online purchase and have it delivered to their doorsteps the same day. As easy as the ordering process is for customers, there is a complex set of steps that go on behind the scenes to make it all possible.
The end-to-end journey of an Amazon order involves a two-part supply chain: the upstream supply chain and the downstream supply chain. In simplest terms, the upstream supply chain deals primarily with the supply side of ecommerce—all the steps involved in creating, sourcing, and assembling a retail product. Conversely, the downstream supply chain focuses on the demand side of online retail—the steps sellers must take to purchase, store, market, sell, ship, and support their products.
As an online seller on Amazon Marketplace (or any ecommerce channel for that matter), it is essential to understand how these two supply chains interact, and to optimize your ability to keep products flowing to your customers.
The First Stage: The Upstream Supply Chain of an Amazon Order
Long before a product makes it to a warehouse shelf and is listed for sale, it is some combination of raw materials, parts, and packaging that needs to be acquired and assembled.
For most ecommerce sellers, these steps likely fall outside of the purviews of their businesses. That said, depending upon the product(s), some brands opt to retain control over some or all of these steps in the upstream supply chain.
Step 1: Sourcing raw materials
All products have to start somewhere. The first step in a product's development involves acquiring the materials required to create it. Depending upon the type and complexity of a product, this may involve multiple sources and suppliers.
This is also the first step in establishing the cost of a product. As the expenses associated with a product's raw materials fluctuate, so may the optimal price of the finished piece of merchandise when it is listed for sale. For example, if the market price of cotton increases, a fashion brand that sells cotton garments will likely need to pass that increase onto its customers in order to maintain acceptable profit margins. On the other hand, should cotton prices decline, sellers can reduce their retail prices to improve their competitiveness.
Step 2: Contracting third-party suppliers
Many products include parts that are more complex than raw materials. These components include items like circuit boards, batteries, molds, textiles, bulbs, hinges, wires, fasteners, packaging materials, and others that can be ordered from suppliers. Like raw materials, these different component purchases must be sourced from vendors and considered when pricing finished goods.
Step 3: Manufacturing
In many cases, ecommerce sellers are not actually assembling and manufacturing their own products. This final step of the upstream supply chain is usually outsourced to a contracted third party that has the capacity and equipment to mass produce items in a more efficient and cost-effective way than the average retail business can on its own.
Manufacturers' prices and capacity vary depending on product complexity, labor costs, locale, and volume. Just as sellers should comparison shop for the best suppliers, manufacturers should also be scrutinized to ensure the optimal balance between quality and prices.
The Second Stage: The Downstream Supply Chain of an Amazon Order
The downstream supply chain includes all of the steps a product goes through once it has completed the manufacturing process. It includes all of the steps pertaining to the purchase, acquisition, sale, and distribution of a product as well as everything related to accepting and fulfilling customers' orders. This is the point where ecommerce sellers' responsibilities really begin.
Step 4: Purchasing
Before a product can be listed for sale online, retailers must purchase the products they sell. Purchasing is an ongoing process that must be repeated as inventory is sold through to customers.
Some ecommerce businesses manually create purchase orders (POs) as needed, while others opt for automated solutions with predictive purchasing capabilities that ensure there is always inventory on hand to satisfy customer demand.
Step 5: Receiving
Once a purchase order is fulfilled, an ecommerce business needs somewhere for the new inventory to go. Receiving is the process of accepting a PO, verifying order contents, and routing inventory to the appropriate destinations and locations for storage. Most warehouses have a dedicated loading dock, processing area, and team to help make receiving POs as streamlined as possible.
This is the step where SKUs enter into an ecommerce business's warehouse and inventory management systems, so accuracy counts. Mistakes in reception can easily filter into all of the subsequent steps of the downstream supply chain processes.
Step 6: Inventory & Warehouse Management
Once an ecommerce business has their products on hand, it is critical that every item is accounted for and tracked. Whether your business runs its own warehouse(s) or outsources these obligations to third-party providers, you need to know what inventory you have and where you have it. This also includes ensuring that third-party logistics (3PL) partners and localized warehouses have the right quantities available to fulfill the obligations you entrust to them.
A fully-featured inventory management platform is an essential tool to make sure that you have the stock to keep up with customer demand and the ability to move products quickly and efficiently both to customers and within your own operation.
A warehouse management system (WMS) is another vital component of an effective inventory management strategy. It coordinates and tracks nearly every aspect of the inventory life cycle within a warehouse and/or a network of multiple warehouses—including the downstream supply chain steps outlined here. A strong WMS also supports the fulfillment of Amazon orders, maintenance of FBA and 3PL inventory levels, and up-to-date SKU counts through inventory cycle counting.
Warehouse visualization technology takes things further by allowing real-time tracking of product and worker movement throughout a business's warehouse(s) and locations. This can be a useful tool for general oversight as well as pinpointing specifics like tracking SKUs all the way down to the bin level or identifying causes of warehouse bottlenecks.
Step 7: Receiving, Picking, and Packing Customer Orders
The same inventory management and WMS tools that make it possible to optimize your product movement and warehouse storage procedures also support your business's ability to accept, process, and package customer orders.
When an order is received, the details need to be passed along to the warehouse team or 3PL provider best equipped to fulfill that order. Ideally, an inventory management platform routes the order based on the destination and available stock, ensuring that the customer is able to receive their order as quickly as possible.
With the order in hand, the warehouse team must locate the relevant items and bring them to a common location to prepare for packing. A WMS simplifies this step by providing direction and task assignments to floor workers so that items can be picked and routed through the warehouse with a degree of optimization not otherwise possible.
Put-to-light and pack-to-light systems add an additional layer of automation to streamline this process. When items arrive at a packing station, warehouse associates scan each item. A colored light indicates the bin or shelf where the item should be placed. Once an order is completed, another light indicates that all of the items for a particular order have been assembled and that the order is ready to be packaged for shipment.
Step 8: Order Fulfillment and Shipping
Once an order is assembled and packaged, the seller must get the products out the door and on their way to their customers. It is rare that an Amazon seller handles their own shipping and last-mile delivery. These services are commonly outsourced through partnerships with third-party shipping and fulfillment channels. Depending on the provider, types of packages being shipped, and shipment volume, it is sometimes possible for ecommerce sellers to secure more favorable rates and services as part of these partnerships.
This is another area where an effective ecommerce platform can help boost a seller's ability to meet and/or surpass customer expectations. Not only does it make it possible to integrate multiple shipping and logistics partners into a business's ecommerce workflows, but the use of a rule engine can apply automated decision making to ensure that the best possible shipping option is selected on a per-order basis.
Step 9: Customer Service and Returns
Once your product is in a customer's hands, it doesn't mean that the downstream supply chain has reached its end. Supporting customers post-purchase is a requirement to maintain your standing as an Amazon seller and to help promote repeat purchases in the future. Specifically, speedy customer response times and efficient returns policies can score you points with both Amazon and Amazon customers. When a customer has questions about their order or your products, you need to have the staff and workflows in place to provide the answers. When word comes from Amazon that a dissatisfied customer is looking to exchange or return an item, you need to have the infrastructure in place to accept and process these requests.
From the customer's perspective, an order on Amazon is astoundingly simple. Items are selected, checkout is completed, and the package arrives at their door. As an Amazon seller, the steps outlined above must all be executed without a hitch to ensure that customers are able to enjoy and rely upon that simplicity.
The Sellercloud omnichannel growth platform makes it possible for your ecommerce business to do exactly that. Contact us directly for a free demo and see for yourself how our family of tools and software can boost your performance as an Amazon seller, and simplify your entire ecommerce workflow, end-to-end.