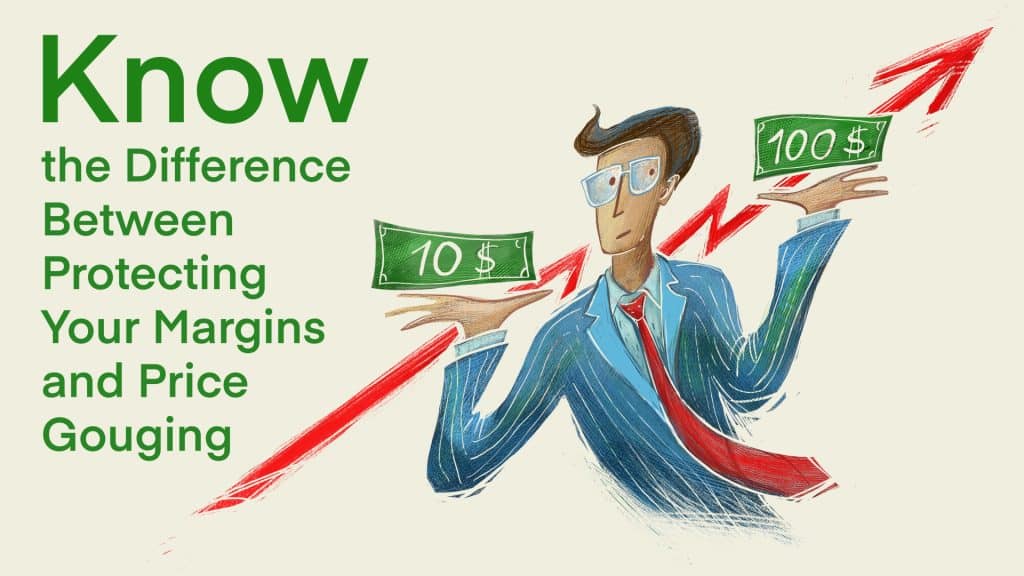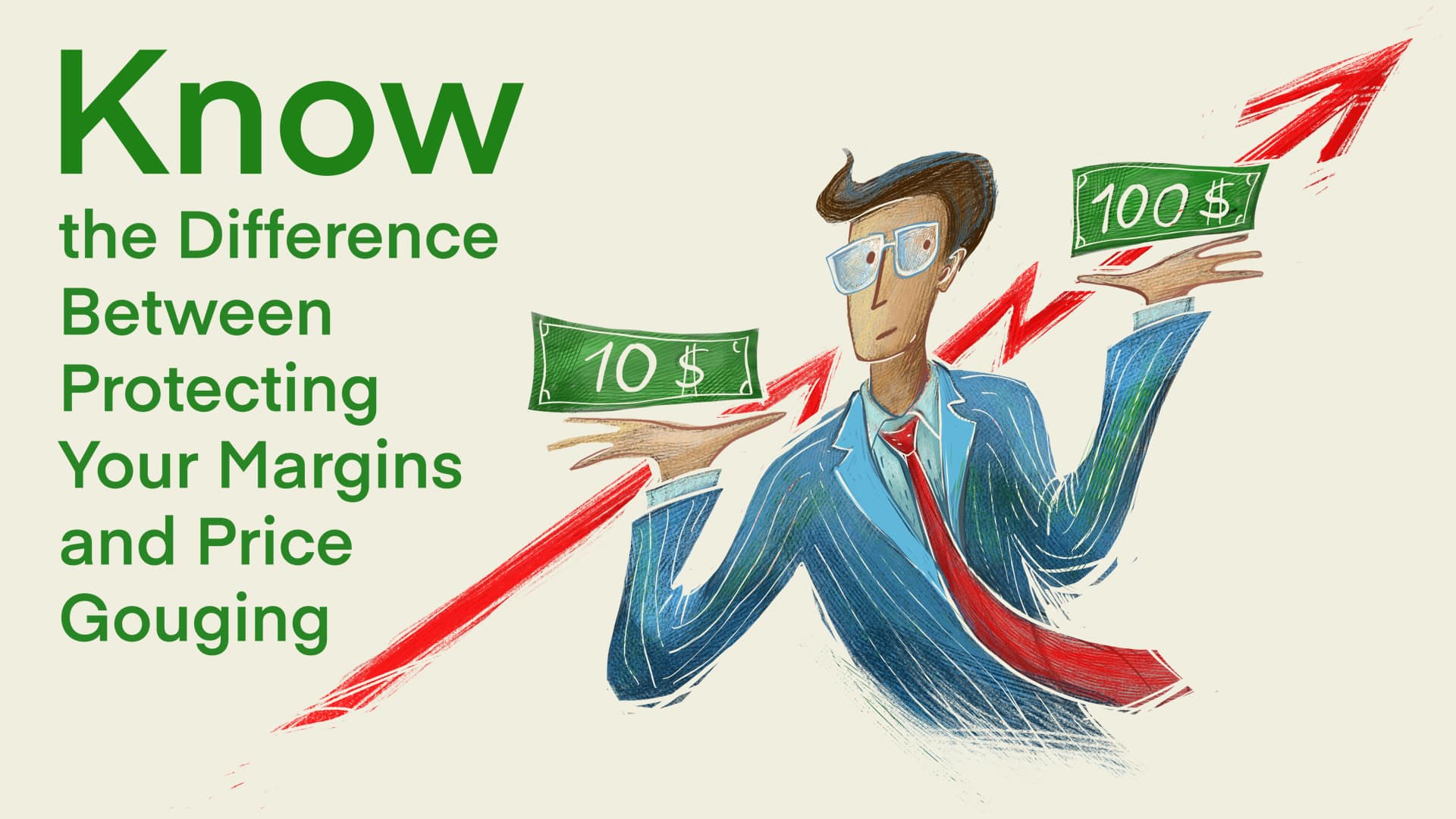 Whether it's in response to a natural disaster or a global pandemic, people's buying habits undoubtedly change. In these times, it is common to see prices rise on certain products and commodities – whether it be due to scarcity or market volatility. It's Economics 101: when supply is low and demand is high, things typically cost more. 
But in times of emergency, people panic. The pressure and uncertainty can cause people to act impulsively and make decisions they normally would never make. $20 for a gallon of milk? $50 for a bottle of sanitizer? Some sellers see crisis as an opportunity to increase prices of essential goods and services to unreasonably high levels. After all, if people are willing to pay exorbitant amounts for staples like, say, toilet paper, why not let them?
This is considered price gouging. On most major e-commerce marketplaces, it is enough to get your account suspended and/or terminated. In most states, it is against the law and can lead to stiff fines and penalties. In the court of public opinion, it can do irreparable damage to your brand.
Whether you think that you can get away with it or not, price gouging as an e-commerce seller is not worth the risk that it poses to your business.
Price Gouging – The Risks are Real, and so Are the Consequences
In times of crisis, it can be tempting to start inching up your prices to compensate for slowing or lost business. In most cases, you are actually free to do so. That said, marketplaces and states limit how much you can raise your prices during a declared state of emergency. Some states, like California, limit price increases to specific percentages. Other states are vague – relying on terms like "increases that grossly exceed" what a product typically sells for.
Once a state of emergency is declared (either nationally, statewide, or locally depending upon each state's statutes), most states with price gouging laws on the books empower their Attorneys General to start paying particular attention to incidents of suspicious mark ups. Many of these states have created useful web forms that allow citizens to file accurate and complete claims against specific sellers and retailers.
By the same token, the major third-party marketplaces all have their own price gouging policies:
Amazon

has its own "

Fair Pricing Policy

" to prevent price gouging and any other pricing practice that, in their view, "harms customer trust." Violators can be punished in a variety of ways including listing removal, suspension, and even account termination.

Walmart

has a similar third-party

seller pricing policy

that "will automatically unpublish items that are priced substantially in excess of prices recently offered on Walmart Marketplace or on competing sites, or that appear to be the subject of price gouging, or other unfair or abusive pricing practices."

eBay

is in an interesting spot. As a digital auction house, their sales model is all about selling to the highest bidder. If someone is willing to pay an exorbitant price, it is his or her prerogative to do so. In response to the COVID-19 pandemic,

eBay has opted to ban the sale of certain safety products

(both in auction and traditional marketplace listings) as an act of good faith against artificially inflated prices.
If you increase your prices during times like these, be prepared for claims to be filed against you – both from states and marketplaces. Even if you are found to not be price gouging, the heightened sensitivity to it amongst the general population can draw negative attention to your business.

Raising Prices During an Emergency
The good news is, buyers aren't going to opt for a more expensive product if your prices remain steady. This means that you aren't ever actually competing against price gougers. Depending upon what you sell and how stable your logistics partners are, you may be able to continue business as usual.
However, the reality is that sometimes emergencies actually do increase your overall cost of goods sold (COGS). Supply chain disruptions, limited shipping options, and labor shortages can make it more expensive to fulfill an order than it would typically cost. Under normal circumstances, you would likely pass these COGS increases on to the customer. But if you were to do this in a crisis, would that make you a price gouger?
Technically, no. You are free to increase your prices to compensate for these additional costs, but be sure to do so within the acceptable limits of the states and marketplaces where you sell. If you are unable to do so without crossing price gouging thresholds (specific or perceived), you may be better off delisting a product for the short term to avoid taking losses.
So How
Should
You Handle Price Changes During an Emergency?
The number one thing to remember is that even though you do have relative freedom in how you price your products, you are responsible for the choices that you make. Claiming ignorance to the issue will not spare you the legal and/or public relation consequences.
Thankfully, the Sellercloud e-commerce management platform equips you to manage all aspects of your inventory – even in times of emergency. To start with, Sellercloud makes it simple to manage prices across multiple marketplaces. As an added benefit, our automated pricing safeguards allow you to set limits and automatic order holds to ensure that you don't sell products for too low of a value.
Furthermore, Sellercloud makes it easy to identify bottlenecks and price spikes in your supply chain and logistical workflows. While your options may be limited in a crisis, our stable of integrations provide potential alternative shipping, supplier, and fulfilment options that may help you keep costs (and in turn, your prices) down.
While these benefits are helpful to e-commerce companies in the best of times, they can be a life-saver in times of uncertainty. Contact us directly for more on how Sellercloud can help you optimize your e-commerce business even in emergency conditions.