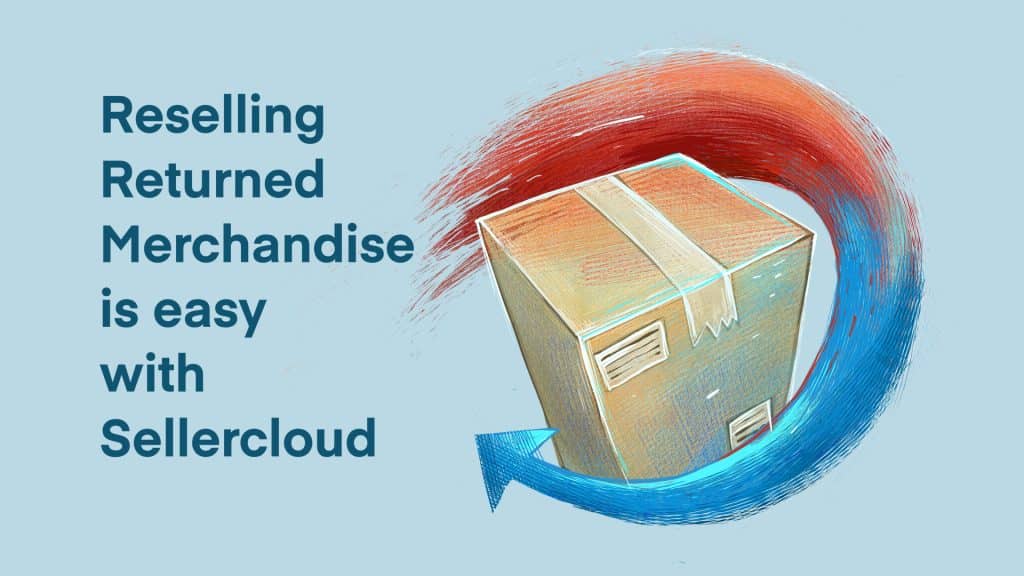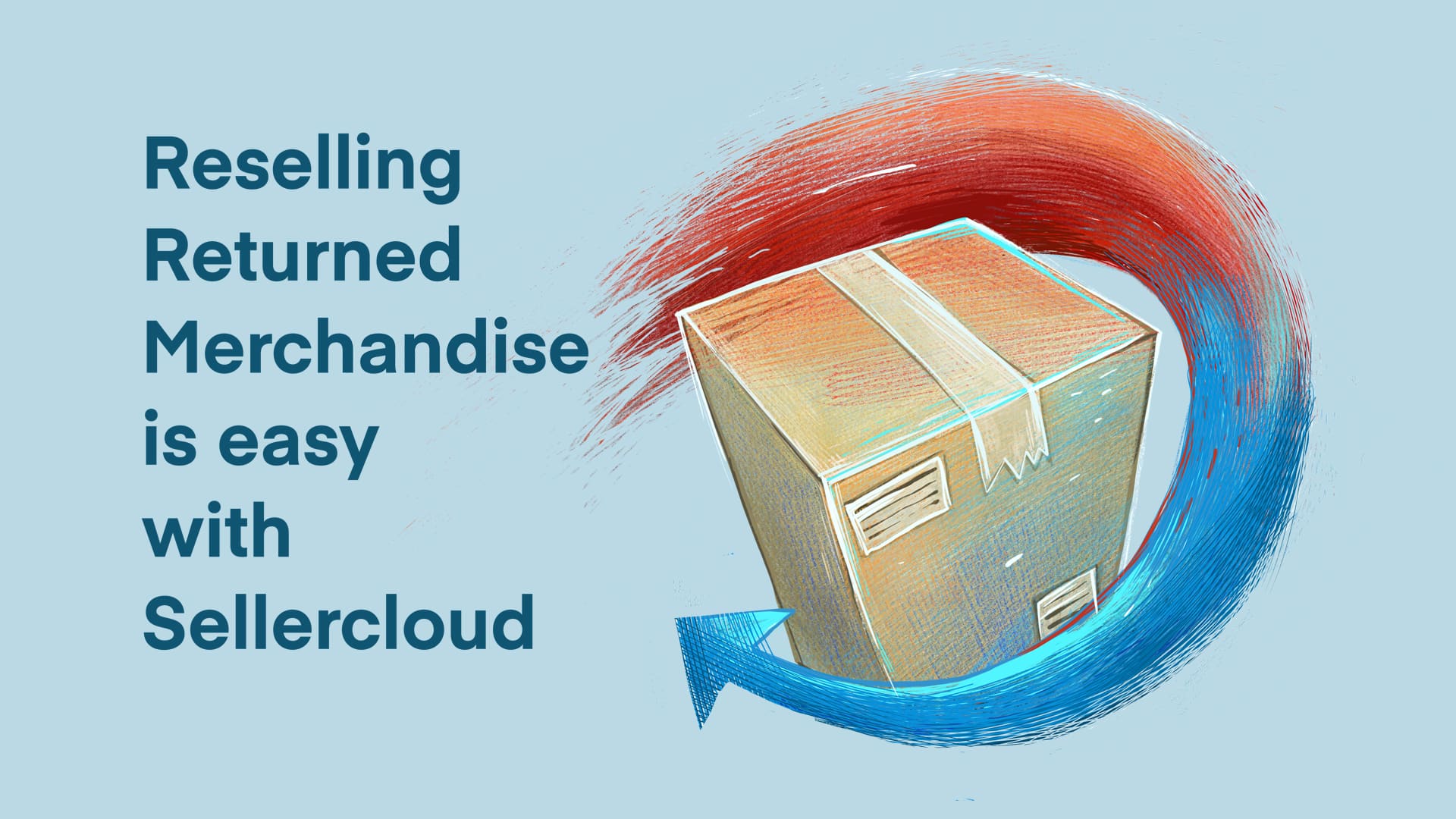 Returns are an unavoidable challenge when operating an e-commerce business. Studies have shown that customers are notably more likely to return items purchased online than items purchased in brick-and-mortar stores.
As a seller on third-party marketplaces, you need to be prepared to meet the RMA expectations of both the customers and the marketplaces themselves to remain in good standing. What's more (as evidenced by recent events), online marketplace return policies can change quickly and with little notice.
This challenge of handling RMAs inevitably escalates during times of increased online consumer activity (e.g., holidays or pandemics). This means that during the times when you are selling and shipping high volumes of merchandise, you are likely to see higher numbers of returns coming back as well. If you are unprepared, this can put a strain across your entire business – from customer service to fulfillment.
Thankfully, Sellercloud offers you the flexibility and versatility to process RMAs efficiently and reliably. Creating and managing RMAs is streamlined so that all of the relevant information in the returns process remains up-to-date in real time, and all stakeholders are kept in the loop. 
Furthermore, our platform can help you to transform the returned merchandise back into sellable inventory. This both cuts down on dead stock piling up in your warehouse and gives you the chance to dramatically reduce the losses associated with RMAs.
Creating and Managing an RMA in Sellercloud
Sellercloud simplifies the entire RMA process. Regardless of the origin or reason for the return, everything from creation to resolution can be handled, tracked, and referenced within our platform.
To begin with, creating an RMA automatically generates a unique RMA number for each return. This serves as the key identifier for processing and tracking every step of the return process – including notes, customer information, tracking numbers, and inventory status.
Once the RMA is created, an email can be generated that is prepopulated with relevant customer contact information. We offer a variety of pertinent email templates that can be set to automatically fill with even more return-related information that the customer will need or request. These emails can even be set to send automatically once a new RMA is entered into the system.
Once the RMA is received, our platform makes it easy to update the steps in the resolution process and keep track of the status of the returned and/or replacement merchandise. From there RMAs can be set to close manually or automatically.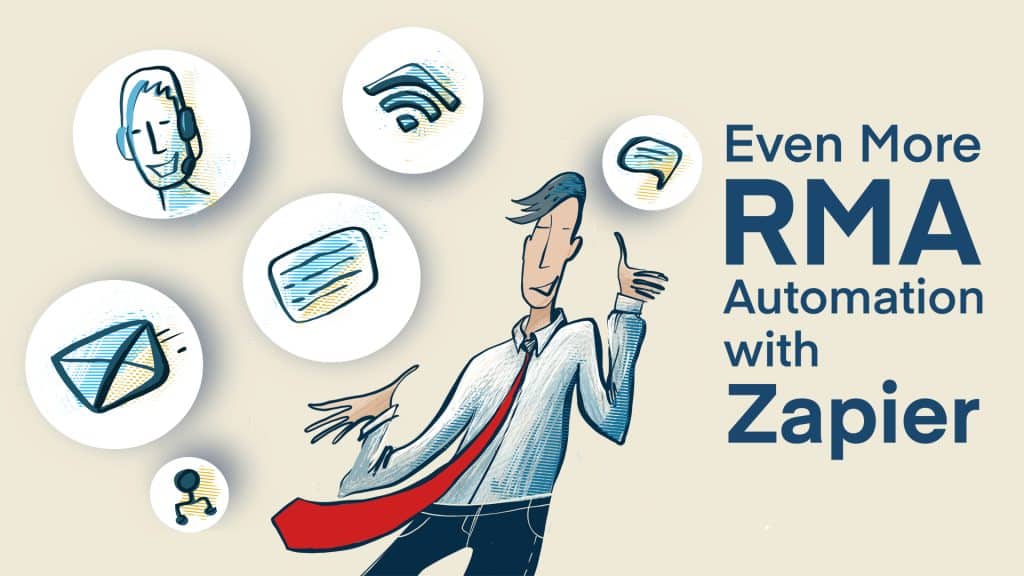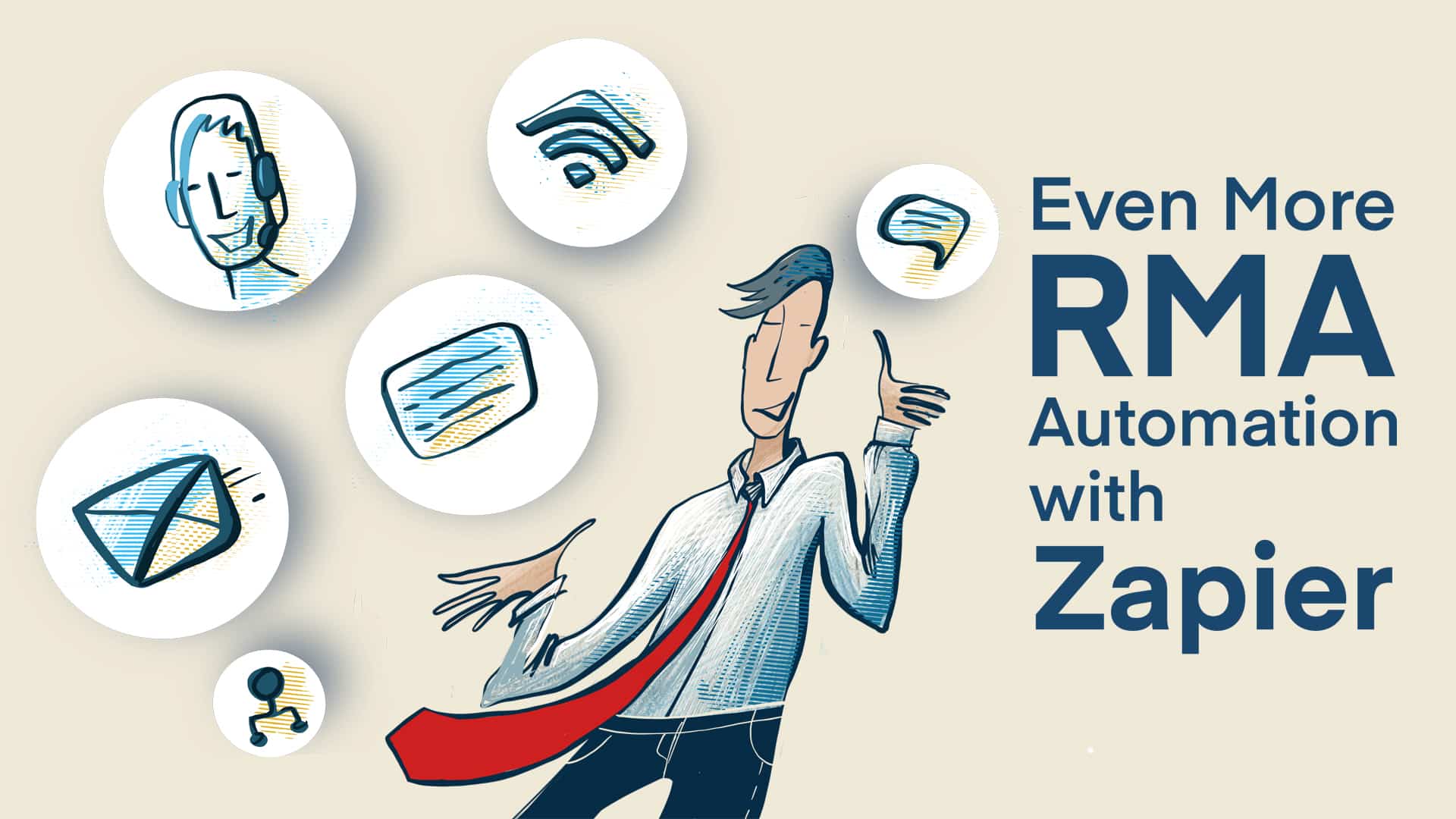 For more on this process, visit our Creating an RMA help page. 
Even More RMA Customer Service Automation with Zapier
Sellercloud's integration with the automation productivity tool Zapier can make your RMA process even more streamlined. Zapier is a user-friendly platform for creating automated scripts (called Zaps) that can be triggered by various webhooks and actions within marketplaces, digital forms, emails, and even Sellercloud itself. Once configured, these Zaps can open up whole new avenues of efficiency.
Since Zaps can be set to execute from such a wide range of actions, there are several ways to use the Zapier-Sellercloud integration to your advantage:
Once a new RMA is created in Sellercloud, return instructions and a return shipping label can be sent automatically to the customer.
Trigger emails to be sent to customers when a returned item has been received and/or processed – both keeping customers informed about the next steps in the RMA process and reducing the number of follow-up calls being made to your customer service department.
If a returned item cannot be replaced, generate a coupon code in Klavio to be sent along with the refund notification.
When a replacement item is marked as delivered, automatically schedule a follow-up customer service call to ensure satisfaction and increase the odds of receiving positive feedback.
What makes Zapier so helpful is that there are nearly infinite combinations of customizable if-then pathways like these. This allows you to create automations perfectly tuned to your e-commerce business's needs, no matter how simple or complex they may be. When paired with Sellercloud, these powerful tools can be used in tandem to make your entire RMA workflow more productive and effective.
Reselling Returned Merchandise
So you can process returns effectively, but what do you do with all of the returned merchandise? 
There are numerous state and federal laws governing what can be done with returned merchandise regardless of its condition. Returned merchandise can no longer be advertised and sold as new – even if it is completely unblemished. Most e-commerce marketplace policies follow these guidelines as well. This means that you need some type of protocol for restoring these products back to sellable condition and putting them back into the appropriate inventory channels.
In many cases, you will be able to label the products as "seller refurbished." On marketplaces that allow seller-refurbished merchandise, this signifies to customers that a product has been repaired, cleaned, and inspected by someone other than the manufacturer or one of its vendors. The seller vouches that the product meets these specific quality thresholds for sale.
Sellercloud can help you with this, too. Once an RMA is closed, you can apply custom inventory labels to the returned merchandise based upon condition. From there, you can use these labels to automate what happens to RMA inventory. Rather than ending up in a dead stock pile, these items can be redistributed to bins corresponding to specified "refurbished" or "renewed" versions of your listings – giving you a second chance to turn them into profitable sales.
For more about selling returned, refurbished, and used merchandise check out our guide here.
Returns are an inevitable part of doing business online. RMAs are never great for your bottom line, but if you are able to handle them in an organized and timely manner, you can minimize both the costs and manpower associated with getting them resolved. The Sellercloud e-commerce platform is perfectly suited to help you do exactly that. Contact us directly to learn more.