All you need to know about RMA labels, including their purpose, advantages, and how to issue, print, and use them effectively.
RMA labels help merchants, customers, and carriers with returns by displaying the most vital information.
Sellercloud offers a plethora of ways to make handling RMA labels easier to improve your e-commerce business's returns process.
RMA labels are a vital part of the returns process and are used when a product needs to be refunded, replaced, or repaired. They are also used in mail orders as well as e-commerce.
They contain the shipping information and RMA number needed to process a return, such as the address and RMA number, which can be used to reference and track the return.
According to an article by Rich Panel, the average e-commerce return rate is 20-30%. So, between a fifth and almost a third of the products you sell could be returned to you.
Elsewhere, Stephen Babcock of The Current says the return rate in 2021 and 2022 was approximately 16.6% and 16.5%.
That's a significant reason to ensure you fully understand the returns process, especially RMA labels.
In this article, we'll explain what RMA labels do, their many advantages, how they should look, who covers the costs of RMA shipping, and how RMA labels are created.
What Does 'RMA' Stand For?
RMA stands for 'Return Merchandise Authorization.' You will also come across the acronyms RA and RGA, which stand for 'Return Authorization' and 'Return Goods Authorization,' and can be used interchangeably with RMA.
However, RMA differs from RTV, which stands for 'Return To Vendor,' where products are returned to the vendor, not the merchant.
When requesting to return a product to a merchant, a customer normally must fill out an RMA form.
If the requst is accepted, the customer is sent an RMA label which they must print and place on the product to send it back.
What's the Difference Between RMA and Shipping Labels?
Though they may look similar, RMA labels are specifically used for the returns process, while shipping labels are used for general-purpose shipping.
RMA and shipping labels are not interchangeable and serve different purposes.
If a customer ships a product back to a merchant without an RMA number, they may send it back because they don't have the necessary information to process the return.
What's the Difference between a RMA and a Serial Number?
RMA and serial numbers are used for different tracking purposes.
An RMA is a reference number used in the returns process, while a serial number is a code assigned to an individual product for identification and lifecycle tracking.
Merchants usually send RMA numbers printed on RMA labels, while manufacturers print or engrave serial numbers during the production process to prove the authenticity of a returned product. 
Serial numbers prove that the returned item is the same product purchased by the customer, which prevents fraud.
For example, serial numbers mean a customer can't purposely purchase a broken product from elsewhere and send it back to the manufacturer to request a free replacement.
The manufacturer will instantly know from the serial number that the broken product was not brought from them and not be scammed into losing stock.
Serial numbers also inform if the product is still under warranty and trace its journey from production to sale.
So, when the product is returned, the serial number can trace who has worked on the product and when, so there is accountability if there is an issue to repair. 
Finally, RMAs and product serial numbers are not the same as SKUs (Stock Keeping Units), which are used to keep track of inventory levels.
That said, the tracking info from the serial number can inform sellers that a product's SKU should be changed to reflect its status as a 'used' or 'refurbished' product.
What Are the Advantages of RMA Labels?
RMA labels streamline the returns process and help determine what went wrong, the financial costs, and how the return impacted customer satisfaction.
They help connect the return to the product and the customer to the issue by having a single reference point.
This prevents confusion as merchants will know precisely what needs to be done with the return—if the product has to be fixed, replaced, or if it is to be refunded.
It's essential to customer satisfaction because consumers want an easy returns process. Invesp says, "92% of consumers will buy something again if returns are easy." 
Making it hard for customers to return products will negatively impact your business. 
Paul Skeldon of Internet Retailing explains that 84% of shoppers will not return to a business after a poor returns experience. And so, it is crucial the returns process runs as smoothly as possible.
Further to that, Invesp also says, "58% want a hassle-free "no questions asked" return policy," and "47% want an easy-to-print return label."
Another advantage is that RMA labels can also help mitigate return fraud, as customers have to go through the whole process and get the label that requires their details. 
Potential fraudsters can't just send a product back without a clear reason and without following the process.
Customers can also benefit from RMA labels as they have a number they can reference when they have questions.
What Does an RMA Label Look Like?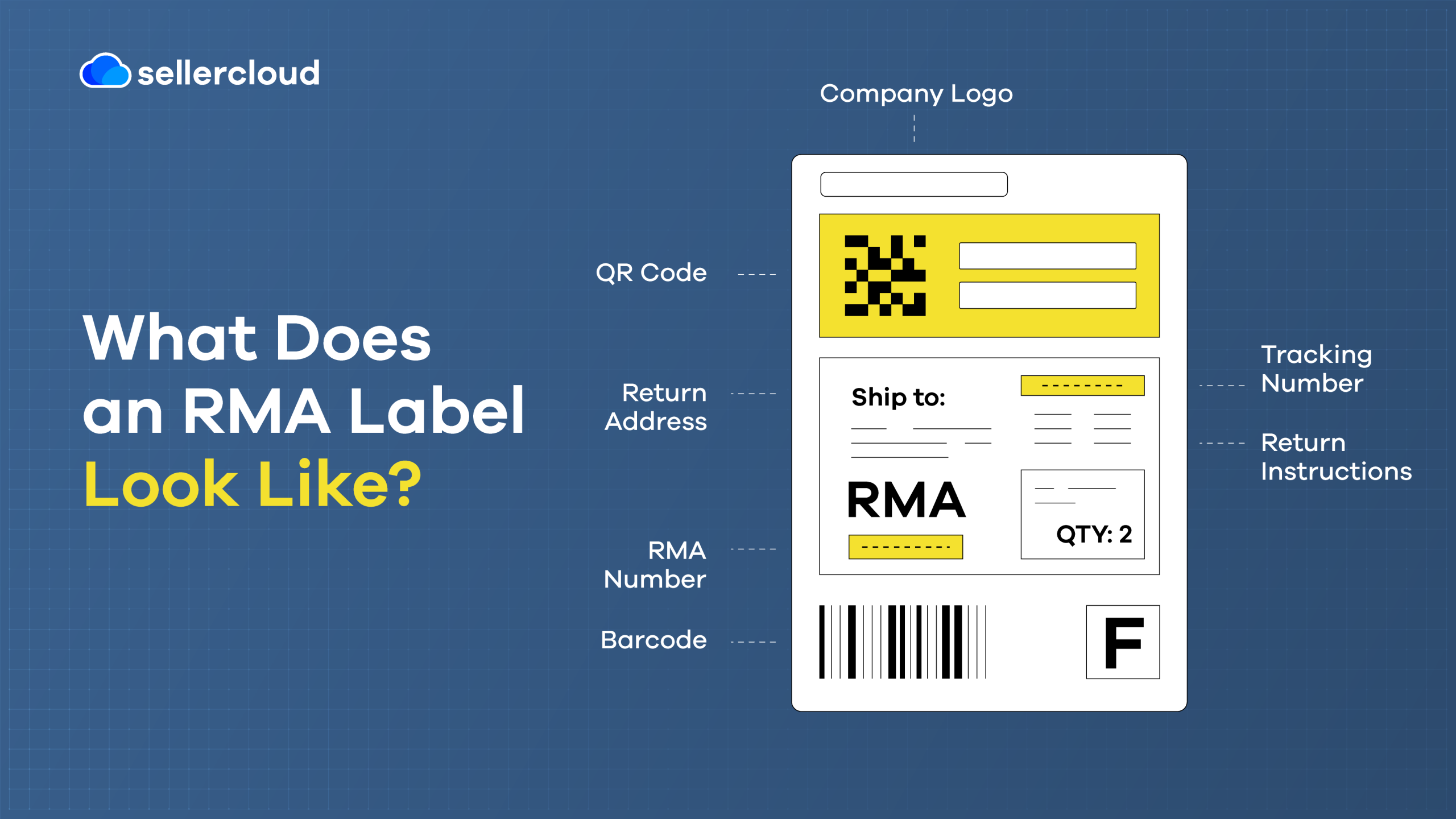 Different carriers will have different RMA label formats, and the label layout will probably differ. On top of that, they may require additional information.
RMA labels may also feature the carrier's logo and internal details that relate to the carrier, not the customer or merchant.
Typically, RMA labels are sent to customers in PDF format with all the required information prefilled.
RMA labels are usually printed in black and white; the most important details are often the most prominent.
What Should Be Included on an RMA Label?
Three things that should be present on an RMA label:
RMA number

. This is the most important detail as it is used to identify the return by the buyer and seller. Without the RMA number, the label cannot be used.

Barcode or QR code

. Likely featured above, below, or close to the RMA number. Scanning a barcode or QR code makes the process easier.

Return address

. The address that the product is being shipped back to—the merchant's address.
An RMA label may also include the following:
Tracking number and barcode

. While RMA numbers can be used as tracking numbers, there may also be a separate tracking number or barcode in some cases.

Return instructions

. Sellers may want to include these details on the RMA label to ensure the return sender doesn't make any mistakes.

Your company's logo

. Your company may wish to add a logo for branding purposes.
Who Pays for RMA Shipping?
Who covers the shipping costs associated with an RMA depends on the company's policies. Here are a few common scenarios:
The Seller Pays
Sellers may offer prepaid shipping labels or reimbursement for the return shipping expenses. This means that the seller takes on the cost of shipping the returned item back to their facility.
The Buyer Pays
In this scenario, the buyer must arrange and pay for the shipping method to return the item.
If the buyer is responsible for the shipping costs, this should be outlined in the return policy or terms and conditions.
Depending on the Scenario
The seller may offer to cover the shipping costs for defective or damaged items, while the buyer is responsible for the shipping costs in cases of buyer's remorse or if they change their preferences.
Again, it should be clearly stated in the seller's return policy.
How to Create and Print an RMA Label?
RMA labels can be created in various sizes but are almost always sent via email as PDFs.
To send an RMA label, the seller needs the customer's details. Specifically, their email and the carrier is responsible for generating the label.
To get this information, the customer must fill out a 'return authorization form,' which should provide their details and explain why they want to return the item.
Asking for feedback from the customer on the form is a great idea to get a clearer picture of the problem and better assess what needs to be done.
Moreover, if several items are returned for the same reason, you know that a bigger issue must be addressed.
The form can also explain your return policy to the customer, which can help prevent issues and returns complaints.
When customers request an RMA label, merchants should provide instructions on how to return a product, such as how to package it, what to include, and where to place the label.
Some merchants allow customers to print the return label on demand, while others prefer to have them specifically request it.
One approach focuses on a better customer experience, while the other tries to limit the number of returns by making it harder for the customer.
Remember, creating a positive returns experience can encourage customers to buy from you again.
However, as returns can be costly, reducing them can also be advantageous, so sellers must decide what is more valuable.
Customer services will assign an RMA number once the form is submitted and accepted.
Where to Write the RMA Number?
The RMA number is crucial to the RMA label, so it should be prominently displayed and easily read.
Most often, when RMA labels are printed, the RMA number will have its own designated space where it can easily be found.
This could be around the barcode, or there may be a special box where the RMA number is written.
Another method you may come across is adding the RMA number into the address field along with the address. However, note that this could be confusing and lead to shipping errors.
Alternatively, the RMA number can also be written directly on the package if, for whatever reason, you are not using RMA labels.
It would be wise to provide specific instructions for where the RMA number should be written if you are not using labels.
How Long Is an RMA Valid?
An RMA can be as valid as long as you want them to be though it is generally recommended that merchants base the validity period according to the type of product and warranty terms.
Many sellers opt for an RMA validity period of 30 to 60 days. However, some sellers prefer a more flexible returns period.
Note that typically the validity of an RMA is not present on the RMA label, though the date the product is sent back may be present.
Whatever approach you believe to be best, ensure the validity period is crystal clear in your returns policy.
According to another statistic from Invesp, supposedly, "67% of shoppers check the returns page before making a purchase."
If shoppers complain that their return was not accepted, you can direct them back to this page and reiterate that they missed the valid period.
Can I Use a Product Serial Number Instead of an RMA Label?
Typically, sellers do not allow customers to use a product's serial number instead of an RMA number or label when returning a product.
Obtaining the customer's details and printing an RMA label with all the information automatically generated is far more practical—not just for the seller but the customer and carrier.
RMA numbers connect everything related to the transport of the return—the issue, the customer, and if it is being returned, refunded, or swapped for another product.
Serial numbers are still vital in the returns process, helping to prove authenticity and prevent fraudulent returns, as mentioned above.
How to Track an RMA?
RMA numbers can be tracked, or you may receive a specific tracking number for the tracking process.
Sellers should monitor the progress of RMA shipping at regular intervals to ensure no issues.
It is also beneficial to communicate with the customer if they have any questions and keep them informed on what's going on.
What Are the Best Practices for Handling Returns? Top 5 Tips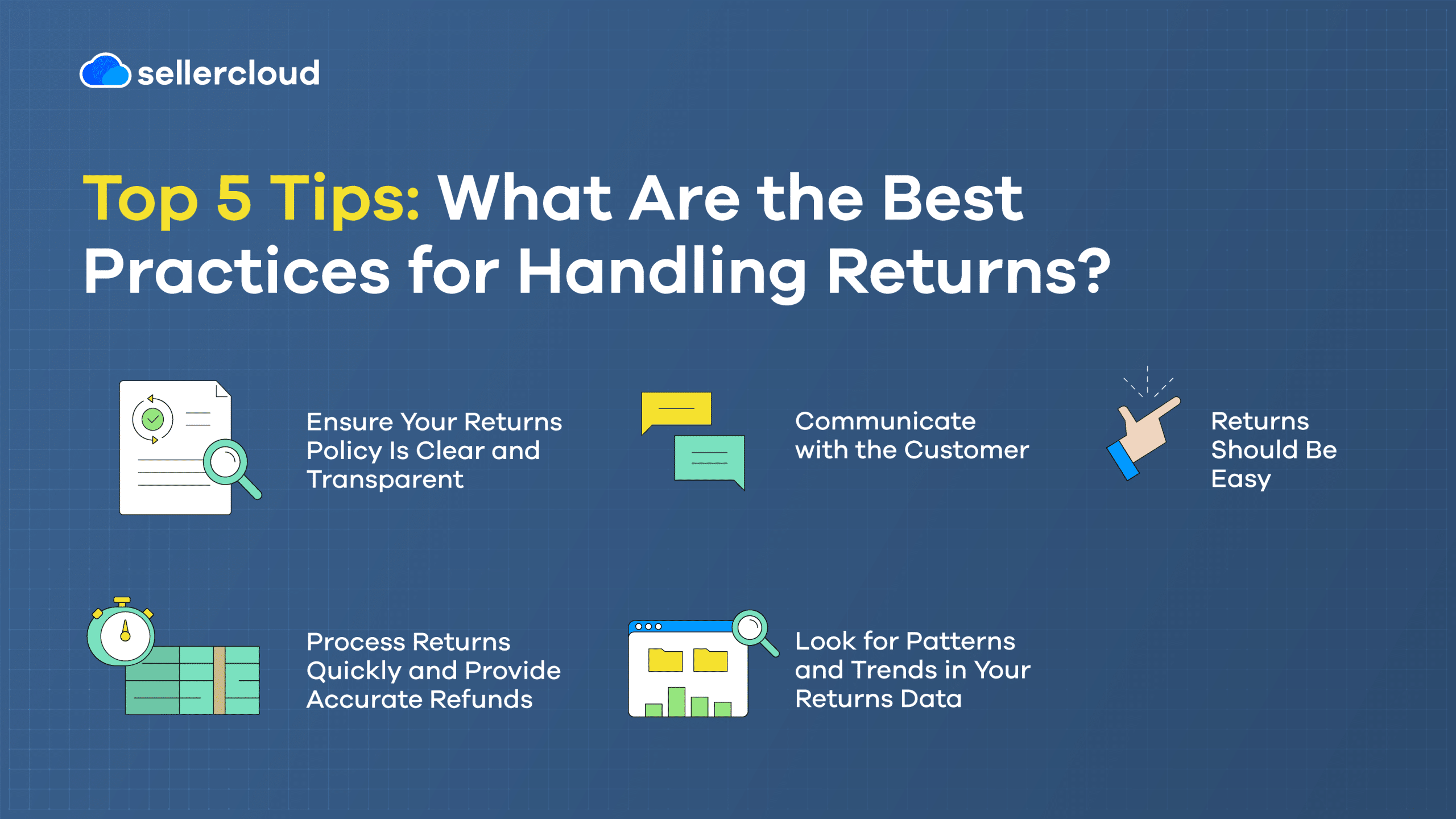 There's much more to returns than just getting the RMA labels right. 
1. Ensure Your Returns Policy Is Clear and Transparent
Your customers should be able to clearly understand your company's return policy. It should be prominently displayed on your website to set clear expectations.
If they fully understand the process, they may be less likely to want to return a product you will refuse to return and then get frustrated when you reject their request.
Ensure you specify the following:
The return window.

Condition requirements.

What refund and exchange options your company offers.

If you charge for any part of the returns process (e.g., the RMA label).
It's worth noting that the average reading level in the US is 7th to 8th grade, according to an article by Cross River Therapy, so keep your returns policy within that reading level.
2. Communicate with the Customer
Prompt and clear communication helps build trust and satisfaction.
This is invaluable for customers potentially buying from you again, reviewing your products, and making recommendations.
Keep them updated on changes in the return status, and get back to them as quickly as you can when they have questions.
3. Returns Should Be Easy
As explained above, customers want hassle-free returns.
If the process is too difficult, customers can feel that you are purposely making it hard to prevent returns which can be antagonizing and lead to complaints.
Furthermore, they're less likely to buy something from you again if the returns process is hard.
So, keep the process as easy as possible with a user-friendly portal that only requires the necessary information for the customer to complete, explain the issue, print the label, and track the return.
The fewer steps involved, the better.
4. Process Returns Quickly and Provide Accurate Refunds
When the return finally reaches you, it should be a priority to process it quickly. Inspect it to assess the customer's claims, and if they are owed a refund, send it promptly.
Always fulfill your promises to the customer and follow your own returns policy. If the customer requested a refund, refund them the exact amount, not a cent less. (Again, it could infuriate the customer.)
5. Look for Patterns and Trends in Your Returns Data
Don't make the mistake of overlooking your returns data—there may be hidden nuggets of information that could shed light on issues you could easily fix.
Working to reduce common returns problems can lead to a reduction in returns that could save you a small fortune.
According to some estimates, returns can cost retailers up to 66% of the product's original price.
What RMA Label Challenges Does Sellercloud Solve?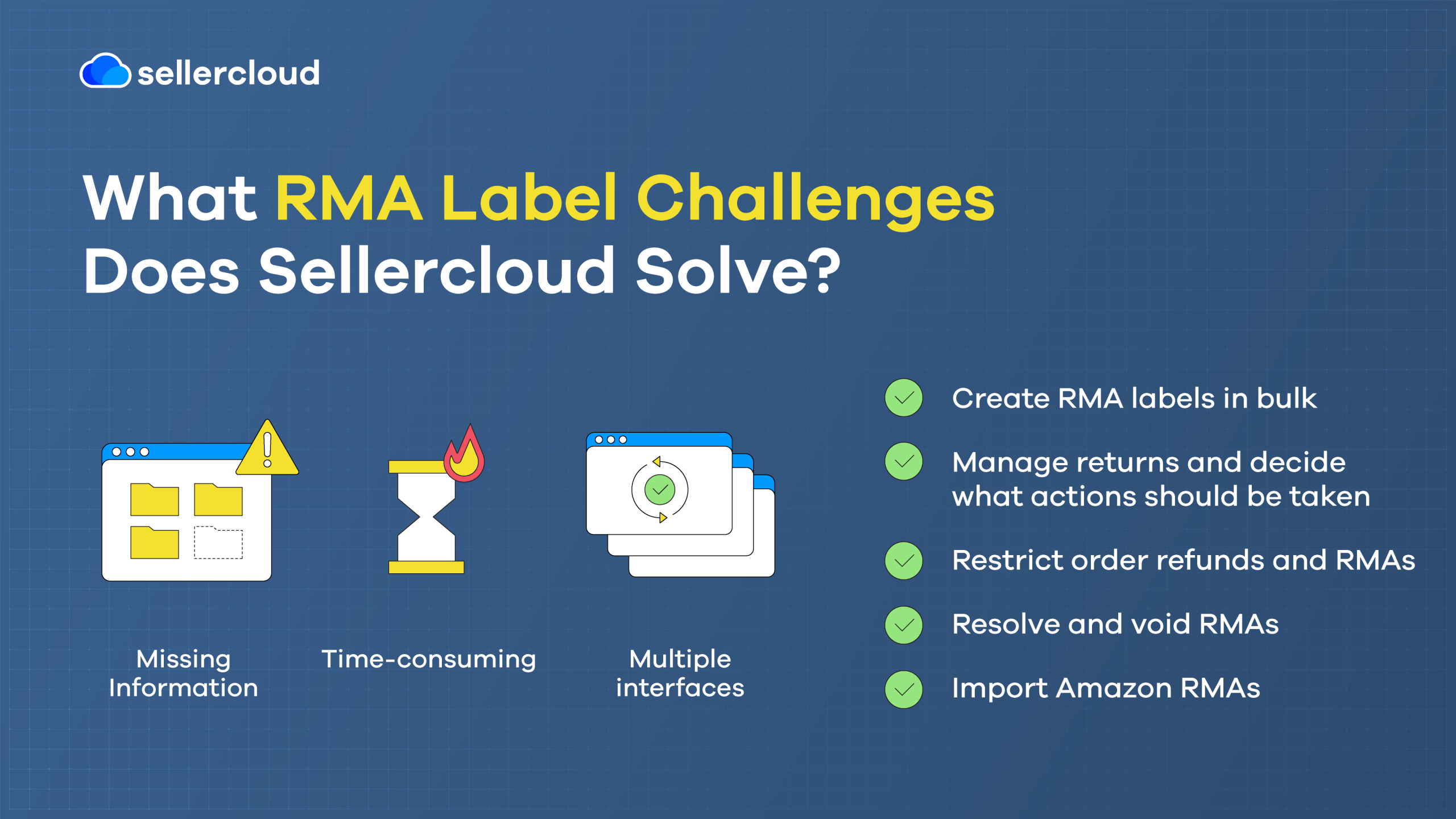 Some of the common challenges sellers may encounter when using RMA labels include:
Missing information

—whether from the customer, carrier, or stored on one of the many partners' servers.

Time-consuming

—manually searching for information and copying and pasting can take longer than expected.

Multiple interfaces

—you may need to use two or three programs to order, track, and process RMAs.
Using a waffling 270+ integrations, Sellercloud simplifies and automates creating RMA labels.
Sellercloud can pull the information you need to create an RMA label, such as the address and the carrier service, so you can monitor and track it all in one place.
Using the client's shipping credentials, Sellercloud sends an API call to your chosen carrier, and the carrier then returns an API call that contains the labels themselves.
Sellercloud then decodes that API call and converts it to a downloadable PDF you can email to the customer.
With Sellercloud, there's no need to check several carriers' websites. You can choose from the wide variety of carriers we're integrated with and see their costs upfront on one platform.
You can do this all from one interface instead of logging in to different carriers and typing it manually, which can lead to accidental errors.
Automation reduces the chance of human error and logs the event for you, so you don't have to.
Sellers can then email the PDF to the customer so that they can print it out and put it on their return package.
Furthermore, some of Sellercloud's top integrations and applications you will want to utilize are Zapier and Frisby.
Zapier enables sellers to create custom actions that can be triggered when a customer requests a return, and Frisby, designed by Sellercloud, can automate the returns process and help convert refunds into exchanges.
But that's not all Sellercloud manages. Sellercloud's WMS and barcode scanning app, Skustack, allows you to scan the label's tracking number to find the matching RMA record.
This way, you know the exact case and what needs to happen when it arrives back at the warehouse, helping you become more efficient.
Other benefits of using Sellercloud to handle RMAs:
Create RMA labels in bulk.

Manage returns and decide what actions should be taken.

Restrict

order refunds and RMAs.

Resolve and void RMAs.

Import

Amazon RMAs.
Lastly, Sellercloud does a lot more than just make RMAs easier. You'll have a wealth of integrations at your fingertips—RMA labels are just a tiny aspect.
Key Points
Feeling confident you know all there is to know about RMA labels? Remember these key points.
RMA stands for Return Merchandise Authorization and can also be called RA (Return Authorization) or RGA (Return Goods Authorization).

The primary advantage of RMA labels is they streamline the returns process by clearly displaying the crucial details to get the package sent back to the merchant.

The most important detail of an RMA label is the RMA number which acts as a reference point for both the merchant and seller and can be used to track the return's progress.

Ensure your returns policy explicitly states how the RMA label should be displayed, how long it will be valid, and who pays for delivery—the seller or the customer.

Sellercloud's substantial integrations and automation make generating, sending, tracking, and monitoring RMAs a breeze.