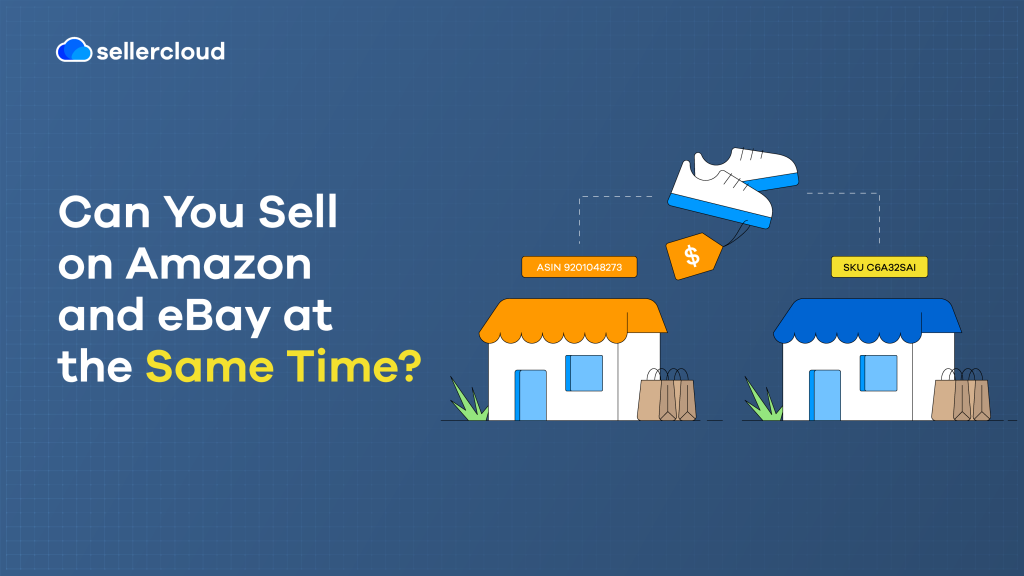 Selling the same products on Amazon, eBay, and other e-commerce platforms simultaneously is possible and is a top way to grow your e-commerce business.
Customers can habitually buy from specific marketplaces, which is why sellers should expand. Neither Amazon nor eBay prohibits selling the same products on other platforms. 
Selling on multiple marketplaces can significantly increase a seller's workload—Sellercloud simplifies and automates the process from one interface.
According to data from Similarweb, amazon.com and ebay.com are the two most visited e-commerce sites worldwide, with an average visit duration of 7:10 and 6:58 minutes at the time of writing.
In 2021, Amazon was estimated to have 2.45 billion unique monthly visitors and 6.3 million sellers. 
Meanwhile, according to the Business of Apps, eBay had approximately 138 million active users and 18 million active sellers in 2022.
So, it's no wonder that first-time sellers often flock to sign up with these sites when they get started.
In this article, we'll explain how to sell on multiple e-commerce platforms—not just Amazon and eBay—and how to manage it all without losing control.
Can I Sell on Both Amazon and eBay?
You absolutely can sell on both Amazon and eBay, and many sellers already use both platforms (and others) to maximize their reach to buyers.
The only difference is that Amazon sellers must have a registered company. Meanwhile, anyone can sign up and start selling on eBay.
In most cases, you can sell the exact same products without needing to change anything—literally copy-paste descriptions and images.
That said, some technical things need to be considered. On eBay, you cannot include 'active content' and JavaScript, which means your content might not be as dynamic.
eBay's title tags are also shorter than Amazon's, so you may need to optimize your product listings in different ways to attract customers.
However, there's much more to copying products from one platform to another. There are nuances that must be dealt with to be effective.
The selling process on eBay is different from selling on Amazon, and there will be different requirements to fulfill.
Which Is Better to Sell on Amazon or eBay?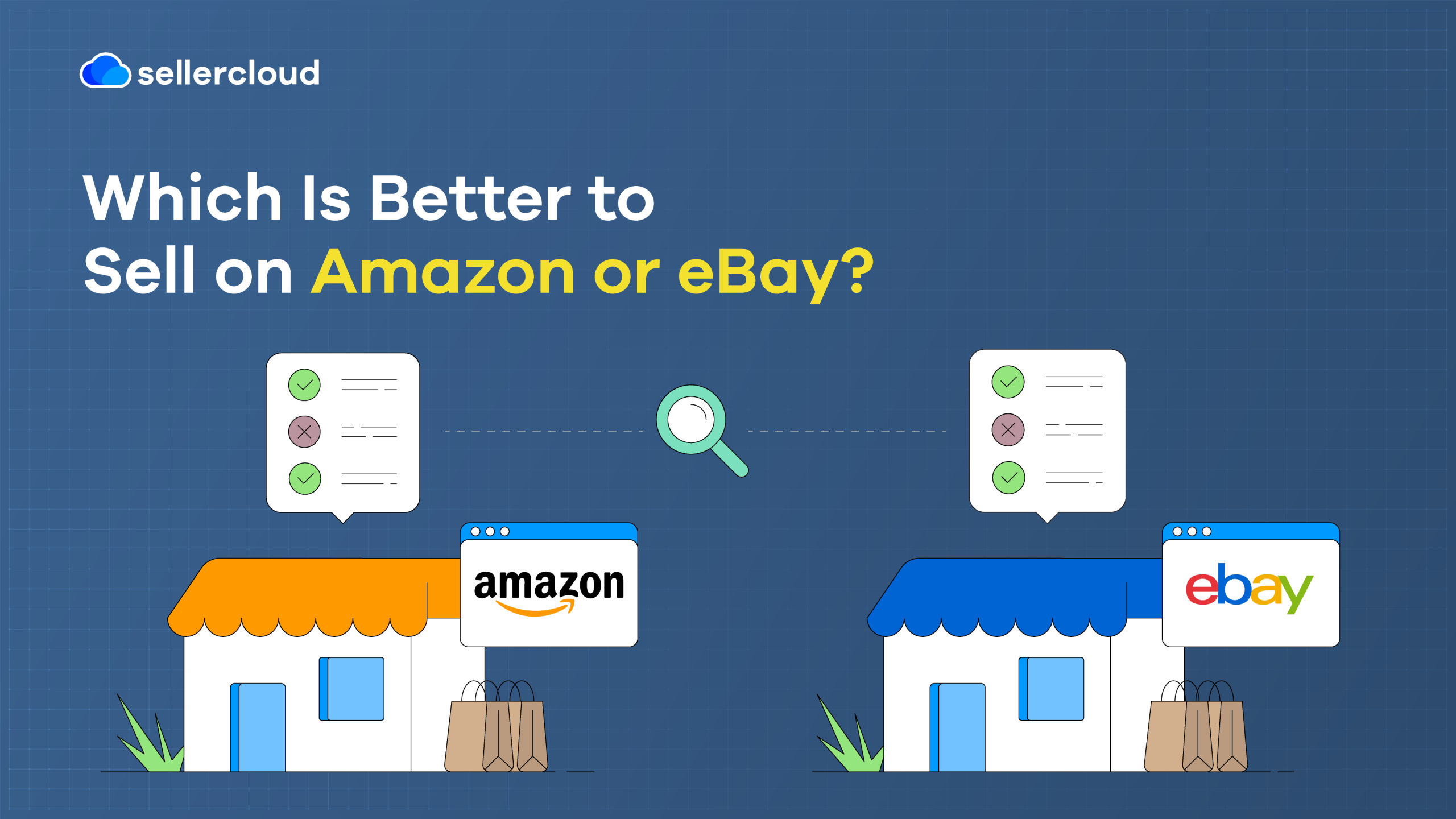 Some naive sellers may think that e-commerce is all about listing products on Amazon, that Amazon killed and dethroned eBay, but that's not entirely true.
The fact is that the two co-exist in the e-commerce industry with different approaches and goals though there is some overlap with some product categories.
So, it's not so much that one is better to sell on than the other; more so, it's about which is better for your business to sell on.
For example, if you sell pre-owned or refurbished items or memorabilia, eBay can be a more suitable platform for your products.
Both platforms have their issues, and neither is perfect. Ultimately, one may suit your business better than another platform.
That said, there are a few things to consider. Firstly, customers can behave differently on different platforms.
Some merchants say that Amazon customers are easier to work with than eBay customers, which may be down to the different mentality—most customers head to eBay for cheap deals.
Furthermore, others have also said that they find creating listings on Amazon easier than on eBay, and as we already know, the audience for Amazon is extraordinarily larger.
It's also worth noting that according to the Business of Apps data, the number of eBay users and sellers has been decreasing for a while now.
In 2022, eBay's active users decreased by 13% compared to 2021.

eBay has also lost approximately seven million sellers since its peak of 25 million in 2014.
However, selling on eBay is still worth it. eBay still controls a sizable portion of the e-commerce market and is going nowhere soon.
If anything, it means eBay is less competitive than Amazon, which could be appealing to some sellers.
On top of that, for many products, Amazon is in direct competition with you selling their own, often cheaper and promoted products, and some sellers dislike this.
eBay vs. Amazon Selling Fees—Which Is Cheaper to Sell on?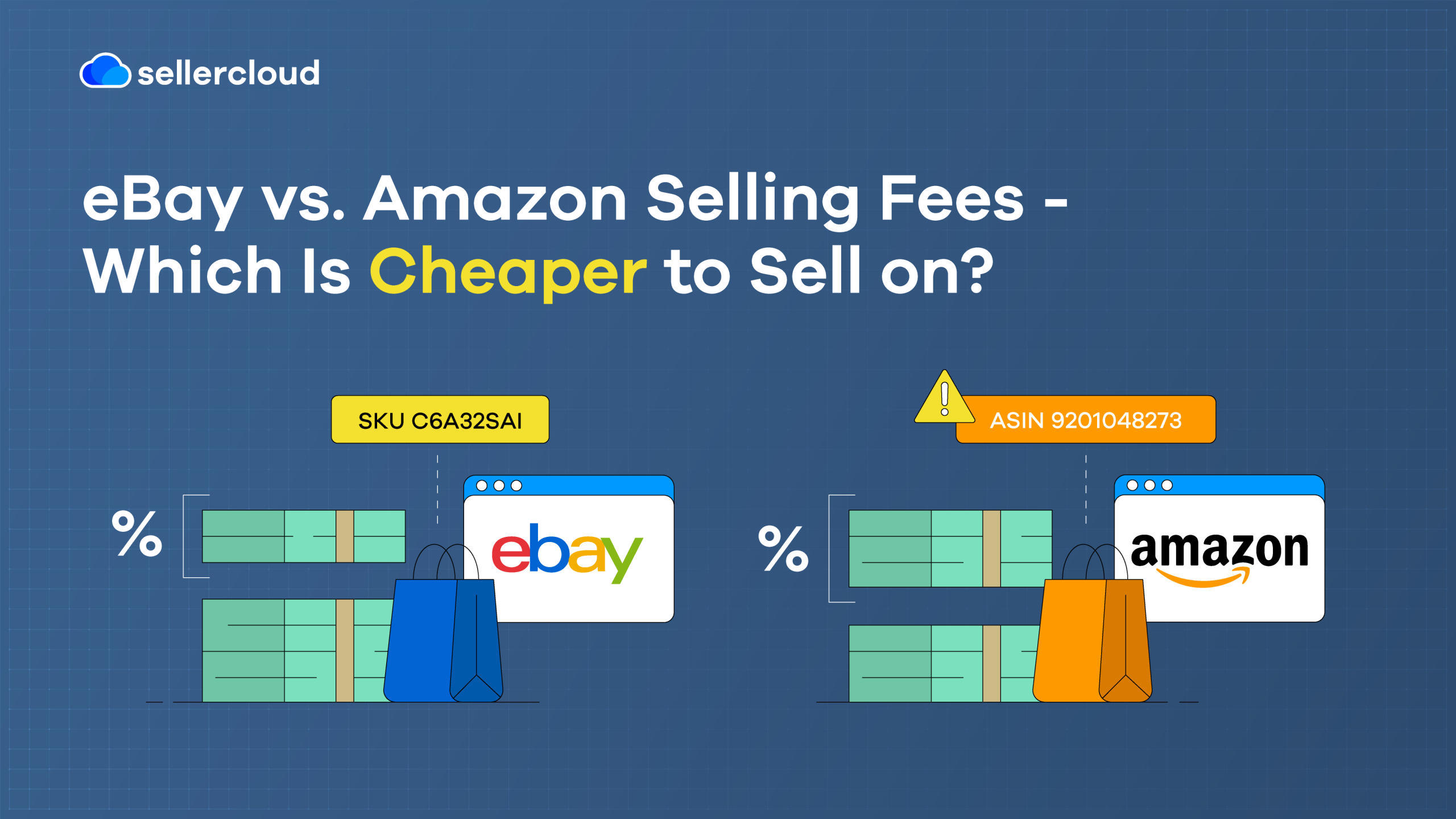 eBay and Amazon differ significantly in seller fees (as do most e-commerce platforms), and it's vital to understand the difference before deciding to list products with them.
You can find more about Amazon's fees here, and eBay's fees here, but seller fees are not the only expenses that impact your bottom line when selling on these two marketplaces.
Generally speaking, eBay is the cheaper option, and sellers are less likely to incur as many additional costs as selling on Amazon.
One of the most important things to remember about selling on Amazon is that it uses a unique product identifier for its marketplace called an 'ASIN' (Amazon Standard Identification Number, not the same as SKU.)
ASINs show that a product sold by multiple sellers is the same. For example, several merchants could sell an iPhone 14, and all listings will have the same ASIN across the marketplace. 
This makes selling on Amazon highly competitive as the cheapest offered is promoted above its more expensive rivals.
Because of this, sellers are constantly at war with each other to offer the product at the lowest possible price, which can squeeze their margins and make selling on Amazon less profitable.
Conversely, on eBay, you can sell whatever you want at whatever price you want, there is no such product identifier, and it won't rank the same product in terms of price.
However, while eBay is cheaper to sell on, it doesn't offer the same fulfillment options as Amazon, making it harder to calculate your shipping costs.
That said if you use FBA (Fulfilled By Amazon—Amazon's fulfillment service), there are also storage fees, shipping fees, and depending on your product, even Hazardous fees that you must account for.
Another issue is that Amazon is stricter on sellers than eBay, carefully watching their performance metrics. Slipping up can impact your rating, which can affect your sales.
Furthermore, Amazon makes it much easier for buyers to return products, which can frustrate some sellers as they may believe that the reason is not valid enough to warrant a return.
In some cases, when products go missing during delivery, Amazon can refund the customer without consulting the merchant, who can then lose the product and the money though it was not their fault.
Unsurprisingly, returns are costly and can cost sellers up to 66% of the product's original price, even if the product is in good condition. So, ideally, sellers would prefer to avoid this.
Because of these factors, some sellers would only advise selling on Amazon once they've reached a certain threshold, suggesting that Amazon is better for larger companies than smaller ones.
How to Sell on Amazon and eBay?
To sell effectively on Amazon and eBay simultaneously, sellers need a well-thought-out business plan and must understand the different rules of Amazon and eBay.
On a practical level, there's little stopping merchants from selling on both platforms besides having a registered company. Sellers just need to sign up for both and start selling, copy and paste their inventory.
The most important thing to consider is how your workload could increase when you start to sell on multiple marketplaces.
In the end, you may find that one of the two platforms is more suited to your products than the other, so it's worth experimenting with both to see which one works best for you.
The real challenge when selling on both eBay and Amazon is keeping track of inventory.
Can I Sell on Multiple Platforms?
Yes, selling on multiple platforms is a highly recommended e-commerce strategy.
Why risk missing potential customers by only selling on one platform? Sure, Amazon is enormous, but plenty of buyers still prefer to use eBay or another platform.
People develop buying habits and don't usually deviate from those habits unless they really have to.
Further to that, eBay buyers may engage more with your products than Amazon buyers, and it could be more profitable than Amazon for your business. You need to test it to find out.
What's more problematic is selling on one marketplace with multiple accounts—this is a surefire way to get banned and should be avoided at all costs.
If you plan to create multiple accounts on an online marketplace to boost your sales, we strongly advise you not to and to expand to other platforms instead.
What Are the Advantages and Disadvantages of Selling on Multiple Platforms?
Selling products on every platform possible increases your visibility and is one of the best ways to boost sales, grow your business, and make a profit.
Moreover, selling on multiple platforms can be an effective strategy for branding your products. Some sellers take the viewpoint that Amazon and eBay should be thought of as marketing tools.
For example, if a customer purchases from you, you can add promotional materials to the packaging to direct them to your website, where you can sell for a lower price (without Amazon and eBay's fees).
On top of that, you can invite them to a mailing list where you can inform them about new products and offers.
Of course, this only works if they become return customers, which means delivering top-rated products and providing a top-rated service.
But selling on multiple platforms is not without its challenges. It can get more complicated when you need to manage inventory on various platforms.
If you make a sale on Amazon, how do you ensure that that change is accurately accounted for on eBay?
What if you sell all your stock of one product on Amazon, and then someone buys it on eBay because it's still displayed as available?
How Many Platforms Should I Sell On?
How many platforms you should sell on depends on how large you are and how much experience you have as a seller.
Experienced sellers may argue to sell on every platform possible to reach every potential buyer. Others suggest starting with one platform and building up your experience.
Once you have a handle on selling online, you can consider joining a second or third platform. There's not necessarily an optimal number.
Note that you will have more control selling on a select few platforms, and again, it may come down to the type of platform and its users, not so much the number of platforms you use.
There may be reasons you'd want to avoid some platforms because there's something you don't want to associate with your company.
How Can I Sell on Both Amazon and eBay?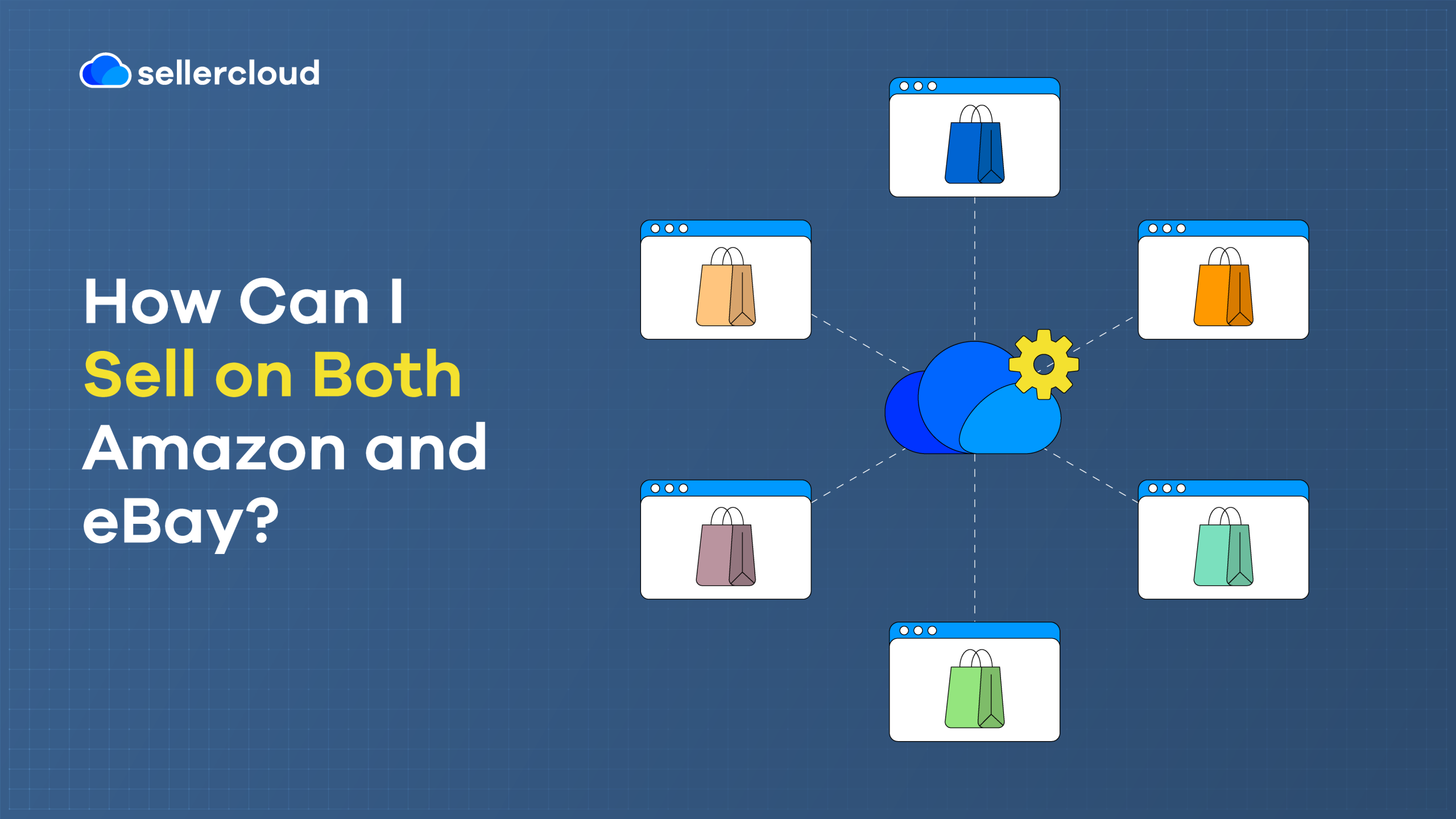 You can sell on both Amazon and eBay with Sellercloud, as well as other e-commerce platforms, including Shopify, Walmart, Newegg, Etsy, and Mercado Libre, to name a few.
It's important to realize that the larger your business becomes, the more critical it becomes to use, a software solution, like Sellercloud, to handle your listings on multiple platforms.
Moreover, Sellercloud can help automate fees and taxes, organize and track delivery, and manage customers and returns on multiple platforms.
Selling on numerous platforms without the aid of advanced software can mean basic tasks become much more complicated and time-consuming, holding back your company's growth.
For example, what if you need to adjust a product listing on several platforms? It's rather laborious to change each platform listing manually, and it increases the chance of errors.
Using Sellercloud, you can make necessary changes from the comfort of one interface and implement them on all your listings, saving you precious time.
Key Points
Ready to start selling on Amazon, eBay, and beyond? Remember these key points.
Sellers can sell on Amazon, eBay, and other online marketplaces simultaneously, though with each additional platform you sell on, keeping track of your operations becomes more challenging.

Amazon and eBay have pros and cons, but deciding which platform to sell on comes down to your business's needs and the customers you are trying to reach.

Different platforms have different processes, rules, and fees—all of which must be considered before selling products.

New sellers should add new sales channels gradually—get used to one platform first before selling on multiple to avoid mistakes and becoming overwhelmed.

Sellercloud reduces the workload of selling on multiple marketplaces and simplifies tasks like tracking delivery, managing returns, updating listings, and much more.