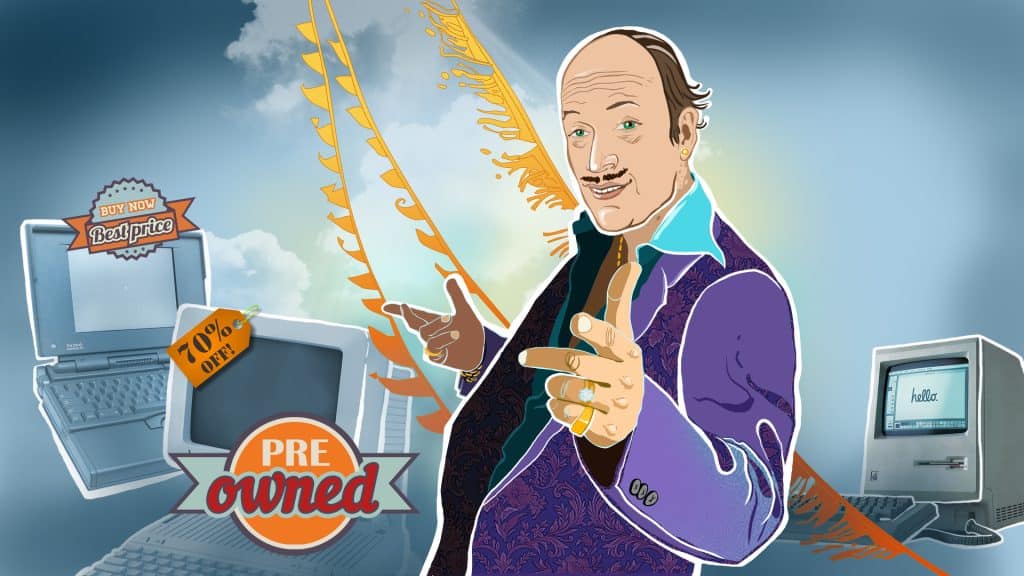 For many e-commerce retailers, the thought of selling used products seems like an act of desperation. Often, selling used goods is seen as a reputation killer that reduces a business into the same category as the slimy used car salesman or the turn-of-the-century grifter selling exotic potions out of a wagon – a business that is willing to go to an extreme to make a buck.
This is enough to keep most sellers out of the used merchandise space altogether. You can see the logic. Why sell opened, previously owned merchandise when you can sell brand-new, factory-sealed, products? Why take the risk of allowing negative reviews from used product transactions to affect your sales of new products?
While selling used goods certainly comes with challenges, it represents a new reality in what it takes to grow your e-commerce business. As online marketplaces make it easier and easier for customers to return products to sellers (with or without cause), sellers are faced with a swelling pile of returned inventory that has value, but can no longer be sold as new. Often, this inventory is never resold at all.
Thankfully, there are still ways to transform that inventory from a loss into a profit. What's more, the SellerCloud inventory management system can help.
This isn't Rumpelstiltskin trying to spin straw into gold or the eccentric alchemist trying to magically transform lead bars – this is smart business.
Eliminate the unsellable inventory pile
Take a look at your inventory data. If you are like most e-commerce retailers, you are seeing higher percentages of returned sales than you did in years past. A large contributor to this trend is the growing empowerment and entitlement of the average online customer.
Everyone from Amazon to eBay, Walmart to Newegg have added simplified return policies that enable customers to return items to sellers for refunds easily – and customers are taking advantage. In the long term, these policies boost consumer confidence and convenience; they continue to steer more buyers toward online retail and away from brick-and-mortar stores. In the short term, these policies cause plenty of headaches for online sellers.
One of the major problems with this type of consumer behavior is that sellers are left to figure out what to do with increasing quantities of returned inventory. Even if these products are in perfect condition, this merchandise can no longer be advertised and sold as new according to most state and federal laws as well as most online marketplace policies.
Once upon a time, sales were final and returns were prohibitively difficult for consumers. That fairy tale is over. Even eBay, known for making it easy to sell used goods, now requires every item on their platform to have a standard return option. Nowadays, you must be prepared that any items you sell might find their way back to you. Once they do, there is no magic wand that will transform those returned products into factory-sealed, brand-new inventory.
That leaves two options: discard what is likely perfectly good merchandise and eat the loss, or sell the inventory as used products at a discount and salvage a profit. Neither is ideal, but most business people would probably agree that the latter clearly outweighs the former.
If you are serious about maximizing your retail profits in today's e-commerce environment, you need a plan for reselling returned inventory. That means developing a system to bring returned merchandise up to the standards of today's picky consumers and strict marketplaces.
SellerCloud can help. Our tools enable sellers to navigate the return merchandise authorization (RMA) processes of the leading online marketplaces, account for returned inventory, and track products as they go through the necessary steps to become reconditioned and refurbished for sale. It starts with an RMA shipping label. SellerCloud makes it easy to turn a customer's return into a seamless part of your inventory flow that is both trackable and reliable. As an added protection against loss, these RMA claims can issue return shipping labels to customers that are pay-on-use. This ensures that you are not charged for return shipping costs unless the label you send to the customer is actually scanned by the shipping company.
Once the returned package arrives back at the warehouse, the label's RMA barcode can be scanned and signal to warehouse employees that the item needs to be placed in a quarantine where it will not mistakenly wind up back in the sell-able inventory channel. This gives the seller an opportunity to inspect the inventory before deciding how to process the product for eventual resale.
Similarly, returns from Fulfilment by Amazon (FBA) orders can be 'removed' from the Amazon warehouse and be transitioned easily back into inventory if they are in perfect condition. However, this relies on Amazon's warehouse staff to make the judgement call on the state of each individual returned item. If there is any question as to an item's quality, you can expect Amazon to err on the side of caution and flag an item as not sell-able when, in fact, you might deem it worthy of being placed back into your available inventory.
Alternatively, SellerCloud also allows sellers to create credit memos for sending a returned product back to the manufacturer or vendor for a refund. Sellers can use serial number tracking features to trace the returned item back to the original purchase order and identify the appropriate vendor to contact.
Take advantage of marketplace certified refurbished programs
Used sounds like a dirty word. Label something as used and it conjures up the notion that it is unclean or has long since outlived its optimal usefulness. If given the choice of a new car or a used car, which would you opt for? What if instead of a car it was a pillow? How about earbuds?
See what I mean?
Fortunately, most retailers have adopted language that helps sellers circumvent the negative connotation of the word used when it comes to marketing their like-new inventory.
Every e-commerce marketplace has its own terminology for high quality used merchandise. Amazon offers Amazon Renewed products. Walmart features Certified Refurbished Electronics. eBay dedicates an entire webpage to Certified Pre-Owned items.
Whatever the marketing jargon of choice may be, these programs all essentially serve the same purpose: they scrutinize used merchandise with a set of standards designed to promote customer confidence. As a result, items given the title of 'renewed', 'refreshed' or 'certified pre-owned' are expected to perform like their new counterparts. The products and their accessories are all accounted for and either in new or like-new condition.
Ultimately, these programs make it easier to transform returned items into sell-able, profitable inventory.
For products that have received more use than just an opened package, there are refurbishing options that can bring the item into compliance with the rigorous standards of certified refurbished programs:
Manufacturer refurbished products are repaired, cleaned, and inspected by either the manufacturer or one of its vendors to ensure that they are in perfect, working condition. These products are often sold with warranty policies that are either identical or very similar to a new item.
Seller refurbished products are repaired, cleaned, and inspected by someone other than the manufacturer or one of its vendors. The seller attests that each product has been repaired, cleaned, and inspected to ensure that it is in perfect, working condition. The seller may offer a warranty to bolster consumer confidence further.
E-commerce sites often mandate additional guarantees for refurbished products to signify faith that the products will hold up to consumer scrutiny. For instance, Walmart and Amazon each require a minimum 90-day seller-backed warranty for these types of 'renewed' items.
Refurbishing has become particularly popular in the consumer electronics market. Customers can get their hands on expensive devices like smartphones, televisions, gaming systems, tablets, and PCs at steep discounts if they are willing to settle for refurbished instead of brand-new. In many cases the only things separating these items from their brand-new counterparts are minor cosmetic nicks or broken warranty seals.
One of the leaders in this arena is Back Market, the largest reseller of refurbished products in Europe and a fast-growing newcomer in the American consumer space. Back Market's business model centers on reducing e-waste (6,300,000 tons of which was produced in 2018 in the U.S. alone) by refurbishing and reselling used consumer electronics at affordable prices and with a generous 6-month warranty. SellerCloud has recently integrated with Back Market due to the growing interest from our clients.
Protect your brand by keeping your new and refurbished sales separate
One of the main excuses sellers lean on to justify leaving returned inventory to sit unsold is the fear of negative feedback. After all, customers who were unsatisfied (for whatever reason) already returned the items once. Why risk it happening again?
It's true. There is naturally a higher rate of complaints for used and refurbished items. Similarly, negative feedback jeopardizes your selling power as a third-party retailer online. Amazon, for one, has a notoriously low tolerance for third-party sellers that accumulate even modest volumes of customer complaints.
As such, there is an obvious risk associated with marketing products to buyers whose expectations might be out of line with the reality of what they are purchasing. There are plenty of shoppers that will presume they are receiving perfectly new products regardless of how clear your descriptions of any imperfections may be. Making matters worse, most marketplaces will allow the disappointed customer to return the item and leave negative feedback regardless of whether he or she is in the right or not.
Chin up. Selling refurbished items is and will increasingly become an essential piece of successful online e-commerce. Getting in on the game now may be challenging and frustrating at times, but it is a necessary step. That said, you should be proactive in how you handle the used product portion of your business so that you are prepared for the occasional prickly buyers and be confident they won't tarnish your established reputation.
The important thing to remember is that just because your business sells refurbished items doesn't make it a used product business. The ability to transform unsellable inventory into profitable sales is what will mitigate losses and allow your sales of new products to thrive.
Before listing a single refurbished item, investigate the terms and options available to you on your preferred e-commerce marketplaces. The ideal option is to create multiple seller accounts on these platforms – keeping your new inventory on one account and marketing your refurbished inventory on another.
Some sites, like eBay, allow one seller to have multiple eBay stores that are associated with each other. Other marketplaces, like Amazon, generally don't allow having multiple accounts but we have seen them allow it in circumstances like this, with special permission. Whether it is easier or harder, putting in the legwork up front to delineate between your new and used inventory will pay off in the end.
One important thing to bear in mind is to never list the same item with the same condition on both selling profiles. SellerCloud has the ability to configure inventory rules, what we call a custom inventory calculation, to help make sure that you are compliant with these types of requirements.
Once your accounts are established, SellerCloud can handle things from there. Our inventory management system is equipped to handle multiple seller profiles within the same marketplace. SellerCloud also has the ability to flag your inventory designated for refurbished sales programs so that it can be processed differently than your orders for new products.
Combine those features with a reliable RMA tracking system, integration with an ever-growing number of e-commerce marketplaces and services, and reliable customer support and you have a dependable partner that is ready to maximize the profitability of your entire inventory – new, refurbished, refreshed, or renewed.
Selling refurbished inventory may not be a fairy tale, but it doesn't have to make you the snake oil salesman performing on the town square, either. Schedule a live demo to see how SellerCloud can help you establish and manage your own reputable position in the used products space.