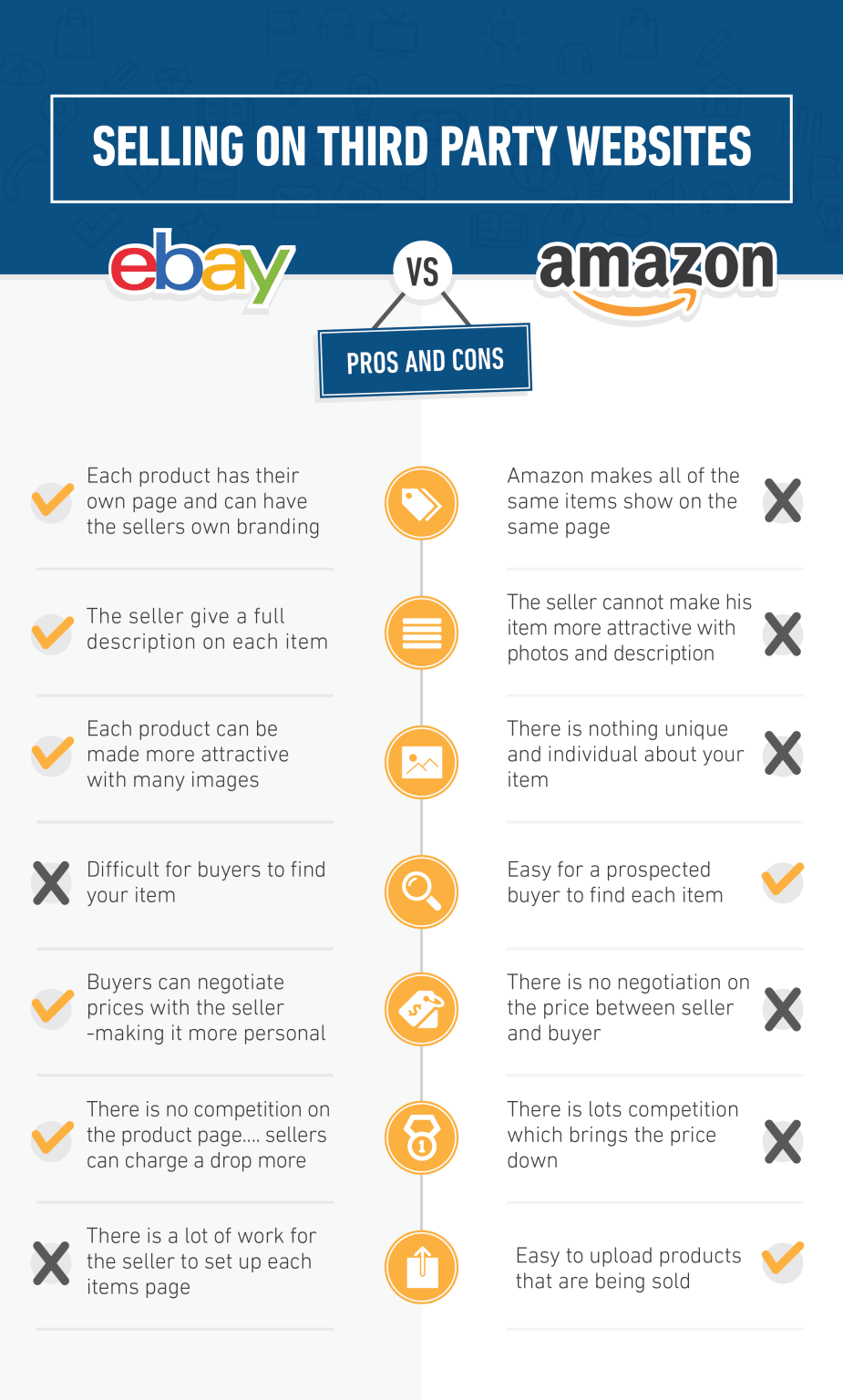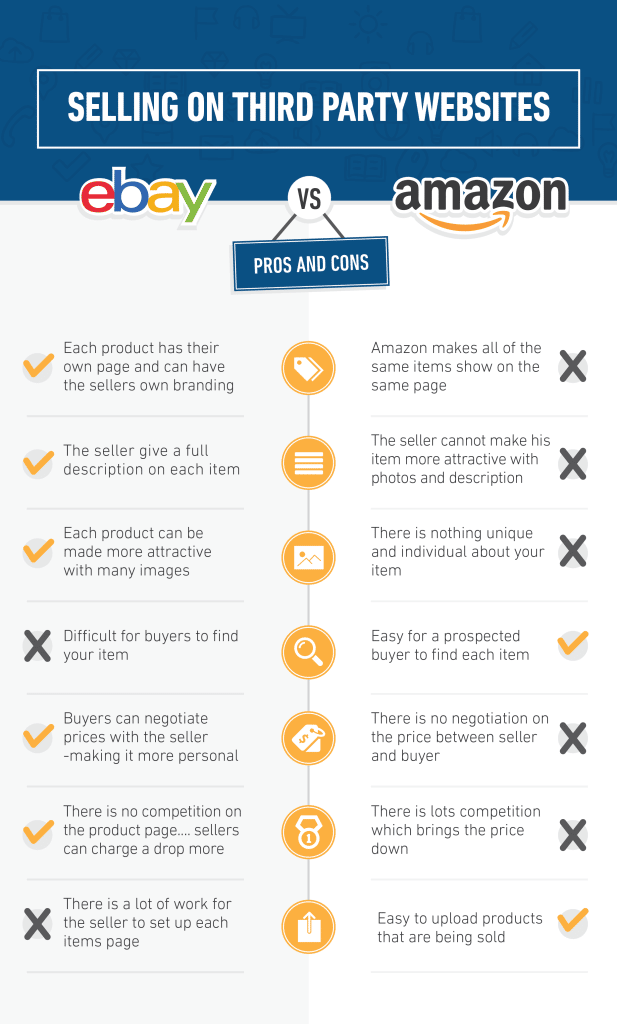 Buying and selling online has never been more popular. It's the age of the internet marketplace, and although many online e-commerce platforms have come and gone, eBay has continued to be a reliable shopping draw. When it comes to e-commerce, eBay can offer considerable advantages for many online boutiques and individual sellers, including more flexibility, more control over marketing content, and less competition compared to other platforms. Beginning as a website geared towards auctions, eBay has also branched out into 'buy it now' shopping, where customers can easily obtain a product without having to wait for an auction period to end. Due to this, for customers that want the convenience of shopping online, as well as for individual sellers and small businesses, eBay has become even more of an asset. Read on to learn more about the benefits as well as risks of this online marketplace, which have a lot to do with the reason why eBay has managed to remain a mainstay of e-commerce among individual sellers ever since it came on the market in the 1990s.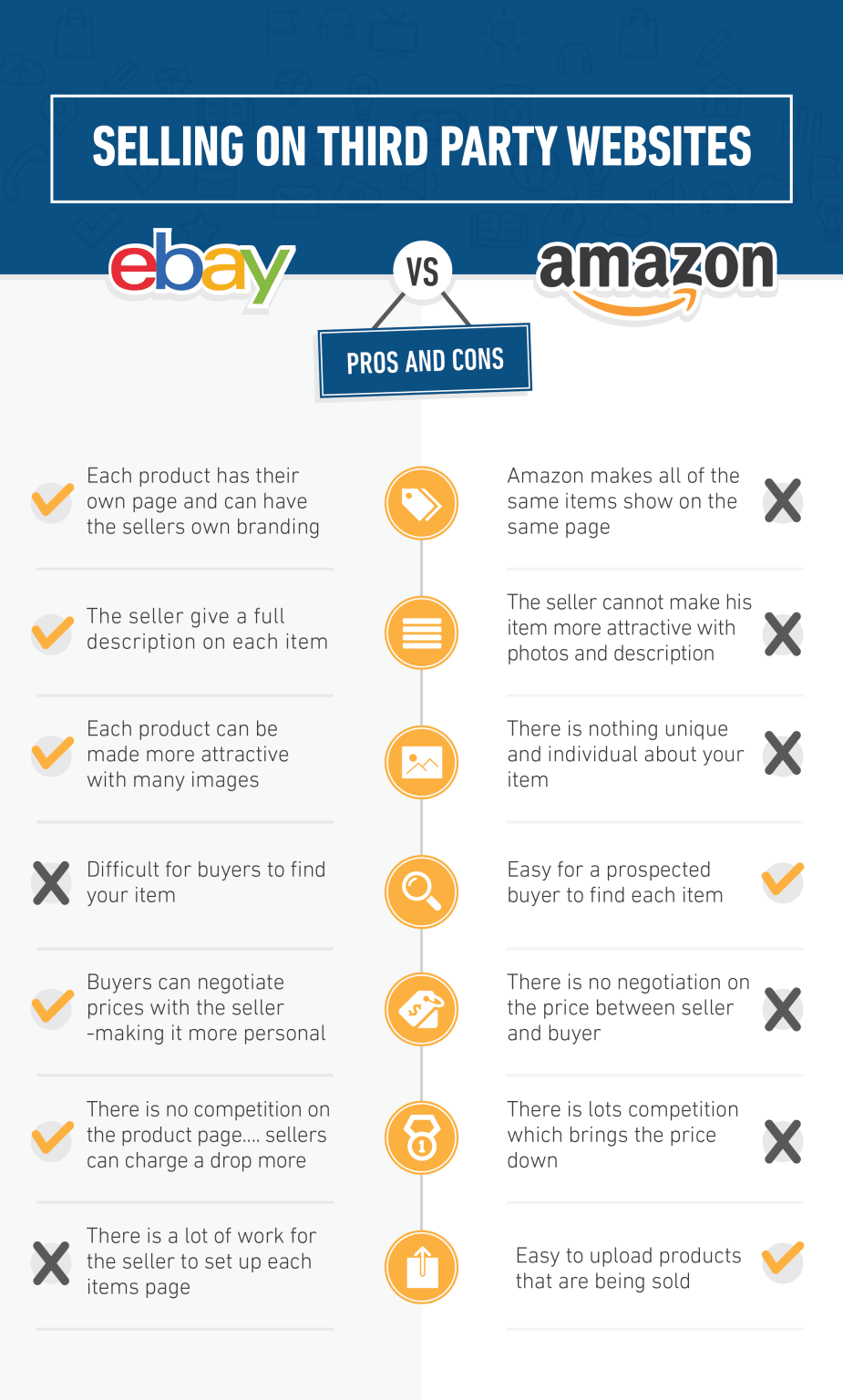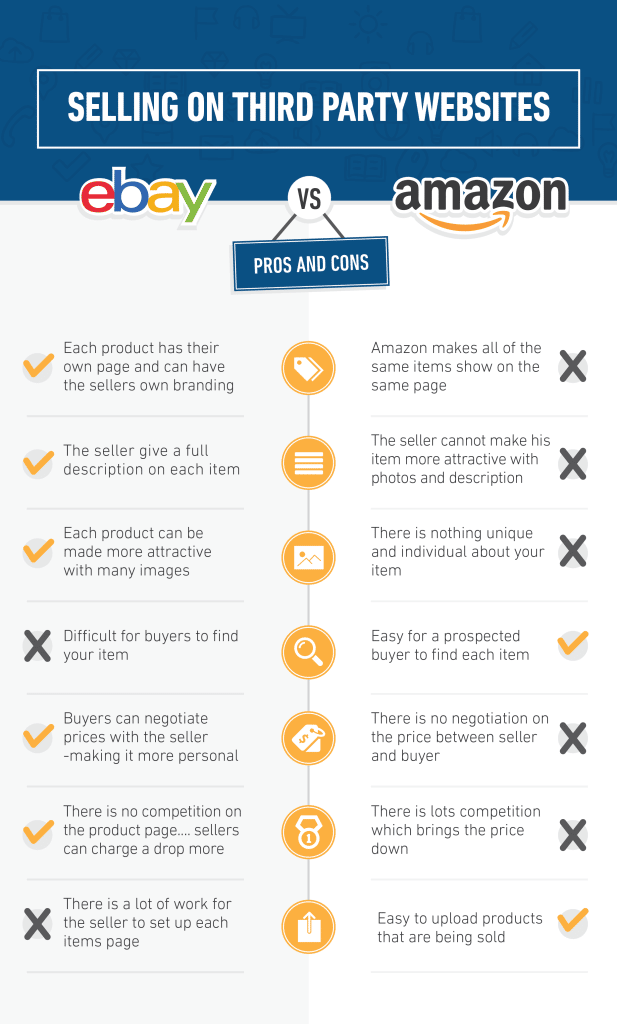 EBay's advantages over Amazon
While they both seem similar at first glance, eBay and Amazon, both popular ecommerce websites that offer everything for sale including the kitchen sink, are actually quite different. Both sites allow buyers to purchase items immediately as well as sell both new and used products. But there's one key difference that makes them both unique: Amazon's products are listed all on one page, while eBay's products are listed on individual pages. These differences make each platform a totally different environment. In many cases, sellers have a particular advantage on eBay that isn't shared on Amazon.
On Amazon, for example, a buyer can compare prices between sellers instantly at the click of a mouse button. While this may be good for consumers who want a discount, for sellers, this could drive down prices on their goods.
EBay, on the other hand, does not have this instant price comparison feature. This often gives eBay sellers the ability to charge a little more for their products. But it's not only pricing that's at play. How a product is viewed by customers is also significantly different.
On Amazon, images cannot be provided by individual sellers, and people's eyes go directly to only two things: the price and the seller's rating. On eBay, however, sellers can host many images of his or her product, and each item is allowed its own product page. This page is fully customizable, allowing the seller to even use their own branding, logos or images. More information about the item can also be provided, which gives the seller more leeway for longer — and more persuasive — product descriptions.
More personality
These features do more than help the marketing of an item. On eBay, sellers feel more like individual sellers, instead of just part of a platform. While on Amazon the focus is simply on the lowest price for consumers, for eBay the complete e-commerce package means allowing each boutique to show off their individuality, do their own marketing, and set their prices more fairly.
A 'customizable' transaction
For buyers, the shopping experience on eBay can also prove to be more personalized. As sellers are able to show more of their individuality on this platform, so too can buyer expect a more individual relationship. As sellers aren't bound to as much policy on eBay as they are on amazon, buyers can expect things to be more flexible. Whereas Amazon's price lists are set and non-negotiable, eBay allows negotiation to take place between shop owner and customer. Customers can also negotiate when and how they pay. All in all, eBay gives more flexibility to transactions across the board.
The disadvantages — and how to get past them
With greater flexibility comes more choices — and the choices a seller makes about his or her photos and descriptions can make or break an eBay listing. While eBay's platform is useful in many respects, the platform's layout also poses challenges. Since it's only possible to view one seller page at a time, it can sometimes be difficult for buyers to find the exact product they want, as well as for relevant sellers to get clicked on. That's why for sellers, creating listings that look professional and give relevant information is the key to avoid being lost in the fray. If their listing has more information, then the eBay search option is more likely to find it for the customer. Also, a professional, high quality listing is more likely to be clicked on and explored by potential customers.
Include several well-done photos of your products
One of the biggest keys to creating a quality listing are the pictures — uploading a lot of high quality, high resolution photos. The more a customer can see about your product, the easier it is for the customer to identify it. It also builds unconscious trust between buyer and seller, as the customer feels more certain of the look of what they will be purchasing.
With each of your listings, it's necessary to upload three types of images:
Description image: When searching for a product on eBay, these are the images that appear and immediately identify the product to the buyer. These photos are uploaded via a browser upload button.
Thumbnail images: Displayed below the gallery image, these are small pictures that further give a visual description of the product. These photos must also be uploaded via a browser upload button.
Product description area: In the product description area, sellers have the option of including additional images of the product. However, there is no option to upload these images via a browser button. Instead, the images must be self-hosted and then displayed using HTML. Sellers should avoid using free third party hosting services, like img.ur, to support these pictures. Free third party sites often clutter the space with advertising, which doesn't look very professional. The best choice is to use paid hosting services. A listing service such as Seller Cloud, which offers easier management of online product descriptions, includes the hosting and storage of these photos.
Dealing with bulk listings
Another challenge of being a seller on eBay is when you're putting up a lot of items for sale on the site and need to create or update thousands of listings per day. This is hard to manually manage it in an efficient way, as eBay requires a unique long description of each product you're offering. What's more, eBay requires detailed specifics, including the UPC number, the brand, the manufacturer and part numbers (MPN), if applicable. A product like Seller Cloud, software specifically built for managing online product listings, can be a very helpful solution. With management software like this, a retail professional can much more easily handle a larger volume of material. It's possible to map out your catalog and create a master file for easy organization and more efficient posting.
Often, when a small piece of information in a listing needs to be changed — such as the price, a specification, or an image – this can be a challenge for an eBay seller that offers lots of products as he would have to sort through their bulk listings to find that detail to edit. But with management SellerCloud, a retailer can have prices, images, specifications and other minor tweaks update automatically from their master file into the eBay system.
This software is also useful when creating listings for the first time. Using a system like this, sellers can create a page template, and then fill in the template with product descriptions and images later using a technique known as dynamic insertion. This can save hundreds of hours of work.
Image hosting challenges and solutions
SellerCloud also offers solutions for the many images required in bulk listings. Using image urls in templates requires an open url, and apply image urls individually to templates gets very labor intensive. With SellerCloud however, a system of placeholder tags can dynamically grab images already stored on products. This placeholder just needs to be added once to a single template, dramatically reducing labor hours. Whenever it's needed for duplication, editing or reference, the image url can also be easily exported.
When all is said and done, it's clear that using a listing software to manage listings is a way to take full advantage of the benefits of selling on eBay. While eBay offers many perks for sellers, a very large time commitment is needed to create templates, photos and write product descriptions. But with listing software, that time commitment can be drastically reduced, allowing you to save time, be more efficient and all the while profiting from additional sales.