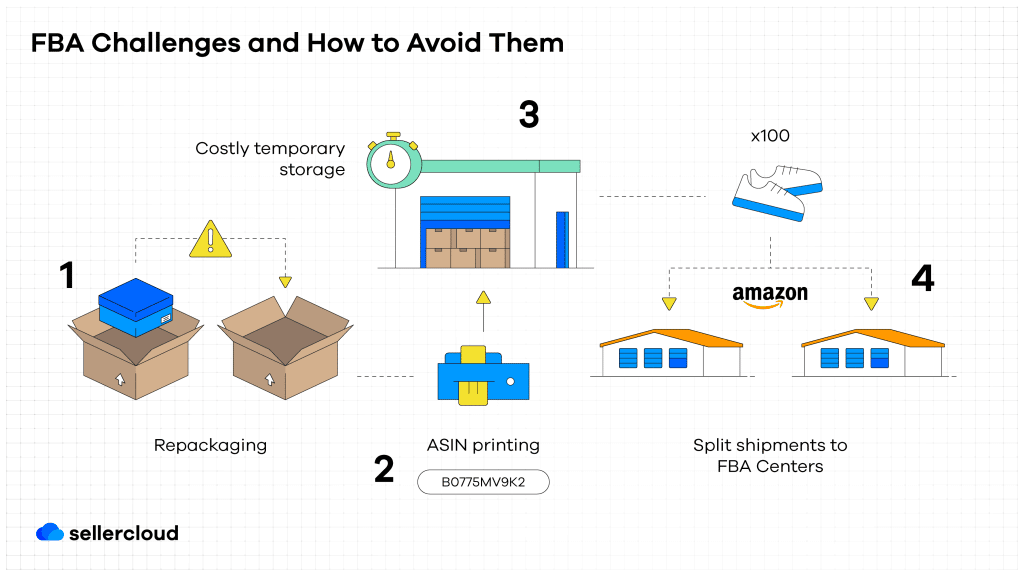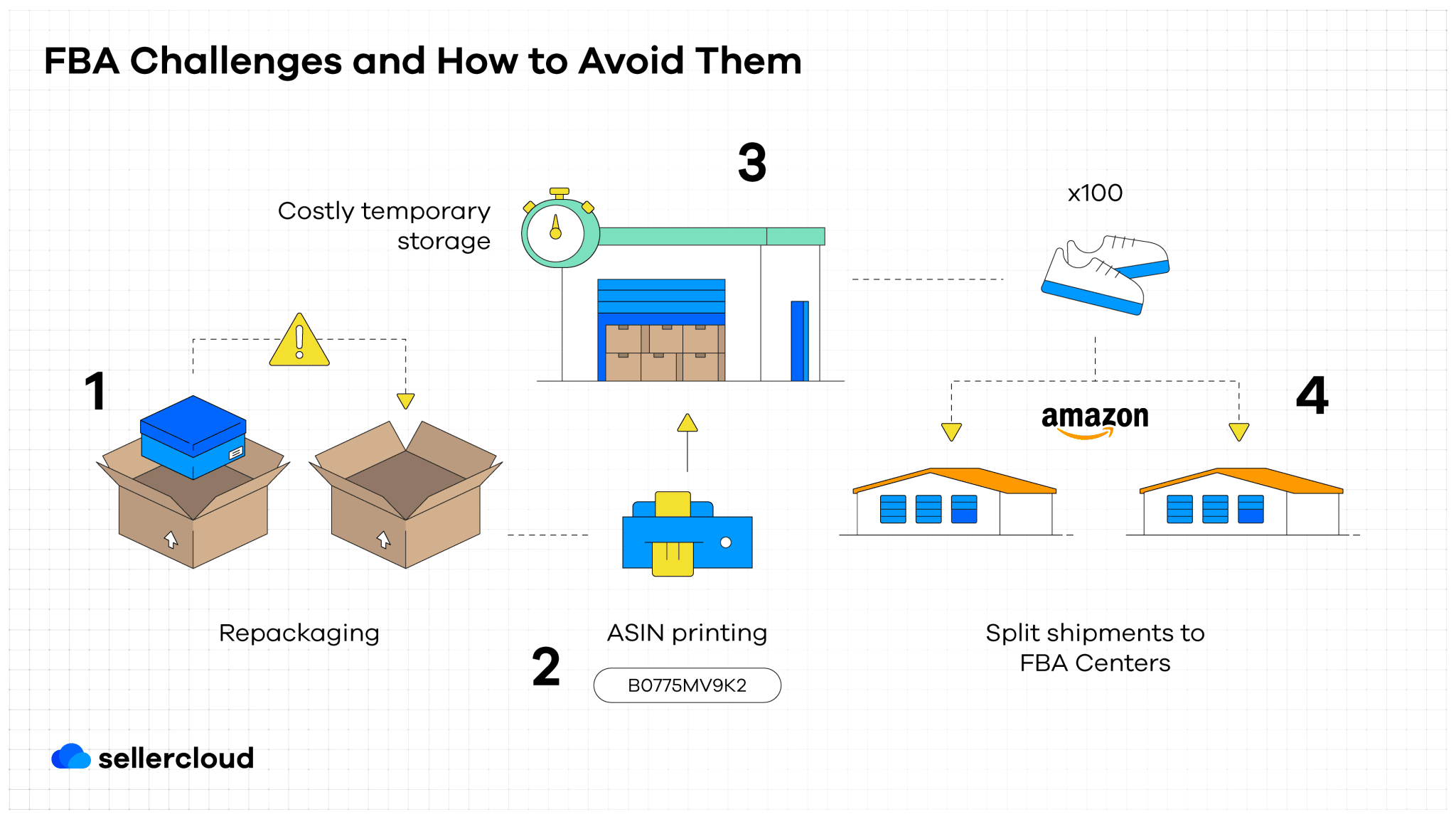 Prevent Amazon splitting shipments between FBA centers, automate orders, and use Multi-Channel Fulfillment on 200 channels with Sellercloud.
'FBA' stands for Fulfilled By Amazon. It handles picking, packing, shipping, customers, and returns. Products are stored at FBA centers until shipping.
Despite the benefits of FBA, several challenges come with using the service, which Sellercloud can solve for you.
FBA shipments are a fantastic way to handle most of your order fulfillment operations and save you a ton of time for other urgent tasks.
Some sellers don't have any storage space or a warehouse, so FBA is an ideal option. However, it can be pricey for smaller businesses and might not be the best option.
Others prefer to store half of their stock in FBA and the other half at their warehouses, so it's easier to ship something near them and from other channels, including their website.
While this is all good, FBA is not for everyone. FBA can cost you a pretty penny in shipping, and Sellercloud can improve some areas with automation.
In this article, we will cover the many known pain points of FBA shipments and explain how you can make them more efficient with Sellercloud.
FBA Shipping Challenges
FBA handles a lot of tasks for you. As a seller, you don't need to worry about warehousing, shipping, and logistics. But there are still plenty of challenges to solve.
Firstly, you must store your products until they are packaged for FBA and ready to be shipped.
This can be problematic for sellers who don't have the space and expensive and impractical for those who need to rent temporary storage.
Another challenge that FBA sellers experience is that some products come in cases that must be repackaged individually.
You'll also need to print the ASINs for each shipment. This can be a time-consuming process that involves walking back and forth from computer to product while prepping shipments.
And lastly, the more complex the shipment, the more that could go wrong. For example, you may need to ship different products in different quantities to various fulfillment centers.
FBA Shipments with Sellercloud
You can streamline, automate, and customize your FBA shipments with Sellercloud. It's effortless to change to FBA in Sellercloud, and there is more than one way to do it.
Sellercloud is also perfect for handling Multi-Channel Fulfillment (MCF). You can arrange for entire companies to use FBA or keep it to specific products.
And switching between FBA and FBM only takes a few steps and can even be done in bulk using the 'Bulk Updates' option.
Top 7 Benefits of Using Sellercloud for FBA Shipments
Sellercloud enables sellers to automate shipping and order fulfillment processes, including FBA, making it all easier.
1. Prevent Amazon From Splitting Consolidated Shipments to Multiple Centers
This extremely handy feature is a game-changer for FBA and is by far the top reason sellers should consider using Sellercloud for FBA.
Usually, when you make a shipment directly with Amazon, you don't have a choice in how Amazon may split your shipments and which FBA centers they will be sent to.
Picture the scenario; you're based in Seattle, and your batch is split between Portland, San Francisco, and Salt Lake City!
While Amazon handles delivery from these locations, you still need to ship your stock to these far off fulfillment centers which is pretty costly.
More frustrating still, it could have just been one shipment, not three.
Using Sellercloud's functionality to consolidate shipments, you can control how your shipments are divided across FBA centers and ship to the most preferable location.
As a result, sellers can keep all their stock in one place and reduce the time their products spend in transit, expenditure on packaging materials and the cost of shipping itself.
2. Organize Your Boxes and Pallets
Sellercloud is also incredibly useful for calculating the size and weight of shipments, so Amazon knows just what to expect.
You can even copy boxes if you have similar or the same size and dimensions instead of typing out all the info time and time again.
And to make it even easier, you can also use the 'case quantity' feature if you have multiple products.
It can also break down the number of items into cases, and each case can have an even number of items.

With Sellercloud, the weight and dimensions of your products and cases are saved for future use, eliminating the need for further data entry.
You can also use a 4D Scale to not only verify but also add the dimensions of your product, and keep it in your account to ensure that you never have to manually input your data again.
3. Predictive Restocking
Set 'predictive restocking' so Sellercloud automatically predicts how many FBA orders you will likely have based on your historical data and suggest the quantity that should be shipped to FBA.
You will still need to send shipments to FBA fulfillment centers, but the benefit is that you won't need to calculate the quantity, saving you precious time and money.
4. Rule Engine and Customizable Plugins
Using the 'rule engine,' you can create rules for handling orders between your stock stored in FBA centers and customers.
A popular example of the rule engine is configuring it to check the availability of a product at an FBA center before checking your warehouse when an order is placed.
If the product doesn't have availability at an FBA center, the rule engine will then check your warehouse and send the product if it's available.
You can also use the rule engine to notify you about large or expensive orders. You can set a rule to put the order on hold until someone can check it and manually confirm it's correct.
And to make things even easier, Sellercloud also offers a variety of plugins, including ones that can create custom labels for your products, so important information is properly displayed.
5. MCF on Over 200 Channels
Lastly, let's not forget; you'll be able to use MCF to sell on a wide variety of channels and won't be stuck to just selling on Amazon.
Because Sellercloud offers MCF, you don't have to sell your products directly via Amazon to use FBA.
For example, you can sell products from your website or social media and then ship with MCF. Anywhere a product is sold can be considered a 'channel.'
Using Sellercloud, you can use MCF on up to 200 different channels. Including other ecommerce platforms such as eBay, Etsy, Costco, Flipkart, and Magento. 
Important! We do not suggest using FBA for Walmart orders. Doing so will cause you to break Walmart's terms and conditions. Instead, we recommend using WFS ('Walmart Fulfillment Services') for non merchant-fulfilled Walmart orders.
6. Utilize Cross-docking
Sellercloud offers cross-docking to help you get your FBA shipments to their destination faster if you need it.
Shipping information is also immediately sent to you as shipments change hands from one provider to another, giving you greater visibility.
Note that FBA sellers may still need to repackage products, depending on their workflows.
7. Practical Help Preparing FBA shipments
Sellercloud's "FBA Prep" feature can help prevent mistakes when preparing your shipments for FBA. Simply scan the SKU or product barcode and automatically print out your ASINs.
Sellers can also ensure clarity when shipping by identifying crucial things such as shadow SKUs and printing the appropriate product label.
How Does Amazon FBA Work?
Before we get too deep into the ins and outs of FBA, it's important to mention that FBA is not the same as FBM (Fulfilled By Merchant).
If you're unfamiliar with the differences, check out our post on FBA vs. FBM, where we outline the pros and cons of both shipping methods.
With FBA, Amazon takes care of the packaging, delivery, customer service, and returns, though it does cost more than FBM, where you, the merchant, take care of those operations.
FBA frees up your time to focus on other essential tasks and areas where you can enable growth, but you must consider whether it is worth the cost first.
Amazon will not notify you about any issues with customers or returns because they will handle it all.
What You'll Need for FBA Shipments
Before sending off products with FBA, you'll need a few things in place.
Firstly, the SKUs you send to Amazon's fulfillment centers must have available quantity and be valid for FBA.
You will also need to specify to Amazon the dimensions and weight. Amazon calls this 'box contents.'
And this will require the correct labels (which you can print in seconds with Sellercloud).
Super important—you will still need to organize shipping of your stock from its current location to FBA centers. Shipping to an FBA center is called an 'FBA Inbound Shipment.'
You can ship to Amazon's fulfillment centers via Amazon themselves or another shipping partner.
You can learn more about Sellercloud's Amazon integrations and how you can seamlessly control it all from one spot here. (We do a lot more than just FBA!)
You can also learn more about multi-channel fulfillment with Sellercloud and Amazon by watching our webinar here.