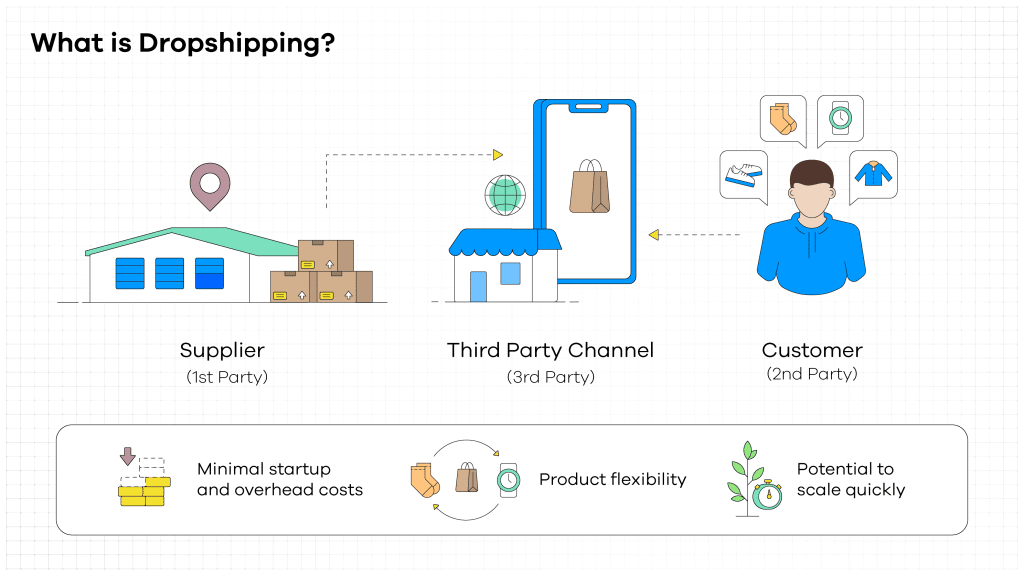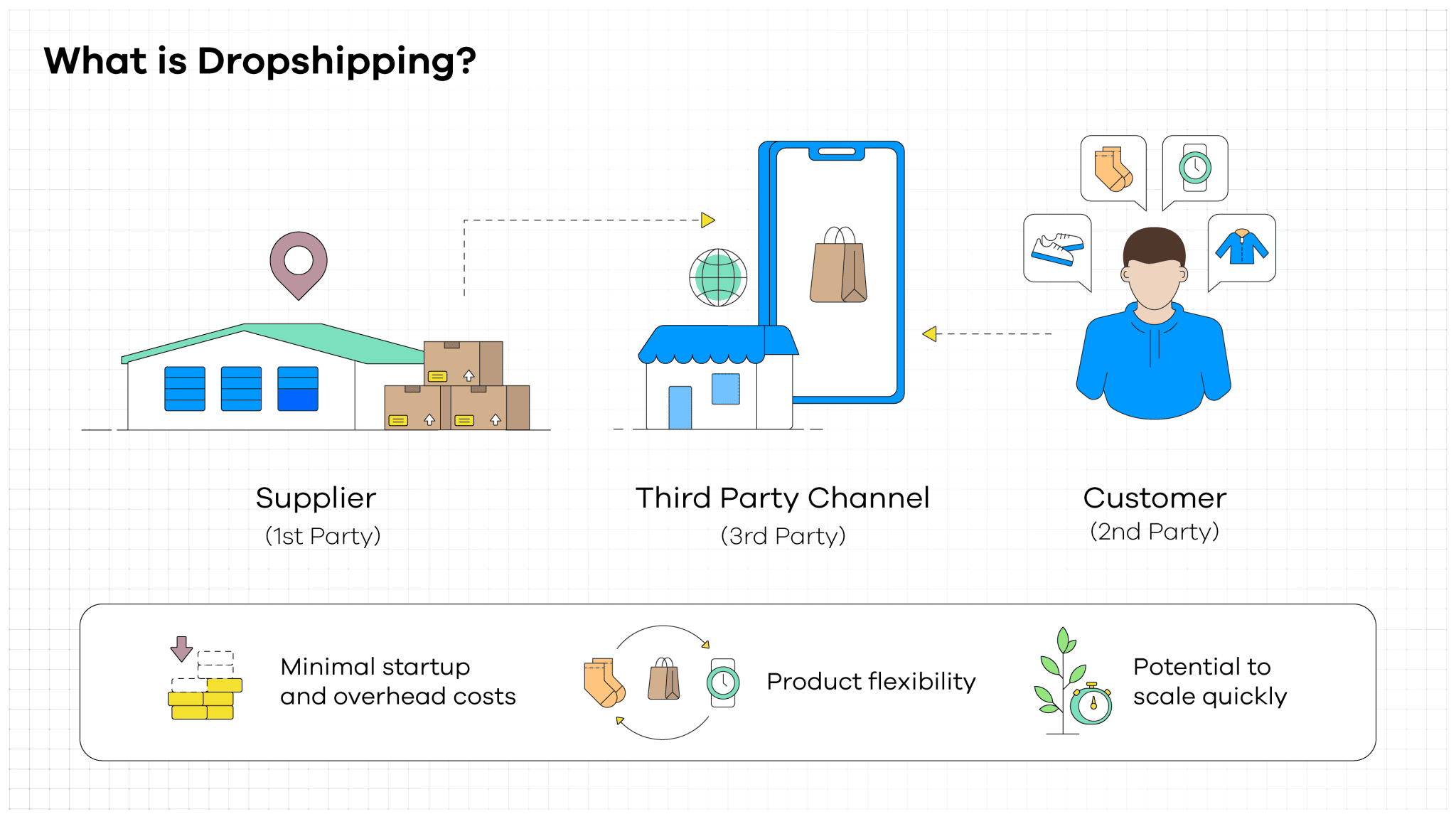 Dropshipping is a popular and economical approach to online sales for both new and established e-commerce brands alike. It offers sellers a potential revenue stream that comes with a low barrier to entry and minimal startup costs. In the dropshipping fulfillment model, the merchant is merely the go-between—a retail facilitator that generates profits by connecting suppliers and customers.
That said, there is no such thing as quick and easy success in e-commerce. To make dropshipping a profitable staple of your online retail business, there are several critical considerations that will determine whether or not your business will take off.
What is Dropshipping?
Dropshipping is an e-commerce fulfillment model where a seller works as an intermediary between a supplier and a customer. However, unlike a traditional retail model where the seller purchases and stores quantities of inventory waiting to be sold, dropshippers never handle the products they sell. Instead, when an order is received from a customer, the merchant notifies the supplier. The product is then shipped directly to the customer. The seller essentially serves as the marketer for a product's manufacturer or distributor.
The benefits of dropshipping include:
Minimal startup and overhead costs

– Removing burdens associated with purchasing and storing large quantities of inventory drastically reduces the amount of capital required to start and maintain a dropshipping business.

Product flexibility

–

All products have a lifecycle

. The versatility inherent to the dropshipping retail model makes it easier to add or remove products from your catalog according to their popularity and/or seasonality without having to worry about what to do with unsold inventory.

Potential to scale quickly

– When a traditional e-commerce business grows, it means more space, more labor, and more workflows. Conversely, scaling a dropshipping business has minimal impact on your operation. As long as your suppliers, manufacturers, and distributors can handle the increased sales volume, you can reap the increases in profits with very little additional output on your end.
So what's the catch with dropshipping? What is it that keeps all online sellers from embracing dropshipping as the clear path to e-commerce success?
The Differences Between a Successful and Unsuccessful Dropshipping Business
As dropshipping continues to grow in popularity, there are some clear distinctions between businesses that maximize its potential and those that overlook the unique strategic and functional challenges of the sales model.
The differences between successful dropshippers and those that fail to reap its rewards come down to three distinct areas: 
The Products You Select to Dropship
No different than any other form of retail, what you sell matters more than how you sell it. Even with the most optimized workflows and reliable third-party partnerships, if no one wants what you're selling, you're out of luck. For that reason, a successful dropshipping plan should begin with choosing the ideal product(s).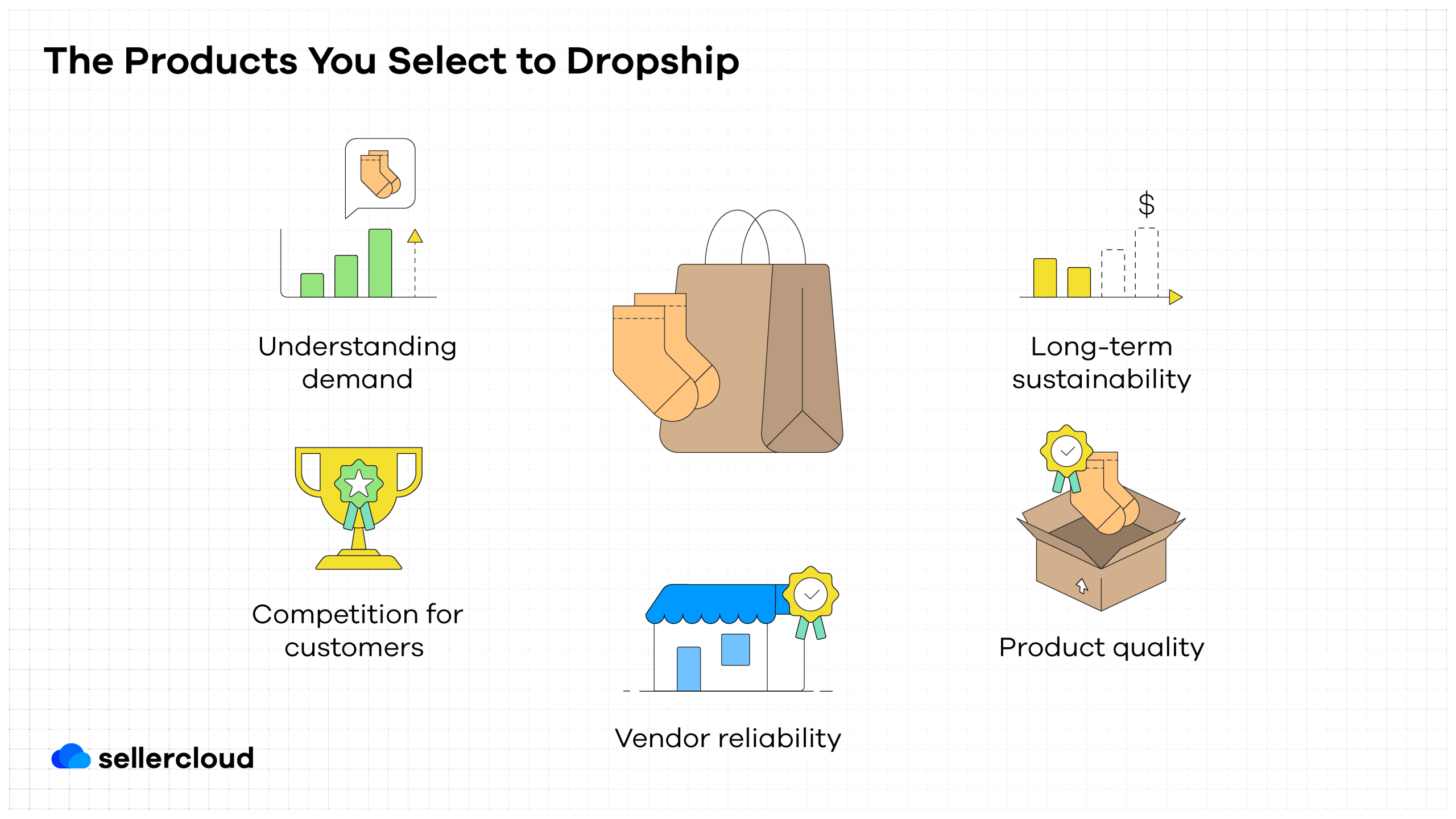 Selecting the right products to dropship involves several key considerations:
Understanding demand

– The core of a dropshipping business plan has to start with an understanding of which products you are planning to match to which customer base. This is made easier if you have made an effort to know your customers' wants and needs. This is a cornerstone of any

effective omnichannel e-commerce

brand, particularly when it comes to dropshipping. With an understanding of your audience, you can better select products to dropship that meet their demands. This also makes it easier to establish successful marketing plans and goals (more on this later).

Competition for customers

– Successful dropshippers commit time and energy into selecting products that customers want. From there, it is important to assess how much competition already exists for the attention and buying power of said customers. Finding product niches that are not saturated with comparable merchandise gives you the highest chance of success and the best odds at establishing the best possible profit margins.

Long-term sustainability

– Especially if you are just starting out, you will want to be sure you are selecting products that will sell consistently and reliably. Instead of seeking out trendy products or items with seasonal appeal, focus on more timeless merchandise that appeals to your target demographic. Tapping into product sectors and categories where there is a steady stream of potential profitability will lead to results that outlast the quick fix that comes with items that are ripe to be outdated, fall out of fashion, or are otherwise unsustainable.

Product quality

– You could theoretically dropship anything. The issue is, if the products that you select don't meet or exceed customers' expectations, the blame is placed on you. This is one of the challenges of dropshipping—if the products never pass through your hands, can you be confident and willing to stand by the merchandise you are selling? Dropshipping is most successful when it involves high-quality products from

high-quality vendors

.

Vendor reliability

– Ultimately, dropshipping is a series of partnerships. You need suppliers and distribution partners that you can count on to keep your customers satisfied and help grow your online sales. Failing to vet and regularly audit these partners—particularly your

suppliers

—can expose your business to

serious risk

. You need to be sure that you are reliably dropshipping quality products with dependable fulfillment practices.
Marketing the Products You Dropship
As a dropshipper, your most important role is marketer. By definition, you must be an effective broker between supplier and customer. Failing to fulfill this role is to fail as a dropshipper.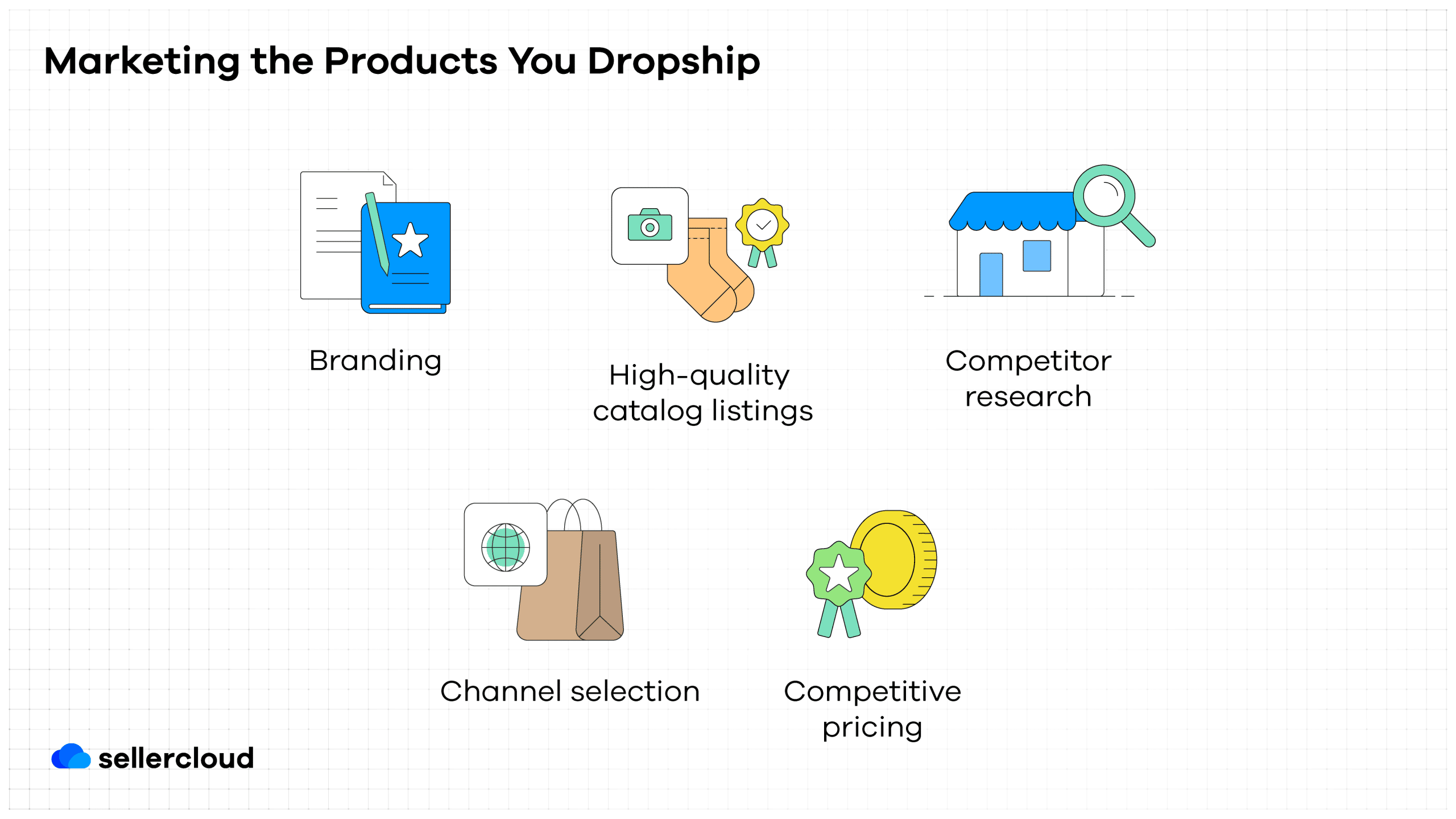 The essential aspects of marketing as a dropshipper involve:
Branding – Even though you aren't the manufacturer, or even the sole seller of a particular product, doesn't mean that you can ignore the positive impacts associated with effective branding. Successful dropshippers establish a brand image and generate positive attention through the creation and maintenance of a website, data-driven marketing plan, and social media presence. All of these pieces should work together to reach the ideal primary and secondary audiences for the products.
Taken further, many dropshipping suppliers will (for an additional cost) apply branding and packaging to the products they sell on your behalf. While this invariably adds to your product cost, it can help you avoid the negative stigma that you are following in the footsteps of other resellers who cut corners and don't make the effort to differentiate their products.
Channel selection – Selling on multiple channels is a best practice for online sales. The ability to tap into established customer bases on third-party marketplaces while also establishing and running your own first-party website is a recipe for online retail success. That said, some marketplaces and sales channels may be better suited for certain products than others. Pay attention to the level of competition and customer interest in product categories that are relevant to your products.
Additionally, you need to be sure that you are abiding by the rules of the road on every channel where you sell. Most marketplaces do allow dropshippers to list on their channels, but there are often correct and incorrect ways of doing so. For instance, Amazon and Ebay have clear guidelines about how to dropship on their sites.
Competitor research

– As a dropshipper, you are rarely going to be the only game in town. No matter where you choose to sell,

identifying and assessing your competition

needs to be a regular practice. You may even find that you are dropshipping the exact products as others (i.e., you may not be a supplier's only dropshipping partner). You need to invest thought and resources in distinguishing your products and listings from your competitors'.

Competitive pricing

– In most cases, the margins on dropshipping are slimmer than traditional e-commerce. One major reason is that dropshipping, by its very nature, eliminates many of the opportunities to bring down your cost of goods sold (COGS) through traditional money-savers like

improved warehouse efficiency

, supply chain optimizations, and other strategic workflow refinements. As such, you need to both select products that leave room for profit and maintain an active

pricing strategy

to ensure that you are able to provide both value to customers and your bottom line.

High-quality catalog listings

– Your listings need to stand out from the pack. Stock images and boilerplate item descriptions are not going to cut it when you are trying to attract customers to your dropshipped products. Invest in high-quality

images

and

video

to help improve your product visibility and establish your overall brand aesthetic. Similarly, regularly

audit and update your product listings

to reflect your insights into your customers' shopping intentions.
Organizing the Dropshipping Workflow
To connect all the dots and achieve success as a dropshipper, you have to be organized. While there may not be physical inventory that you are directly responsible for moving and maintaining, you are very much responsible for keeping tabs on the partners who are performing those roles on your behalf. Failure to do so could not only lead to negative marketplace repercussions, but it could devalue your brand and hamstring your ability to remain a profitable and reliable dropshipping business.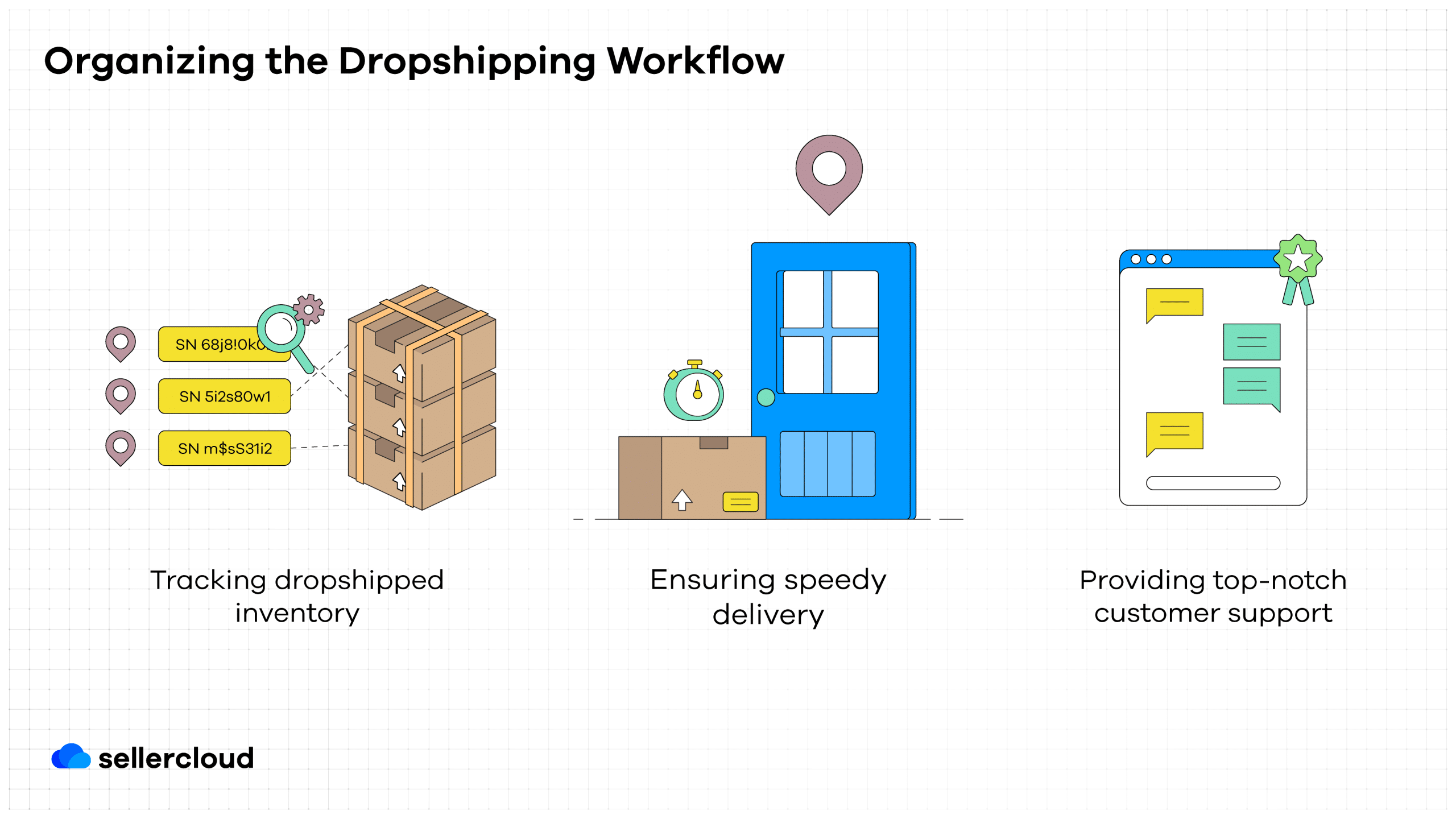 The most critical elements of the dropshipping workflow include:
Tracking dropshipped inventory

– As a dropshipper, you are not actually handling the products you sell. However, you should have access to order tracking and available supply metrics through your suppliers and relevant partner(s). Ideally, this information should be

imported into your omnichannel inventory management platform

to help you track and record the relevant order information for each dropshipped sale.

Ensuring speedy delivery

–

Customers have come to expect fast shipping

. Dropshippers need to keep an eye on how effectively vendors are meeting those expectations.




Shipping is also one of the quality metrics that third-party marketplaces look to when evaluating customer satisfaction and seller quality. Having an omnichannel inventory management platform that is compatible with dropshipping orders can alert you to when dropshipping partners are dropping the ball, and help you maintain your brand reputation. This can give you the lead time necessary to mitigate the fallout by alerting customers to potential delays, contacting vendors to remedy the issue, or even start looking for replacement suppliers.

Providing top-notch customer support

– Whether things are going smoothly or there is an issue with an order, you need to have the structures in place to

quickly and reliably serve your customers' needs

.




Even though your physical involvement with a sale is significantly reduced as a dropshipper, your business is the party of record on all customer-facing documents and interactions. You need to be ready to stand by the products you sell. This includes issues that require returns, replacements, or refunds. The potential faults and defects of your vendors and dropshipping partners fall squarely on your shoulders; you need the staff and protocols in place to bear the weight when necessary.
Sellercloud's omnichannel e-commerce growth platform includes support for all of the aspects of effective dropshipping, including marketplace integrations, high-quality vendor integrations, order tracking, COGS calculations, catalog management, product repricers, and more. Contact us directly for a free demo and see for yourself all of the ways that Sellercloud can fuel your e-commerce success.