Inflation concerns and supply-chain issues are continuing to raise alarms across the retail industry. E-commerce sellers and brick-and-mortar businesses alike are trying to navigate these uncertain economic times while also trying to make the most of one of the best sales climates in recent memory.
Customers established online purchasing habits early in the pandemic that are continuing to bear fruit for online sellers. However, with competition at an all-time high, continued supply and logistical concerns, and inflation making prices soar, it takes a lot of focus and planning to optimize your profitability and your potential for brand growth in this climate. One area that is particularly important to focus on is how to reprice your listings to account for all of this uncertainty.
However, before you can develop a pricing strategy that can work across your omnichannel reach, you need to recognize and understand the underlying economic forces at play that are making things so challenging. The nature of inflation – particularly on the scale we are currently experiencing – is unlike other challenges that your brand has likely had to contend with.
The Macro-Economic Impact of Inflation on E-Commerce Prices
Buying online has typically been seen as a way to get products cheaper than buying them off the shelf in a brick-and-mortar store. This is particularly true during the holiday season – a time when many products are discounted to their lowest levels of the year.
Current trends are showing that this is not always the case anymore. According to Adobe's October forecast, online prices are actually up 3.3 percent at the start of the holiday season, which is a notable swing from past years where prices were down on average 5 percent YoY.
This type of atypical pricing pattern may seem counterintuitive to e-commerce sellers and customers alike. The holidays commonly present an annual opportunity to sell through inventory at higher levels, and as such, you can usually leverage this promise of increased sales volume to justify reducing prices. This may not be the case this holiday season. What's more, the same factors that are likely to upend your holiday pricing models will likely continue to impact your pricing decisions into 2022.
For many customers and retailers alike, this is the only time in recent memory that inflation has caused such a notable impact on prices across so many different retail sectors. Not only that, but there is an expectation that many of these conditions may continue for a prolonged period of time. Understanding the root causes is important. There are a number of highly-publicized factors at play in the current inflation crisis:
Higher shipping costs – Shipping costs have been on the rise for a year, and, according to some reports, there is no indication that they are going to fall back to pre-pandemic rates. There are a number of factors in play here, including USPS rate hikes, shipping container shortages, and port congestion – to name a few. Whatever the causes, this means an increase in landed costs that is particularly consequential for e-commerce orders.
Supply challenges – Supply and demand is a core principle of both micro- and macro-economics. When supply levels are low and consumer demand is high, prices go up. When supply is high and demand is low, prices go down.

Given the well-documented issues facing the shipping and trucking freight industries as well as supply chain challenges (like the oft-touted "chip-shortage"), supply is definitely low across many retail sectors. What's more, there is no sign of immediate relief. It will take time for production levels to meet record-high demand. Unclogging the supply chain infrastructure will also not happen overnight.
Higher labor costs – According to the US Bureau of Labor Statistics, labor costs are traditionally one of the most common predictors of inflation. A continuing labor shortage across many sectors of the economy has caused the price of attracting and retaining workers to rise.
The COVID-19 Pandemic – Perhaps the most obvious cause of the current, once-in-a-generation inflationary conditions (as well as many of the issues listed above) is the ongoing global pandemic. The fact that this is a worldwide issue has not only exacerbated many of the aforementioned negative economic factors, but it has increased the challenges associated with bringing the resulting inflation under control.
It is crucial to recognize that the e-commerce industry didn't exist the last time there was a lasting inflation event of this scale. This means that there is no historical playbook to fall back on to navigate how your brand reacts.
That said, you need to react. You need to use foresight to best strategize how you will continue to acquire inventory and fulfill orders in spite of the challenges. Equally important, you need to be sure that your pricing decisions reflect the volatility of the current economy and remain both competitive and sustainable.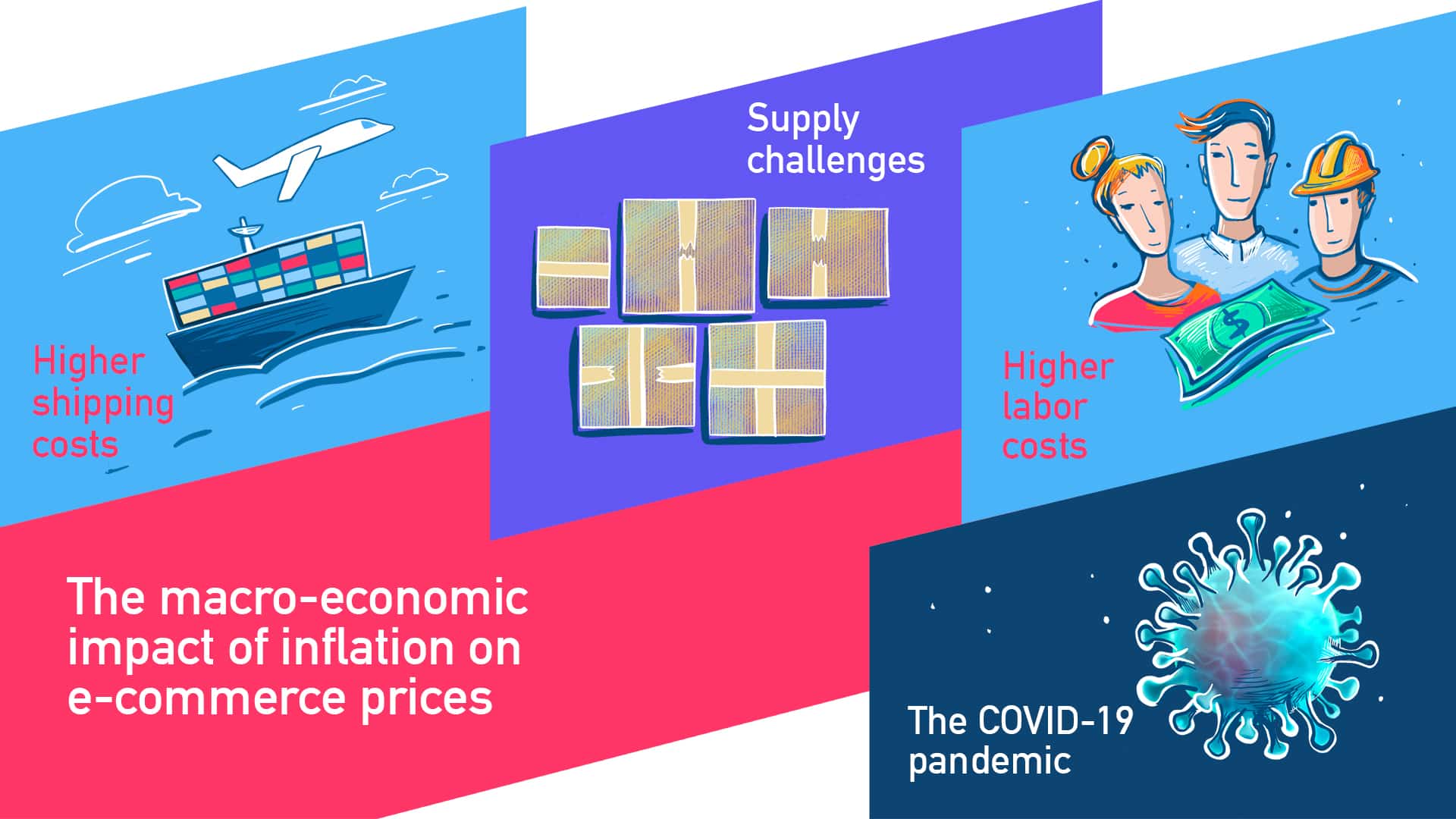 How to Account for Inflation When Repricing Your E-Commerce Listings
The current reality is that prices are going up. Your competitors' prices are likely going up. This means your prices are likely going to have to increase, too.
Thankfully, there are repricing tools that can help simplify and streamline your pricing workflow. Not only can they help you adjust prices across the marketplaces where you sell, but they can take into account external factors like competitor pricing, your inventory levels, and omnichannel compliance issues. These tools are particularly valuable investments in times like these.
What's more, there are several omnichannel repricing tools that offer native integrations with Sellercloud's omnichannel growth platform. This means that you can use the combined power of an e-commerce repricing tool with Sellercloud's cost of goods sold (COGS) calculations to zero-in on the optimal price increases and decreases that will keep your products competitive, but still allow you to make a profit.
All of that considered, you are still the deciding factor in your repricing strategies. There are some guiding principles that you should strive to adhere to when setting and manipulating the prices of your SKUs:
Aim to get the most value for your inventory. Repricing tools help to ensure that you remain competitive in your quest for the Buy Box, but they can also save you from undervaluing your merchandise. As forecasts predict an uncertain path for inflation in both the short- and long-term, a commitment to pricing flexibility will be an essential best practice for maximizing profits – particularly in cases where supply remains constrained.
Avoid practices that may be seen as price gouging. There is a growing market of scalpers and resellers that are seeking to profit from the current supply issues by buying up desirable products and relisting at a markup. You obviously do not want to fall into this category (there are even penalties on some marketplaces for doing so). Know what a fair market value is for your products and avoid straying too far from these figures.
You need to be sure to comply with omnichannel pricing rules. Depending on where you sell, there may be limits on how you set and manipulate the prices of your SKUs. For instance, sellers must be sure not to offer lower prices on other platforms than they do on Amazon Marketplace or they risk consequences like suspensions or delistings. Omnichannel-focused repricing platforms, like those that integrate with Sellercloud, typically account for these types of rules, but it is ultimately up to you to remain compliant.
Using a unified omnichannel inventory management platform can help leverage your inventory across multiple sales venues. When inventory levels are such a big concern for most sellers, having the ability to supply listings across all of the channels where you sell from common stockpiles can give you a tremendous advantage over sellers who must allocate stock on a per-channel basis. Sellercloud's inventory management tools allow you to sell through inventory while also avoiding costly overselling and out-of-stocks.
For e-commerce sellers with a physical presence, buy online, pickup in store (BOPIS) options can even allow your inventory to simultaneously serve both brick-and-mortar and online shoppers. This keeps your supply available to consumer demand wherever it appears.
Like so many pandemic-spurred changes in the e-commerce landscape, the need for dynamic repricing strategies are here to stay. To be sure that you are able to effectively and efficiently respond to these and other e-commerce challenges. Join the growing number of omnichannel sellers who rely on Sellercloud to help support and grow their online retail brand. Contact us directly for a free demo and see for yourself what a centralized, cloud-based approach to inventory and catalog management can do for your business.