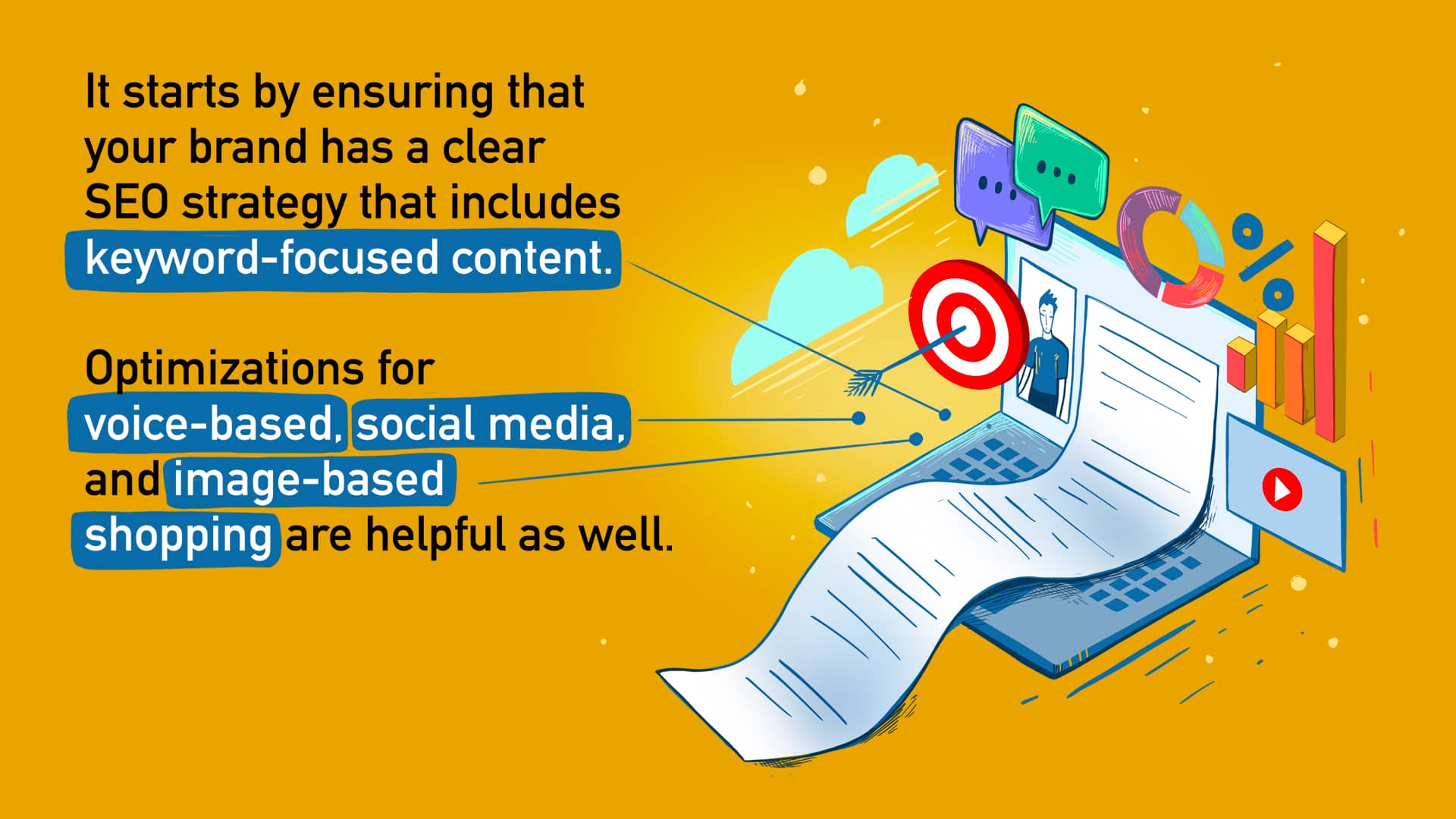 In the competitive world of omnichannel e-commerce, visibility matters. Every minor change in either your brand's or products' search engine results page (SERPS) position on the marketplaces where you sell and on search engines where you appear can translate to significant fluctuations in sales potential. As such, you need to be keenly aware of who is competing against your products for those coveted search-ranking positions.
Luckily, there are plenty of search engine optimization (SEO) tools – both free and paid – that can give you the insights that you need into both your closest competitors and keyword leaders. From there, you can evaluate your own listings and brand content to optimize your web presence and outperform your rivals.
Identify the Competition
SEO-based competitor research can be a deep rabbit hole if you're not focused. The first step is correctly identifying the competitors that are costing you the most potential business.
It starts by ensuring that your brand has a clear SEO strategy that includes keyword-focused content. Optimizations for voice-based, social media, and image-based shopping are helpful as well.
Once you have the short- and long-tail keywords you identify while optimizing your own content, you have what you need to hone in on your competitors that are vying for the same customers you are. These are the keywords that you need to search using a neutral web browser (read: one in private browsing mode – free from any algorithmic influence based on your logins or search habits) on search engines, marketplace channels, and social media. These are also the keywords to run through SEO tools like those featured in SEO guru Neil Patel's 25 Online Competitor Analysis Tools.
When you start accumulating results from these investigative searches, there are two types that are particularly worthwhile to target:
Nearest neighbors – These are the competitors that rank 1-3 positions above and below you for your brand and product keywords. They represent the greatest potential rivals to overtake as well as those most poised to surpass you.
Keyword leaders – Top performers for a particular keyword get the lion's share of the clicks and attention. This is why search engines and marketplaces offer the opportunity for sponsored results in these key positions. In the case of opposition research, however, you are typically only focused on organic results – keyword competitors whose SERPS success is solely based on SEO algorithmic performance. That said, it is worth noting if the same sellers are regularly dominating the sponsored results for particular keywords. This is typically a tell-tale sign that the investment is paying off for them.
Once you have a handful of each of these types of competitors for a particular keyword, it's time to dig in.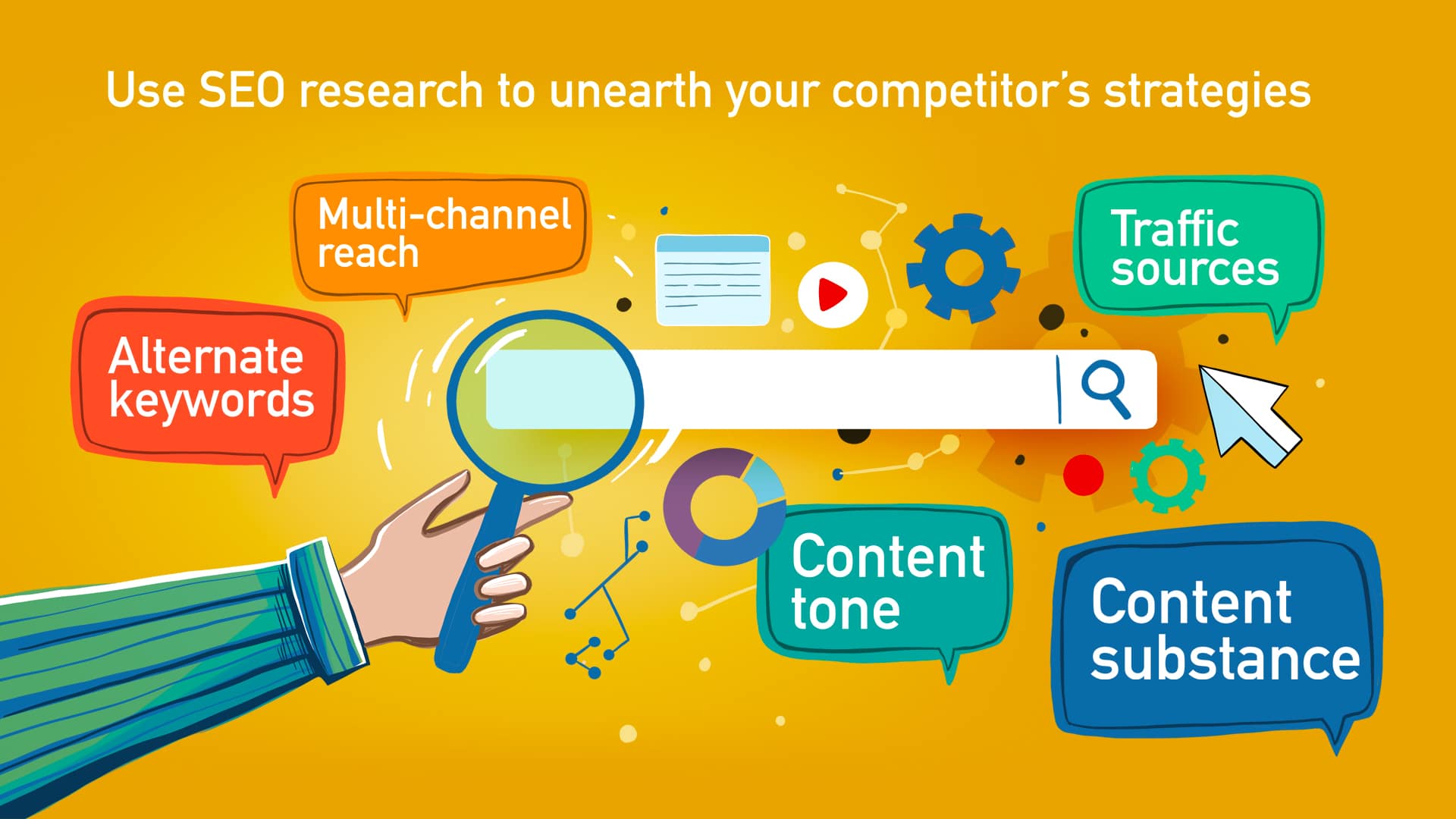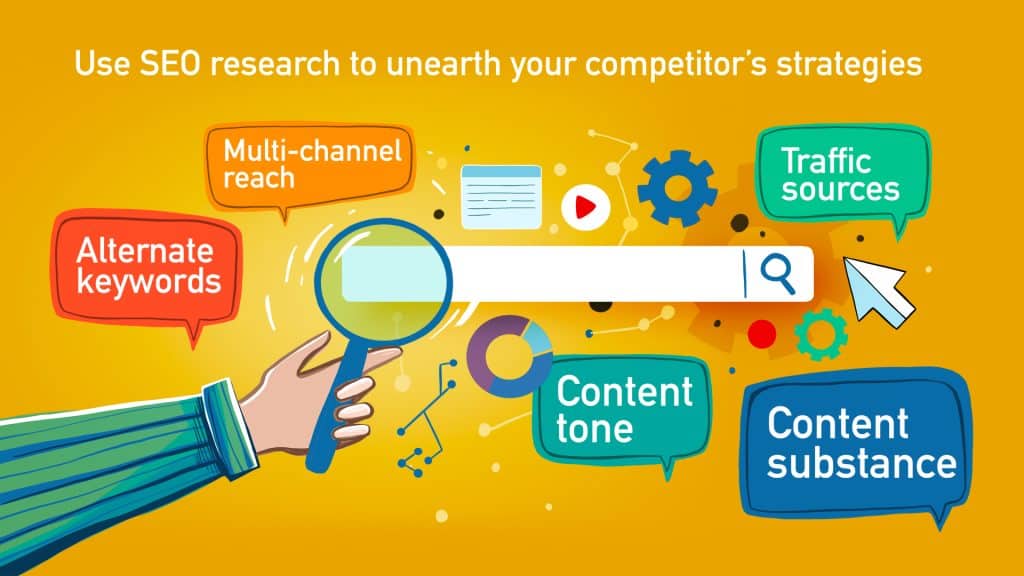 Use SEO Research to Unearth Your Competitors' Strategies
If you're not careful, competitor research can be a drain on your time and focus. You need to have clear objectives and know what data you are looking for. Ultimately, you want intel that is both relevant to your brand while also providing actionable insights that can help you improve the visibility of your products.
Some of the best areas to start with include:
Traffic sources – One of the most important questions that you need to answer is where are your competitors' customers coming from. This is a question with many parts: 

What are the demographics they are attracting?
How are their customers finding their products?
What links, search engines, platforms, and social media channels are responsible for funneling traffic to their brands and products?
Using SEO tools to track these answers can help you keep up on potential sources for boosting your own customer engagement and sales conversions.
Alternate keywords – One of the most tried-and-true SEO strategies for competitor research is identifying and poaching your competitors' top performing keywords. If certain words and phrases are routinely bringing customers to your customers' listings, you need to be sure that they find their way into your listing titles, product descriptions, social media, and website copy when appropriate.
Content tone – Tone is more of an abstract notion than keywords, but the nuance and style with which your competitors use language can tell you a lot about both their audience and brand priorities. While it is totally normal and acceptable to lift high-performing keywords from your rivals, tone is not something  that you should be trying to reproduce wholesale. Rather, the tone used by other brands can shed light on untapped hidden or secondary audiences for your brand and products. This information can lead to exploring new sales channels and give your marketing team ideas for new angles to pursue.
Content substance – Pay attention to what your competition chooses to use their valuable webspace, description characters, and social media accounts for. In particular, take notice of the images, videos, branding, and layouts of their highest-traffic content. Something beyond keywords is attracting visitors and views – you need to know what it is.
Multi-channel reach – Pay attention to where your competitors are listing their products. Also pay attention to where they stand in the SERPS across the channels where they sell. Channels where they rank highly may indicate less competition for your keyword and/or larger potentially interested audiences. Likewise, channels where they are underperforming may signify either a lack of attention and/or lack of viability.
Apply What You Learn to Your Omnichannel E-Commerce Brand
Research is only as good as what you do with it. To remain competitive in e-commerce, your forward-facing content must be constantly evolving. As you uncover new viable keywords, audiences, marketplaces, and marketing strategies worth pursuing, be sure that you are putting the best of them into action for yourself.
Research also needs to be a continuous commitment rather than a one-and-done proposition. Keeping tabs on your rivals is the only way to stay on top of upward and downward trends that may be predictors of the viability of particular strategies. Just as you should track the effectiveness of changes you make based on your opposition research, you should also be monitoring the trends that led you to make those changes in the first place. This will help you to tell where to redouble your efforts as well as make it clear which leads aren't worth pursuing.
Whatever modifications you decide to put in place, Sellercloud's catalog management features streamline this process by allowing you to make changes once and have them pushed out live across your entire omnichannel presence.
Taking things a step further, Sellercloud's shadow products feature makes it possible to create alternate listings for A/B testing purposes or varied marketing targets. Shadow SKUs can be created to pull despite the fact that shadow SKUs referring to the same parent SKU can be set to pull from singular inventory stockpiles without disrupting your supply chain, warehousing, or fulfillment workflows.
For more, contact us directly for a free demo and see for yourself how Sellercloud gives you the omnichannel tools and support that you need to outperform competitors not only in omnichannel visibility, but also in logistical and fulfillment efficiency.