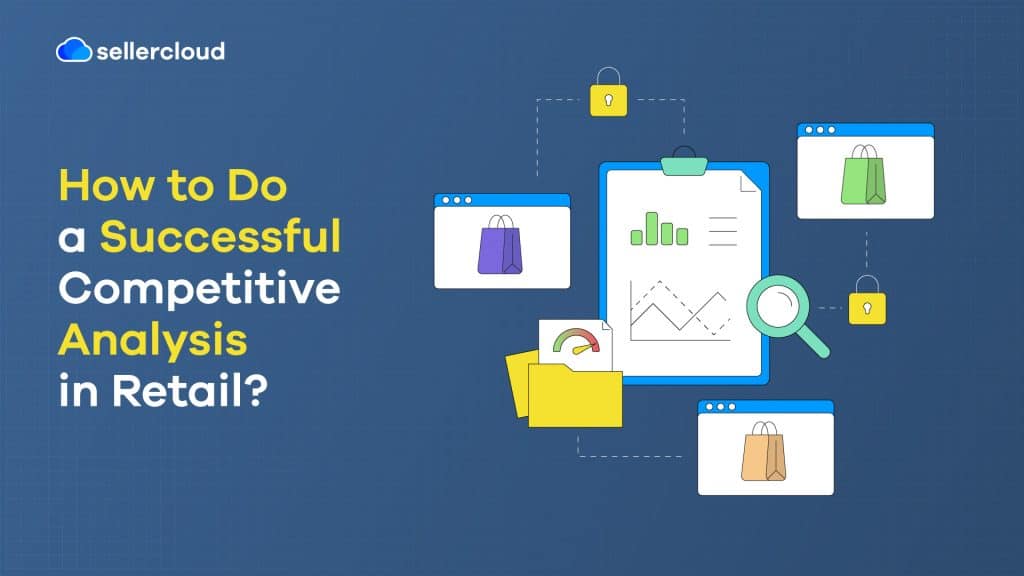 There are many steps to completing a successful competitive analysis in retail. Retailers can strategically outperform competitors with this analysis.
In retail, a competitive analysis is a strategy of gathering information about your competitors and learning about their strengths and weaknesses.
Sellercloud can give merchants a significant advantage, enabling them to improve efficiency and lower the costs of their operations.
A competitive analysis can form the basis of a retail strategy and give a business a direction to work towards and goals to achieve.
According to a 2011 study by Dr. Benjamin Gilad of The Academy of Competitive Intelligence, more than 90% of Fortune 500 companies analyze their competitors.
It's no surprise—without a competitive analysis, how can you be sure how your retail business matches up against your competitors?
In this article, we'll explain what a competitive analysis is in retail, the benefits of conducting a competitive analysis, and how to start one.
What Is a Competitive Analysis in Retail?
In retail, a competitive analysis can help inform a retailer where they stand amongst their competitors and help create a roadmap to overtaking them.
A retail competitive analysis requires you to study your competitors inside and out to get a solid understanding of their strengths and weaknesses—but also a good understanding of your company's current advantages and disadvantages.
A competitive analysis encompasses many areas of how a company operates. It's not just about their products and how they sell them.
It is up to the company doing the analysis to decide what they want to focus on. It could be an entire company comparison or focus on small competitive advantages.
According to SCIP's 2021 State of Competitive Intelligence report, "61% of businesses report that CI has directly contributed to an increase in revenue, compared to 52% in 2020."
To give you an idea of how significant competitor analysis is in retail, some companies even have whole teams that work solely on gathering this information or hire consultants to do it for them.
How Can a Competitor Analysis Help Improve a Retail Business?
Completing a thorough competitive analysis gives you vital 'competitive intelligence' (CI).
Competitive intelligence helps your business identify two primary things—risks and opportunities.
By identifying risks, you can work towards patching them up to reduce competitors' advantages. By identifying opportunities, a company can find new ways to outdo competitors and stand out.
For starters, a competitive analysis can also help retail businesses with the following:
Keep up with the latest market trends.

Reduce costs.

Attain a larger portion of the market share.

Develop more effective marketing campaigns.

Improve your business's shopping experience.
What Are the Competitive Factors for Retailers?
As mentioned above, retailers can compete on a wide variety of factors. Though some may seem small, small advantages can build into larger advantages.
Here are some examples of areas in which retailers may compete:
Marketing approach

—How are your competitors marketing their products?

Pricing strategy

—Do your competitors employ a pricing strategy?

Website UX

—Is their website logical and easy to use?

Customer communication

—What is their customer support like? Are they friendly and helpful?

Shopping experience

—Is shopping an enjoyable experience? What extras are they using to enhance their shopping experience?
How Do I Start a Competitive Analysis for the Retail Industry? 3 Steps
Before you dive into a competitive analysis, you need to know a few things about your company's current performance, who your real competitors are, and decide how to measure your competitive analysis.
1. Decide What You Want to Know
You may start with several questions you need to answer about where your company stands in the wider market and what to focus on next to hold your market position and grow.
Other businesses may want to do a more general industry-wide competitive analysis with no specific questions, instead looking to develop a better understanding of the current market.
(Later on, based on the competitive intelligence you gather from a wider analysis, it may form the basis for a more specific analysis, focusing on questions you need answered.)
Furthermore, always ensure you have correct data on your company and its performance before comparing it to competitors.
The correct info will inform you of what you want to know and ensure your competitive analysis is accurate.
2. Identify Your Competitors
You must decide how to choose the retailers you will compare your company against. You may want to set a number. For example, the top five retailers within your industry.
Most often, retailers will pick their competitors based on the types of products they sell. For example, if you and several other retailers sell a specific sports product, you can consider them competitors.
However, you might also want to factor in indirect competitors because some areas may overlap.
Indirect competitors might target a similar audience but sell different products, which can be an opportunity to learn about the best approach to appeal to your audience.
Generally speaking, it makes the most sense to focus on competitors similar to your business in size. That means you need to figure out how much of the market share your competitors have.
Lastly, some retailers may choose competitors based solely on a specific offering and focus just on how they can do better than them.
3. Decide How to Compare Your Competitors
For your competitive analysis to be effective, you must decide on a process to compare your competitors. It must be realistic and fair if you want useful information to act on.
Decide what you must measure and compare before starting any kind of analysis. Ask yourself, what aspects are you most concerned with right now, and what tools will you use?
Your competitive analysis will need appropriate KPIs to see how you measure compared to your competitors.
Bear in mind that not every factor is crucial to compete on. There may be some areas your competitors are better at that are not necessarily important for your business's success. 
Likewise, there may be certain things your competitors are doing that you may consider mimicking, but don't give them any particular advantage in attracting new customers.
Ultimately, it's about figuring out the best steps after completing a competitive analysis.
Furthermore, be realistic in areas you cannot compete in. If your company is relatively young, it probably won't have the resources or customer reach of more established competitors that have been around for longer.
You should also consider setting a time limit to your competitive analysis and considering how thorough you need it to be. You may want to set up a timeline for gathering and analyzing data.
What Are the Steps of a Competitor Analysis?
When starting your competitor analysis, some information will be easily available, while other information will have to be sourced and may take longer to gather.
It is vital to ensure that the data you analyze is up to date and accurate, or your analysis will be flawed, as will any strategic planning that follows.
You must use your best judgment to decide how accurate the data you gather will be.
Furthermore, gathering information on competitors should be ethical. If you steal information or trick people into giving information, you can get into serious trouble.
Lastly, use templates to record your research. You will need somewhere to put your competitive intelligence and compare it later on.
You can use this to spot strengths and weaknesses and make strategic decisions based on this information.
1. Find Out What People Think from Reviews and Surveys
You can learn much about your competitors' performance from product reviews and testimonials. Amazon and other marketplaces where consumers can leave reviews are great for this.
Look for patterns and be cautious of bots or fake reviewers trying to slander your rivals—these are not helpful for a competitive analysis.
Can also get reviews from past employees about the company (but be careful with this kind of information as it can be dated, and past employees may be disgruntled and exaggerate).
Taking it one step further, if you have the time, you can survey to understand what consumers think about your brand and your competitors.
However, bear in mind that surveys can deliver misleading information because of people's motivations behind completing the survey. For example, if there is a reward for participating.
On top of that, they can come from a very select group of customers, which gives you a very narrow view of reality.
You may want to attempt to replicate what some negative reviews claim to see if they are correct.
2. What Sales Channels Are They Using?
Sales channels are the different places sellers sell their products. A brick-and-mortar store is one channel, and an online marketplace is another. A business is multichannel when it sells on more than one channel.
In this part of your competitive analysis, you should uncover which sales channels your competitors are using.
Take particular note if they are using sales channels that you aren't, and if that's the case, are they using them as effectively as possible?
Study the quality of the images and descriptions, pricing, and different product variations they offer (more on those specifics in a moment).
You will also want to look into any emerging sales channels your competitors are using and if they are expanding into new markets, including those abroad.
3. Customer Communication
Customer communication is a broad area to explore in a competitive analysis because it covers many areas. So, there's much to look at, and your analysis can be subjective.
Some of the questions you can ask include the following:
When it comes to marketing materials, how do they portray themselves? What language do they use?

How do they engage with customers, not just the mediums they use, but the tone of voice and language, and does it fit their brand?

If possible, you can also look at their crisis management approach. How do they handle scenarios when things go very wrong very publicly?

Are they active on social media? Which platforms are they on, and how active are they?

Are they leveraging user-generated content? If so, how?

Do they respond to reviews and questions about their products on marketplaces such as Amazon?
4. Product Quality
Buy from your competitors, inspect what they sell, and compare it to what you're currently selling. You may see some significant advantages or disadvantages here.
Are there problems with their products? Do they feature things that yours don't?
Based on this information, you may realize that you need to seriously consider improving your products, or there are features you can promote that you didn't realize were a significant advantage over your competitors.
You can also look at the packaging and any other materials that came with the product. Did they include anything for free, such as samples, discounts, or even free products?
5. Product Pricing
There's a lot more to consider about your competitors' pricing strategy than the current prices of their products.
If they are selling on multiple channels, how does their pricing compare? Does it change, or is it consistent?

What's the lowest they'll go, and what's the highest they'll go?

Do they offer product promotions,

kits

, or deals (e.g., buy one get one free)?

Does your competitors' pricing change over different periods?

Lastly, are they using tools, like

repricers

, to automatically lower prices to stay competitive?

If they have a

DTC

site, are their products listed at a lower price than on Amazon?
You may need to track their prices for a long time to get a solid picture of their pricing strategy, but it can be very revealing.
6. Growth Rate
Above, we mentioned picking competitors based on their size in accordance with yours. However, size is dynamic. They might be the biggest player today, but drop off the face of the planet tomorrow or vice versa.
That's why it's important to consider your competitor's growth rate as well as size. Ask yourself, have they grown significantly in the last few years?
Or maybe the opposite is true. Perhaps they are slowing down, or their market share has even declined.
Long-term data helps figure out how much a company has grown. It also helps to know how old the company is as you can better understand its current trajectory.
If their company size has changed significantly, it might be worth reconsidering who your competitors are. 
If they are on a steep decline, they might not even be a competitor in a few years, or if they are on the rise, they may be more of a threat than you initially realized, or it may be the case that your company is growing faster than expected.
Furthermore, if you notice a company's market share decreasing or increasing, can you pinpoint why? What are they doing or not doing?
7. Marketing Approach
A competitive analysis can yield a wealth of information on a company's marketing approach. It's right in front of you, designed to draw you in so you can see how much of it works.
Here's a helpful list of what you can look for:
What is their unique value proposition? (AKA, what is it they offer that makes them stand out?)

What kind of language do they use?

Do they use a lot of text or keep it simple?

Does the message change on different platforms?

How do they prepare for product launches?

Do they offer customer loyalty programs?

What mediums are they using and not using?

Do they use marketing to promote specific products?

Are they using traditional media in-store?

Does their messaging change across mediums, or do they keep it consistent?

Is there a significant change in their tone? (This can be a sign that they are changing their approach.)
Regarding marketing on social media, you may want to look into social listening tools to measure how people are engaging with your competitor's posts.
8. Content Output
Similar to traditional marketing but slightly different, we're looking at content creation here. For example, free materials, such as videos and blog posts. Content customers find useful and entertaining.
Other content to check includes press releases, social media, and newsletters.
When looking at the content your competitors are creating, you can ask yourself:
What kinds of content are they producing?

How regularly do they produce content?

Does their content get any traction from customers? (You will need SEO tools to research this.)

You can also look into product listings, particularly descriptions—are they optimized to be easy to find, appeal to customers, and provide important information?

Are they creating short-form video content for platforms like TikTok and Instagram?

Are they linking content together?

Do they create localized content specifically for areas near them or elsewhere, and have they expanded to other languages?

Are they doing anything different you haven't seen before?
9. Data Security, Privacy, and Regulation Compliance
Here, you may discover that your competitors have some major flaws they need to solve urgently regarding their security, privacy, and how they operate.
Do they comply with industry regulations?

Are they taking the appropriate measures to keep customer data secure?

Are they making any major security mistakes that might backfire later on?
Remember to keep it ethical. There's no need to dig too deep into the inner workings of your competitor's websites.
This is just to give you an idea of how well-prepared they are, and if you notice vulnerabilities, you may want to make sure you don't have them yourself.
10. Retention Programs
What are your competitors doing to keep customers returning? Do they offer:
A loyalty program.

A refer-a-friend program.

Vouchers when customers make a purchase.

Offer deals via

email

when it's been a long time?

Freebies for first-time or repeat customers?
11. How Mobile-Friendly Is Their Site?
Consumers are increasingly more comfortable making purchases from their phones—this is called 'mobile commerce' or 'm-commerce.' While many retailers have jumped on this bandwagon, many aren't doing it well.
Does the site fit comfortably on a mobile device?

Is the checkout process easy? Can it be done in a few clicks?

Is the site easy to navigate?
Do they support mobile commerce features? Are they doing anything to make m-commerce easier for customers?
12. What Are They Doing Offline and In-Store?
If they have a brick-and-mortar store, pay them a visit. Some of the questions you may look to answer are:
What is their in-store shopping experience like?

Are their staff trained and helpful?

Does the physical store align with expectations from the digital site?

How have they categorized their products? What's nearby?

Do they offer in-store products or services you can't get online?
13. Are You Starting to See Some Trends among Competitors?
Now, we're getting pretty close to finishing our competitive analysis. At this point, you can put all the data you have gathered into a large template and observe if there are any patterns in what you have gathered.
You may uncover important insights you might not notice at first glance, but more importantly, at this point, similarities and differences between your competitors.
Ask yourself:
Are many of your competitors doing the same thing?

Do many have the same faults or strengths?
Remember to note down any significant trends. This is vital industry information to analyze later on.
14. Break Down Your Competitors' Strengths and Weaknesses
In the last step, you can dig deeper into your competitors' strengths and weaknesses in the chart you have put together.
Remember to include your retail business's strengths and weaknesses in the chart, not just your competitors.
There are various ways you can choose to analyze this information. A common way is to do a 'SWOT' analysis. SWOT stands for 'Strengths, Weaknesses, Opportunities, and Threats.'
Stephen J. Bigelow of TechTarget explains:
"The [SWOT] framework is considered a powerful support for decision-making because it enables an organization to uncover opportunities for success that were previously unarticulated. It also highlights threats before they become overly burdensome."
A SWOT analysis is relatively simple to do. It requires you to categorize the competitive intelligence you have gathered as a strength, weakness, opportunity, or weakness.
Lastly, some of the data you have gathered will be qualitative, so it will be harder to compare strengths and weaknesses. Some competitors won't have clear-cut strengths and weaknesses in some areas.
Next Steps: Acting on Competitive Intelligence
Now that you've finished your competitive analysis, decide what you will do with the competitive intelligence you have gathered.
You may decide to focus on the risks first. Is your retail business missing anything critical compared to your competitors that could become a significant problem?
Before considering the opportunities, you may expedite immediate actions to reduce these risks.
Next, is there anything you can offer that your competitors can't? These are your opportunities.
For example, in terms of delivery, is there something your competitors are not doing that you could start offering, like free returns?
Opportunities can also come in the form of advantages you didn't realize you had over your competitors before you did a competitive analysis.
When you understand what risks need addressing and what opportunities are ripe for the picking, you can create a roadmap on how to move forward to overcome your competitors.
You may want to identify what can be done quickly with little effort and what will take more time and investment.
Alternatively, suppose your retail business is very young, and you are simply trying to understand your competitors. In that case, you may use competitive intelligence to set a benchmark and slowly work towards matching their strategy.
Some of the outcomes from your competitive analysis can include:
Marketing campaigns

—You may see an opportunity to sell new products you didn't think of before that would be good for your brand and try new marketing strategies.

Investment in new tech and software

—Your research may indicate that you must invest in new technology to overcome your rivals.

Collaboration

—Would it be beneficial to collaborate with a competitor? It could be on wider initiatives such as

sustainable causes

, which can benefit both companies.

Mergers and acquisitions

—Would it make more sense (and be financially possible) to buy your competition and fill any gaps in your offerings?
Lastly, it's worth mentioning that companies should be cautious not to rely too much on outdoing their competitors instead of coming up with innovative new ideas and focusing on what they already do well that customers like.
How Often Should I Do a Competitive Analysis in Retail?
There is no correct answer to how often you should do a competitive analysis in retail. However, it doesn't have to stop after one iteration. It can be an ongoing process with no set deadline.
How often you conduct a competitive analysis may come down to how competitive you want to be and how much time and resources you have available.
If you have a team for competitive analysis, it may be the case that they monitor your competitors 24/7. 
A dedicated team may occasionally produce reports or notify senior management of significant developments. There are also tools for real-time monitoring, which makes the process easier.
Most companies do a competitive analysis at least once a year or more frequently, once a quarter, or even monthly.
However, retailers that gather competitive intelligence more frequently are more likely to see the benefits.
Referring back SCIP's report, it states:
"Those who share CI daily and weekly are the most likely to see direct revenue impact. Amongst businesses where CI is shared daily, 69% say they've seen CI drive an increase in revenue. Amongst businesses where CI is shared weekly, this figure jumps to 72%."
Lastly, don't forget to evaluate your performance and update it compared to your rivals.
How Can Sellercloud Keep You Ahead of the Competition?
Sellercloud can give merchants a significant competitive advantage in more ways than one.
For starters, with Sellercloud's shipping features, you'll make fewer mistakes, expedite deliveries, and, most importantly, save on shipping costs.
You can also use Sellercloud's special reporting features to find new ways to boost efficiency.
For example, you can use the FBA Opportunities Report to identify SKUs you are currently selling through FBM (Fulfilled by Merchant) that may be advantageous to sell via FBA (Fulfilled by Amazon) instead.
On top of that, Sellercloud's WMS (Warehouse Management System) can reduce mistakes in your warehouse, reducing the chance of returns and positively impacting customer reviews.
Your business will also be hard for shoppers to avoid using Sellercloud's omnichannel features to get your store on as many marketplaces as possible, enabling you to capture a larger market share.
The money that your business will save from Sellercloud's software brings two benefits:
You will be more financially stable and can use that money to outlive competitors.

You can reinvest the revenue you save into other activities, such as advertising and marketing, giving you a further advantage over your competitors.
Check out Sellercloud's transparent pricing, book a demo, and see it yourself.
Key Points
You're armed to the teeth with all you need to know about completing a successful competitor analysis. Remember these key points.
In retail, a competitive analysis is where a company researches its competitors' strengths and weaknesses to uncover potential risks and opportunities and form a strategy to overcome them.

Before starting a competitor analysis, you must decide what you want to know, identify your competitors, and decide on a comparison method.

Acting on competitive intelligence can come in many forms, depending on what risks and opportunities you uncover. Your strategy may prioritize reducing risks before exploring opportunities.

How often you do a competitive analysis is up to you. That said, companies that spend more time on competitive analysis have been shown to be more successful. Some companies have teams for competitive analysis.

Optimizing your business with Sellercloud's shipping, warehousing, and omnichannel features are just a few of the ways merchants can gain a competitive advantage over competitors.