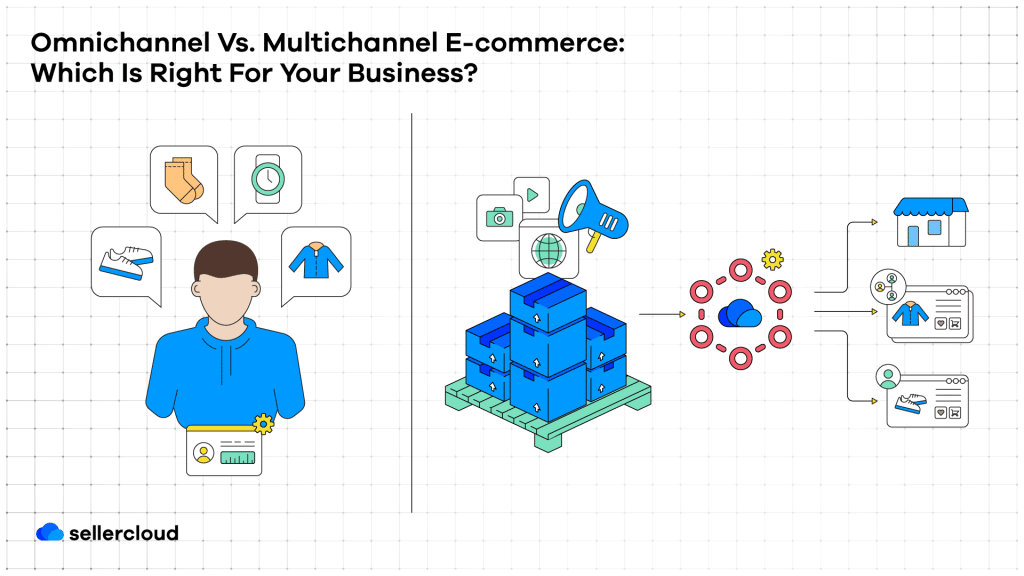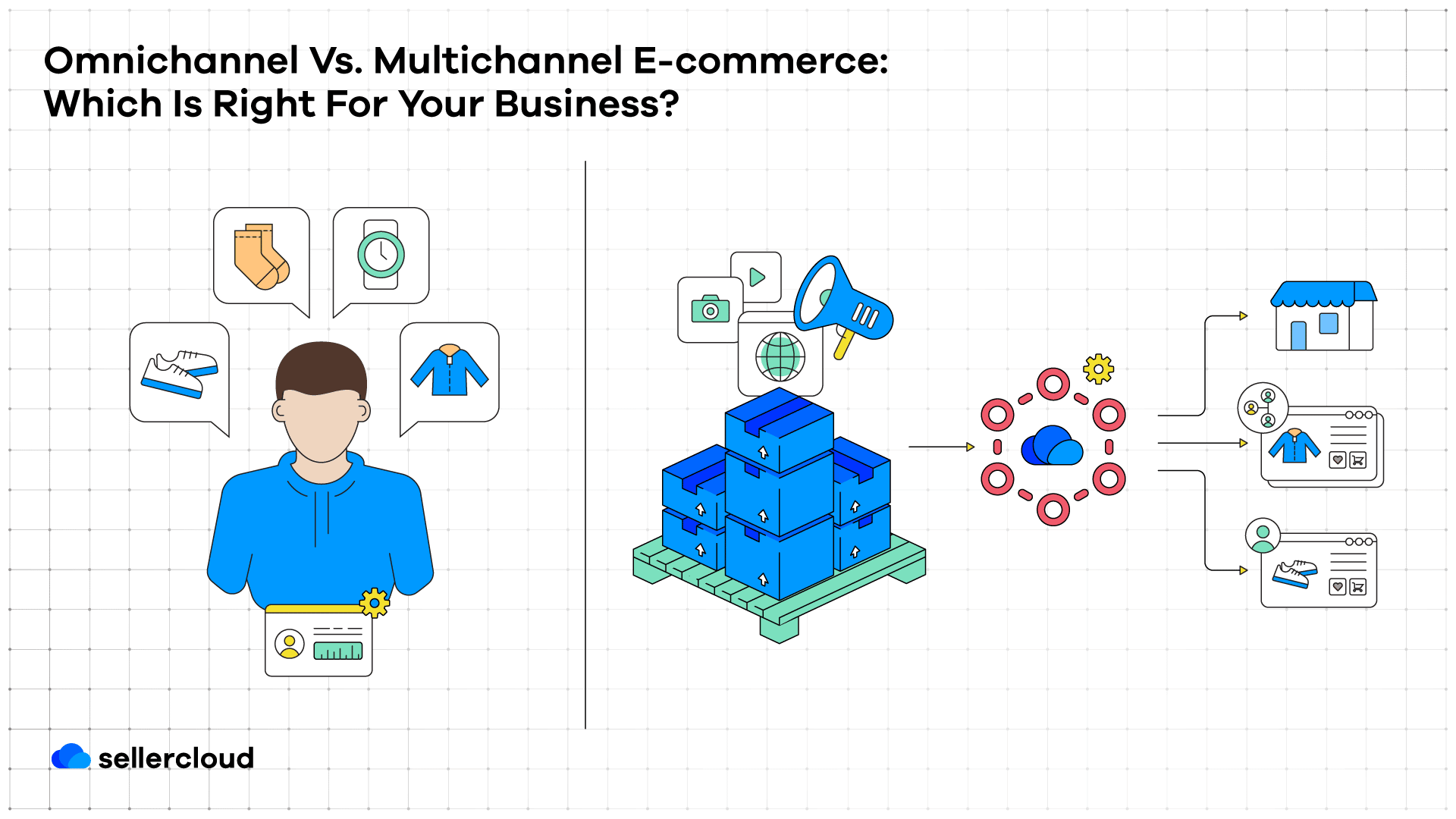 Omnichannel and multichannel are two of the most often confused terms in ecommerce. While there is definite overlap in their function and logistical demands, there are critical differences between the two.
Conventional wisdom is that an omnichannel strategy is the superior option; however, that may not be the best choice for every ecommerce business. To make the best decision for you and your brand, you must first understand the similarities, differences, and implementation demands associated with each strategy.
What is Omnichannel Ecommerce?
Omnichannel ecommerce is a multichannel retail approach that is steered by the customer experience and the customer's shopping intent. Every aspect of the omnichannel sales funnel is designed to take advantage of a business's combined marketing, data, and logistical powers to meet customers where they are and drive conversions.
If you remember one thing about omnichannel ecommerce, let it be this: it's all about the customer.
When possible, all of your integrated channels and services are tethered together to form an interconnected web of consistent messaging, fulfillment, and customer support to promote trust and enthusiasm for both your products and your brand. By erasing the boundaries between all of your sales, marketplace, marketing, logistics, support, and outreach channels, all that remains are your products and the customer experience. Omnichannel ecommerce aims to decrease (or ideally, eliminate) any friction that could come between the two.
The result of this deliberate focus on brand consistency is an increased potential for customer acquisition and repeat business—the cornerstones of ecommerce profitability. Customers recognize and enjoy the personalized attention and ease of interaction omnichannel ecommerce provides, especially when contrasted with the more limited alternatives provided by non-omnichannel competitors.
No matter how customers come to an effective omnichannel brand and its products, it feels tailor-made. Messaging, marketing, promotions, and the entire shopping experience all give the impression of a personal touch that prioritizes the shopper above all else.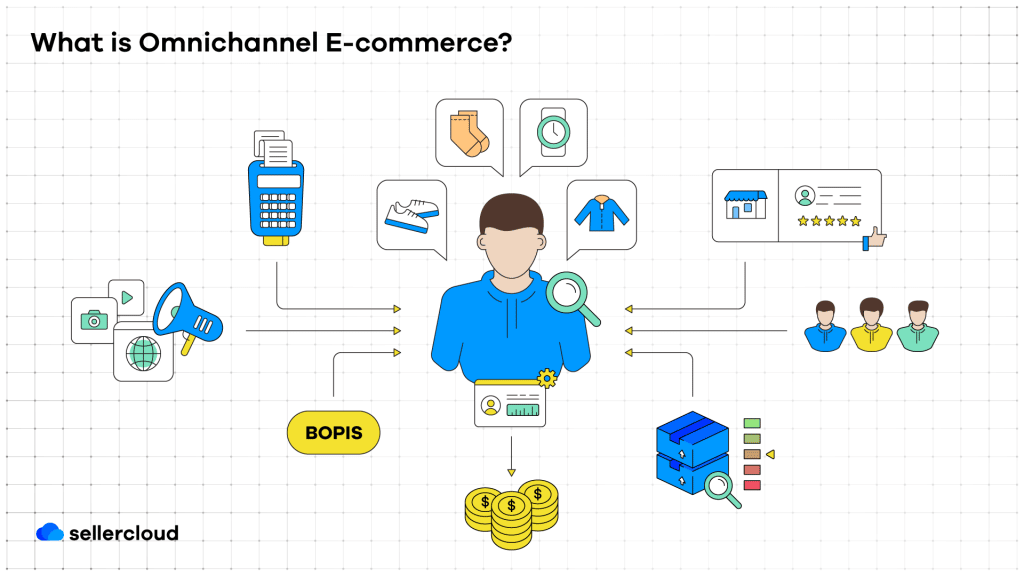 What Does Omnichannel Ecommerce Look Like?
A truly end-to-end omnichannel retail business is a complicated (and potentially daunting) proposition. Even some of the largest, most successful retail businesses and brands have yet to put into practice the full definition of omnichannel.
But that misses the larger point about the value of omnichannel ecommerce. There are ways to infuse your retail business with omnichannel elements and still achieve the benefits of the approach. The more pieces of your workflows and marketing that you can intertwine in an omnichannel fashion, the more benefits you will reap.
Some of the most common ways to do so include:
These are far from the only examples of infusing omnichannel strategies into your online sales approach. There are many omnichannel brands that do all of these things and more, while others currently only implement a handful of these strategies.
Only you know what will and won't work for your ecommerce business from both functional resource perspectives. With that in mind, when omnichannel improvements are implemented well and focused on the customer, they can be game changers for retail growth and optimization.
What is Multichannel Ecommerce?
Multichannel ecommerce is exactly what it sounds like: you sell your products across multiple channels. These can be any combination of channels, be they physical or online, first party or third party, marketplace or social.
At the heart of it all is putting your products in front of as wide an audience as possible. It's all about exposure for your brand and what you sell. The more customers you can reach, the more opportunities you have to increase your sales and scale your retail business.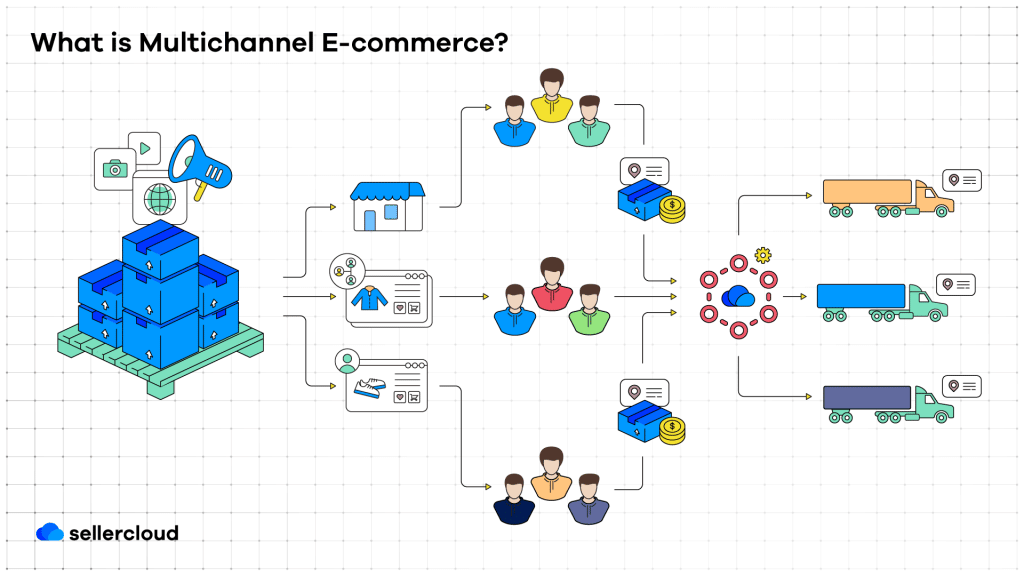 What Does Multichannel Ecommerce Look Like?
As with omnichannel examples, multichannel ecommerce can look different depending on the company implementing their strategy, resources, products, and philosophy. That said, there are some basic, common attributes that all effective multichannel sellers must embrace:
Diversify your sales potential by selling across both third-party and first-party channels.  For many ecommerce brands, third-party marketplaces provide low barriers to entry and an instant boost to your customer pool. However, cultivating first-party sales channels can help drive your ability to generate direct-to-customer and direct-to-retailer relationships (and the useful data that comes with them). This can translate to repeat customers while, at the same time, lay the groundwork for future transitions to omnichannel strategies.
Unify your fulfillment and logistics workflows. Treating each sales channel and third-party vendor as an isolated entity rather than a cog in a much larger machine is a recipe for disaster. You need logistics and software solutions that can gracefully handle multiple orders from multiple channels without falling victim to constant inventory or fulfillment errors.
Suffice it to say, effective multichannel ecommerce relies upon integrated and organized infrastructure and software to perform at optimal levels. Bringing as many of your suppliers, vendors, and channels into a unified system will always be better than relying on a patchwork of independent solutions. After all, what's the point of generating an increase in orders if you are unable to fulfill them successfully?
Your marketing should be multichannel, too. Just as an increase in marketplace and first-party sales channels helps extend your products' reach, so does broadening your advertising channels. Social media, email, print, and web-based advertisements are all valuable additions to a multichannel sales strategy.
Again, there is no one-size-fits-all answer to the question of whether multichannel or omnichannel is the better fit for your ecommerce business. Regardless, both (if properly supported) should outperform any single-channel approach.
When is Omnichannel Ecommerce the Better Choice?
The short answer is: when you have the time, team, funds, technology, and focus to do it right. From a strictly bottom-line perspective, a well-implemented omnichannel ecommerce strategy is the modern gold standard. It can be effective for sellers and businesses of all types and sizes. However, failure to implement an omnichannel approach completely and effectively could be more of a drain on your time, energy, and resources than it's worth.
So how do you really know when you are ready for omnichannel? Once you have a solid understanding of who your customers are, you can leverage that knowledge to codify a clearly defined vision for your brand. Likewise, once you have a handle on your sales channels, you can establish the logistics required to deliver a competitive and reliable end-to-end shopping experience for those customers.
Without those pieces in place (as well as the capital—both human and financial—to keep things running smoothly), you are unlikely to reap the full benefits that omnichannel can bring to your business. On the other hand, when you are confident that you have laid the proper groundwork, connecting all the dots with a coherent omnichannel messaging, marketing, and fulfillment structure will certainly be worth the effort.
When is Multichannel Ecommerce the Better Choice?
If you are a single-channel ecommerce seller, you need to expand in a multichannel direction—your competition already has. In today's retail environment, you need to cast a wide net to garner as much customer attention and exposure as possible. Simply put, if your ideal customers never see your products, they will never become your customers.
Increasing the number of channels where you sell is likely to lead to an increase in both orders and your bottom line.
But why not just jump right into omnichannel sales with both feet? Unfortunately, becoming a truly omnichannel ecommerce business is not a turnkey proposition. It takes research, planning, and logistical restructuring to ensure that your business can extract the value from such a strategy.
For these reasons, single-channel sellers may find it best to start with implementing a multichannel ecommerce strategy before taking on omnichannel. Essentially, successful multichannel online retail requires many of the same structures, systems, and workflows as omnichannel, but without the added focus on standardizing your marketing and cross-channel connectivity. By starting with a multichannel approach, you can start reaping the benefits of increased exposure and reach while you continue to evaluate your readiness (or willingness) to progress towards omnichannel.
Avoid Common Pain Points Whether You Are An Omnichannel Or Multichannel Ecommerce Seller
Whether you opt for a multichannel or omnichannel retail approach, there are a number of aspects of your ecommerce workflows that need to be as efficient and streamlined as possible to maximize either strategy's sales potential. Ideally, these are also areas of your business that will be agile enough to continually scale and evolve alongside your business.
Dynamic, real-time inventory management ensures that you have the products you need, where you need them. 
Selling across multiple channels means that your inventory is likely to travel in many more directions than it would with a single-channel model. You need to be able to move products between your upstream and downstream supply chains with ease.

You also need the ability to track inventory movement across your warehouses, sales channels, shipping carriers, and 3PL providers to be positive that you always have what you need, where it needs to be. The more unified your approach to inventory management, the more positive your omnichannel or multichannel experiences will be for you, your team, and your customers.
If customers want to purchase your products, they should be able to—regardless of what channel their order originates from. However, when orders arrive that you cannot fill, the results can be disastrous: lost customers, canceled orders, and even marketplace penalties.

A combination of accurate manual inventory counts and ongoing inventory cycle counting can ensure that you know exactly how much of each SKU you have, as well as when it is time to replenish your stock. Similarly, a clearly defined reporting strategy (whether it's FIFO, LIFO, dropshipping, or something else) will prevent bookkeeping headaches.Taken further, adding customer-facing inventory visibility to your listings can even help you turn your commitment to accurate inventory counting into a marketable feature.
Adopt fulfillment procedures designed to support multiple vendors and channels.
Customers and marketplaces have come to expect fast, reliable, and inexpensive delivery of their online orders. Whether you are a multichannel or omnichannel seller, customers should have the ability to experience the best possible shipping options, regardless of where they make a purchase from your brand. As such, your fulfillment workflows and partnerships must be flexible enough to support customers across all of your sales channels.
Optimize your team's productivity with consolidated and technology-infused internal workflows.
As your sales channels increase, so do the complexity of your order processing and logistics procedures. Your workforce needs to have the tools and support to be able to quickly and accurately perform all the end-to-end tasks that come with online retail. By consolidating order processing, inventory management, warehouse management, and fulfillment with a single software platform, you can give your teams the support they need to treat every order with the care it deserves. Adding intuitive, user-friendly technology into the mix can further drive productivity and efficiency. 
Create simple and consistent returns policies to build customer trust and eliminate waste. 
Many marketplaces have specific protocols for initiating and completing returns. Compliance with these regulations is never optional. That said, the clearer and more straightforward your returns policies are across every channel you sell, the lower the impact will be on your customer loyalty and your bottom line.

Furthermore, your business needs to have effective reverse logistics procedures in place to both receive and process returned merchandise quickly and efficiently. Failure to do so could lead to poor customer feedback, warehouse clutter, loading dock logjams, and even marketplace-imposed consequences like suspension or account termination.
With these structures in place, you can take full advantage of the growth potential associated with omnichannel and multichannel ecommerce.
Sellercloud's family of tools and software provide you with the power to grow your business across multiple marketplaces and channels. Contact us today for a free demo and experience for yourself how our over 120 integrated channels and vendors can optimize your inventory, fulfillment, logistics, and sales workflows and take your online sales to the next level.