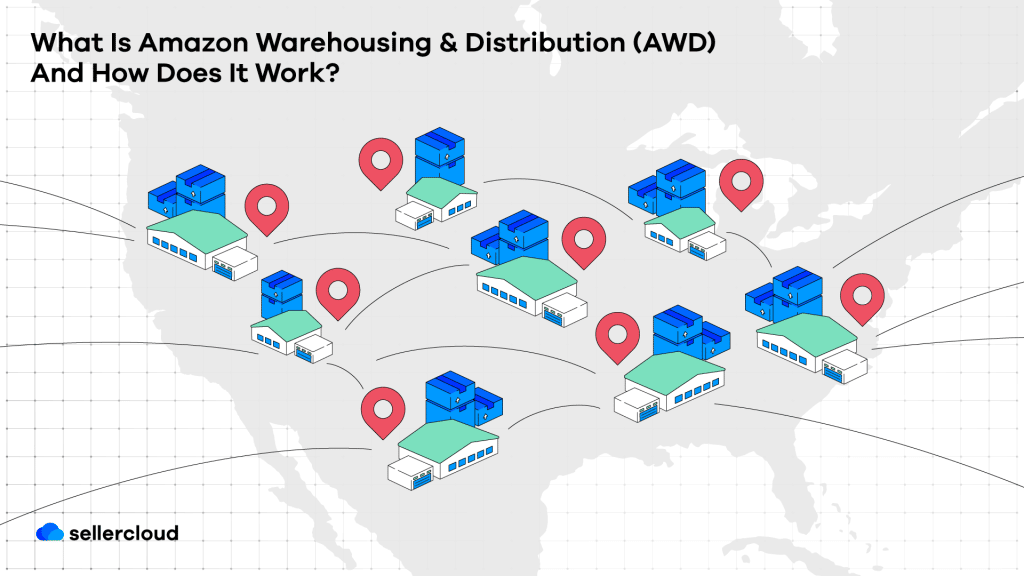 Amazon Warehousing & Distribution (AWD) is Amazon's third-party logistics (3PL) solution designed to help sellers avoid running out of both inventory and storage space. AWD offers a series of beneficial features that aim to support ecommerce growth for sellers on Amazon and other online sales channels.
Unlike Amazon's existing 3PL offerings‒Fulfillment by Amazon (FBA) and Multi-Channel Fulfillment (MCF)‒AWD integrates upstream inventory ordering and storage. This gives sellers the ability to further automate their logistics workflows to help eliminate the costly out-of-stocks and backorders that can derail a successful omnichannel ecommerce business.
AWD also allows for global inventory consolidation. This means that sellers can streamline their inventory into a single pool that can be sent through Amazon's global fulfillment network to retail customers, wholesale customers, ecommerce channels, and brick-and-mortar retailers.
Future updates promise additional benefits:
The ability to opt out of automatic inventory replenishment
Reimbursements for losses and damage in transit to, from, or between Amazon Fulfillment Network locations
Increased support for handling palletized inventory and shipments (including to non-Amazon destinations)
Improved support for special cases like product expiration dates, shoes, and flagging products as "non-sort"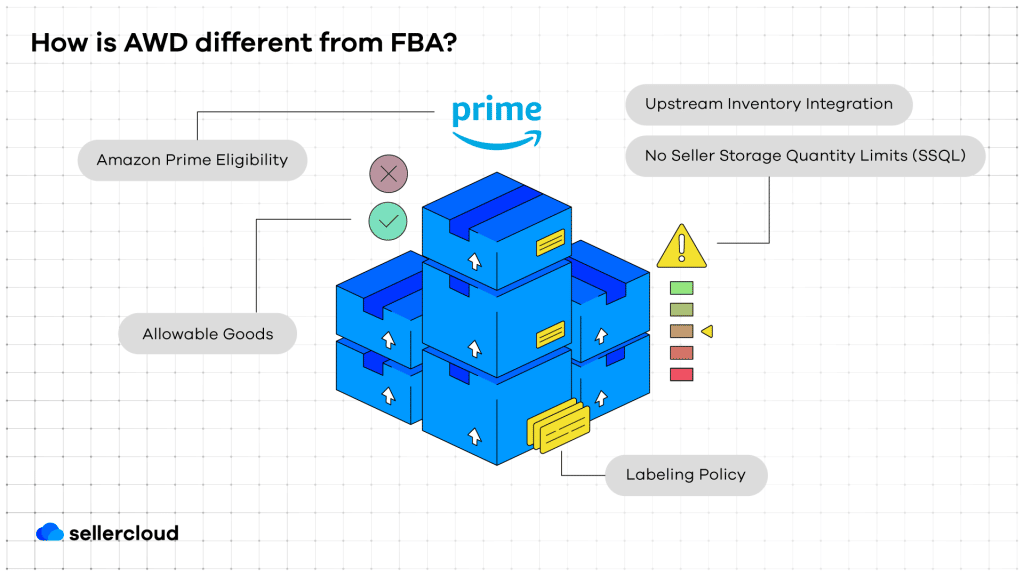 How is AWD different from FBA?
While AWD and FBA are both 3PL offerings from Amazon, AWD's unique value comes from the additional benefits offered to sellers beyond what is available through FBA. 
Upstream Inventory Integration – AWD's auto-replenishment feature relies on Amazon Transportation and Amazon's shipping partners to directly connect sellers' supply chains to Amazon fulfillment centers and warehouses, removing the need for inventory to pass through sellers' hands at all. For the first time, Amazon sellers have the ability to automatically order and transport inventory from suppliers and manufacturers directly into the Amazon storage and distribution pipeline. 
When a SKU's inventory begins to run low, Amazon initiates an inbound FBA order with sellers' designated provider(s). AWD leverages Amazon's global logistics network to bring those goods to the appropriate distribution and fulfillment centers. From there, the inventory is available for use in fulfilling orders. 
As a result, AWD's "supply chain as a service" model shifts sellers' upstream inventory management responsibilities to Amazon and, in addition, helps ensure that sellers always have inventory on hand for selling on Amazon Marketplace or across their other ecommerce and brick-and-mortar channels.
No Seller Storage Quantity Limits (SSQL) – The Amazon Warehousing & Distribution program eliminates the Seller Storage Quantity Limits (SSQL) imposed on FBA sellers. In most cases, FBA sellers face strict limits on how much cubic footage of storage space Amazon is willing to provide. Going over these limits results in overage fees and a freeze on the seller's ability to ship additional inventory to Amazon until the storage volume falls back to an acceptable level. AWD eliminates these storage limits. Instead, program participants enjoy a simple, pay-as-you-go model whereby sellers pay a standard rate based on the storage they use and the time of year (more on this later).
Allowable Goods – Amazon has explicit policies about what sellers can and cannot sell on Amazon Marketplace. These policies also apply to what can be stored and moved within Amazon's fulfillment network. If a product is not acceptable under FBA's guidelines, suffice it to say it is also not allowed for AWD sellers.

However, there are several specific product types that are not currently supported by AWD. These include products that are non-stortable, perishable or have an expiration date, qualify as heavy or bulky, have hazmat designations, or require temperature-controlled storage and/or transport. Shoes and jewelry are not currently supported, either.

AWD is able to support sortable ASINs for cartons with maximum dimensions of 25 x 25 x 36 inches containing individual ASINs that do not exceed 18 x 14 x 8 inches in volume and/or more than 20 lbs in weight. Multi-ASIN cartons cannot be processed using AWD at this time.
While AWD is a new service offering, it isn't entirely new. Fulfillment by Amazon (FBA) and Amazon Warehousing & Distribution (AWD) have several overlapping features:
Amazon Prime Eligibility – Whether selling on Amazon Marketplace with AWD or FBA, sellers' listings will feature the highly-sought Prime tag. This lets customers know that the seller's product will be delivered to Amazon Prime subscribers with free two-, one-, or same-day shipping. Fast and free shipping is becoming an industry gold standard, and both of these 3PL services allow sellers to offer elite-level fulfillment to their customers.
Support For Bulk Inventory Replenishment – While AWD's automatic replenishment is one of its hallmark features, sellers still have the ability to also manually send their own bulk shipments to replenish their stock levels as they already do with FBA and FBM.
For some sellers, FBA may remain a better choice than AWD. Many ecommerce businesses already have warehousing workflows in place to deal with supply chain orders, FBA replenishment, and inventory distribution. For what it's worth, many sellers have even outgrown the need for 3PL entirely.
That said, for ecommerce businesses that are overwhelmed by keeping up with FBA replenishments, upstream supply chain management, and/or complying with FBA storage limits, AWD represents a viable option worth considering.
What Does AWD Cost?
One of the other major differences between FBA and AWD is the pricing model. This may be the single most influential factor for ecommerce businesses trying to decide whether to jump onboard with AWD or not.
There are three types of fees associated with Amazon Warehousing & Distribution:
Storage Fees – As discussed, AWD removes the storage limits and storage overage fees common with FBA and other 3PL alternatives. Instead, AWD offers a single, straightforward fee structure based on the physical volume of inventory. The result is a 3PL option that makes paying for storage much more predictable.
According to the current rate card, AWD charges $0.42 per cubic foot during the months of January through September, and $0.80 per cubic foot during the holiday months of October through December.
Processing Fees – Amazon charges a fee to manually process the inventory coming in from sellers' suppliers. This is similar to the manual processing fee currently charged to FBA sellers who ship inventory to Amazon without providing box content information. But unlike FBA, AWD charges this processing fee per case instead of per item. The current rate card sets this processing fee rate at $2.00 per case.
Transportation Fees – AWD charges an inbound shipping fee to cover the cost for shipping inventory from sellers' suppliers to Amazon's warehouses and distribution centers. The fee is a straightforward, volume-based calculation, which the current rate card sets at $1.00 per cubic foot.
Amazon is touting this transparent pricing model as a major selling point for the AWD service. The pay-as-you-go model combined with the absence of additional, hidden fees should be attractive to sellers—especially those who are used to fluctuating inventory and supply chain quantities that result in additional costs from other 3PL options.
Still, AWD isn't the only option for supply chain and warehouse management. In fact, managing your own warehouse is easier than you think. Sellercloud makes it simple and affordable to create and optimize your own internal inventory workflows across every channel where you sell. Contact us today for a free demo.