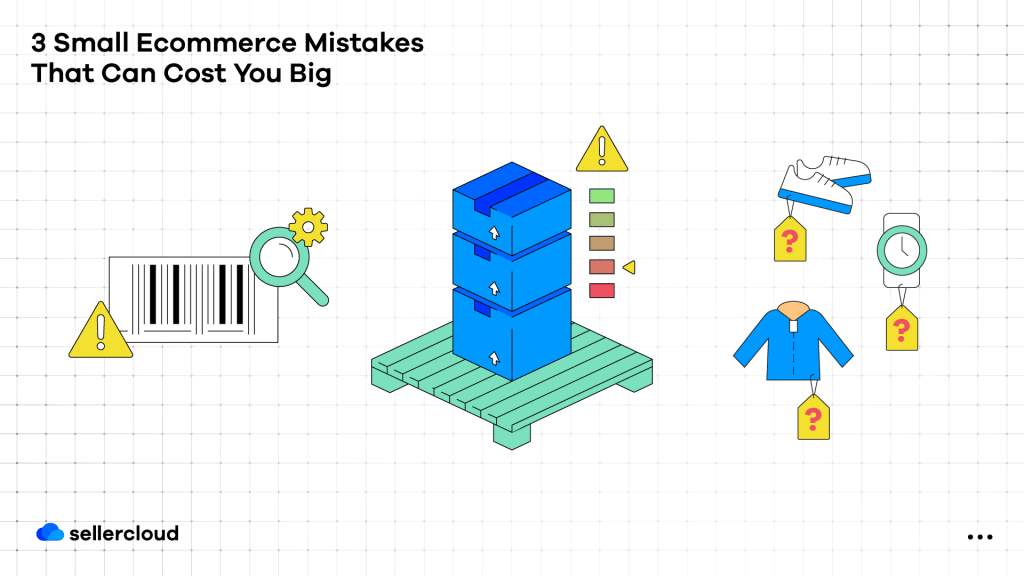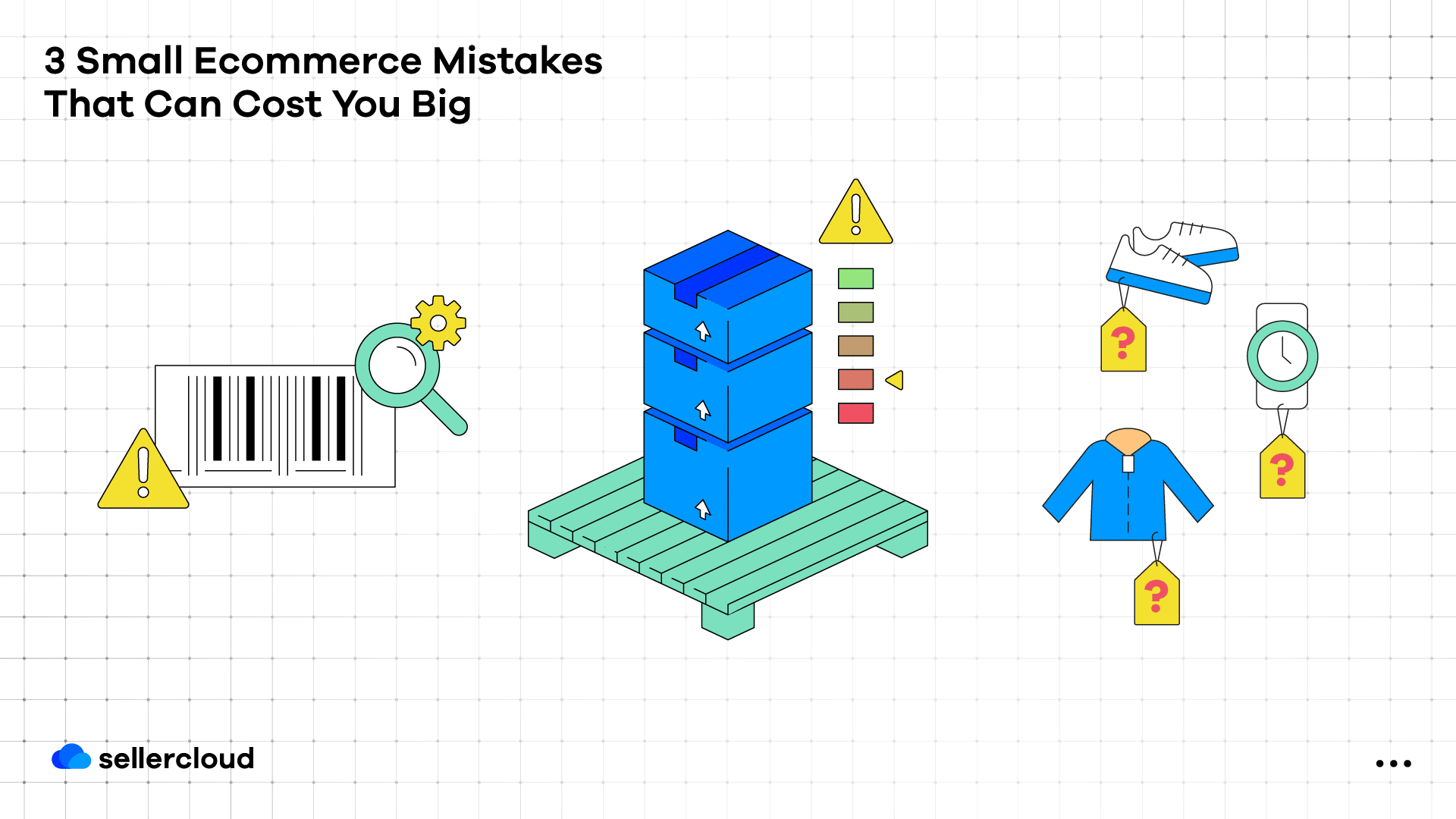 Your success as an e-commerce seller relies on several critical elements functioning in tandem: your products, your logistics, your staff, and your omnichannel marketing strategies.
However, a simple error in any of these areas can quickly evolve into a chain of issues across your entire online retail operation. It's all in the details.
But let's face it; mistakes happen.
You need an e-commerce platform that makes it intuitive and speedy to identify and correct these errors before they negatively impact your bottom line.
The Sellercloud omnichannel growth platform gives you that ability and empowers you with the tools to prevent the most common and costly e-commerce mistakes from happening.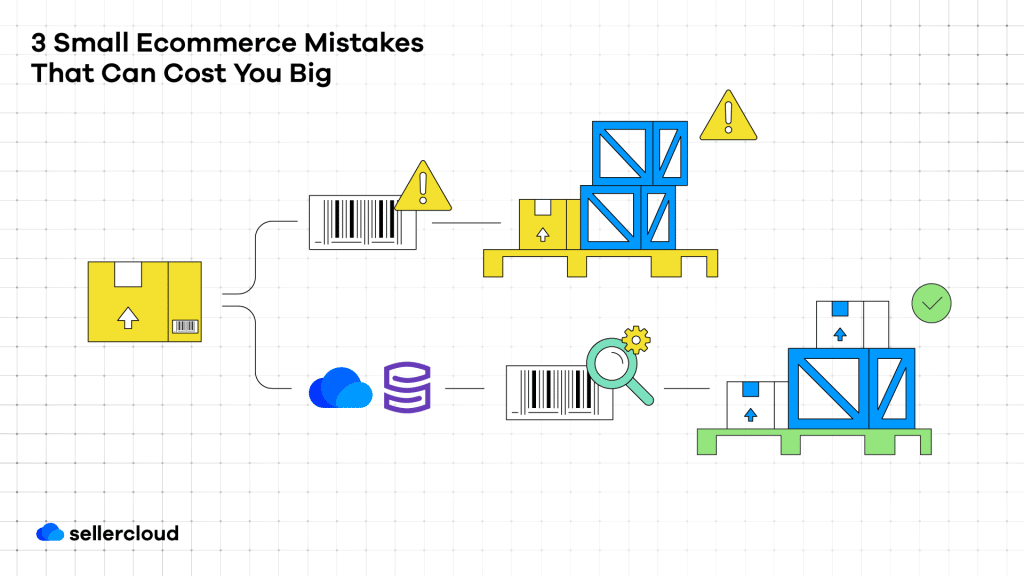 Typos
Any time you rely on manual data entry—whether on a clipboard, a smart device, or a computer—you run the risk of an error.
While a misplaced number or an extra letter is a small mistake, as that mistake propagates through your records and workflows, it can snowball into a much bigger problem.
For instance, if a product is received in your warehouse using an incorrect lot number, it could disassociate it from critical data like its expiration date.
It could also make it impossible to correctly connect the product to its lot for auditing or recall purposes.
Skustack, Sellercloud's warehouse management solution, includes lot number and expiration date tracking.
Of course, this feature is only helpful if products are assigned to the correct lots in the first place.
Thankfully, Skustack allows users to rename a lot number in a single field and instantly apply the correction across all related records—fixing the error.
Another area where typos and human error tend to occur is during inventory audits.
Many businesses still treat warehouse inventory audits as an annual, all-hands-on-deck chore.
Items are counted and recorded by hand, and data is then input into a centralized database.
Throughout this process, there are numerous opportunities for input mistakes that can lead to overselling stock or inaccurate order calculations.
Sellercloud and Skustack make it simple to correct these errors as well, but first, you need to catch them (or, better yet, avoid them altogether).
Regular inventory cycle counting reduces the tedium of manual inventory counts while ensuring a more consistent and accurate record of what you have and where you have it.
What's more, Skustack's reliance on barcodes and intuitive scanner technology helps reduce the chances of recording and input errors happening in the first place.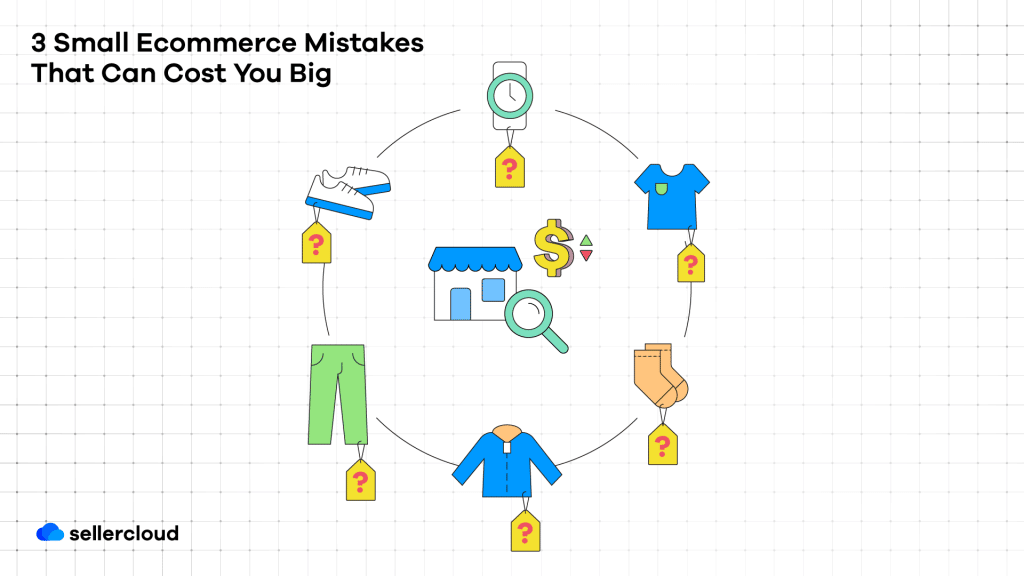 2. Pricing Errors
Setting e-commerce prices is not a "set it and forget it" proposition.
Competition, seasonality, customer behavior, and economic changes can impact the optimal prices for your products and bottom line.
When setting your prices—either initially for a new SKU or repricing an existing listing—it is critical to do so purposefully and carefully.
Miscalculating the ideal listing cost can result in several costly issues:
Products Priced Too High
Products priced too high will likely sell through at a significantly slower pace than well-priced products.
This means lower sales, increased carrying costs and potentially increased fees for long-term inventory storage with 3PL providers and services like FBA and WFS.
Products Priced Too Low
Lower-priced products may sell quickly, but they do so to the detriment of your profit margins.
While there are times when steep markdowns are the right fiscal move, unintentionally low prices hamper your e-commerce business's success and growth potential.
Products Priced
Way
Too Low or
Way
Too High
This is usually the result of a typo.
A misplaced decimal point can lead to a $199 product selling out immediately at a mistakenly steep 99% discount price of $1.99.
On the other hand, a $2.49 accessory is likely to sit unsold if mispriced at $249.
Rather than relying on manual pricing strategies to set and adjust the prices across your e-commerce catalog, consider using a third-party repricer to optimize your pricing.
These tools allow you to set thresholds and pricing rules to ensure your products remain competitively priced and profitable.
Sellercloud integrates with several repricers to help you automate pricing strategies and avoid expensive pricing mistakes.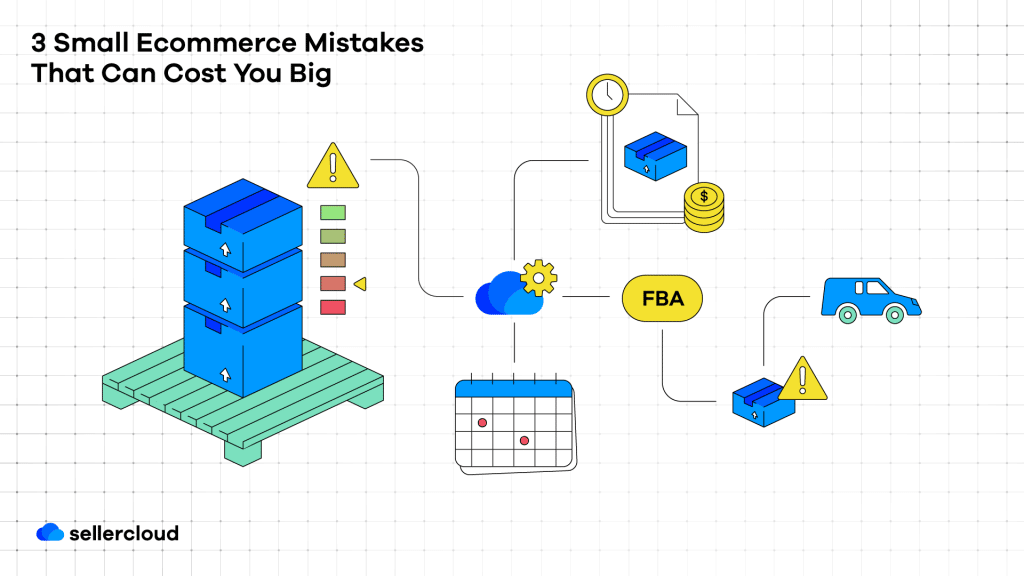 3. Failing to Reorder Inventory on Time
There are few e-commerce sins greater than running out of inventory.
It leads to missed sales opportunities in the short term while you wait to restock, order cancellations, backorders, and customer complaints—all of which can result in marketplace suspensions or even bans.
Preventing out-of-stocks must always be one of the most fundamental goals of a successful omnichannel e-commerce business.
Sellercloud makes it possible to eliminate this costly oversight in several ways:
Inventory Management Notifications When Stock Is Low
This way, you can create a purchase order and replenish your stock before overselling across your sales channels, canceling orders, and having to offer backorders.
It also helps ensure that your 3PLs and fulfillment partnerships like FBA and WFS have sufficient inventory quantities on hand.
Prevent Low Inventory Levels With Predictive Purchasing
Predictive purchasing utilizes your omnichannel sales patterns and inventory data to track and forecast when to order more inventory and how much you need.
Simplify FBA Inventory With Predictive Restocking for FBA
Like predictive purchasing, Predictive Restocking for FBA enables sellers to calculate the stock required to meet the order volume for a particular SKU over a range of days.
These calculations include inventory reserved by FBA orders, inventory in transit, Sales Rank calculation for the SKU according to Amazon's daily sales analysis, and product profit margins.
Prevent Out-Of-Stocks With the Safety Quantity Feature
For extra peace of mind, you can opt to always carry a quantity of stock to defend against purchasing errors, shipping delays, and unexpected sales surges with Sellercloud's Safety Quantity feature.
Sellercloud provides you with the data and tools to calculate the optimal buffer levels for your inventory and ensure that every channel where you sell is adequately stocked.
The entire Sellercloud family of products is designed to help your omnichannel e-commerce business run as smoothly as possible.
Our powerful tools help you identify and eliminate the costly mistakes that could derail your success across the different channels where you sell.
At the same time, our 270 integrations with industry-leading e-commerce partners make it possible to scale your business and continue to reach new customers and markets.
For more, contact us for a free demo and see how our dedication to versatility, accuracy, and innovation can take your online sales to the next level.