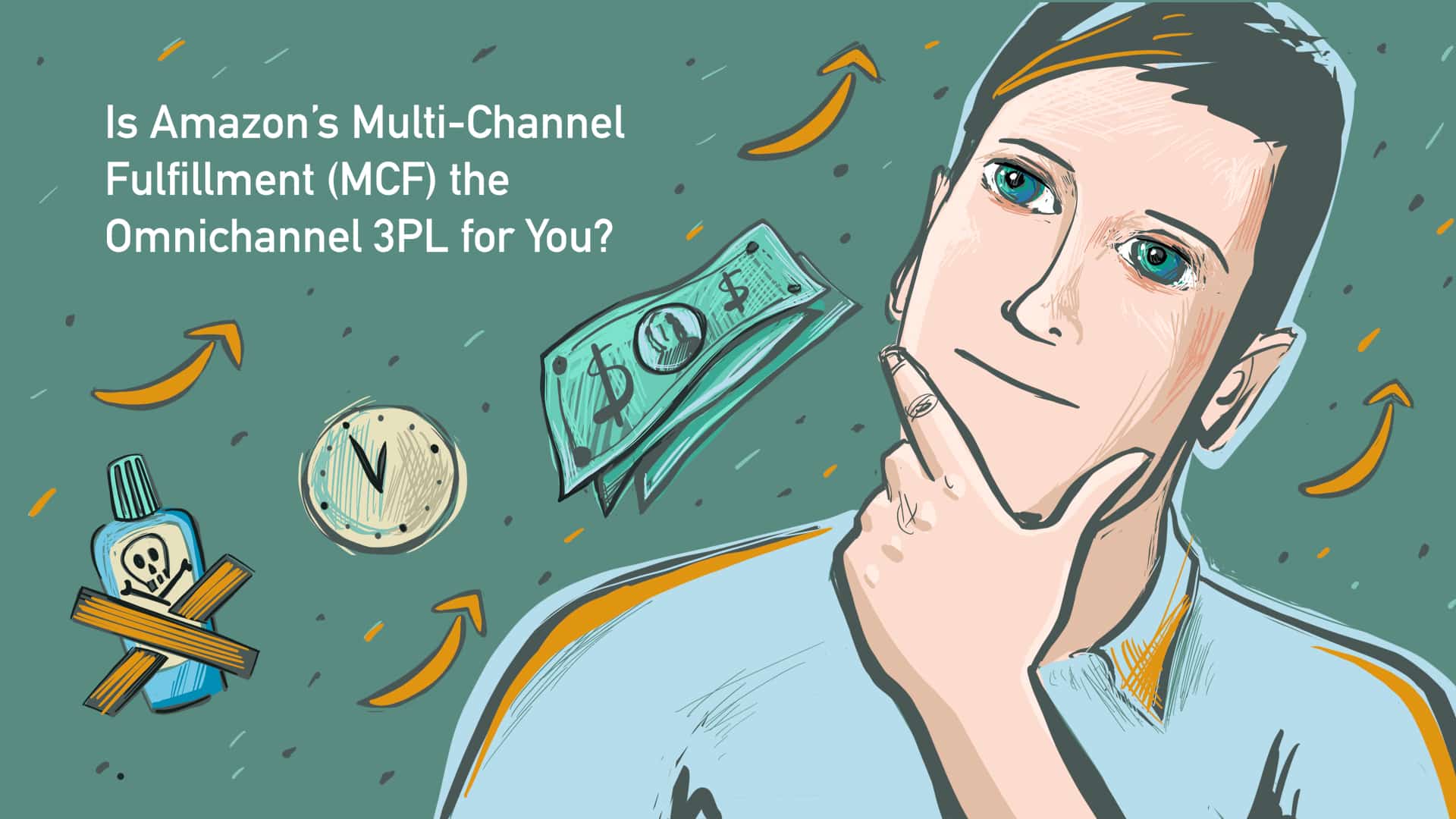 The increased interest in omnichannel e-commerce has led to renewed interest in Amazon's Multi-Channel Fulfillment (MCF) service. Rather than shipping merchandise to customers on an order-by-order basis, MCF allows sellers to make bulk shipments to Amazon fulfillment centers instead. These stockpiles are picked, packed, and shipped by Amazon fulfillment workers to complete orders made from select, non-Amazon marketplaces and sales channels.
If this sounds familiar, it should. MCF shares much of its DNA with Amazon's wildly successful Fulfillment by Amazon (FBA) service. By opening up their logistics infrastructure to off-platform sales, Amazon has positioned itself as a real contender in the third-party (3PL) space.
That said, Amazon's Multi-Channel Fulfillment (MCF) is not just FBA for omnichannel e-commerce businesses. There are intricacies in the program that will dictate its particular value for your business, your products, and your customers. MCF has all the trappings of an exceptional 3PL, but it has its limits.
How Does Amazon Multi-Channel Fulfillment Work?
Amazon MCF is a pretty straightforward program in concept. It is designed to remove nearly all of the seller's fulfillment responsibilities – freeing up time and resources for other areas of e-commerce growth and brand development.
Amazon Stores Your Stock
Just like with FBA (or most other 3PL services), your main fulfillment obligation is getting your merchandise to your provider – in this case, MCF. From there, you pay Amazon a storage fee based upon the cubic footage of your inventory.
Being able to ship stock in bulk to the nearest Amazon warehouse location can lead to significant cost and time savings when compared to the burdens of shipping out individual orders, piecemeal, on your own.
It is worth noting that you have no control over where Amazon stores your inventory once they have received it. Part of participating in MCF is allowing Amazon to make all of the decisions about where to hold your products within their network of warehouses and fulfillment centers. 
Amazon Processes and Fulfills the Orders
As orders come in from your MCF-enabled sales channels, they get automatically forwarded to the Amazon warehouses where the relevant stock is being stored. Orders are then picked, packed, and shipped based upon the selected shipping speed of the order.
Returns
Should a customer need to return an item that was fulfilled through MCF, you have the option of having the products returned to an Amazon fulfillment center. This is not a requirement, though. You could also opt to have the customer return the merchandise directly back to you.
For some sellers this may be a helpful service, while for other sellers it may be a feature of the MCF program that they never use. Regardless, sellers are solely responsible for providing the customer service for their MCF orders.
Know the Costs of Multi-Channel Fulfillment
When weighing the value of Amazon MCF or any other 3PL provider, it is important to understand how the various fee structures will be applied to the products you sell and the sales volume you generate. Sellercloud's cost of goods sold (COGS) calculations can be a helpful way to surface these costs and evaluate the comparative value.
Amazon charges MCF customers in three different ways:
1. MCF Requires a Monthly Subscription Fee
Just like FBA, MCF requires a $39.99 per month subscription fee. For most sellers, this is a nominal fee, but one worth being aware of, nonetheless.
2. MCF Storage Fees
Also like FBA, Amazon charges sellers a storage fee based on the square footage of the inventory being held. The more inventory sitting in Amazon's warehouse, the higher your storage fees.
It is worth noting that the oversized items can incur additional fees. There is also a general upcharge for all stored inventory during Q4.
Consult Amazon's current storage fee rate card on your Seller Central dashboard or on the Amazon Seller Central help page.
3. MCF Fulfillment Fees
Amazon MCF charges fulfillment fees based upon several different factors:
Shipping speed – products can be shipped at standard speed (3-5 business days), expedited speed (2 business days), or priority next day. Logically, the faster the speed, the higher the fee.
Number of units in the order – The price for each subsequent unit in an order decreases (up to an order of 5+ units). This means that the fee for the third unit in an order is less than the second unit, which is less than the first.
The weight of the order – The heavier the product, the higher the fulfillment fee. There are currently 15 different weight tiers included in Amazon's current MCF rate card. The most drastic increase comes with products greater than 30 lbs. These products qualify as "oversized" and come with a hefty surcharge.
On top of all of this, sellers can opt to block MCF orders from being shipped through Amazon Logistics. While some channels like eBay and Walmart are open to MCF being used as a fulfillment option, they are not keen on the idea of Amazon serving as the actual carrier. Be sure to check if the channels where you sell have such a restriction, as it will add an additional 5% surcharge to your MCF fees.
Effective June 1, 2021, Amazon has increased its fulfillment fees for all MCF subscribers. Again, the current rates and limitations can be found on Amazon's Seller Central page. You can also see the detailed announcement of the changes in this Amazon News post.
Pros: The Advantages of Using Amazon MCF as Your 3PL Provider
Amazon is a global e-commerce powerhouse. While fulfillment logistics may be a challenge for some, it's a cornerstone of Amazon's success. Having the ability to bring Amazon onboard to take order processing off your plate can free up your brand to focus on scaling in other areas.
Consolidated inventory makes planning for demand easier – Having all your SKUs and stockpiles in one place makes it easier to deliver a unified, omnichannel fulfillment experience for your customers.
As an added bonus for existing FBA sellers, MCF and FBA can both pull from the same inventory stockpile. This means that your existing FBA workflows can be quickly and easily parlayed into an omnichannel fulfillment plan with MCF.
Fast and reliable shipping matters – Amazon has one of the most state-of-the-art fulfillment networks on the planet. Being able to tap into that speed and dependability can help you build and protect your e-commerce brand's reputation.
Predictable pricing makes it easy to assess the value of the service – Even though the MCF rate card can seem overwhelming at first, once you know the fees associated with each of your SKUs, the consistent pricing structure can take a lot of the guesswork out of evaluating your fulfillment costs.
Amazon can simplify returns – If you don't have a reliable returns workflow in place (a problem Sellercloud can remedy), MCF can take some of the pain out of the process. Allowing Amazon to receive returns can help get customers their replacement products or refunds quickly while also preventing piles of returned dead stock from piling up in your warehouse.
Cons: The Disadvantages of Using Amazon MCF as Your 3PL Provider
Amazon can leverage your sales data – Some have been quick to criticize the fact that participating in MCF gives Amazon an unfair peek into your brand's sales metrics. Every transaction fulfilled by Amazon gives the e-commerce giant free market research into your customers' buying habits, as well as your omnichannel sales performance.
Product restrictions may limit the usefulness of MCF – Amazon has a list of prohibited items that cannot be stored or sold through its various platforms. Included in this list are also certain item categories that have their own specific restrictions. These items can technically be stored and sold, but require advance permission from Amazon and usually incur additional fees.
Even though your MCF orders are not technically being sold on Amazon's marketplace, they are still subject to Amazon's product limitations.
Failure to abide by these regulations will result in your offending stock being stranded and/or destroyed at an Amazon warehouse. You also risk the Amazon MCF website says unbranded, "blank box" packaging is coming for all MCF users sometime in the future (it is currently an invite-only beta program), for now, your customers will be receiving the same on-box Amazon branding on your MCF shipment as they would on any other Amazon Marketplace purchase.
This is also one of the sticking points where some e-commerce channels push back against MCF. Since all of these channels are active competitors of Amazon, many are not too keen on having their marketplace sales being shipped with Amazon's ad-covered boxes and packing tape.
Limited sales channel support – That means that unless you sell solely on MCF-integrated channels, MCF cannot be used as the sole 3PL for all of your e-commerce sales. You will still need some combination of self-fulfillment and/or additional 3PL partnerships to get all of your orders out the door to customers. Depending on your current and future omnichannel strategies, being beholden to Amazon's list of approved channels may be a deal-breaker.
MCF is not dropship-friendly – Dropshipping is one of the most effective ways to transform your third-party sales into a first-party business. That said, MCF is not an ideal solution for dropshipping fulfillment. While technically possible, dropshippers would have to divulge a significant amount of account access to their partners for MCF to work as a primary 3PL.
Limited international options – Currently, only media products (like books, music, and movies) can be shipped internationally through MCF. Other 3PLs offer more robust international shipping options, and some even offer international warehousing options. If you being proactive about your standing on Amazon, this shouldn't be an issue. However, there is a risk in knowing that if your ability to sell on Amazon gets interrupted, your sales on your MCF channels will stall, as well.
FBA takes priority over MCF – It is important to note that FBA remains Amazon's flagship fulfillment option. Some users have reported that FBA shipments take priority over MCF shipments. Under normal circumstances, this may not be an issue, but during busy seasons (or in the case of unforeseen events like a pandemic), you could experience some delays.
Alternatives to Amazon's Multi-Channel Fulfillment (MCF)
If MCF sounds like it may not be the best fit for your e-commerce needs, there are comparable services and options that could:
Marketplace Fulfillment – Fulfillment by Amazon (FBA) and Walmart Fulfillment Service (WFS) are both strong, reliable options for marketplace-based fulfillment. What's more, Sellercloud's integrations with each of these channels makes tracking orders, managing inventory, and keeping on top of fulfillment simple.
Non-Amazon 3PL Partners – If consolidated inventory and fulfillment is a priority, there are a number of reputable third-party logistics providers that can give you similar features to MCF, but without many of the restrictions and limitations of Amazon's multi-channel 3PL offering.
Self-Fulfillment – E-commerce fulfillment is full of challenges including warehousing, picking, packing, shipping, tracking, and returns processing. Yet, Sellercloud has all the tools and support you need to handle all of these elements and more from within a single, streamlined, cloud-based interface.
It can seem daunting, but self-fulfillment can be both possible and profitable if you are willing to take the leap.
Sellercloud Helps Keep All of Your Fulfillment on Track
No matter how you choose to handle your logistics – whether it's with a third-party partner, self-fulfillment, or some combination thereof – Sellercloud's e-commerce growth platform is there to help you stay on top of it all.
Our state-of-the-art inventory management features make it easy to know where all your products are, monitor stock levels, and ensure your customers receive their orders – all from the convenience of a single interface. Sellercloud's predictive purchasing features even help eliminate out-of-stocks and overselling across each of the channels where you sell.
Sellercloud also gives you the ability to streamline your returns and RMAs –  lessening the burdens on your customer service and minimizing losses. 
What's more, Sellercloud's reporting features give you the data you need to evaluate how well your fulfillment workflows are performing. Analytics like cost of goods sold (COGS) calculations and average order fulfillment time can identify inefficiencies and bottlenecks in your logistics that need attention.
No matter what your fulfillment plan looks like, Sellercloud's family of products can help take it to the next level of efficiency and reliability. Contact us directly for a free demo and see the difference we can make for your omnichannel e-commerce growth.