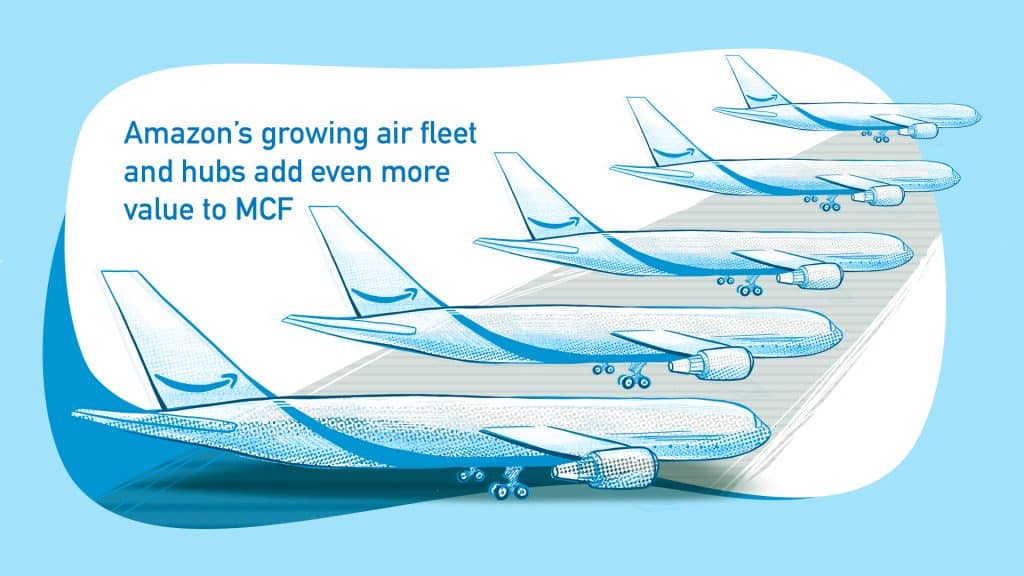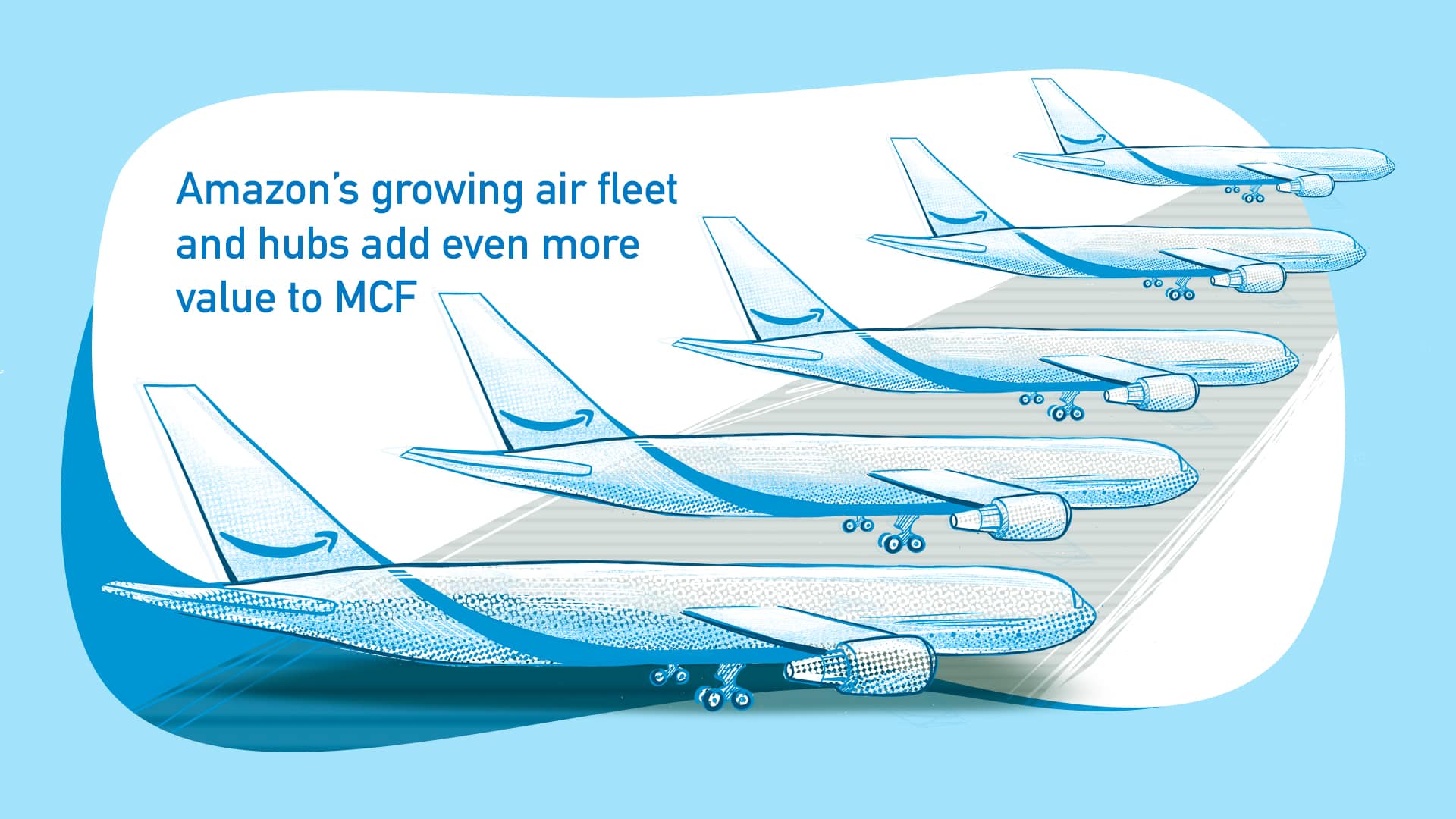 Over the past 5 years, Amazon has worked tirelessly to expand and enhance its logistics capabilities. This August, Amazon Air – Amazon's cargo airline – opened a $1.5 billion air hub in Kentucky. This is just the latest in an ever-increasing investment in Amazon's domestic and international logistics infrastructure. Just last November, Amazon Air opened a 20,000 square meter cargo facility (complete with two leased Boeing 737-800 cargo planes) in Schkeuditz, Germany's Leipzig/Halle Airport.
As Amazon Air's reach and fleet continue to grow, so does the value of Amazon's fulfillment offerings.
Amazon Multi-Channel Fulfillment (MCF) is becoming an increasingly viable option for omnichannel e-commerce sellers looking for a convenient, speedy, and reliable fulfillment partner. MCF allows sellers to offload the logistical burdens of warehousing, packing, and shipping third-party orders. This fulfillment workflow is almost identical to Fulfillment by Amazon (FBA), but with one key difference: while FBA is primarily used to fulfill Amazon Marketplace orders, MCF is optimized to fulfill non-Amazon orders.
Both services will benefit from Amazon's ongoing investment in freight, but MCF may stand to gain the most.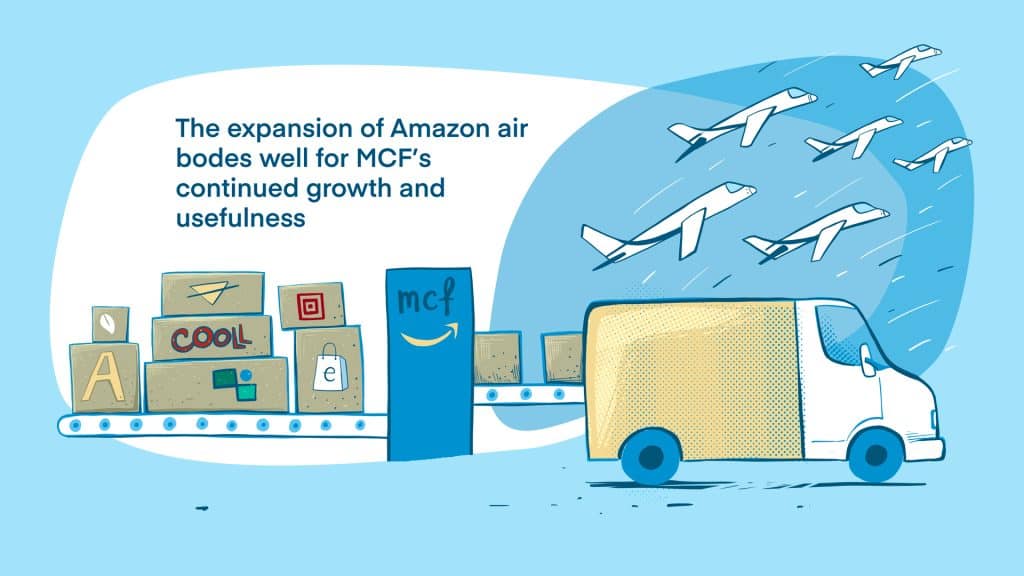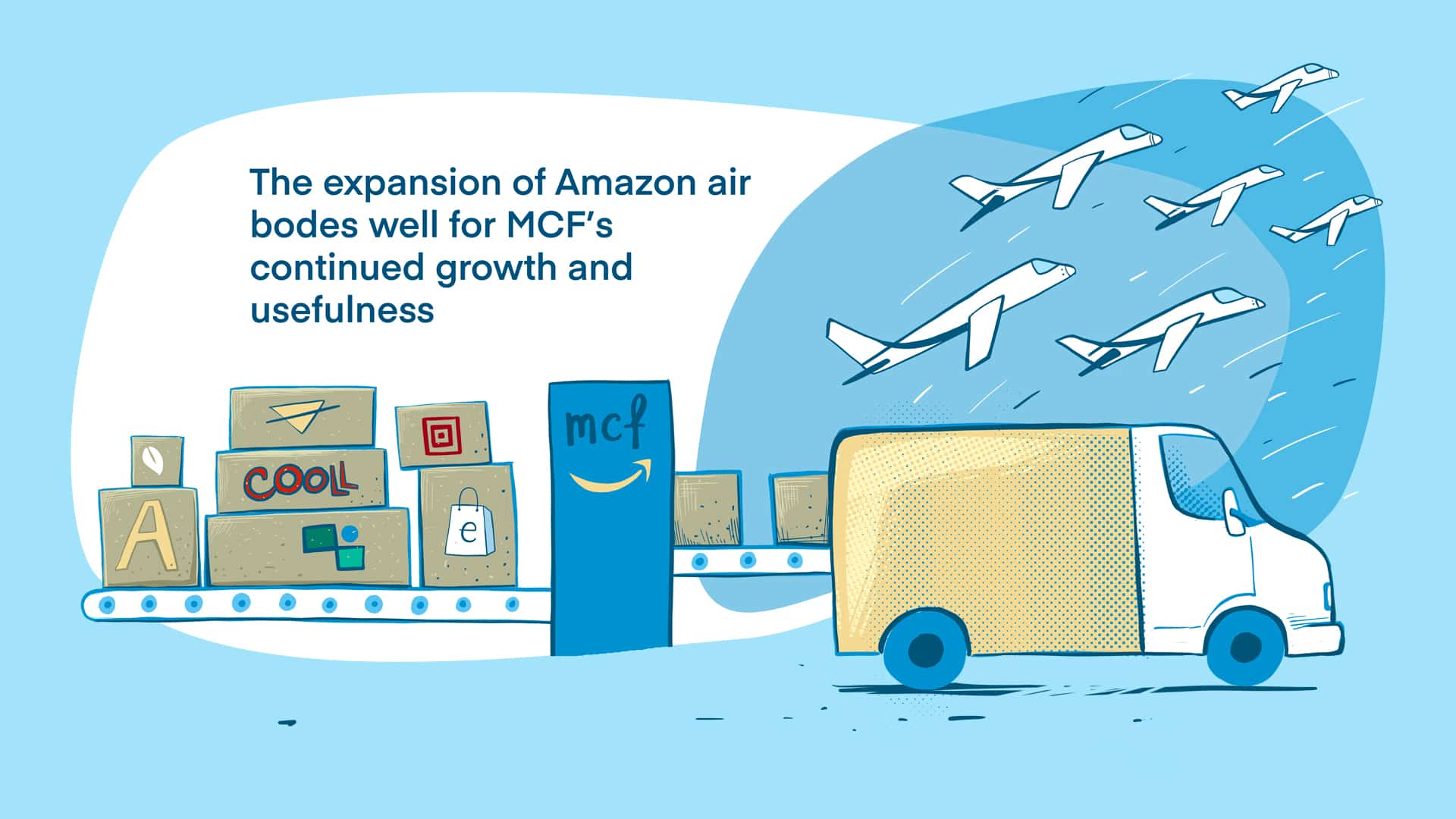 The Expansion of Amazon Air Bodes Well for MCF's Continued Growth and Usefulness
Amazon Air has grown exponentially since its inception in 2015 as Amazon Prime Air. What started as a lease of 20 Boeing 767 planes has now expanded to 79 aircraft (with more on the way); a centralized air hub in Cincinnati/Northern Kentucky International Airport (CVG); additional air hubs in Leipzig, Germany and Sacramento, CA; and direct flights to over 50 domestic and international destinations.
Add to this, Amazon's continued commitment to handling their own last-mile delivery, trucking, and warehousing and the bigger picture becomes clear: Amazon is focused on becoming its own self-contained retail ecosystem – handling everything from sales and marketing to logistics and fulfillment. Eliminating reliance on outside delivery and freight services gives Amazon a level of end-to-end control few corporations will be able to match.
It's a strategy that is already paying dividends. As Amazon's logistical independence increases, their delivery times and per-package costs continue to decrease. Two-, one-, and same-day deliveries are easier to guarantee when third-party fulfillment services are removed from the equation. That means more products on Amazon Marketplace featuring the coveted Prime tag. It also means a substantial cost savings for Amazon – reportedly as much as $4 per package (which adds up quickly for a company that ships over 1.5 million packages per day).
With this summer's addition of the Kentucky air hub and its 100-plane capacity, the projections that Amazon Air could overtake UPS and FedEx in the near future seem increasingly possible.
Contending with established freight megapowers is no small feat. However, Amazon is not only showing they can hang with the heavyweights, they have a real shot at becoming the go to for online retail fulfillment.
Whether Amazon someday becomes the leader of the shipping and logistics industries or not, all of this growth in a relatively short time is proof that Amazon is certainly committed to further solidifying its value as an e-commerce powerhouse.
For sellers, this means that MCF is a fulfillment service worth considering – and even more so for omnichannel sellers already in the FBA ecosystem. Unlike a traditional 3PL provider that typically relies on networks of third-party freight, shipping, and air providers to fulfill their commitments, MCF gives sellers a more self-contained fulfillment ecosystem that is able to carry out most, if not all, of the fulfillment workflows in-house. What's more, MCF's already competitive offerings will continue to grow in value and efficiency alongside Amazon's logistical investments.
Simply put, omnichannel online sellers should look to capitalize on the expansive reach and overall logistical clout of one of the biggest players in the game to help build and grow their own retail brands.
Sellercloud's MCF Integrations Make It Easy to Streamline Your E-Commerce Fulfillment and Grow Your Brand
As a preferred integrator for Multi-Channel Fulfillment, the Sellercloud omnichannel growth platform is the perfect way to unlock all of the benefits of MCF, and put Amazon's vast logistics capabilities to work for your business.
Much like our longstanding integrations with the FBA service, Sellercloud's state-of-the-art inventory management and tracking capabilities can help your e-commerce brand get the most out of MCF with features that include:
MCF inbound shipments – Sellercloud can initiate, manage, and track the shipments to stock your MCF inventory.
Predictive restocking – Sellercloud will track inventory levels and can either suggest or automatically create restocking shipments to MCF, so you never oversell or go out of stock.
Rule-based fulfillment – You can create rules that automatically designate particular orders for MCF fulfillment based on factors like location, shipping speed, quantity, stock levels, and more.
Move and remove MCF inventory – Whether it is dead stock that needs to be returned to your own warehouse, returned inventory that needs to be reconditioned for resale, or even merchandise that needs to be destroyed, Sellercloud makes it simple to transfer and track MCF inventory.
Profit and loss (P&L) reporting – By including MCF fees in cost of goods sold (COGS) calculations, you can ensure that you are getting the most value out of MCF with each sale you convert.
For more on how Sellercloud's integrations with MCF, FBA, and over 120 other e-commerce partners can help you optimize and build your online business, contact us directly for a free demo.