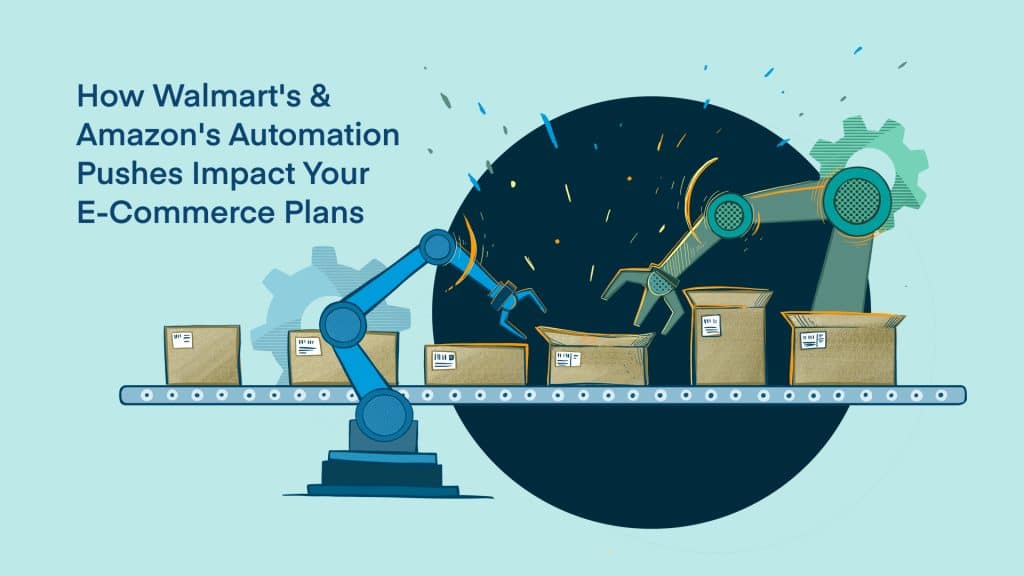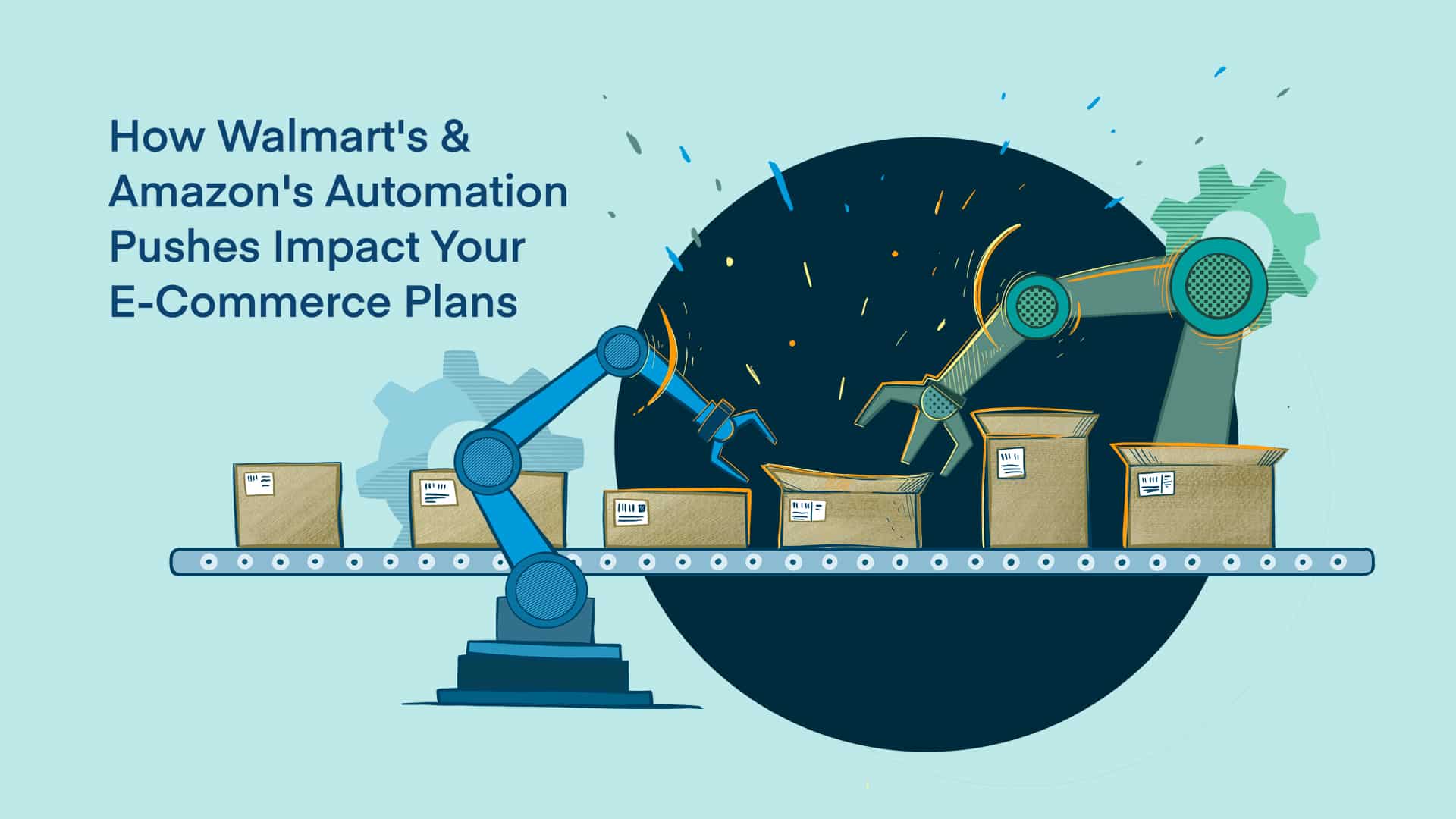 Walmart continues to make headlines as it turns to autonomous delivery drones; new automated fulfillment centers; and AI-driven, in-store micro-fulfillment operations to take its supply-chain network to the next level. Amazon, no stranger to automation itself, has turned to AI and robotics to fuel many of its largest fulfillment warehouses like one of its newest in New Castle, Delaware. Despite some struggles, Amazon – like Walmart – is continuing its pursuit of a drone-based delivery service.
When two of the biggest e-commerce giants engage in an innovation faceoff on this scale, the industry has no choice but to take notice. While smaller players may not have the means to join in the competition directly, all e-commerce sellers should recognize that there are ways in which to capitalize on the rivalry and help spur their own brand growth.
There is no denying that technology and e-commerce are inexorably linked. The question that you must answer for your own brand is what are the most feasible ways to bring affordable technological advancements in-house, and which are best to outsource to larger fulfillment partners and third-party marketplaces?
There are a lot of concerns about what automation means for the future of labor – particularly with how many workers are employed by retail and fulfillment companies. Understanding these worries, founded or not, creates an opening for smaller businesses looking to humanize their own e-commerce offerings.
Automation Does Not Signal the End for a Human E-Commerce Workforce
With all things automation and robotics, there is a natural inclination to assume that AI is going to replace the need for human labor, or at the very least, depreciate its value. In terms of e-commerce fulfillment, fears that automation increases will lead to hiring slowdowns and workforce reduction seem unlikely to come to fruition. In fact, the opposite is likely true. Even in the face of its latest automation pushes, Walmart is continuing to prioritize scaling its fulfillment and supply-chain operations with a target of 20,000 new hires for holiday 2021 and beyond.
Inevitably, automation may replace some human positions – like picking SKUs from warehouse shelves or transporting goods. However, increases in automation are projected to actually create more e-commerce jobs. Not only will automation allow e-commerce retailers to scale with additional locations, but it will give these same retailers the ability to fulfill orders at higher volumes. More locations and more products to move means more employment opportunities.
That said, while programming AI to bring items from point A to point B – either in a warehouse or across town – can be both feasible and efficient, there are certain tasks in the fulfillment workflow – like making decisions about packing shipments efficiently, organizing inventory, and quality assurance – that cannot be easily replaced by automation and robotics. For these types of tasks, the combination of an efficient warehouse management system (WMS) and an omnichannel inventory management platform, like the Sellercloud family of products, will always be crucial in providing your teams with the information and support that they need to keep your e-commerce business running smoothly – with or without automated help.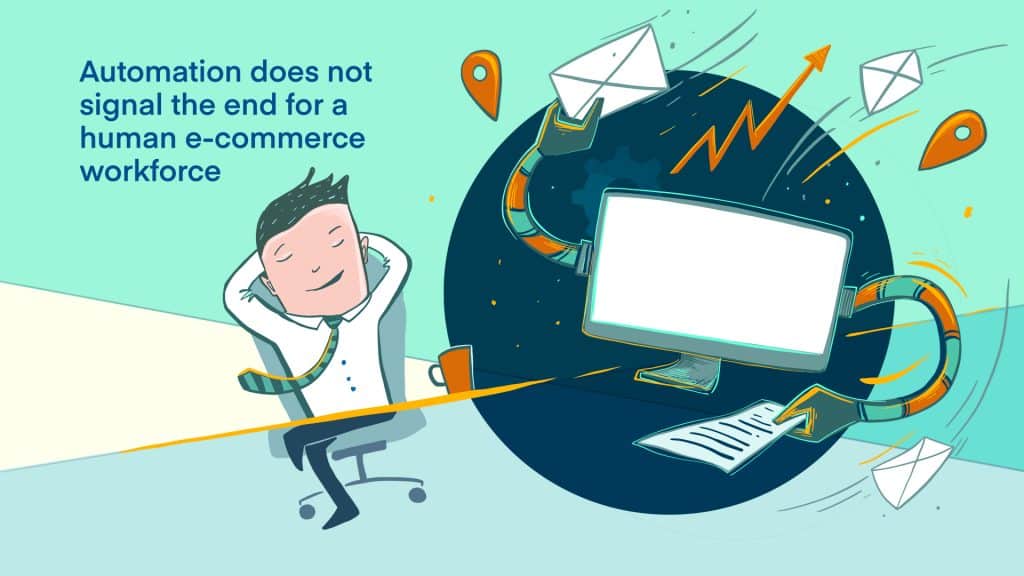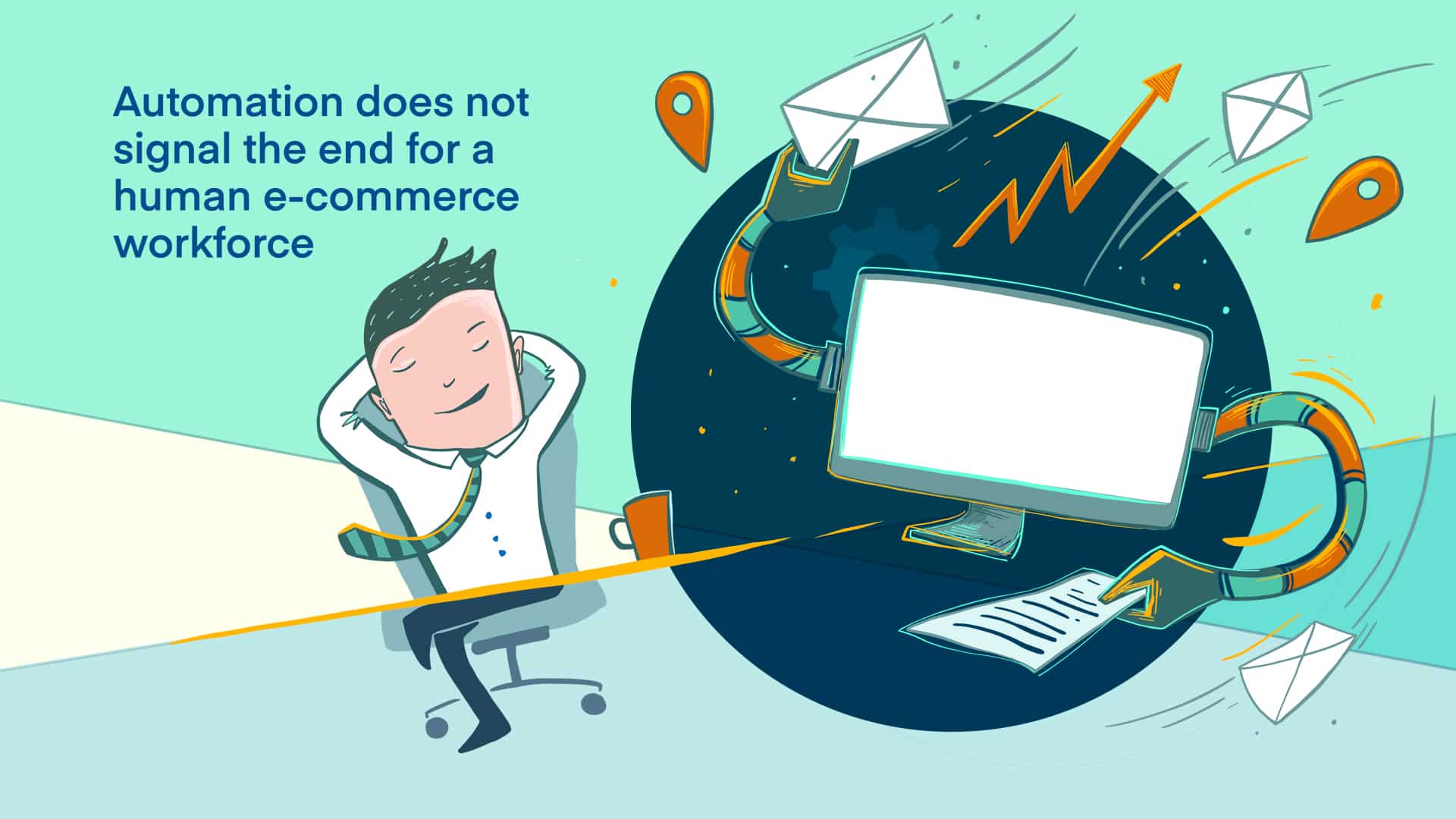 What Does Automated E-Commerce Mean for Your Online Retail Business?
Like it or not, AI-focused technological evolutions are going to have an impact on your future as an e-commerce business. With that in mind, automation is only one piece of the puzzle. Combining technology and human labor is long going to be the key to efficient and reliable e-commerce. There are considerations on both sides of that balance that you need to prioritize.
You need an omnichannel e-commerce strategy. The best way for most businesses to take advantage of these game-changing automation developments will be to sell on industry-leading marketplaces like Amazon and Walmart. Since most e-commerce sellers lack the scale and capital required to automate their own fulfillment workflows, participating in programs like Fulfillment by Amazon (FBA) and Walmart Fulfillment Services (WFS) will be the best bet to tap into the speed promised by these types of new tech-driven initiatives. What's more, competition between marketplaces may help keep costs down and availability up as each will likely try to leverage their fulfillment developments as a way to boost marketplace participation and, in turn, market share.
Technology must be part of your own fulfillment evolutions. While you aren't likely  creating drone launchpads behind your brick-and-mortar location or building state-of-the-art warehouses worth a quarter of a billion dollars, you need to be sure that you are employing the right technologies to optimize the fulfillment of your first-party sales and supply your marketplace orders. Strong inventory management, warehouse management, and centralized omnichannel order management systems can help to ensure that your team members can perform at their highest levels of accuracy and efficiency.
There will be growing value in marketing your business's "human touch." For all of its excitement and futuristic allure, automation can also turn some customers off. The perception that human workers are being replaced with robots can depersonalize people's impressions of the shopping experience and cast a negative shadow over a brand's image. Even as you depend on technological advancements to spur your e-commerce business's efficiency, there will be a lasting value to your public perception if you are able to cultivate a first-party sales experience that includes personal touches. 
Proactive and reactive customer relations management as well as responsive customer service can go a long way in ensuring customers that they are dealing with people and not a brigade of automatons and computer systems. Even workflows like packaging optimization can demonstrate to a customer that someone took the time to ensure that their order was fulfilled with care.
As an omnichannel e-commerce brand, you will likely be able to have your cake and eat it too when it comes to the approaching automation boom. Marketplace-based fulfillment programs will allow you to get your products inside the boxes being picked by robots and shipped by drone fleets.
At the same time, your own first-party business can focus on the human elements of retail and offer tailored, boutique-like attention to detail and customer care that fosters consumer relationships and promotes profitable repeat business opportunities.
Contact us directly for a free demo and see how Sellercloud is prepared to give your e-commerce brand the technological tools it needs to provide the efficiency that modern customers demand and the personalized touches they crave.