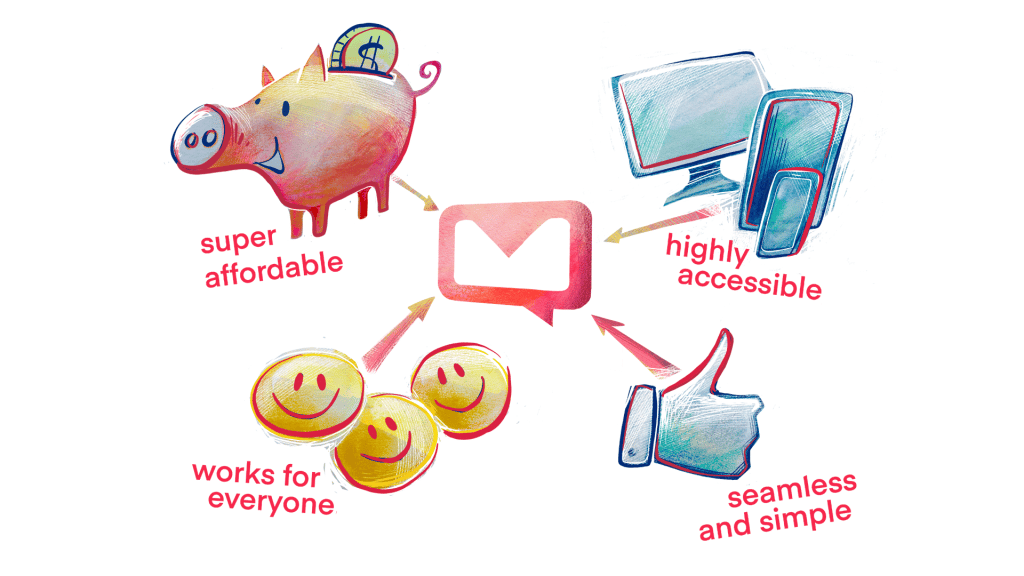 Customer Relationship Management (CRM) systems have become an accepted part of running a modern business. To remain competitive, companies of all types and sizes need the ability to interact with customers, offer support, manage leads, and handle communication in an efficient and timely manner. An effective CRM should consolidate these communication tasks in such a way as to save time, manpower, and (ultimately) money.
The problem is that CRM's tend to introduce as many problems as they solve
CRMs are impersonal. In today's world, customers know the difference between interacting with a sincere person and an automated system. The former can lay the groundwork for true customer loyalty. The latter never will. Whether it's a templated email or a scripted phone call, no one wants to feel like they are just a data point in a system.
CRMs are often loaded with extra features and bloat that you probably don't need. Somewhere along the way, CRMs began branching out into areas such as help desk support, call center maintenance, and marketing data mining. The problem is, while a one-stop-shop for all this seems great on paper, many of these components are underwhelming compared to dedicated alternatives. They may bolster a CRM's feature list, but they seldom prove to be superior to the platforms they promise to replace.
Running an effective CRM requires constant, diligent maintenance. To maximize the value of centralized customer data and communication, every CRM user is responsible for keeping data accurate and up to date. Not only is this time consuming, but it is also highly susceptible to human blunders. Mis-typed contact info, incomplete notes, and poor field customization can render the benefits of a traditional CRM system moot.
Spending the time and money on a CRM overloaded with inefficiencies and features that you don't need doesn't make a lot of sense. That said, you do need a plan for how to respond to customers quickly and efficiently. So, what's the alternative? 
Memaila streamlines customer interaction
In the e-commerce space, it's important to have an efficient and timely protocol for customer interaction. The ability to respond to a lead, handle a customer complaint, or simply answer a product-related question quickly and effectively can earn you big points when it comes to both customer and brand loyalty. Having accurate customer data handy while doing so makes life even easier.
CRMs aim to do this, but they rely upon clunky interfaces and web-portals that exist in their own self-contained ecosystems. Operating them requires training and patience. Maintaining them requires all stakeholders to commit to a tireless attention to detail. This all adds up to time and money spent in areas other than selling and shipping orders. In addition, the largely automated nature of CRM systems means that even quick and effective customer interactions tend to lack the humanity and personal touch customers are seeking.
Memaila changes all of that with a fresh approach. The genius is in its simplicity:
The customer sends a message to a provided company email.
Memaila distributes that email to all the assigned stakeholders in their corporate and/or personal email inboxes.
Anyone can respond to the customer directly from his or her own inbox.
Memaila converts the response from the employee's email address to the official company account and sends it to the customer.
At the same time, the response and thread are sent to everyone on the team, effectively stopping undesired additional responses from within the team.
Memaila provides you with a Team Inbox system that can be managed by anyone on your team, from any device. Set-up is quick. CRM-style maintenance is essentially negated. Messages and responses are logged automatically and shared team-wide— no additional data-entry is required. 
Rather than requiring employees to learn entirely new systems to access and respond to customer messages, Memaila delivers these messages to the business and/or personal inboxes of all the relevant stakeholders in your company. Every response from your team is routed back to the customer via the chosen corporate address.
This means that if a team member is out of the office before an issue is resolved, it is easy for another to pick up where he or she left off so that no customer is left waiting. Since all the responses are coming back from a single corporate email address, the customer is given the impression that their issue is being cared for by your company, not being shuffled around between employees.
Memaila even allows you to create custom distribution flows so that specific emails are funneled to designated teams or individuals. For example, incoming emails that include terms like 'tracking' or 'shipment' can be disbursed to your logistical team, while emails containing the term 'warranty' can be diverted to your customer service department. Creating or adjusting these Memaila workflows is intuitive and efficient. Adding, editing, or removing team members takes seconds (and you don't need an IT expert to make it happen).
With Memaila, you and your employees are equipped to handle customer communication anywhere, anytime, and from the same devices that you carry everywhere. No awkward web portals or slow servers to access— just the same inboxes that you all access daily with a swipe, tap, or click.
Memaila integrations are tailored for e-commerce businesses like yours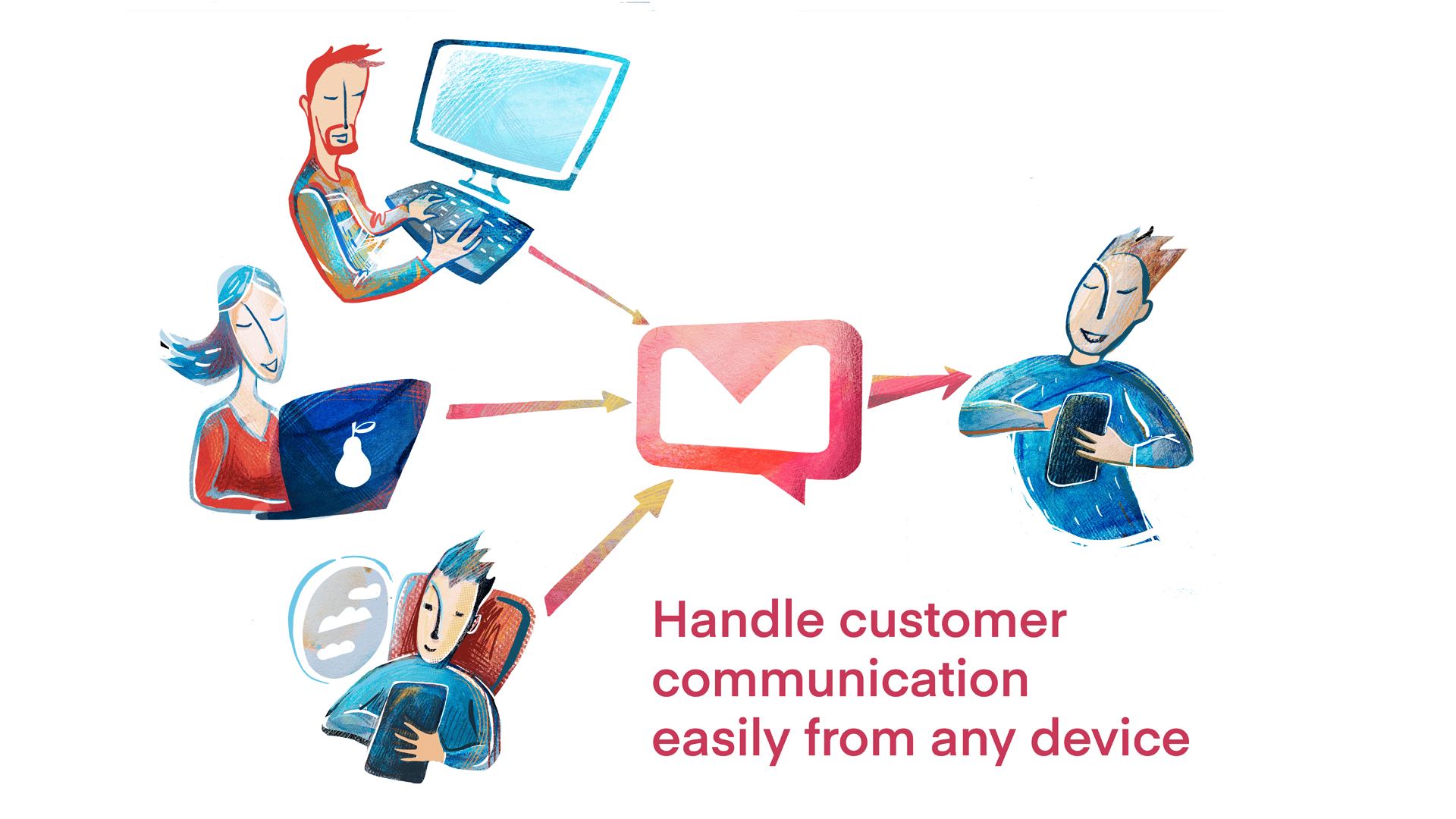 Another area where Memaila truly shines is in how well it integrates with the tools and services you already depend on. Not only does Memaila make it simple for your team to distribute and manage customer messages, but it can also automatically pull in the information you need to ensure your customer interactions are accurate, personal, and useful. 
When a customer message arrives, Memaila automatically procures the pertinent customer data from the relevant tools and marketplaces. This information is then attached to emails as they are distributed to your team, ensuring everyone has access to all the necessary information to satisfy your customers. When replies are sent, the information is removed – the client never sees the data.
These integrations relieve the tedium of traditional CRM data-entry and help your business mitigate the errors that come from relying on manually-maintained databases. Even better, Memaila does all of this without the need for any complex scripting or programming knowledge. The integrations have been designed from the ground-up to be user-friendly and efficient.
SellerCloud data (including customer profiles, order histories, active shipment information, and tracking numbers) are all attached as a part of each distributed Memaila message. This means that everyone who receives an incoming customer message has access to all of the pertinent information to respond knowledgeably and correctly the first time. 
Slack works similarly to any traditional email inbox added to Memaila. You and your team can use Slack to receive and reply to external email messages with all the same Team Inbox features available to email accounts. For businesses already enjoying Slack's robust communication toolset, Memaila integration is an especially intuitive and turnkey experience that will improve your customer service capabilities without the need to learn an entirely new CRM system in order to do so.
Amazon notoriously firewalls direct seller-customer communication. Memaila integration makes the process more direct and convenient. Once you connect your Memaila account to your Amazon seller account, your team can receive and reply to Amazon customer messages directly from their email or Slack accounts.

When amessage arrives in your Amazon inbox, Memaila gathers the order and customer details and then forwards it on to your team's mailbox. Anyone on your team can then reply directly through Memaila— on any device— without ever having to leave their inboxes.
eBay, similar to Amazon, has its own way of handling communications between sellers and customers. While customer email addresses are available to sellers, eBay sends customer inquiries to sellers using unique, generated addresses. Memaila circumvents this anonymity layer by using the eBay user ID to access the customer's full information profile within SellerCloud. This surfaces all the relevant information your team members would need to respond to the customer in one convenient email thread from the inboxes they are most comfortable using.
In each of these cases, Memaila makes interacting with your customers convenient, efficient, and intuitive. You and your team have the information and data you need to interact with customers in a way that makes them feel understood and valued— not like another ticket in the queue.
Just as SellerCloud is the optimal way to handle your channel management and order tracking, Memaila is the optimal way to streamline your customer communication workflows.
Leave the hassles and frustrations of a bloated CRM behind. Contact us directly to discuss how Memaila's simplified, yet powerful feature set can help everyone on your team better serve your most valuable asset— your customers.