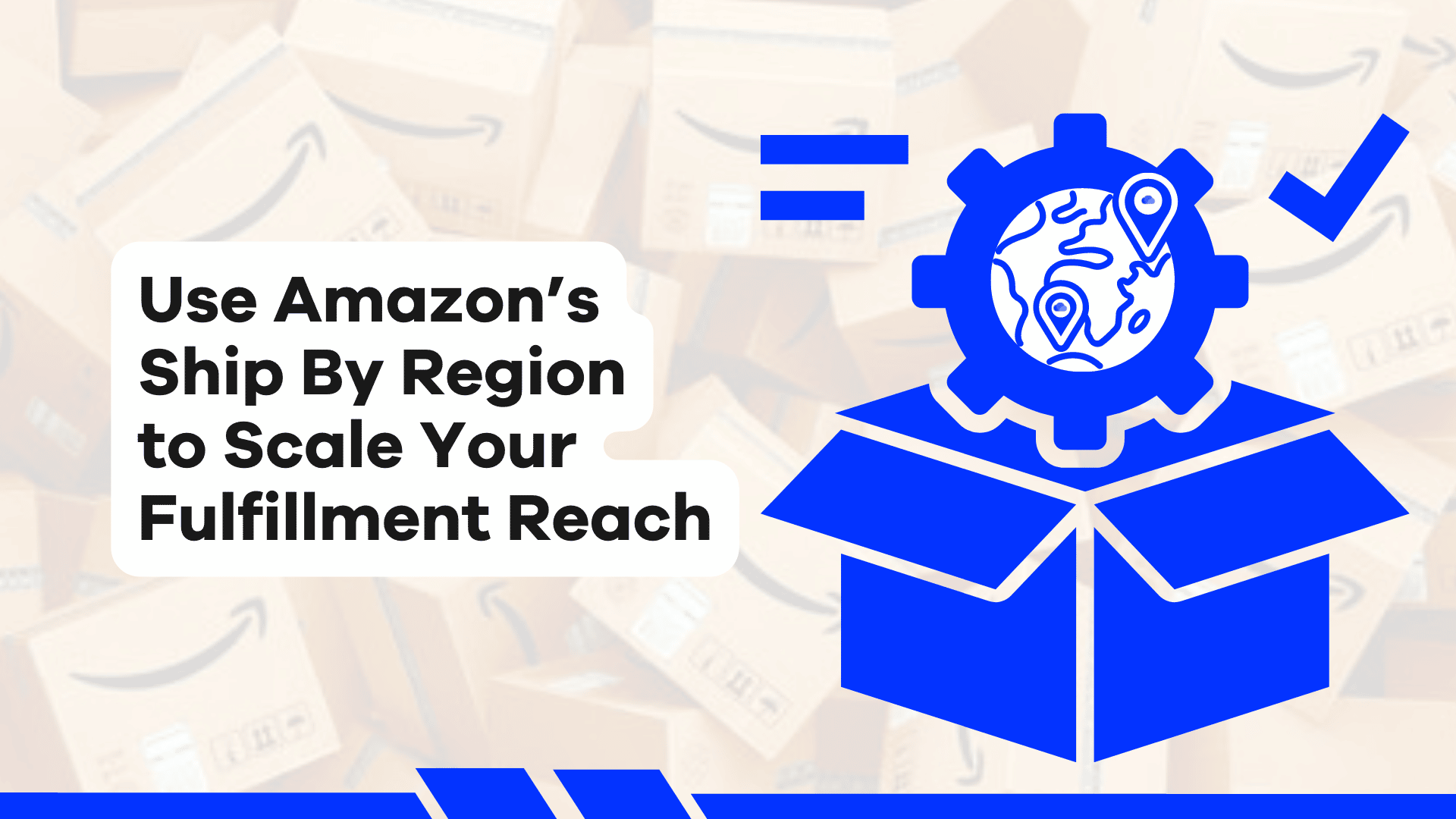 Customers love fast shipping. The better your e-commerce business is at getting orders out to customers as quickly as possible, the more competitive you will be.
Unfortunately, your shipping realities may not match those of industry giants like Amazon or Walmart that are able to promise two-, one-, or even same-day shipping for a vast majority of their products and customers.
Sure, there are ways that you can improve your ability to get orders to your customers more quickly; adding warehouses and third-party logistics (3PL) partners that operate in close proximity to your customers can help bring your shipping times down dramatically. However, whether you are a smaller e-commerce brand just starting out or an established e-commerce brand with an international reach, you are still likely to have some geographic blind spots where your fastest fulfillment rates are not possible.
Enter Amazon's Ship By Region feature.
How Amazon's Ship By Region Settings Work
Amazon's Ship By Region settings provide sellers with the ability to offer variable total delivery time promises depending upon where orders are being shipped to.
For instance, you could offer 2-day delivery within your own state or carrier-defined shipping zone, but default to longer fulfillment times for all other domestic destinations. Similarly, Ship By Region makes it convenient for international sellers to define unique shipping conditions depending on the countries where customers live.
While you can access these settings and create region-based shipping templates through Amazon's Seller Central, Sellercloud makes it easy for you to set and adjust your Amazon Ship By Region settings from the same convenient interface that you use to manage your entire omnichannel catalog.
Whichever way you choose to access Ship By Region and define your shipping templates, there are some basic requirements that all merchants need to adhere to:
Standard shipping must be available across every template.
Anywhere you offer two-day shipping, you must also offer standard shipping.
Standard shipping rates must be consistent across the entire continental US.
Shipping must be available to all street addresses.
While you can opt out of shipping to P.O. boxes, you cannot charge different rates based on address type.
International shipping templates must deliver to all address types without discrimination.
None of these stipulations should pose much of an issue for sellers, but with all things at Amazon, compliance is always key.
One of the major advantages of Ship By Region is that it allows sellers to advertise Prime shipping speeds for the regions and destinations that they are certain they can deliver to, while offering slower, non-Prime service for areas outside of that fulfillment reach. This is a particular boon for sellers participating in the Seller Fulfilled Prime program. You can use Ship By Region to offer customers the best shipping options available – even if you are not yet capable of offering the same conditions to all.
One development since the debut of Ship By Region has been the addition of Amazon's Shipping Region Automation. This allows you to set certain SKUs, order weights, carriers, and/or shipping costs that you want Amazon to automatically audit and assess for Prime shipping status. Amazon will take into account how effective your carrier's delivery performances are from your inventory location to your customers' different delivery destination regions. Amazon will only award Prime status to a particular region if your carrier(s) of choice can deliver on time to all of the zip codes in the particular region.
Regardless of whether you rely on Amazon to help automate your shipping templates or not, you need to be proactive to account for how your fulfillment speeds are impacted by shipping partnerships, inventory availability, and warehousing developments within your business.
Adjust Your Ship By Region Settings as Your Shipping Conditions Evolve
There are a number of reasons why your shipping realities will change over time:
Opening or closing of a warehouse
Addition or termination of 3PL partnership(s)
Adjustments to your shipping carriers
Supply chain changes
Regional inventory availability
With these changes comes an obligation to update your customer-facing inventory and fulfillment promises. If you are taking advantage of Ship By Region, be sure to review your shipping template settings when any changes to your delivery reach occur.
Many of the aforementioned circumstances are positive, so you will certainly want to be sure to update your estimated shipping and handling times to the quicker delivery projections. Shorter fulfillment timeframes can be an effective marketing tool when competing against other sellers— even if it is only in specific regions.
Likewise, if there are delays to a particular region where you sell—be they due to weather, global conflicts, partnership issues, or some other mitigating circumstance—you will want to adjust your Ship By Region settings in a timely manner to avoid disappointing customers and drawing negative attention to your brand. Should you fail to meet delivery expectations on a consistent basis, you risk Amazon taking action against you. This could mean suspensions or even outright account termination. 
Sellercloud's Amazon integrations make it simple and convenient to stay on top of your Ship By Region settings and shipping templates. The ability to manage all of your inventory and fulfillment settings from a singular platform is substantially more convenient than constantly juggling a piecemeal patchwork of web portals, browser tabs, and programs.
With Sellercloud, you can tap into features like Ship By Region and other Amazon and FBA sales-boosting features all from within the same interface that you use to manage your entire omnichannel business. What's more, our cloud-based interface means every member of your team always has access to the tools and settings they need to keep your brand operating as smoothly as possible. Contact us directly for a free demo and experience for yourself how Sellercloud can streamline your e-commerce workflows and increase your selling power.