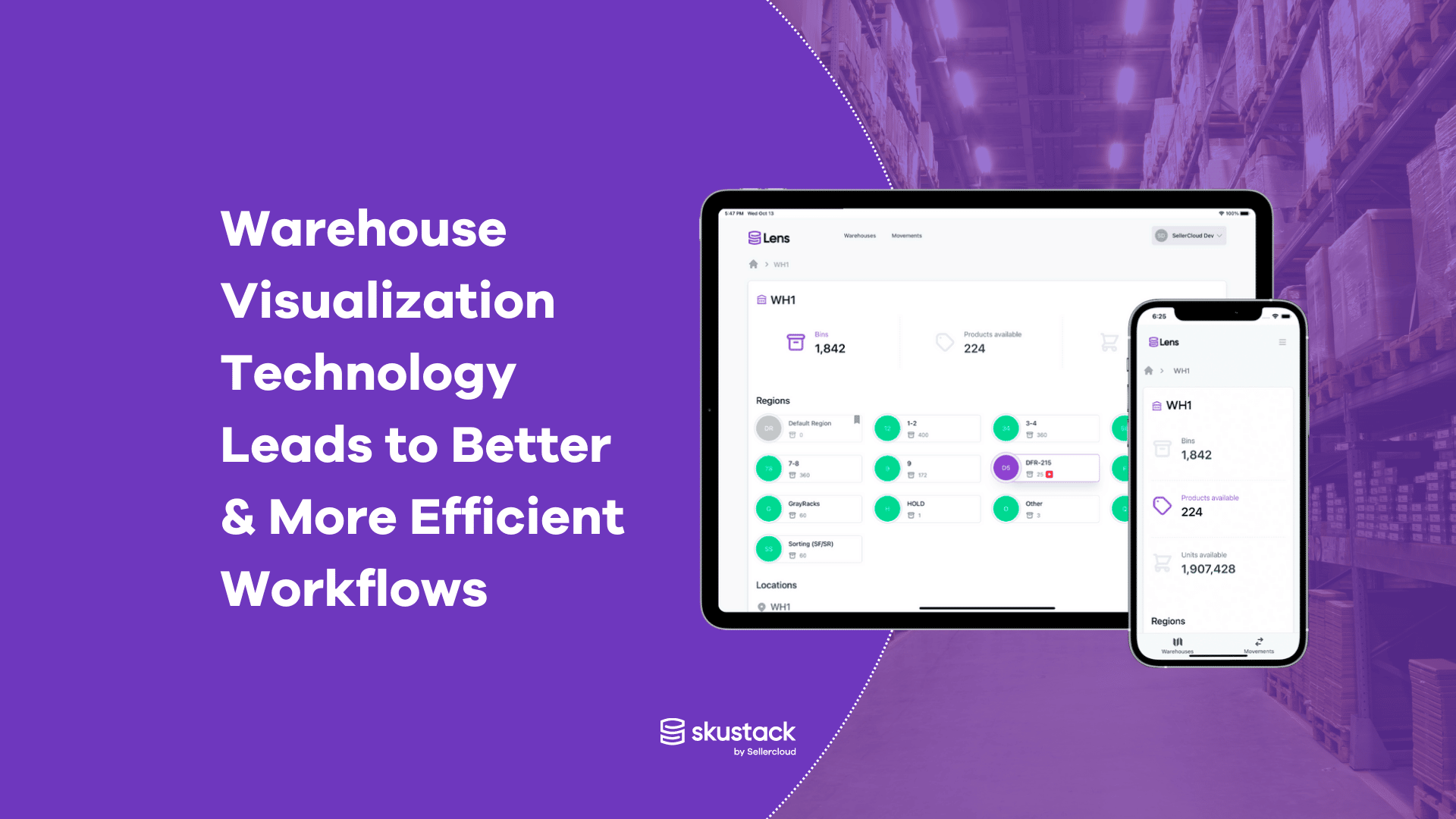 You may think you have found the perfect e-commerce warehouse locations, crafted the optimal warehouse layout, and hired exactly the right warehouse teams. However, until you put all of the pieces in action together, you can't be sure. A warehouse manager should be able to make a lot of these determinations from the warehouse floor, but things get more complicated when you start factoring in multiple locations and interconnected workflows.
Warehouse visualization technology, like Skustack Lens, makes it possible to get a bird's-eye view of your inventory movement, employee performance, and warehouse activity in real time. What's more, you can track all of this across every location in your e-commerce business network and do it from anywhere – whether you are onsite or not.
Warehouse Visualization Lets You Identify Where Inventory Is and Determine Where It Should Be
Sellercloud's omnichannel inventory management platform and Skustack, our patented WMS technology, do an outstanding job of letting you know how much inventory you have and where it is. Skustack Lens takes that a step further by letting you visualize the warehouse regions and bins where that inventory actually is.
This level of specificity makes it possible to identify whether or not your inventory is being stored in the appropriate location for its type and order volume as well as if it is traveling through your warehouse according to its optimal pathways. Ideally, your highest-selling merchandise should be located in proximity to the fulfillment region of your warehouse. This keeps picking trips short and improves order processing time. Likewise, inventory that is either seasonal or slower-moving can be kept farther away.
Special considerations must be made for large and/or awkward merchandise that may require team lifting or a forklift. Not only do these types of products need to be accessible, but they should be close to pathways where they can be moved efficiently. Warehouse visualization can help you ensure that even your most cumbersome products are stored and handled correctly.
Skustack Lens also makes it possible to isolate and locate individual SKUs down to the bin level across any of your business's warehouses. As stock is received and orders are processed, you can track a SKU's movement in real time. Whether you are watching from a device on-site or checking in via the Skustack mobile app, you have up-to-the-second updates on what inventory you have and where it is. This granular monitoring capability can help identify mishandling issues before they become larger issues.
Just as it is important to recognize where things are in your warehouse, it is also important to recognize where things aren't. Warehouse visualization can make it easier to identify free space that could be better utilized for its storage or movement potential. It gives you the opportunity to try out different layout options virtually before committing the time, energy, and costs associated with a full warehouse redesign.
Warehouse visualization helps your management team see and evaluate all of your warehouse  optimizations. Not only can you ensure that the latest workflows and designs are being implemented correctly, you can surface potential ways to dial them in to be even more efficient.
Warehouse Visualization Makes Monitoring and Optimizing Employee Movement Easy
Effective warehouse design is nothing without effective teams at the helm. To ensure that inventory and orders are being handled quickly and accurately, you need to know that the workers handling your fulfillment are performing reliably.
Skustack Lens makes it possible to view the individual performance of each individual team member across every warehouse you operate. This level of supervision and tracking makes it possible to reward success, trace patterns of errors, and identify potential staffing deficiencies.
Warehouse visualization also helps you assess whether you truly have created the ideal warehouse layout to optimize your employees' productivity and safety. The best workflows should include seamless movement of workers and inventory from receiving to storage to picking, packing, and shipping. Warehouse visualization makes it possible to see, in real time, how effective a warehouse design is and how effectively you have set your workers up for success.
Warehouse Visualization Provides Information, You Must Provide Action
Should warehouse visualization surface operational pain points within your e-commerce business, Sellercloud's tools and software give you the ability to make the adjustments needed to get your omnichannel brand operating at its peak performance.
The patented technologies that drive the Skustack warehouse management system go far beyond the warehouse visualization of Skustack Lens. Inventory tracking, cycle counting, kit-and bundle-based SKU management, expiration tracking, RMA management and more are all possible from a single, intuitive interface that integrates seamlessly with the rest of the Sellercloud family of products.
Beyond the warehouse management capabilities of Skustack, our industry-leading inventory management and reporting features make tracking product movement and maintaining ideal stock levels simple and intuitive. Sellercloud's integrations with over 120 leading channels, marketplaces, shipping providers, shopping carts, and more mean that you can operate a truly omnichannel brand from one convenient interface. Skublox, Sellercloud's patented put-to-light, pick-to-light technology, gives you the ability to create and manage a scalable and customizable fulfillment workflow anywhere in your warehouse.
Ultimately, warehouse visualization is just one piece of a much larger puzzle when it comes to getting the most out of your e-commerce business's products, warehouses, and staff. We at Sellercloud pride ourselves on developing products and solutions to help you do exactly that.
For a free demo of all that Sellercloud has to offer, contact us today.