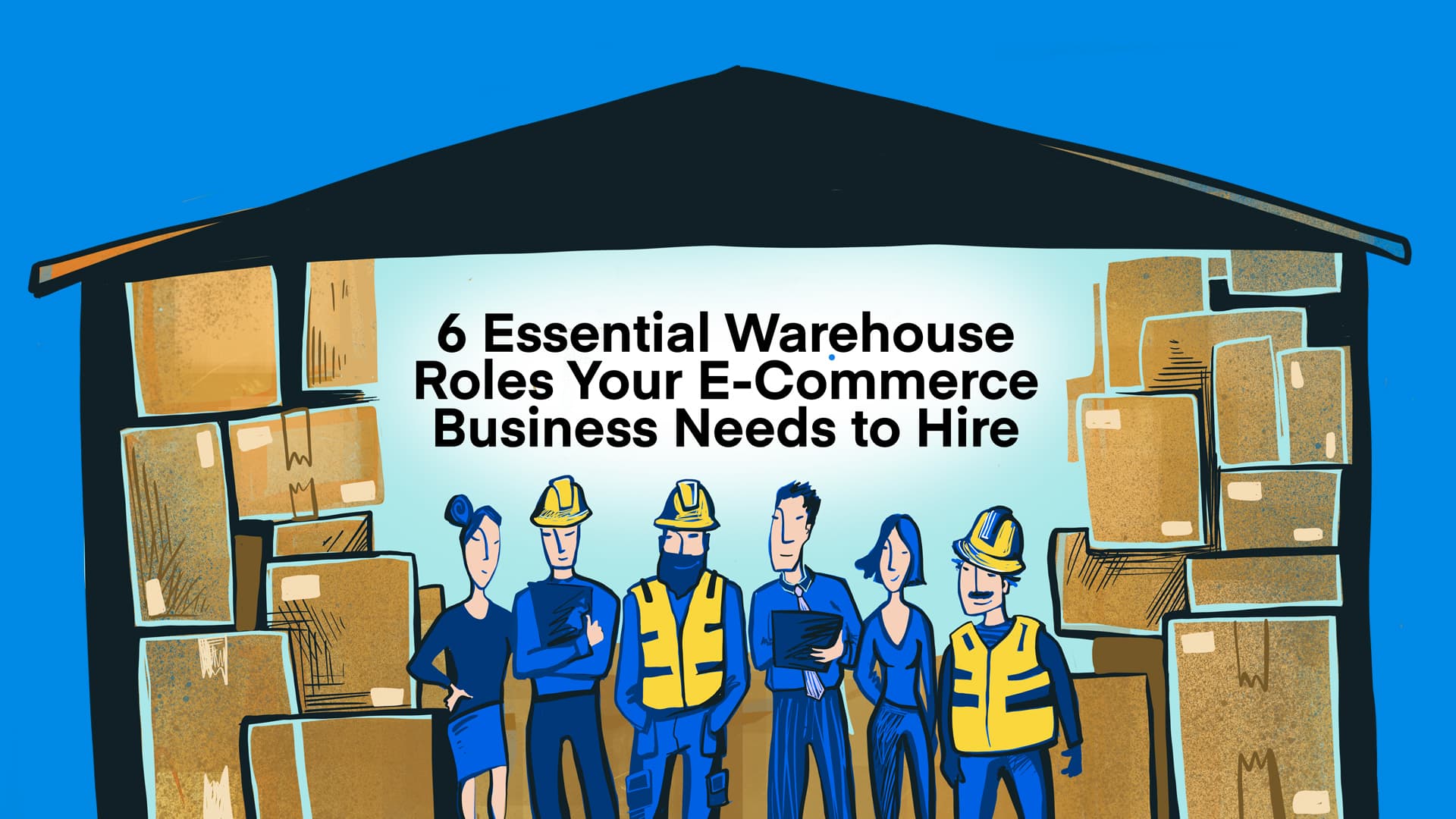 Running your own e-commerce warehouse is not only possible, but it is an excellent way to transition your third-party online sales into a growth-focused, omnichannel business.
Once you have calculated the right amount of space for your inventory needs and determined the optimal warehouse layout for your fulfillment needs, you need to start thinking about staffing. The effectiveness of your warehouse depends on hiring the right people in the right positions.
The Types of Warehouse Employees and Their Job Descriptions
Typically, there are 6 different types of roles you need to consider when hiring a warehouse team. It is worth noting that each of these positions may look and operate differently depending upon the type of e-commerce business you are running, the types of inventory you are handling, the size of your warehouse, and your order processing needs.
1. Warehouse Associates and Clerks
Associates and clerks will make up the majority of your warehouse workforce. These employees are responsible for many of the day-to-day tasks of an operating warehouse. Associates and clerks are usually hourly workers that can be employed in either full- or part-time capacities.
It is also common for the number of associates and clerks you employ to fluctuate alongside your order volume. For this reason, it is critical to have an efficient system for training new hires in these roles. Furthermore, using intuitive warehouse technology and tools can simplify the onboarding process even further.
Common responsibilities of warehouse associates and clerks include:
Organizing inventory
Picking, packing, and shipping orders
Assembling and disassembling kitted SKUs
Scanning and tracking inventory across the warehouse
Maintaining inventory records
Operating and maintaining relevant machinery
General warehouse upkeep and cleaning
While both associates and clerks share many of the same tasks, clerks tend to focus more on record-keeping responsibilities involving inventory, ordering, and order processing. In some warehouses, associates and clerks are interchangeable roles, whereas other warehouses opt to create more distinction between the two.
2. Warehouse Technicians
Warehouse technicians are essentially higher-level warehouse associates and clerks. These employees perform many associate-level tasks, but also receive additional training that enables them to perform critical tasks such as:
Operating machinery (like forklifts and conveyors)
Interacting with higher-order functions of your warehouse management system (WMS)
Receiving and signing for incoming orders
Assessing returned merchandise
Organizing stacks, shelves, and bins
Transitioning inventory back and forth between long-term and short-term storage
Facilitating order shipping
Hiring capable warehouse technicians can make a huge impact on your ability to minimize organizational issues and inventory problems. They are a vital conduit between your WMS and the day-to-day goings on of your warehouse floor.
3. Warehouse Specialists
Warehouse specialists operate as the first line of oversight for warehouse associates and clerks. While they may, from time to time, need to step in to support the floor staff, these employees are hired for their ability to coordinate and support teams. The larger the warehouse, the more likely the need to hire employees at this assistant-managerial level.
Beyond their supervisory roles, warehouse supervisors need to be excellent problem solvers. They need to have an understanding of large-scale organizational systems and a working knowledge of your WMS and its supporting technologies to be best able to direct associates, clerks, and technicians. The better they do their jobs, the more efficient your warehouse will run, and the easier it will be to onboard new team members.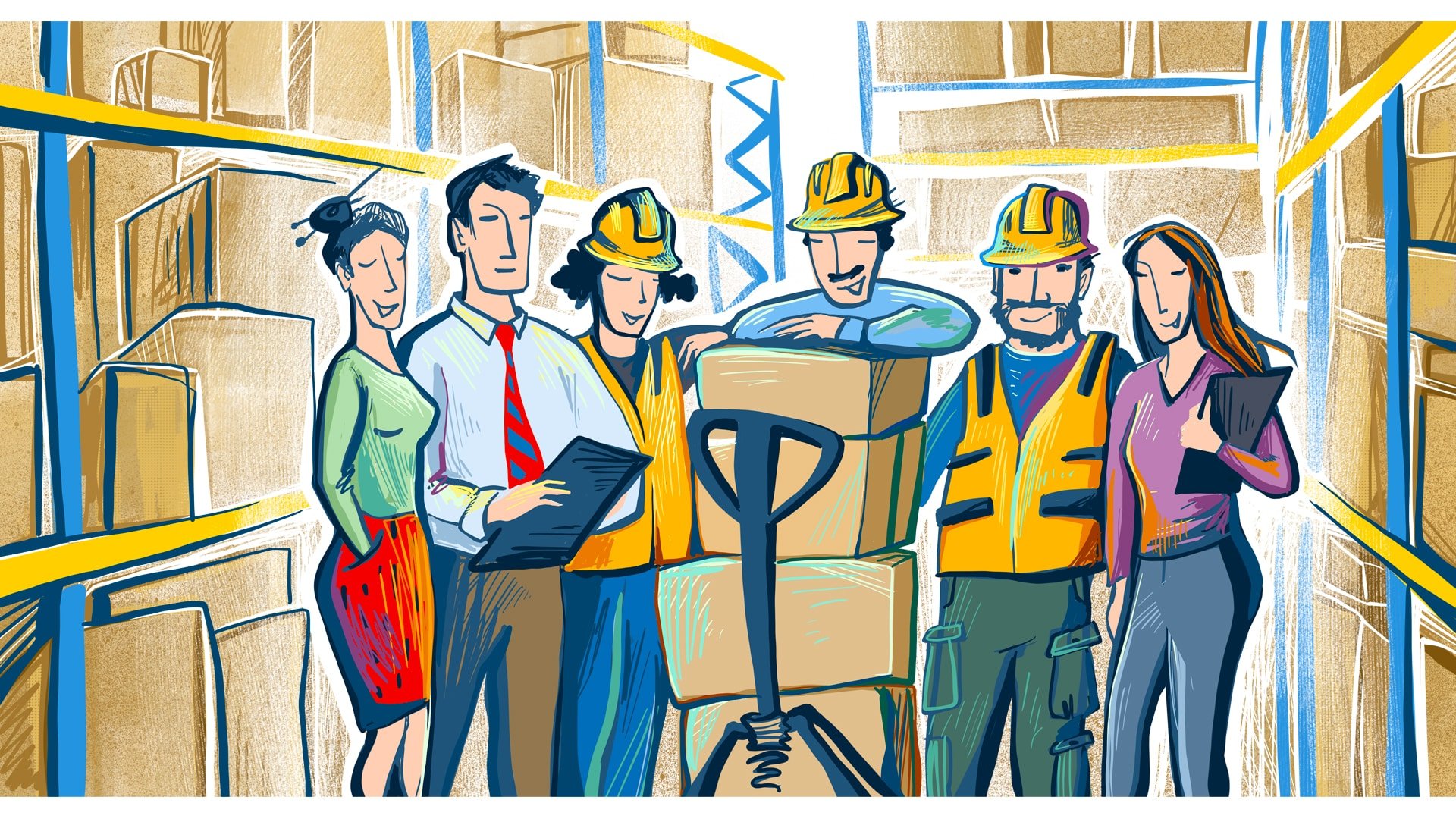 4. Warehouse Coordinators and Supervisors
Warehouse coordinators and supervisors operate above specialists and have additional authority over the warehouse operations. These employees are almost entirely removed from physical warehouse work and, instead, deal exclusively with oversight.
Of the two positions, warehouse coordinators are the planners. They manage inventory, record keeping, organizational protocols, and generally help design warehouse workflows that promote optimal productivity and safety. They are also the more likely of the two to be called upon to interact with third-parties regarding warehouse-related needs or issues.
Warehouse supervisors work to carry out the vision and planning of the warehouse coordinators and upper management. Ideally, they are a bridge between those handling the physical operations on the floor and those in charge of the larger-scale operations of your e-commerce business as a whole.
Most importantly, warehouse supervisors and coordinators must work in concert to ensure that a smooth, efficient logistics plan actually functions in practice.
5. Warehouse Foremen and Managers
These are the upper-management positions of your warehouse. Not only are they in charge of all of the aforementioned employees, but they are responsible for their hiring, promotion, and training. These top-level managers also set schedules for employees, warehouse maintenance, deliveries, and inventory audits.
Much of a foreman or manager's work will be coordinated through your e-commerce business's WMS platform. These professionals must be well versed in identifying, analyzing, and responding to trends in your fulfillment data. From there, they must create actionable plans and protocols to maximize your warehouse efficiency.
Larger warehouses may have multiple foremen and managers – each responsible for a specific team or element of your logistics plan. As your warehouse demands grow, so will your supervisory needs.
6. Warehouse Director of Operations
A warehouse director of operations is the organizational leader of your warehouse. They are responsible for everything coming in and out of your facility and everything in between – including, but not limited to:
Developing fulfillment strategies in accordance to industry best practices
Providing and facilitating customer-service on behalf of the warehouse
Ensuring compliance with health and safety regulations warehouse-wide
Establishing and assessing performance indicators for warehouse workers and third-party partners
This is the one warehouse staffing decision that you absolutely must get right – your ability to deliver for your customers and successfully scale your business depends on it. 
Ideal candidates for this position will possess a combination of management experience and familiarity with e-commerce and your particular inventory needs.
Synergize Your Warehouse Workforce with a Scalable, Intuitive Warehouse Management System (WMS)
The right staff is only as good as the tools you provide for them. The Sellercloud omnichannel growth platform provides you with everything you need to keep your warehouse team running smoothly.
It all starts with a unified platform that brings together all the different elements of your e-commerce business into a single, cloud-based interface. Our software makes it possible for multiple employees across multiple corporate and warehouse locations to remain on the same page with every aspect of every order and every piece of inventory. 
Our Skustack WMS uses patented inventory management technology to give your warehouse teams and logistics partners unparalleled access to your inventory data. Intuitive scanners and reporting features allow you to instantly locate each piece of inventory, conduct time-saving cycle counts, and facilitate optimal order-processing workflows.
Skublox is our affordable, scalable put-to-light, pack-to-light system that can further boost your warehouse workers' efficiency and accuracy. Customizable light walls can be assembled, configured, and re-configured to suit your fulfillment needs as they change and evolve.
Contact us directly for a free demo to see for yourself how the Sellercloud family of products can fuel a streamlined, synergized warehouse staff and help take your omnichannel e-commerce business to the next level.