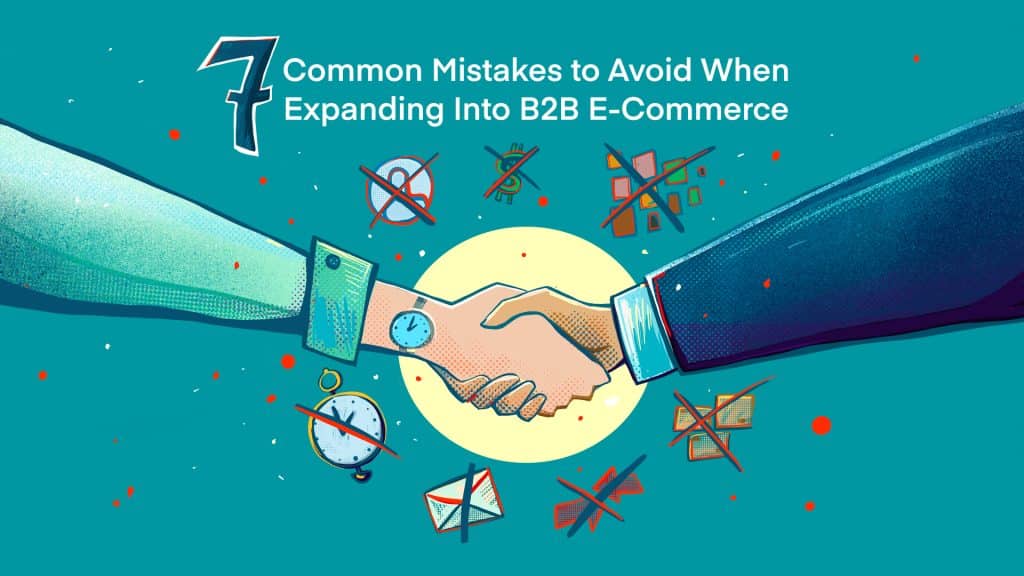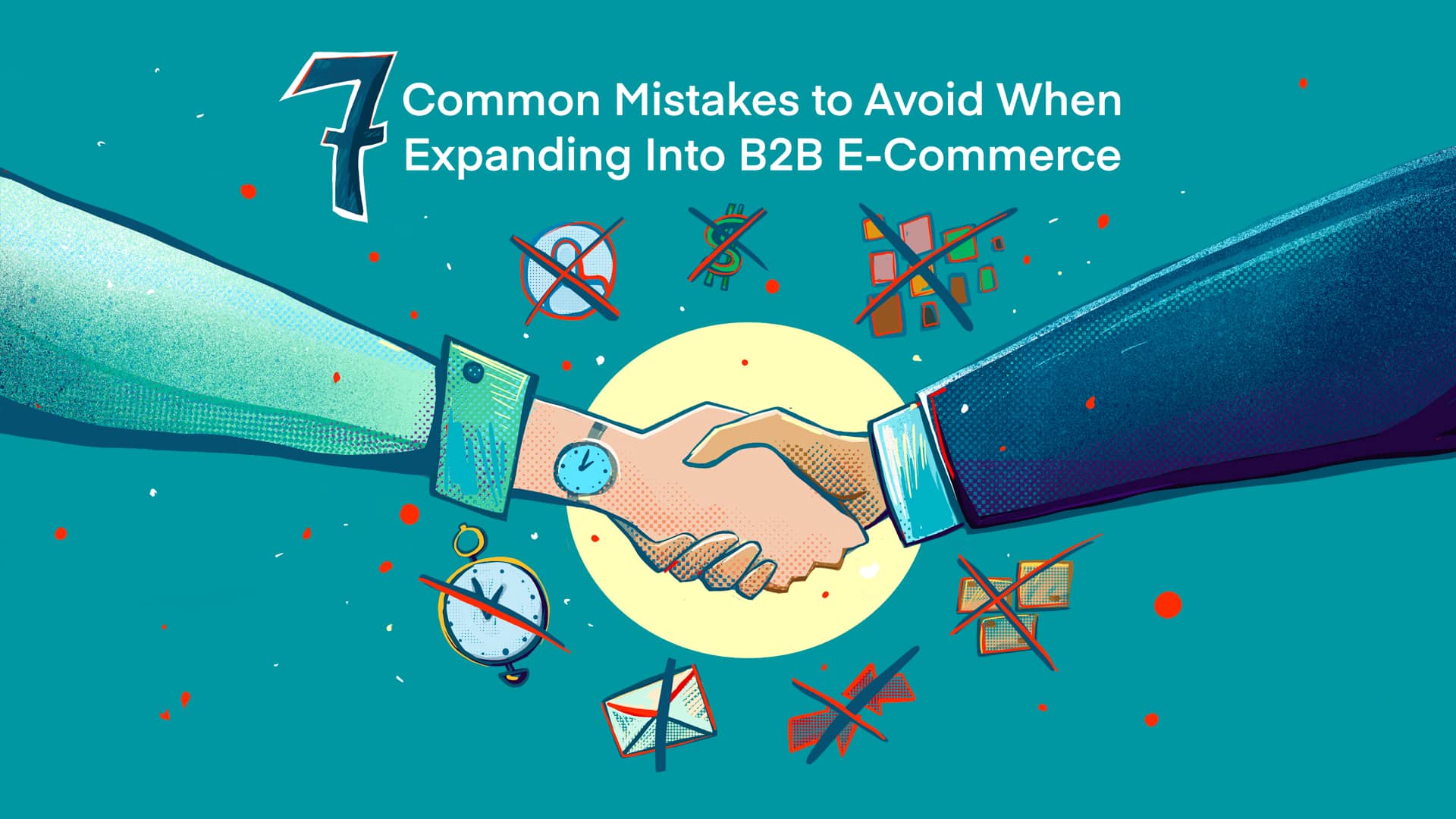 Business-to-business (B2B) e-commerce can be a lucrative way to grow your omnichannel sales beyond business-to-consumer (B2C) sales. However, the transition is more than just adding some new, business-level customers.
Entering the B2B arena requires different marketing approaches, order processing, and fulfillment workflows than what you are used to in B2C. That is not to say the crossover is impossible – far from it. You just need to be sure you have the right tools, partnerships, and logistical infrastructure to meet the unique demands of B2B e-commerce.
There are several common mistakes that can delay or even completely derail your ability to grow as a B2B seller:
Mistake #1: Assuming the "buyer" is a single person
When you sell to retail consumers, you are appealing to the wants and needs of independent buyers. B2C sales are about personal appeals and trying to connect with what customers are looking for in a product. These are individual sales made to individuals.
Conversely, the decision-making in a B2B purchase is typically spread across multiple players within a company. The individuals who will actually be using the products you are selling are unlikely to be the ones responsible for authorizing the purchase. In fact, many larger businesses have dedicated purchasing managers whose sole responsibility is handling B2B purchasing decisions.
So, while end-user input may factor into what and how much a business purchases from you, ultimately, a B2B buying decision will usually have to pass through multiple stages of oversight and approval before a sale is made.
All of this adds up to the fact that a B2B transaction usually involves a much longer and much more complicated decision-making process than a B2C one. There is almost always more than one individual involved. Your e-commerce business needs to recognize this distinction and adapt its practices and expectations accordingly.
Mistake #2: Thinking your B2C marketing will attract B2B customers
In a B2C sale, the purchase decision is a reflection of the customer's appreciation for your product's usefulness, style, and fit for their lifestyle – in some cases, a reflection of the customer themselves. B2C marketing is all about matching and tailoring your merchandise to your target audiences, so they can make the necessary personal connections that lead to clicking "check out." Odds are, if you are already experiencing success as an omnichannel e-commerce seller, you have already invested a lot of time and energy crafting your B2C marketing strategies.
Compared to B2C e-commerce, B2B purchases are complex in different ways. First of all, B2B customers and corporate purchase managers are spending company funds, not their own money. This means that B2B purchase decisions are less about style and personal connection but, instead, tend to focus more on practical factors such as cost, volume, fulfillment time, product efficiency, and safety.
When marketing to a business, the focus needs to be on your ability to deliver value, dependability, and professionalism. While things like branding and style still matter, the ability to process large-quantity orders in a timely, affordable, and reliable manner matter more. Your marketing messaging must drive these points home.
B2B purchasers are regularly faced with the challenge of making expensive decisions up against a deadline. Direct, fact-based B2B marketing materials help buyers quickly identify the value proposition you are offering. You need to be sure that your print and digital marketing materials are able to educate prospective B2B customers about your product.
While a B2C marketing campaign might play up the "wow" or "cool" factor of a product and your brand, realize that B2B customers are looking for information that allows them to accurately assess your product and understand its value before placing a potentially large order.
Mistake #3: Failing to prepare your inventory for B2B purchase quantities
As mentioned, B2B orders are usually high-quantity orders. Before making any push into the B2B e-commerce space, you need to be sure that you are able to secure sufficient inventory to meet the demand of business-sized customers. If a large order comes in tomorrow, do you have the supply chain and logistical support to fulfill it? Will it hamper your existing B2C sales flow?
B2B purchases are primarily made to support the productivity of a business. As a result, you need to ensure your warehousing, supply chain logistics, and stock levels are up to the demands of B2B purchasing demands. Sellercloud's omnichannel e-commerce inventory features can not only help you assess and track these aspects of your business, but they can also help you identify your ongoing inventory needs and potential stock challenges as the B2B side of your business grows.
Another thing to remember is that B2B e-commerce can involve broad ranges of merchandise including everything from technical equipment to office supplies, spare parts to cleaning products. The ability to fulfill orders that satisfy multiple buying needs can be a big selling point to purchase managers operating on budgets and deadlines. Pay attention to your B2B client needs and consider them as you add new products to your catalog.
Mistake #4: Expecting immediate payment at point of sale
This can be a surprising pain point when moving from B2C to B2B e-commerce sales. While payouts from third-party B2C websites are rarely immediate, they are typically predictable and scheduled. While you may not have the cash from your sale on hand before you ship, you can see that it exists in your account, waiting for the next disbursement.
On the other hand, B2B orders are almost always invoiced purchases. This means that a business is not required to pay up front for the merchandise they order. When a B2B order arrives, not only do you begin fulfilling the order, you also issue an invoice that outlines what is owed and when payment is due (typically 30 days from the date the invoice was issued). If an invoice goes unpaid, it often falls to the seller to pressure the customer to make good on their debts.
If you're not careful, invoicing can create serious cash flow issues – especially in the early days of your foray into B2B sales. Your company needs to be solvent enough to ship out large volumes of inventory without receiving immediate payment. This longer sales cycle is one of the biggest challenges of the transition from B2C to B2B e-commerce.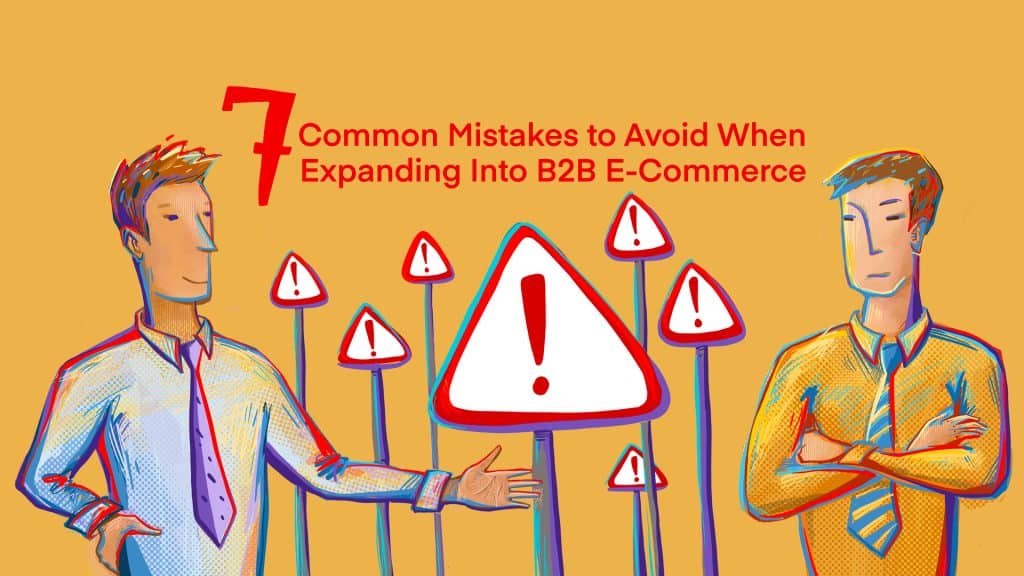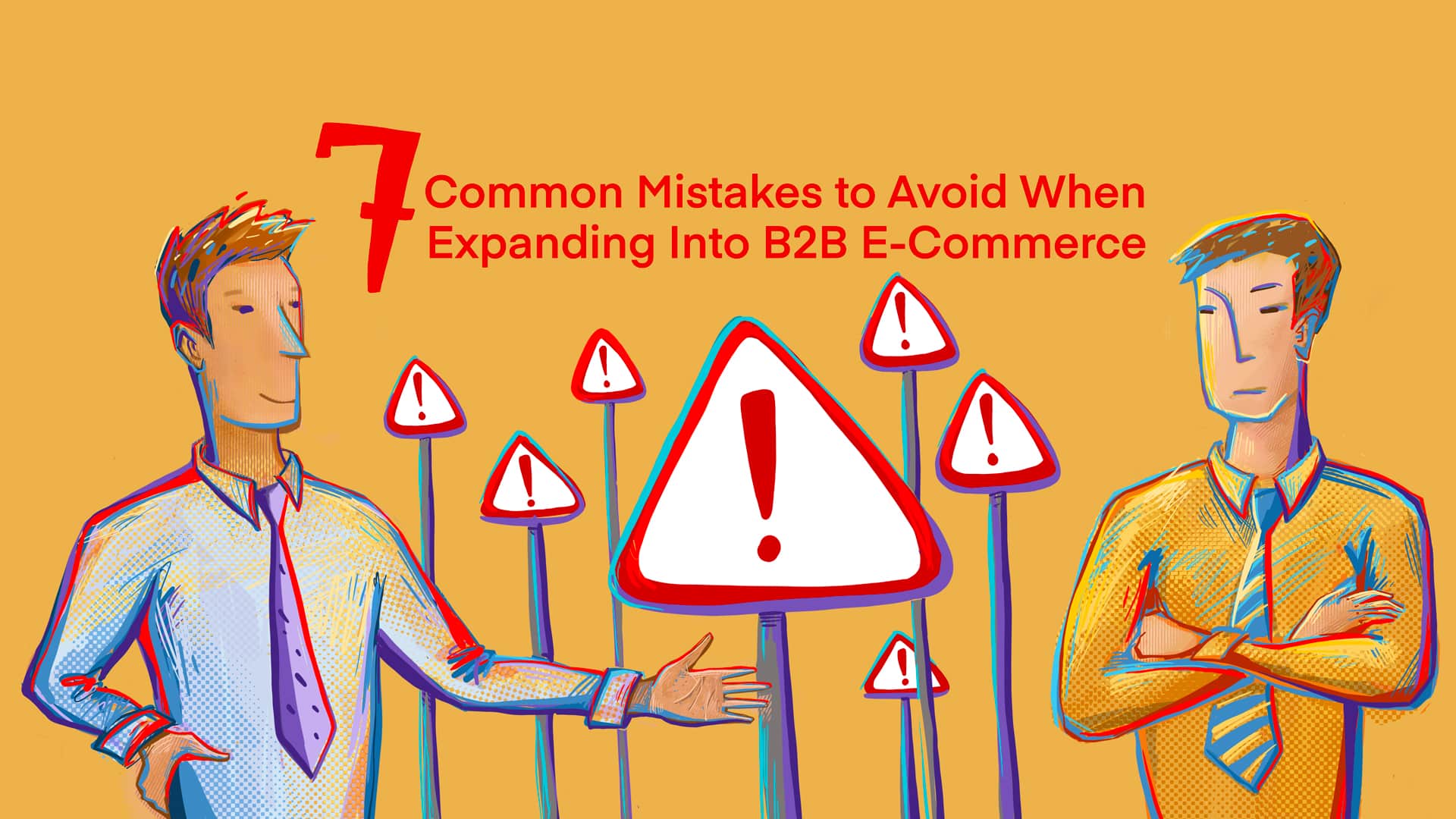 Mistake #5: Overcomplicating the reordering process
One of the most attractive elements of B2B e-commerce is the potential for customer loyalty. Not only that, but satisfied B2B customers tend to reorder at significantly higher volumes than B2C.
To help maximize the potential for this type of repeat business, you need to make the reordering process as simple as possible. Some key ways to do this include:
Provide reordering options directly from the customer's account history page
Create an order-by-SKU option to allow purchase managers to quickly input frequent purchases and check out
Offer subscription options for regular, scheduled orders
No matter how streamlined the reordering process is, consider also having members of your sales and/or customer service team specifically trained in the process and at the ready to handle any hiccups.
Mistake #6: Neglecting the relationship side of B2B
A successful B2B e-commerce brand will engage in both short- and long-term relationships with its business customers. Obviously, cultivating a stable of long-term, repeat customers (especially those ordering volume) is the ultimate goal.
While a well-designed website, education-focused marketing, and a simple ordering and reordering process will go a long way to attracting B2B customers, loyalty is cultivated on a more personal level.
The thing to remember is that a human connection does not mean constant, high-intensity sales pressure. Businesses are looking to establish relationships with suppliers that offer more than just great deals. Sure, sending special offer emails when your records show a re-order date is approaching or offering demos of new products can lead to sales, but these are purely transactional.
More effective ways to show your business is willing to go the extra mile for your B2B customers include:
Providing Top-Notch Customer Service Options – Entering into a B2B relationship means that you need to be confident in your ability to provide on-demand customer support to your business clients. You must be prepared to offer support and instructional guidance for your products well after an order has been fulfilled.
Self-service customer service options on your website are a must, but they're not enough. Sometimes your customers will want or need to talk to a real person.
Whether you assign specific individuals as the point of contact for each B2B account or rely on a customer service team, your ability to support B2B customers effectively and respectfully can make or break your prospects for future sales. However you choose to handle person-to-person customer service, organization and efficiency are key.
We at Sellercloud know this first-hand from our own B2B relationships. That is, in part, why we created Memaila – Sellercloud's team-based collaboration and messaging tool. Among its many productivity features, Memaila can help ensure that every customer message and email gets directed to the right members on your team and answered quickly. Every customer gets the attention they need and deserve.
Sharing Industry Insights – Your email marketing game needs to be more than just promo codes and order reminders. When your company takes the time to produce white papers and other educational materials, be sure to share them with relevant stakeholders on your mailing lists. These should not be sales communications, but rather reflect an understanding of who your customers are and what they need.
If done correctly, this type of communication fosters a degree of "we're in this together" between your businesses, and builds value for your company as a serious B2B e-commerce brand.
Supporting Ongoing Professional Development – Connecting clients with relevant educational and networking experiences can be a strong opportunity to foster both professional growth and personal relationships. Hosting events dedicated to industry best practices or simply inviting a client to join you to attend a pertinent industry event can be a strong way to show a commitment to helping partners succeed.
Mistake #7: Relying on patchwork software solutions to manage your B2B and B2C e-commerce needs
Often, when expanding your e-commerce business into a new direction, the temptation is to add a new tool or software product to help simplify the process. Over time, this can lead to an overcomplicated spider web of services and programs that must be constantly maintained and updated. Making matters worse, all it takes is a single software change or new integration to throw the whole delicate balance out of whack.
Instead, replacing your patchwork of e-commerce software solutions with a unified platform can make growing your business much more intuitive and hassle-free.
Even though expanding your e-commerce business into B2B comes with its own challenges independent of your existing B2C workflows, the Sellercloud omnichannel e-commerce growth platform allows you to seamlessly stay on top of both your B2C and B2B sales from a single, convenient interface. Our cloud-based platform allows you to track and manage every aspect of every order, end-to-end. With over 120 integrations spanning marketplaces, shopping carts, payment platforms, shipping services, logistics providers, and more, Sellercloud empowers you to get the most out of your existing and future SaaS partnerships.
Contact us directly for a free demo to see for yourself how Sellercloud's omnichannel tools, features, and integrations can help your B2C and B2B e-commerce goals become a reality.