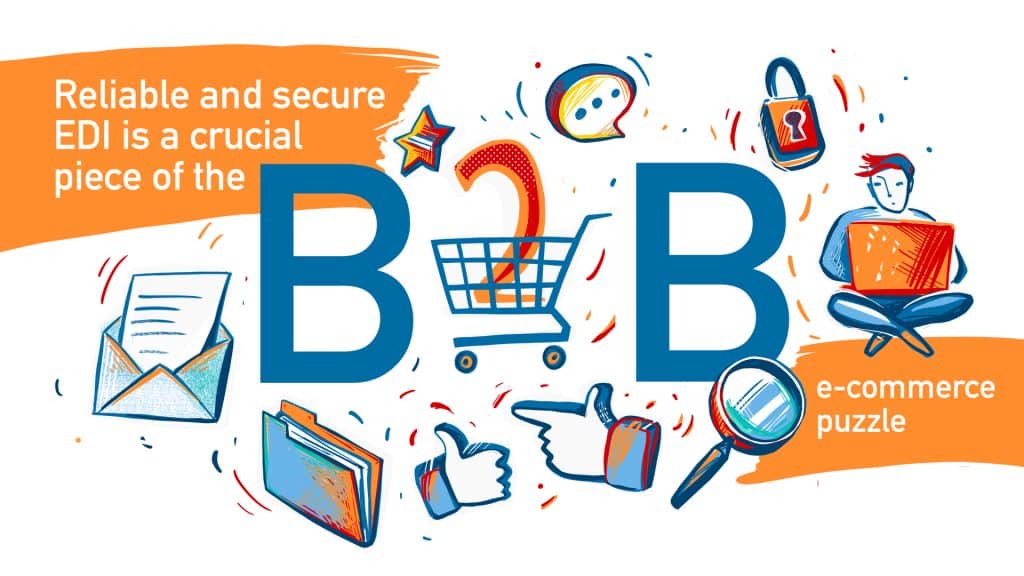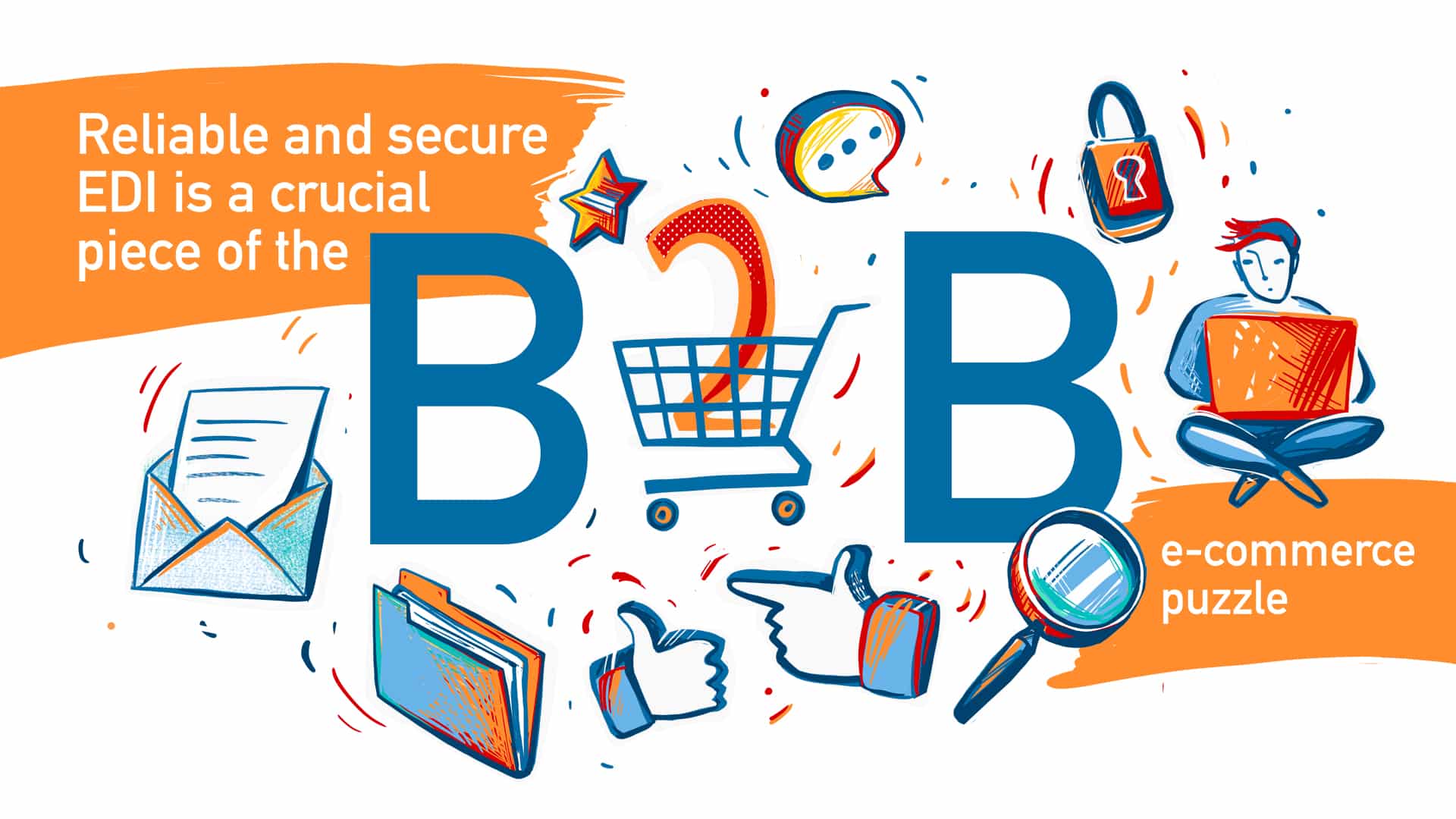 Business-to-business (B2B) e-commerce presents online sellers with unique opportunities for brand growth that go beyond typical marketplace and direct-to-consumer sales. Whether it's selling directly to wholesalers, manufacturers, distributors, or other corporations, investing in the B2B side of your brand can generate higher order volumes, broader exposure, greater merchandise throughout, and increased odds for recurring orders.
In order to manage all of this volume, you need a reliable omnichannel e-commerce platform that is designed to scale with both your consumer and B2B sales. Within that platform, you need access to certain transactional tools that allow you to interface reliably and securely with marketplaces, logistics providers, and customers.
One feature you cannot live without is support for electronic data interchanges (EDI).
The Role of EDI in B2B E-Commerce 
EDI allows businesses to safely and securely transmit documents and structured data between their respective computer systems. These transmissions can be automated or initiated manually. In either case, EDI allows your business to complete inter-organizational transactions quickly and efficiently.
Common uses for EDI in B2B E-Commerce include sharing:
Purchase orders
Invoices 
Shipping information
Payment details
Banking 
Inventory data
Sensitive trade secrets
Without an EDI, these types of documents and information typically need to be sent piecemeal and across less-secure channels. However, an EDI improves your communication speed while keeping your (and your partners') data safe.
As such, EDI is a strong choice for B2B sales as well as for establishing communication pathways between your business and your own critical vendors and service providers.
It is worth noting that setting up an EDI takes some effort up front. The process requires companies on each end to work together to establish a pipeline for generating, transmitting, and interpreting the relevant data and document types that the EDI will ultimately be used for. This can take several trial runs to perfect; however, once the line of communication is in place, the connection is ready to streamline and simplify your B2B transactions.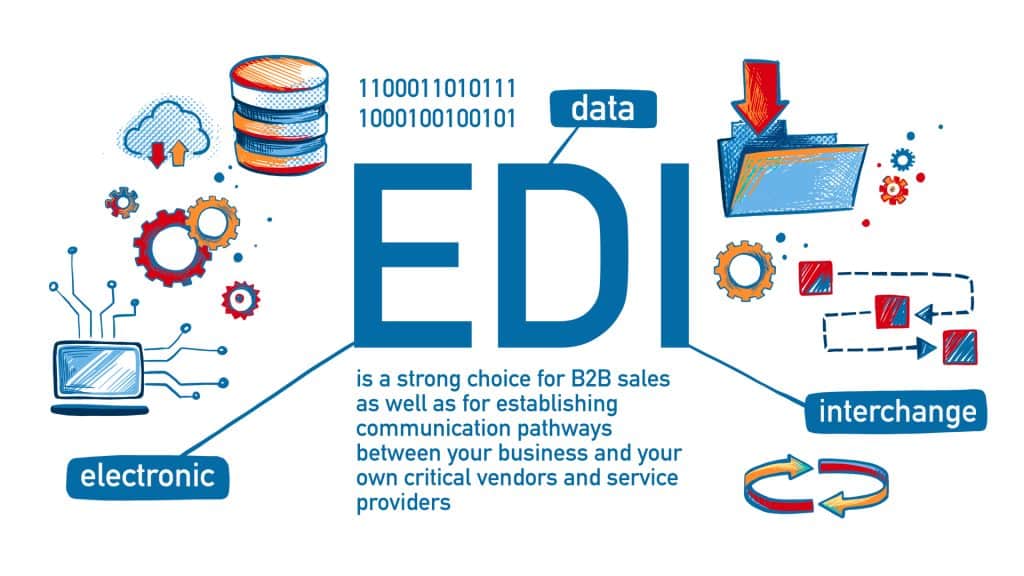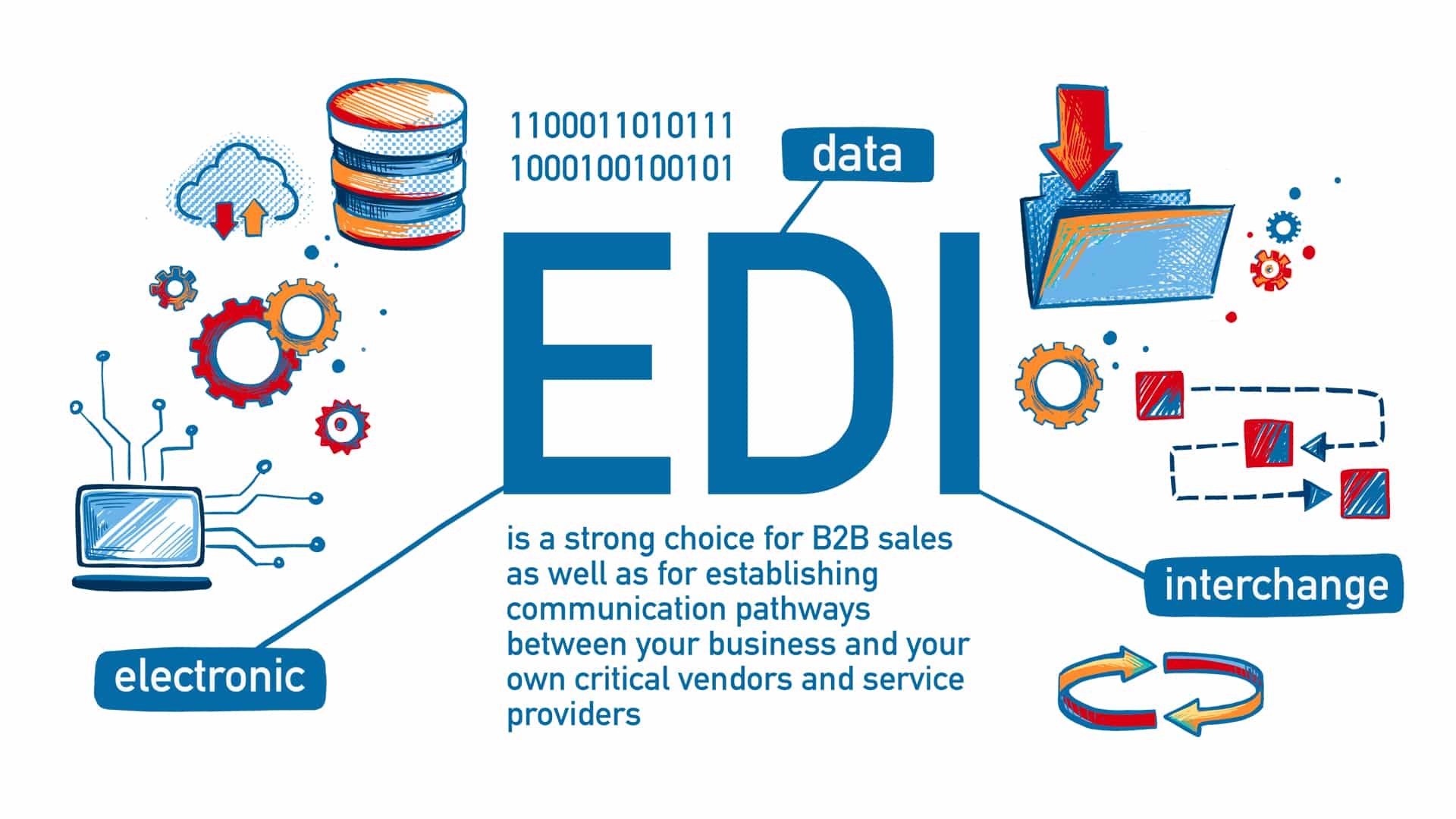 The Benefits of EDI to Growing Your B2B E-Commerce Brand
A properly configured EDI opens lines of communication between your e-commerce business and other businesses. While putting these connections in place can sometimes be complicated, there are significant short- and long-term payoffs to merit the effort:
Improved efficiency – The prime benefit of an EDI is that it streamlines B2B communication. Unlike retail business to consumer (B2C) sales, most business transactions require multiple communications and document handoffs back and forth before they are completed. An EDI not only speeds up these exchanges, but it can eliminate errors and communication mishaps that could otherwise lead to delays or costly order-processing issues.
Cost savings – The ability to send and receive automated EDI communications requires less labor and physical paperwork compared to the cost of B2B e-commerce without an established EDI. This reduces the overall cost of completing B2B transactions and helps boost your bottom line. Not only that, eliminating the amount of attention and correspondence each exchange requires frees up your team to focus on other areas of your business – like expanding your customer base and growing your brand.
Strengthened data security – The fact that EDI allows for transactions to be completed with fewer communications means that there is less opportunity for secure information to fall into the wrong hands. Furthermore, properly-configured EDI connections offer improved security over more vulnerable alternatives like mail, email, or fax.
Stronger B2B partnerships – The return on investment (ROI) for an EDI can be significant. While there is work to be done on the front end to put an EDI in place, it creates a direct link between you and your B2B clients that helps establish an optimized and reliable business relationship. When it comes to B2B sales, this can give you a leg up over competitors as a preferred vendor. For your other B2B relationships, it makes it easier to request and receive the support you need from your third-party partners.
Scalability – Perhaps the most underappreciated value of an EDI is that it is infinitely scalable. As your business relationships grow with a B2B client or vendor, EDIs can handle increases in volume without issue.
Sellercloud Gives You the Technology and Power to Make B2B E-Commerce Happen
Whether it's through EDI, API, or our over 120 integrations with top-rated e-commerce partners, Sellercloud helps you to communicate quickly and securely with your most important service providers – all from one convenient interface.
This makes our family of products the perfect compliment to your growing e-commerce brand. Whether you are looking to expand into B2B sales for the first time, adding to your established B2B-customer base, or simply looking to add improved security and efficiency to your existing marketplace and vendor workflows, you can be confident that you have the tools and technology to do so.
Contact us directly for a free demo and see for yourself how you can take your e-commerce workflows to the next level with Sellercloud's powerful, omnichannel growth platform.