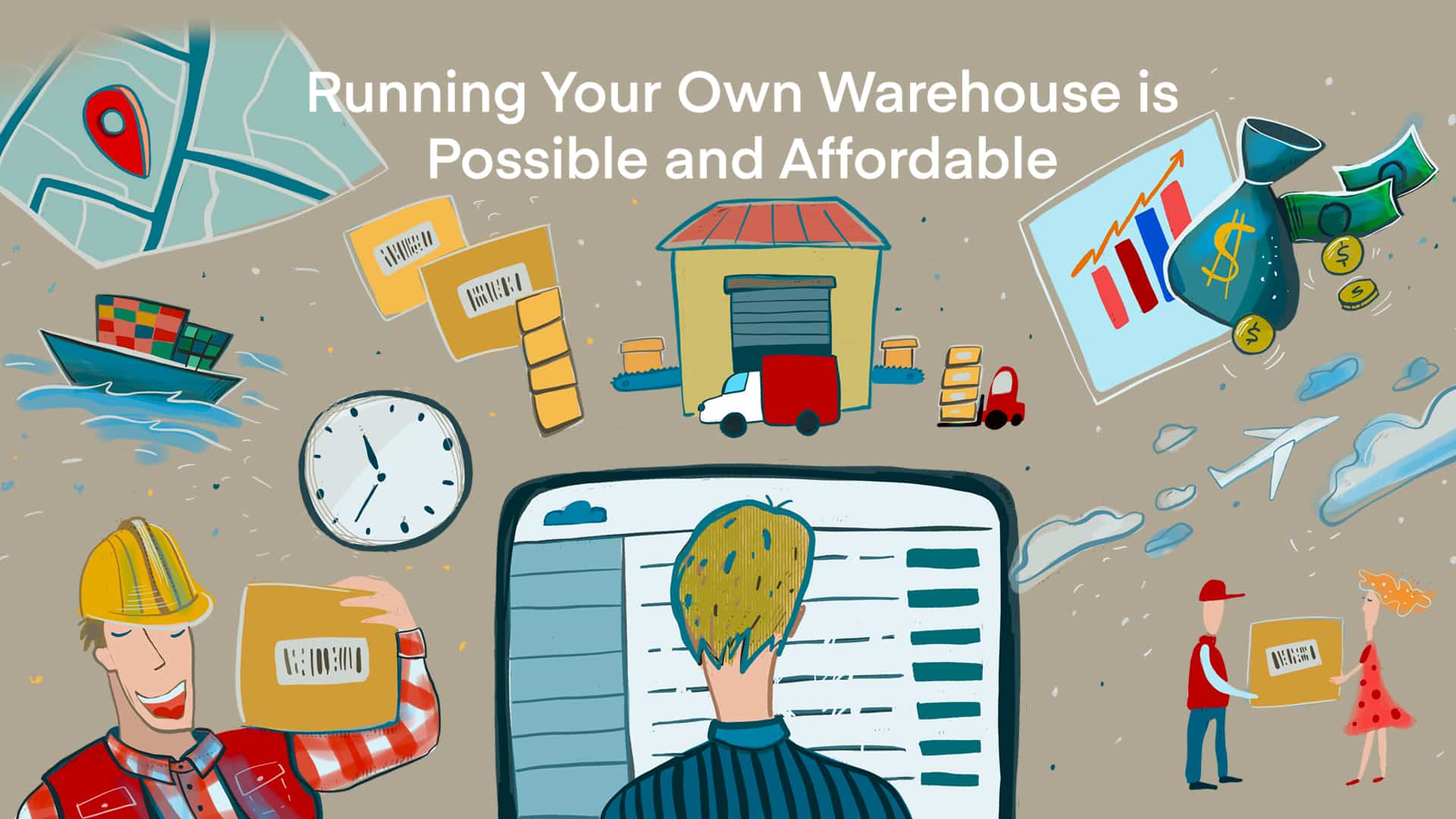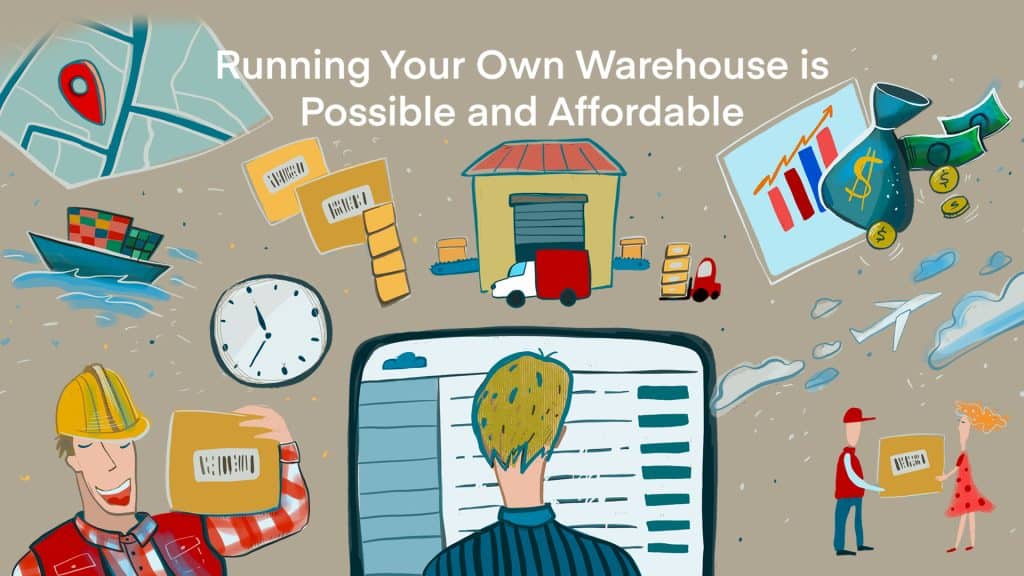 Many ecommerce businesses start out small. Whether it's a small business run from home or a brick-and-mortar store looking to open up to an online customer base, there comes a point where the process of storing inventory and fulfilling orders outgrows the back room. As your orders increase, so do the work hours required to get out the door and the amount of inventory you must keep on-hand to do so. It's time to scale.
For many brands, this can lead to a search for outside help. Marketplace-based third-party logistics services like Fulfillment by Amazon (FBA) or one of our other integrated omnichannel 3PL solutions can take some of the burden of storing and shipping orders off of your hands. Increasingly, logistics services are touting 4PL and 5PL models that take even more of the responsibilities of acquiring and maintaining fulfillment partnerships off of sellers' plates.
However, while turning to a third-party can be a quick fix to help you keep up, it cuts into the control you have over your brand as well as the profits you should be reaping with each sale. The more reliant you become on outside partners for your logistical success, the less benefit you will reap as your ecommerce business grows and scales.
How the Differences Between 1PL, 2PL, 3PL, 4PL, and 5PL Impact Your Bottom Line
Ecommerce supply chains and order processing routines can look very different depending upon the degree to which companies keep their logistics in-house and how much of the storage and movement of products is outsourced. Generally, the fewer partners and services involved, the greater the potential for profitability. Ultimately, there is a balance that must be struck between the costs and time associated with remaining independent and the potential for savings that can come with outside service partners.
1PL – first-party logistics handling is the model of independence. In a 1PL model, the business is solely responsible for its own warehousing, order processing, and shipping. It requires storage space, transportation vehicles, and all the employees that go with them. Given the far geographic reach of most modern ecommerce businesses, 1PL is pretty rare. It is a challenge to establish and maintain timely and cost-effective product distribution alone.
2PL – second-party logistics models are a sweet-spot for many e-commerce brands. The business is largely responsible for warehousing their own products, but relies on shipping partners to handle distribution – both internally and when orders are shipped out to customers. Sometimes outsourced warehousing is considered part of a 2PL service – particularly when the storage happens as part of the shipping process.
With strong inventory management (IMS) and warehouse management systems (WMS) like Sellercloud and its family of supporting products, 2PL can be the ideal way for e-commerce businesses to maintain as much profitability, scalability, and independent brand control as possible (more on this later).
3PL – third-party logistics is a widely used model for outsourcing e-commerce order fulfillment. In addition to handling product and supply chain shipments, 3PL partners will take on the warehouse-level responsibilities of picking, packing, and shipping orders on a business's behalf. Sellers must still be sure to keep their 3PL partners supplied with inventory to be able to do so.
This is one area where Sellercloud's omnichannel inventory management features can be especially helpful. The combination of inventory tracking, low stock alerts, and predictive purchasing can keep your business running smoothly even if you are working with a 3PL provider. What's more, Sellercloud's profit and loss (P&L) calculations can include 3PL service costs, so you can keep on top of how effectively your 3PL partnerships are paying off.
Simply put, 3PLs are attractive options for businesses looking to scale without having to cross the threshold of full-blown warehouse management.
4PL – fourth-party logistics take things a step further beyond a simple 3PL arrangement. Rather than managing the physical movement of a business's products, they outsource the outsourcing. 4PL services select and contract a 3PL partner on your behalf. The pitch is that they can use their expertise and business partnerships to find the ideal service to save your e-commerce business money.
However, this concierge service comes at a cost that can quickly eat into those savings. Moreover, contracting a 4PL partner means handing over a significant part of your e-commerce operations to outside companies. Should mistakes happen and customer complaints arise, third-party marketplaces and sales channels aren't going to care that it was the company selected by your 4PL that dropped the ball; the complaints will still be tied to your brand. As such, venturing into the worlds of 4PL and beyond becomes a significantly riskier (and costlier) proposition.
5PL – fifth-party logistics services select and contract multiple 3PL, shipping, and other logistical support partners on your behalf. 5PL providers aggregate multiple 3PL services for your company (and their other clients) and use the sheer volume of their partnerships to try and drive down shipping and storage costs. Again, these savings of both energy and cost are attractive, but they come with a price tag and an even further relinquishment of control over your e-commerce brand.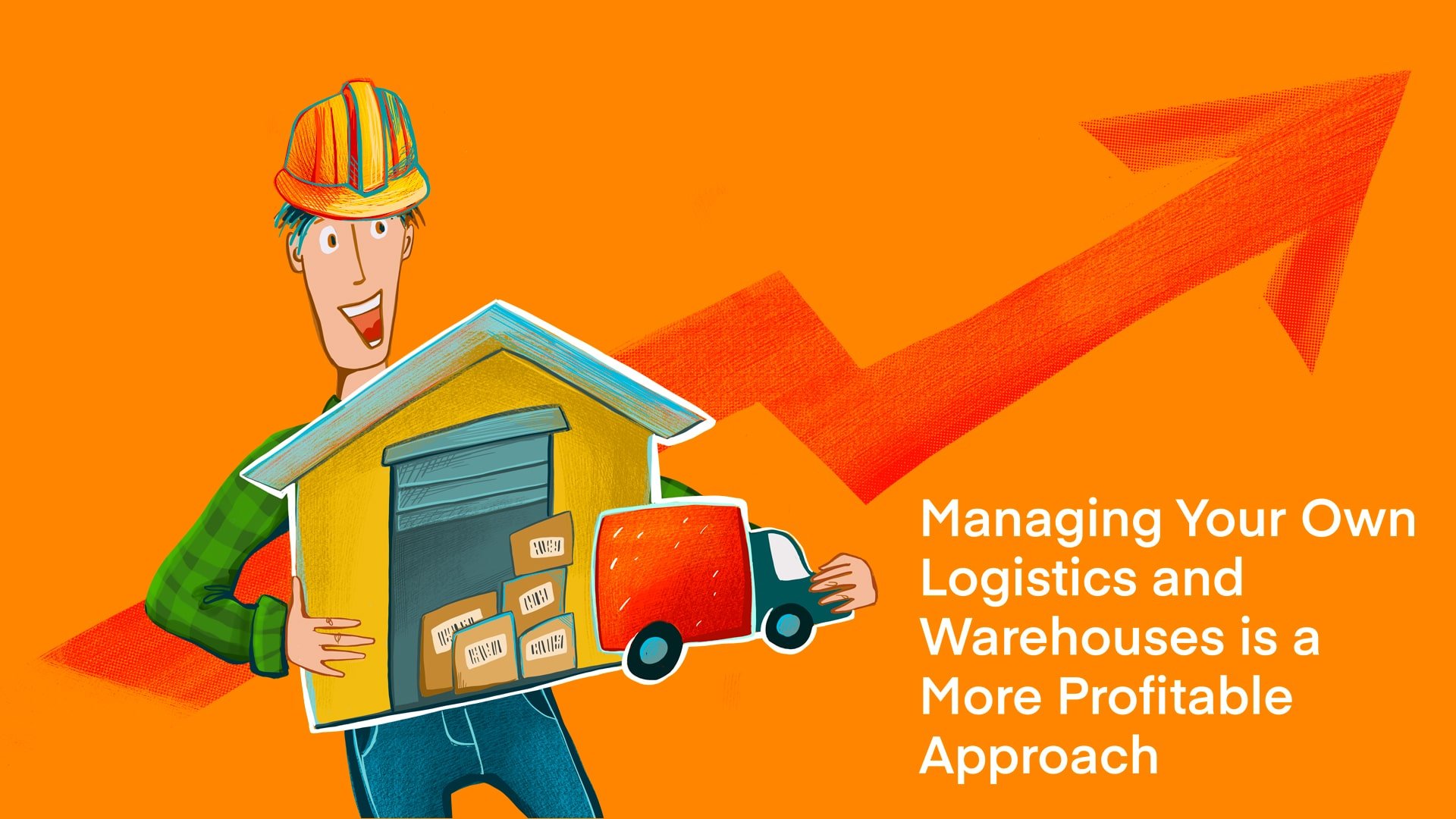 Managing Your Own Logistics and Warehouses is a More Profitable Approach
For a growing e-commerce business, a 2PL approach is likely the ideal. You have significant authority and oversight over your products and your fulfillment workflows, but also get the benefit of partnering with established, reliable shipping infrastructure. 
Yet, the sticking point for many growing e-commerce businesses is warehousing. On the surface, running a warehouse can seem overly complicated; but when your ecommerce business grows to the point where your inventory and order fulfillment needs outpace your ability to keep up, a warehousing solution becomes an unavoidable necessity. In these pivotal moments, many brands choose to sign on with a 3PL.
Unfortunately, this reliance on 3PL partners can become increasingly costly. That said, for many ecommerce sellers, the prospect of moving away from a trusted third-party logistics service and taking control (and responsibility) for their own fulfillment logistics can feel risky. The comfort and security of outsourcing distribution workflows is a tough thing to walk away from.
That's where Sellercloud comes in. We have made it our goal to make it possible for e-commerce businesses of any type or size to take the reins of their logistics. The Sellercloud omnichannel inventory management platform makes 2PL fulfillment affordable, intuitive, and scalable. Every aspect of managing and moving your inventory can be coordinated and tracked through a unified, cloud-based interface, keeping every member of your team on the same page – even across multiple offices and warehouses. We offer integrations with over a dozen domestic and international shipping providers, as well as over 120 other top-name e-commerce partners.
With Skustack, our omnichannel e-commerce WMS platform, your warehouse can take advantage of patented inventory scanning and tracking technology to ensure that every item in your inventory can be accounted for, located, shipped, and tracked with precision. Even as you scale across multiple locations, warehouses, and shipping partners, you remain in total control of your stock.
Skublox, our scalable pick- and pack-to-light warehouse management system, can help you to create user-friendly and error-proof warehouse fulfillment workflows. No matter how many or how few products you move, you can have the confidence that every customer order is being processed and packed quickly and correctly. No more worrying about incomplete or incorrect orders.
Ready to take the next step in controlling the growth and profitability of your e-commerce business? Contact us directly for a free demo.