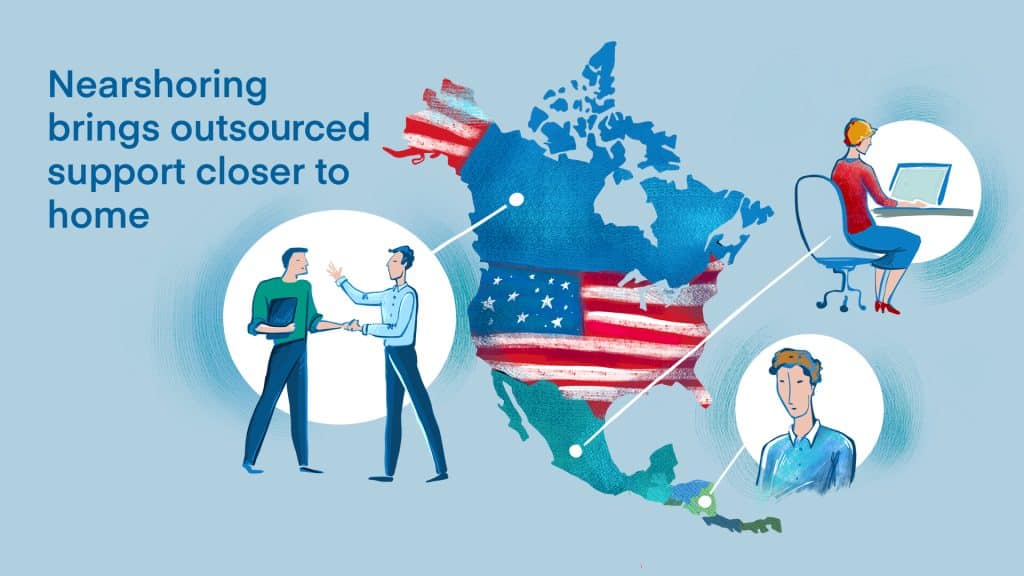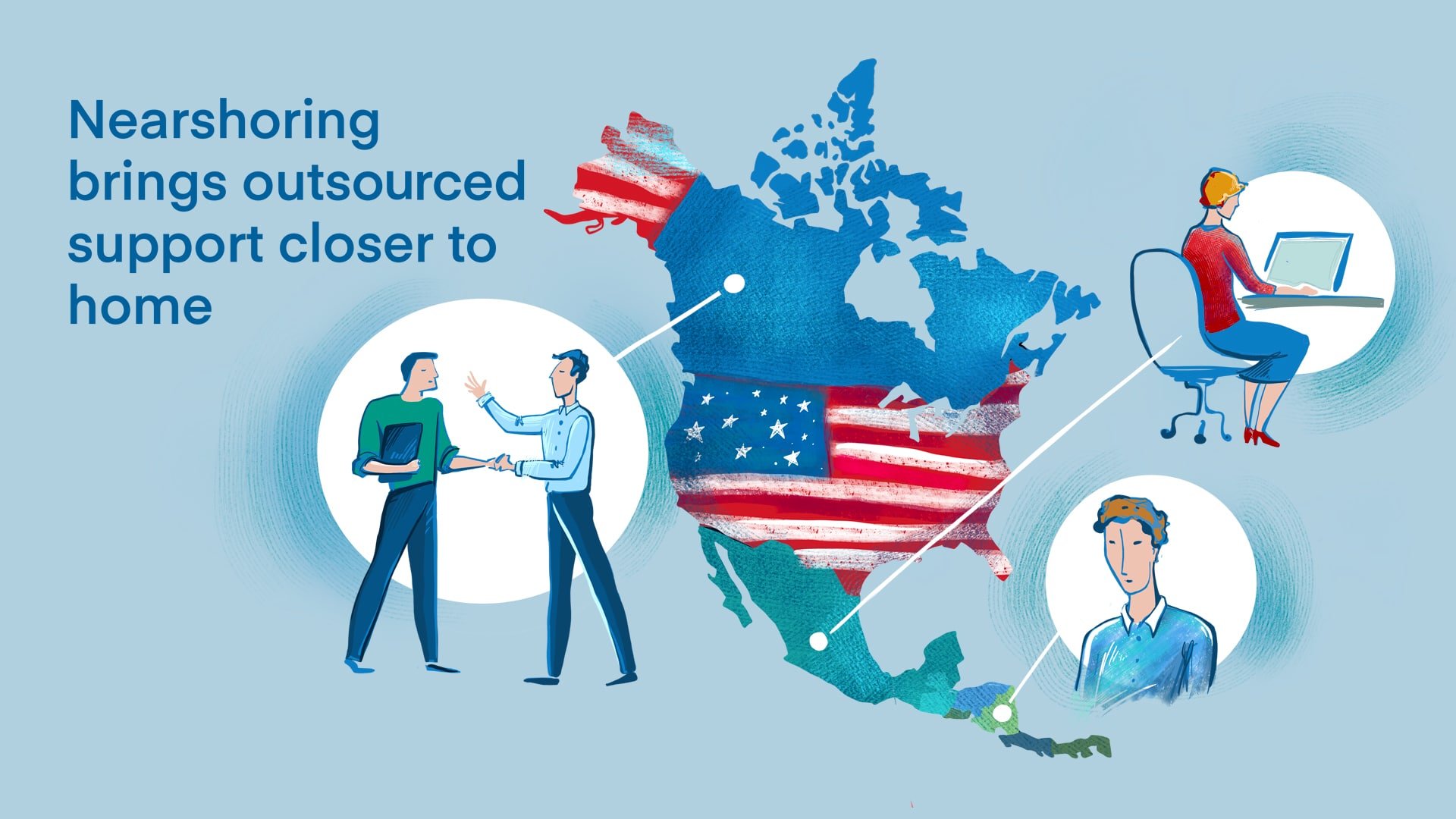 Relocating retail operations overseas has traditionally been a strong option for retailers looking to reduce costs. However, modern supply chain and logistics realities have forced many omnichannel e-commerce brands to reckon with the reliability and efficiency of their outsourcing. 
In many cases, COVID-19 disruptions to manufacturing, the supply chain, and distribution took a major cut out of the value of operating abroad. Goods were not being produced fast enough, inventory was not arriving on time, and – despite surging demand – supply simply wasn't always available to keep up.
While outsourcing is not going away, e-commerce sellers can make changes that boost the reliability and efficiency of their third-party partnerships through strategic reshoring and nearshoring decisions.
Nearshoring Brings Outsourced Support Closer to Home
A significant number of the world's most popular destinations for outsourced manufacturing and labor are located a half a world away from your state-side e-commerce business headquarters. Setting aside the pandemic-induced delays and shutdowns of the past few years, China and other east-Asian manufacturing centers create other unavoidable challenges; these include time-zone differences, oversight challenges, and long shipping times.
As the name implies, nearshoring involves relocating your outsourced partnerships closer to your business's home region. For American retailers, this means opting to relocate operations to a continental neighbor like Mexico or Canada or even nearby Latin American destinations like Brazil, Peru, or Ecuador. On paper, these locations may not always appear to be the most cost-effective when compared with options farther away, but when you factor in all the positives associated with nearshoring, their value may actually turn out to be greater than options farther abroad.
Some of the most significant benefits include:
Shortening the supply-chain with faster shipping times and lower freight costs – The closer your products are to where you need them, the better. This typically means quicker inventory replenishment (particularly important if you are operating on a just-in-time supply chain model) and fewer geographic barriers between you and your products.

Not only that, reducing fulfillment time and shipping costs are high on the list of what shoppers are looking for when deciding to buy online. The closer your fulfillment operation is to the customer's front door, the more appealing shipping options you can offer.
Improving your international e-commerce reach – For e-commerce sellers with international customer bases (or those looking to expand into new international markets), nearshoring can also mean outsourcing some of your warehousing and fulfillment operations closer to where your overseas orders originate. Doing so provides unique benefits that boost your competitiveness in foreign regions and can potentially help cut down on the red tape inherent to international retail.
Minimizing (or eliminating) time differences – Nearshoring your outsourcing can simplify communication between your home base of operations and your international partnerships since you are more likely to keep similar (or at least overlapping) business hours. This can help improve oversight, improve responsiveness, and reduce order turnaround time.
Increasing the feasibility of on-site visits – From time to time, you may need to meet face-to-face with your third-party partners. Nearshoring makes this a more practical possibility and improves your ability to both build and maintain meaningful business relationships.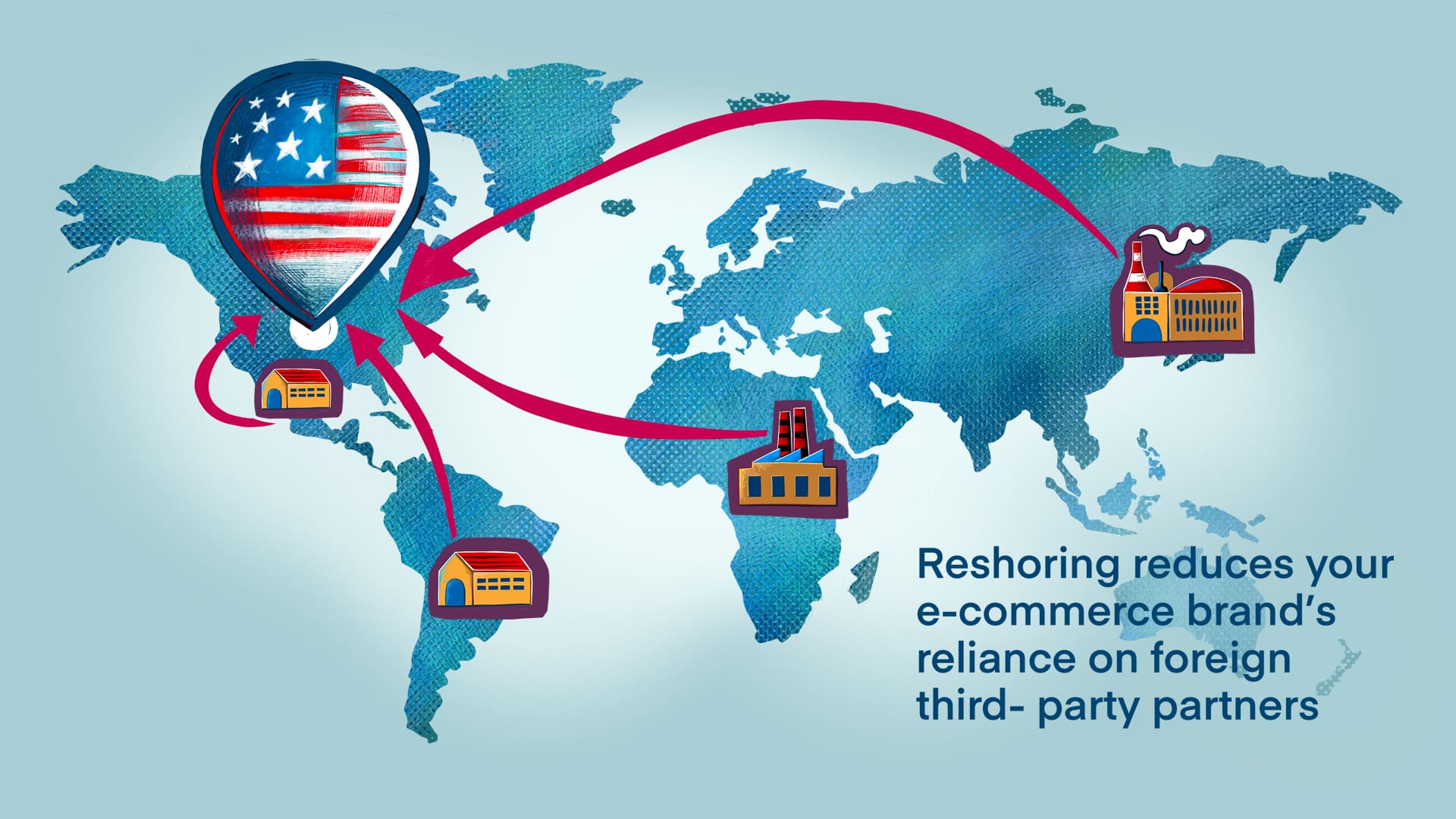 Reshoring Reduces Your E-Commerce Brand's Reliance on Foreign Third-Party Partners
Taking things a step further, you could also opt to minimize or eliminate your international outsourcing altogether. Throughout the pandemic, many businesses either chose or were forced to turn to domestic alternatives for their overseas suppliers and logistics partners. This process of reshoring can be a great way to optimize your omnichannel e-commerce business and future-proof against potential supply-chain and international freight disruptions.
Other notable benefits of reshoring include:
Improved brand image – Being able to tout your products as "Made in America" has always been a strong marketing opportunity. Reshoring your manufacturing state-side gives you the ability to tap into customer bases that seek out American-made products and are even willing to pay a little bit more than alternatives made elsewhere.
Shorter supply chain – Domestic supply-chain partnerships remove the delays caused by international freight logjams, customs inspections, and international incidents.
Eliminating tariffs – While outsourcing abroad has cost-saving benefits, tariffs add an additional cost that – as recent history has shown – can be volatile depending upon the international political climate. Removing these taxes from the equation can add an increased level of financial predictability to your third-party partnerships.
Shorter lead times – Need to reorder quickly? The farther your suppliers are from you, the more challenging (and expensive) the solutions become. Reshoring your manufacturing and suppliers means you require less lead time to replenish the inventory you need. In turn, this also can save you time and warehouse space by reducing the amount of buffer inventory you need to keep on hand in reserve.
Improved oversight and control – Just as near-shoring makes it simpler to have face-to-face meetings with third-party partners and conduct other on-site business, reshoring makes things even simpler. You can leave your passport at home and enjoy shorter travel times and lower travel costs.
Higher skilled labor availability – As e-commerce becomes increasingly tech-driven, the needs for skilled labor increase. The American workforce has strong pipelines for high-skill and tech-savvy employees whom you will need to remain competitive as your business scales.
What's more, the reshoring trend appears to be gaining momentum socially, politically, and economically here in the US. With Intel's announcement of the world's largest semiconductor manufacturing plant being built in Ohio and portions of the federal $1.2 billion infrastructure bill focused on strengthening US manufacturing and the domestic supply-chain, there is plenty of reason to believe reshoring will become an increasingly popular option. In turn, the costs of domestic manufacturing and third-party partnerships are likely to become even more cost-effective and competitive with international alternatives.
Whether you opt to outsource abroad, nearshore, or reshore your supply chain partnerships, you need an omnichannel inventory management system that can keep everything running smoothly. Sellercloud's family of products allow you to manage your stock, orders, and fulfillment with a unified, cloud-based platform. It doesn't matter if you have one warehouse or many, you can be confident that your inventory will be where you need it, when you need it.
Contact us directly for a free demo and see for yourself how Sellercloud gives you the flexibility to scale and evolve your e-commerce business.