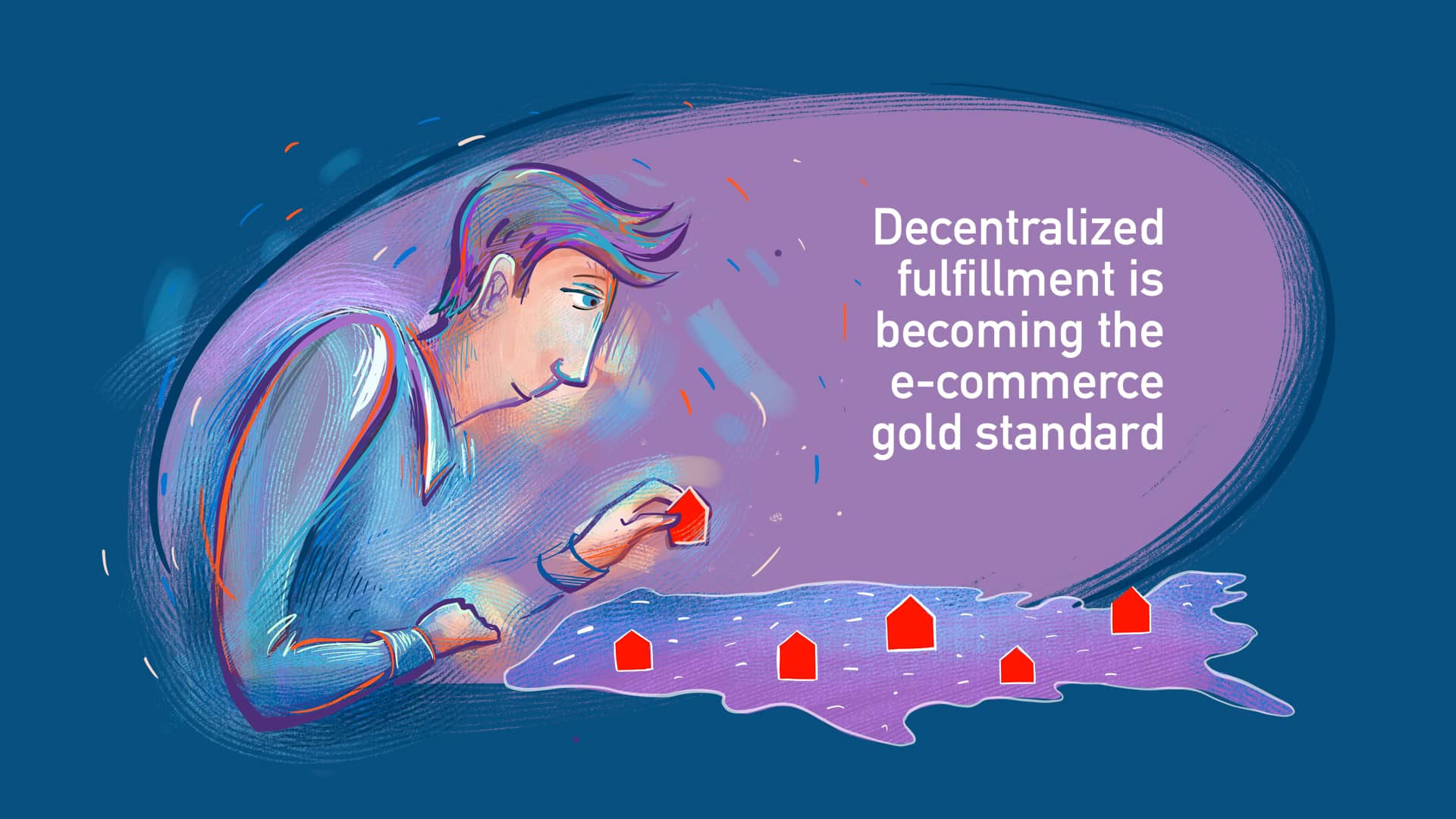 Shipping speed and efficiency are critical components of competitive e-commerce retail. Just as many online sellers have rightly adopted omnichannel marketing strategies, diversifying fulfillment capabilities can provide benefits as well.
The adage "don't put all your eggs in one basket" has never rang truer than it does today. Disruptions across the retail spectrum have forced both e-commerce businesses and online shoppers to adopt a level of flexibility unlike anything the industry had previously seen. Supply chain disruptions, shipping carrier inconsistencies, increasing demand for warehouse space, frequent out-of-stocks, and dramatic price fluctuations have all led to noteworthy volatility. Even as some of these issues begin to ease, e-commerce brands need to take with them the lessons learned to be best prepared for future uncertainty.
Moving forward, flexibility needs to be baked into nearly every aspect of a successful and growth-focused e-commerce operation. Fulfillment is one of the pillars of online sales and, as such, deserves particular focus.
Decentralized fulfillment continues to grow as a feasible, reliable, and cost-effective way to add deliberate flexibility into your shipping workflows and your customer-facing shipping options.
What Does Decentralized Fulfillment Look Like?
For many e-commerce startups, processing and shipping orders is a very centralized process. Orders are processed and packages are sent out all from a singular location. Whether it's a garage or a warehouse, centralized fulfillment is fairly simple to run and keep tabs on since almost the entire order is processed and handled under the same roof.
Branching out into a more decentralized model means spreading your fulfillment capabilities across multiple locations. This could mean something as simple as enrolling in a marketplace-based fulfillment program like Fulfillment by Amazon (FBA) or enlisting the help of a third-party logistics provider (3PL). It could also be something more complex like setting up a multi-warehouse operation of your own.
In each of these cases, fulfillment is decentralized by relocating some or all of your inventory from your headquarters location out into other locations. Orders come in, and these warehousing and fulfillment locations complete the logistical work to move merchandise to the awaiting customers.
The Benefits of Decentralized Fulfillment
On the surface, expanding your fulfillment with new partnerships could seem like an expensive and complicated proposition. It's not.
In reality, the modern retail landscape has put decentralized fulfillment within reach for many e-commerce businesses of all sizes and types of products.
Making the move to decentralized or outsourced fulfillment can give your brand a whole host of benefits that can increase your competitiveness and your bottom line.
Better shipping speeds – In today's e-commerce landscape, fast shipping matters to customers. By expanding your fulfillment beyond your home base, you can shorten the distance products have to travel to reach customers. This allows you to offer faster and more competitive shipping options than you might be able to otherwise.
Greater geographic reach – Decentralizing your fulfillment can make it more feasible to market to customers located outside your typical reach. When implemented well, decentralized fulfillment can lower domestic shipping costs and estimated package arrival dates allowing you to potentially compete with domestic sellers on the opposite coast or even in international markets.
Reduced cost of goods sold (COGS) – There was a time when decentralized fulfillment was simply too expensive a proposition to consider for many smaller e-commerce businesses. Nowadays, the prevalence of 3PL business and marketplace-based fulfillment options have lowered the barriers to entry for retailers of all sizes. Making the right choice can save your company significant money over your current centralized fulfillment costs. 
Increased flexibility – By now, everyone has felt at least some degree of the negative impact world events can have on your ability to reliably fulfill e-commerce orders. When all your inventory is in one place and flowing through the same fulfillment stream, there is a risk that an unanticipated disruption could grind your entire operation to a halt. Decentralized fulfillment can serve as a protection against future volatility, giving your brand more flexibility when managing inventory and deciding how to circumvent disruptions.
Whether or not you actually achieve any or all of the aforementioned benefits through a decentralized fulfillment model depends on the effectiveness of your planning and implementation.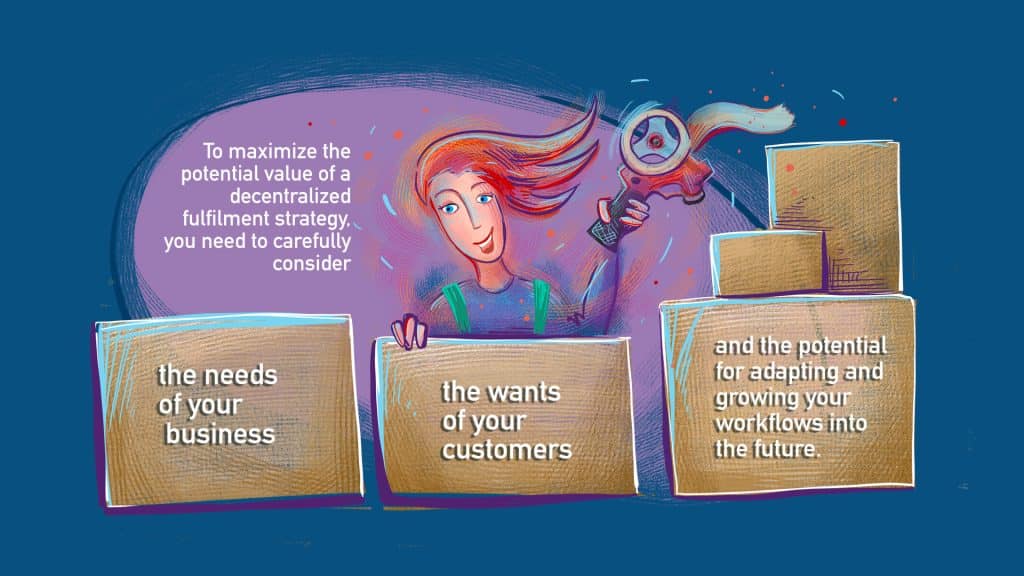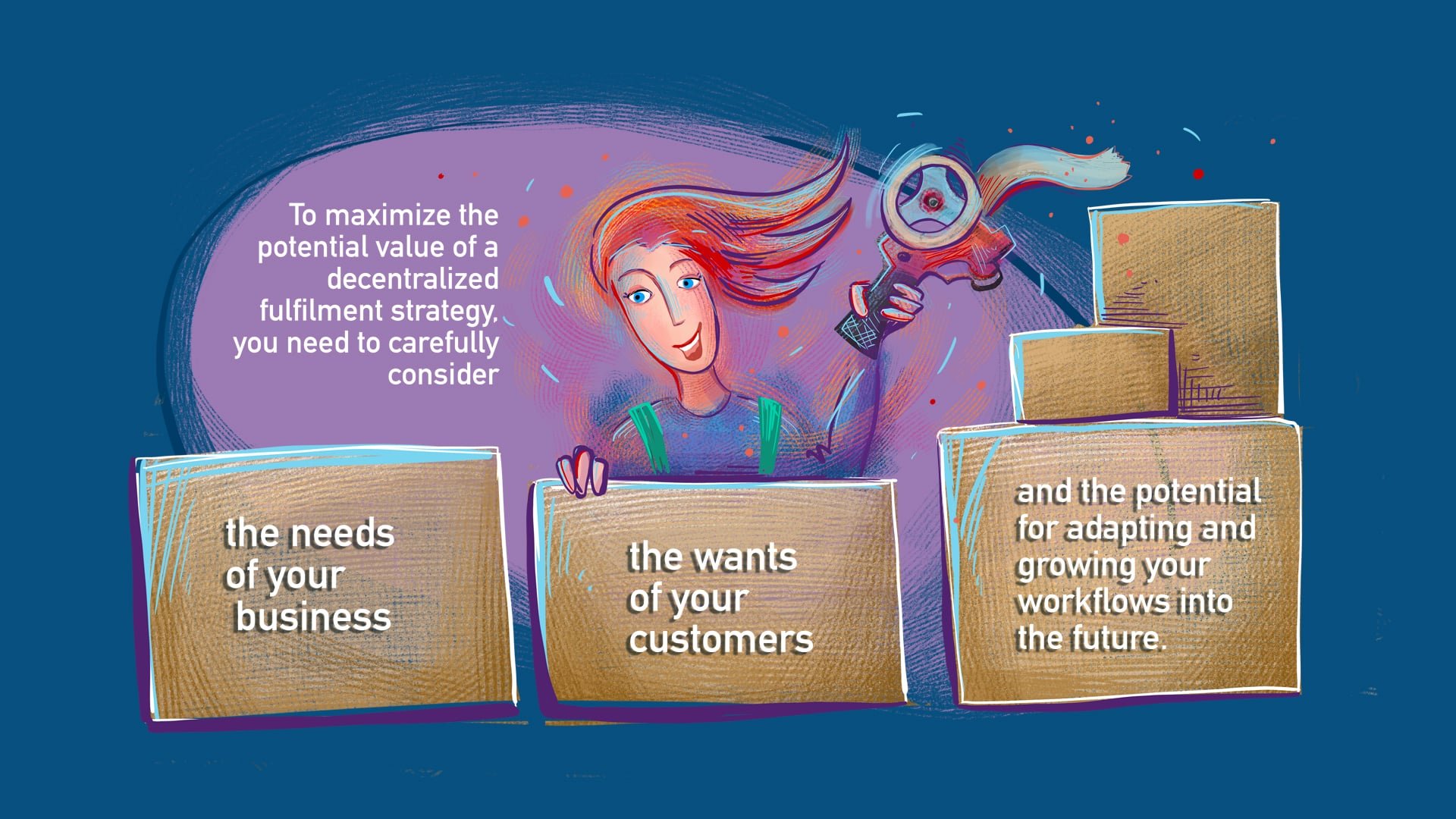 Approach Decentralizing Fulfillment with Clear Goals in Mind
Decentralizing fulfillment is not, in and of itself, a cure-all for your inventory and shipping woes. If not properly organized and monitored, decentralization can actually cause more headaches than it cures for your e-commerce brand.
To maximize the potential value of a decentralized fulfillment strategy, you need to carefully consider the needs of your business, the wants of your customers, and the potential for adapting and growing your workflows into the future. These considerations must include:
Customer locations – Choosing the optimal fulfillment center locations should involve assessing where your customer bases currently exist. You will see the most immediate and lasting benefits when you are able to shorten the distance between your products and their destinations. If your marketing and research support it, you might also consider selecting locations relative to new markets and customer bases you hope to reach with your omnichannel offerings.
Bulk shipping options – When you decentralize your fulfillment, you shift from shipping individual customers' orders to shipping bulk quantities of merchandise to your fulfillment centers, warehouses, and third-party partners. You need to be prepared for the costs and logistics involved in making these less frequent, but significantly larger shipments. In some cases, this may require changes to your shipping partners or new workflows for palletizing fulfillment replenishments.
Storage costs – When other fulfillment partners or warehouses are storing your inventory for you, that comes with a cost. Some partners will offer steady rates based solely on volume while others will fluctuate based on additional factors like weight, product, or season. If you are running your own secondary warehouse locations, there is the issue of ensuring that you are paying for real estate that is neither too small nor too large. Storage fees can make or break the success of your decentralized fulfillment efforts.
Scalability – Growth-focused e-commerce needs to have both the logistical support and physical space to scale effectively. As such, your fulfillment workflows need to have the potential to support increasing order volumes.
Third-party vendor risk – Partnering with outside vendors to support any aspect of your e-commerce brand always carries some inherent degree of risk. Be sure to thoroughly vet any service or company before bringing them onboard as part of your logistics team.
Successful Decentralized Fulfillment Requires a Centralized Management Platform
Implementing an effective decentralized fulfillment plan – whether it be through multiple warehouse locations run by your company, opting into marketplace-based fulfillment programs like FBA, enlisting the support of 3PL partners, or some combination thereof – requires an e-commerce inventory management system that can keep all of your inventory locations working in concert and your merchandise flowing smoothly.
A piecemeal approach can cause confusion and miscommunications that can not only eliminate the value of decentralizing your fulfillment, but can cause significant harm to your overall efficiency and reputation. Instead, you need a system that allows for clear, immediate, and reliable communication across your entire company and its supporting services.
Sellercloud's omnichannel growth platform includes the inventory management tools and software you need to run a fully decentralized fulfillment workflow regardless of how large or small it may be.
Our native integration with FBA makes it easy to see immediate benefits from outsourcing elements of your order fulfillment. Likewise, our integrations with industry-leading shipping and logistics partners make it easy to bring new and dependable partners onboard to help meet your brand's needs.
When you are ready to take the step and expand into your own multi-warehouse fulfillment model, Sellercloud tools like Skustack and Skublox give you the scalable warehouse management support you need to empower your staff and satisfy your customers.
Contact us directly for a free demo and see for yourself how Sellercloud is the perfect partner for bringing your fulfillment strategies and workflows to the next level.