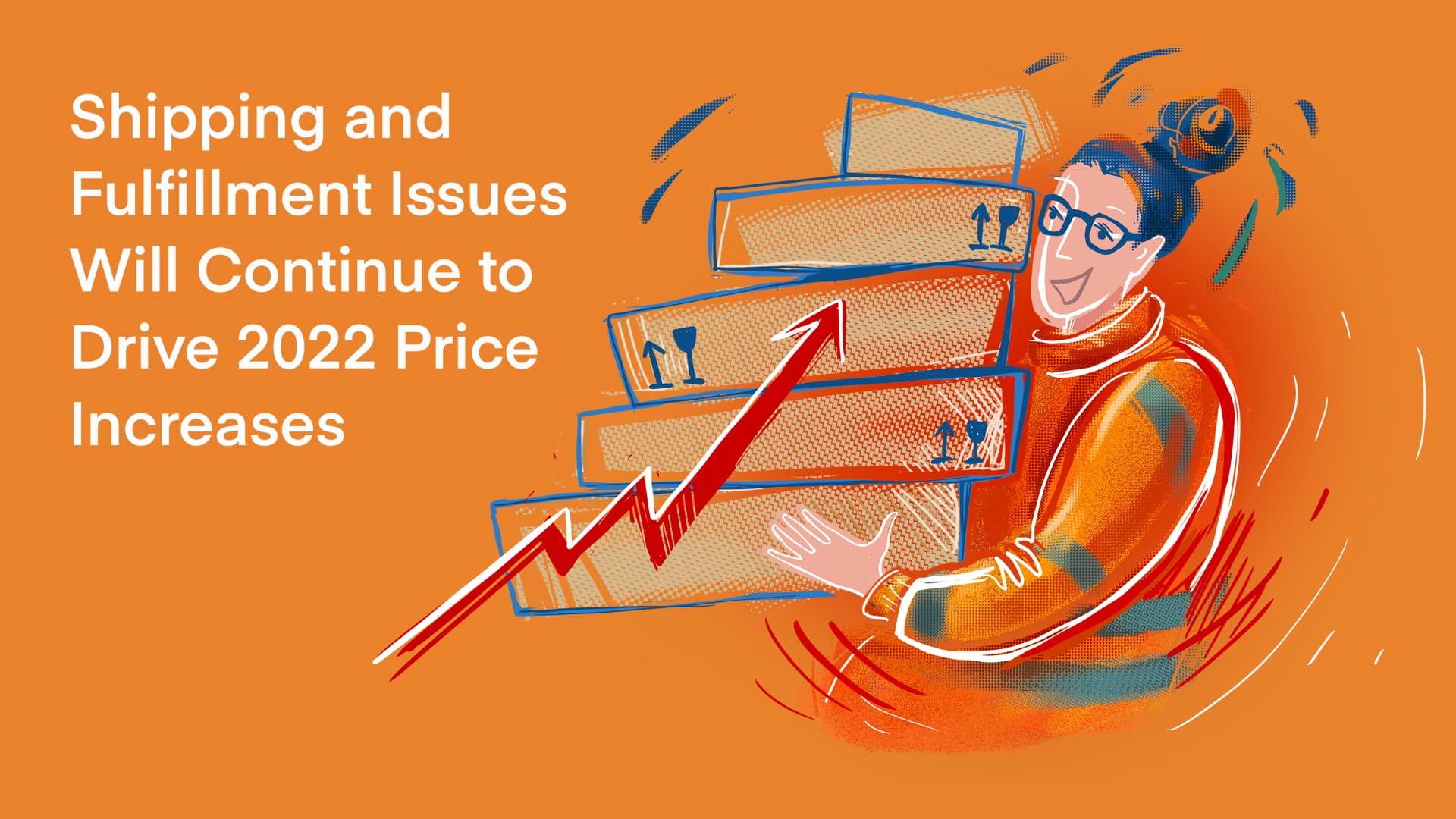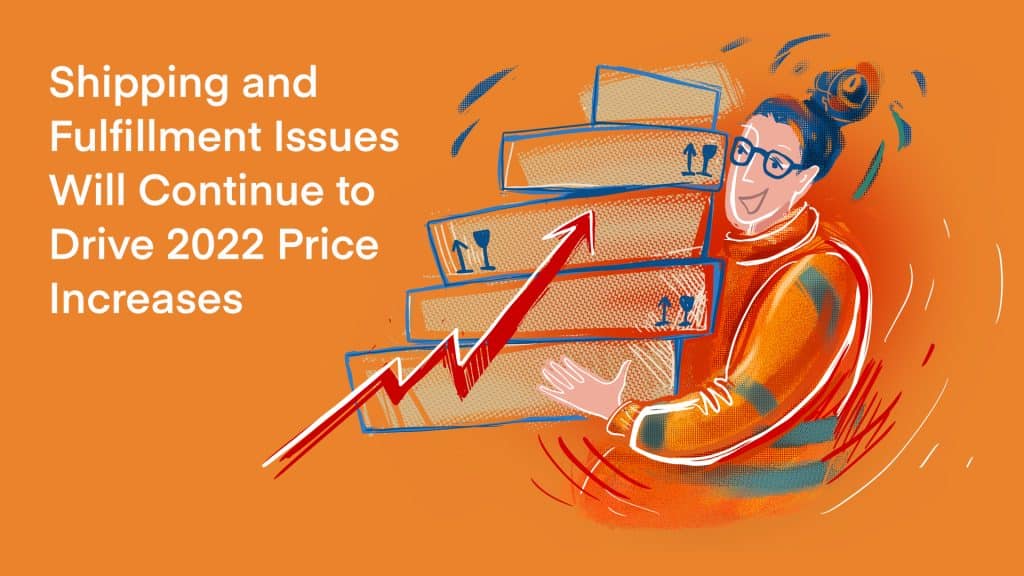 As with so many issues these days, there were hopes that infrastructure, supply chain, and freight pain points would be short-term issues that could be quickly remedied. There were expectations that the market would adjust, correct, and we would be back to "normal."
The realities of today point to the fact that e-commerce retailers and online shoppers alike need to be prepared for a new normal when it comes to shipping and fulfillment costs.
There are a lot of pieces to the current economic puzzle that are all working in tandem to drive reliable projections of these shipping cost increases. While the economy is strong and consumers are continuing to drive record online shopping numbers, costs are rising, the supply chain remains stretched thin, and fulfillment delays and bottlenecks persist.
These are just some of the factors fueling investor speculation that 2022 will see 2021's already high shipping and fulfillment rates hit even higher levels. This is not great news for an e-commerce industry that, while booming, is inexorably linked to third-party shipping and fulfillment partners. However, there are steps you can take to mitigate the impacts as long as you recognize and understand how the specifics affect your specific fulfillment needs and processes.
Shipping Challenges Aren't Going Away Anytime Soon
Much of what will continue to spur shipping cost increases has to do with the current challenges of physically moving goods. There are several threads of this web that are going to take some time to untangle:
Sea freight continues to face an unprecedented mess. For what seems like ages, some of America's largest ports have been facing bottlenecks as freighters wait offshore to unload amidst the busiest stretch of US imports in a generation. The White House has intervened. Smaller ports are starting to step up to help break the logjam as well. Still, ocean freight has overwhelmed the existing infrastructure and it is driving up delays.
The US trucking industry is broken. While there is no shortage of news outlets trying to spin and label the issue in various ways, the reality is that American overland freight is in the middle of an existential crisis surrounding labor, recruiting, compensation, and deregulation. For sellers and customers who rely on tractor-trailer freight for both supplying inventory and fulfilling orders, this inevitably means price increases.
Shipping container supply shortages persist. The longer ports remain full of cargo ships unable to unload, offloaded containers waiting for trucks, and stacks of empty containers waiting to return to suppliers to be refilled, the longer the shipping container shortage will be a negative drag on the freight economy.
As long as any parts of this equation remain unresolved, the hopes of shipping costs falling back to pre-pandemic levels or lower are unlikely to come to fruition.
Rising Demand Will Continue to Fuel Fulfillment Price Increases
Online shopping has seen a spike for a variety of reasons, but much like the woes facing the shipping industry, there is little sign that much will change in 2022. Wage increases, pandemic stimulus checks, and government programs like the Child and Dependent Care Tax Credit and student loan deferment have left many shoppers with more cash on hand than in years past. Even as some of these benefits and credits expire or evolve, online shopping has become an essential part of many customers' lives. As research has shown, many customer habits are hard to break once they're formed.
Further complicating things, consumer demand continues to outpace supply. According to some projections, this imbalance could even stretch as far as 2023. Not only has this spurred inflation concerns that you must account for in your e-commerce pricing strategies, but it has added to the existing strain on the freight and fulfillment industries. Even in cases where manufacturing has been able to churn out the products people want, the clogged pathways to actually get them to customers remain hypercompetitive, which also means hyper-expensive.
As a result, the combination of increased shipping costs and supply shortages across most retail sectors are expected to filter down to retailers and consumers in the form of price increases. How much and these increases amount to and how long they last will inevitably vary by sector. That said, you will need to remain tuned into market trends, inventory availability, and overall cost of goods sold metrics to ensure that you are able to secure your stock and fulfill customer orders as affordably as possible.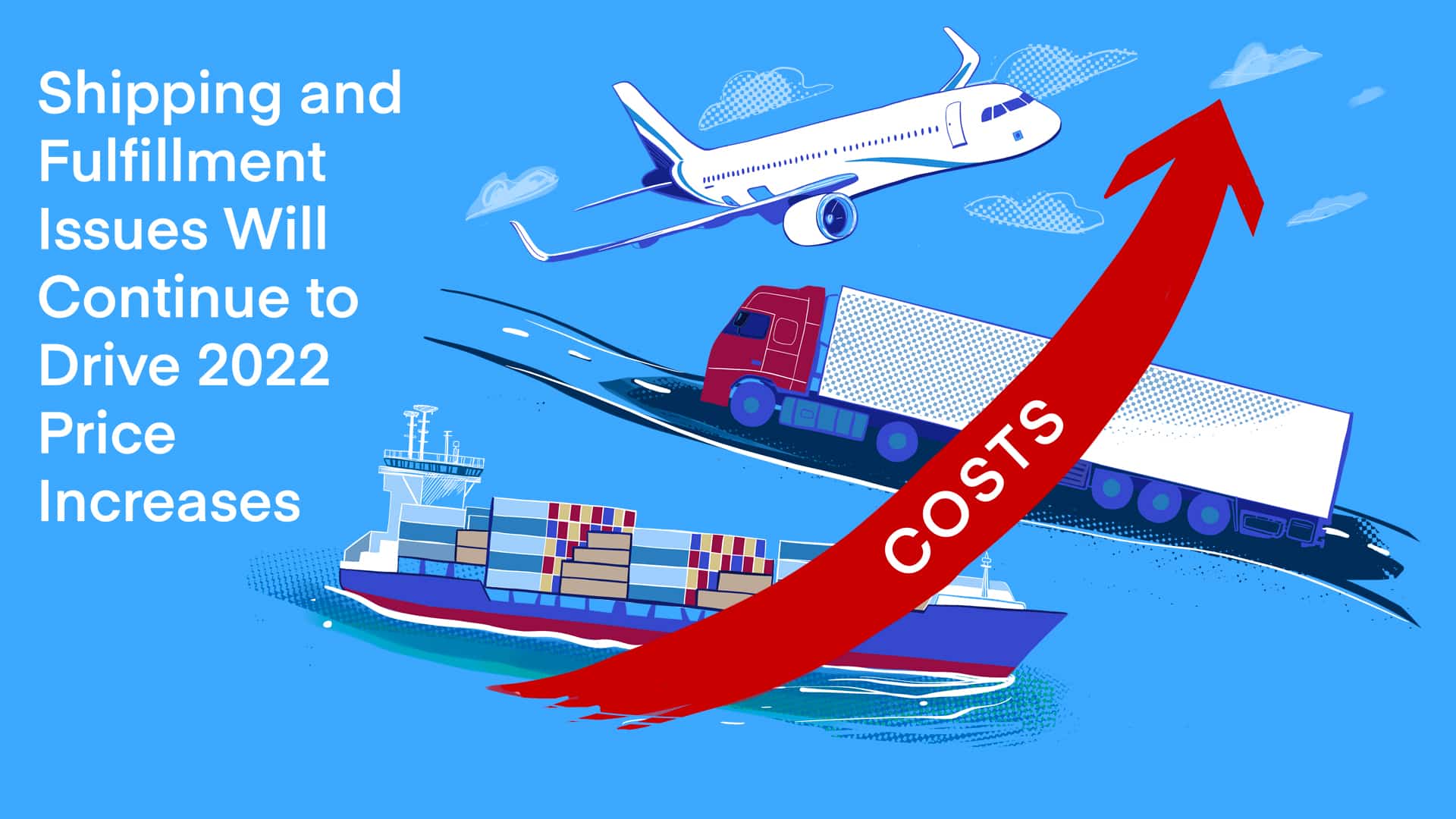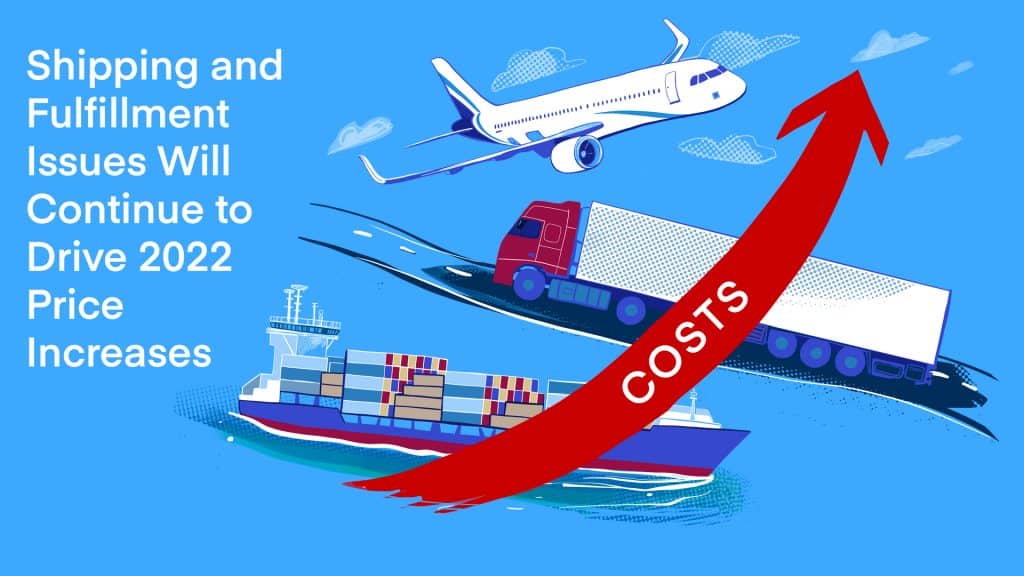 Be Prepared for the Short- and Long-Term Futures of Shipping Costs
Once again, the e-commerce industry finds itself very much intertwined in the challenges facing the greater global economy. As such, many of the contributing factors are (and will remain) outside of your brand's control. What matters is how effectively you can respond to these challenges.
To these ends, there are a number of components to your e-commerce operation that will require extra attention in the coming year to help mitigate the larger economic forces at play:
Be prepared to add and/or switch shipping partners. Being flexible in your shipping options has always mattered, but particularly in times of so much uncertainty. As shipping capacities and rates continue to fluctuate in the coming year, be ready to take advantage of new opportunities and negotiate advantageous deals. For instance, if current conditions are forcing you to adjust the frequency and volume of your supply orders, it may pay to seek out shipping partners who offer benefits for specific order sizes. If your current shipping provider(s) can't get orders out as quickly as necessary, seek out alternatives that may give you the speed you need.

Shipbridge, Sellercloud's robust order and fulfillment management tool, makes it simple to both add new shipping options to your e-commerce business and manage the partnerships you already have.
Reevaluate how you manage inventory levels. E-commerce inventory management can be a delicate dance. You want to be sure to have enough stock on hand to fulfill orders quickly and avoid overselling and out-of-stock listings. At the same time, you don't want to be paying high carrying costs to warehouse excess inventory – or worse: dead stock.

With supply chain issues being what they are, you will likely need to adjust your threshold for your inventory turnover ratio (ITR). Carrying additional inventory and making larger, less frequent stock orders may simply be a cost of doing business for the foreseeable future.
Prioritize transparency to help manage customer expectations. Customer disappointment can be the death-knell for an e-commerce brand. Poor reviews, high return rates, and complaints can result in a hit to both your bottom line and standing on critical online marketplaces.

In times like these, it is more important than ever to keep customers informed both about the availability of your products as well as your capacity for fulfilling orders. Customer-facing inventory visibility on both your website and the channels where you sell can not only keep customers aware of how many products you have on hand and ready to sell, but it can actually spur sales by tapping into customers' fears of missing out (FOMO) during a period of such high-demand and low supply.
Similarly, you need to make sure that customers understand the realities of your shipping and fulfillment times. By staying proactive in your shipping expectations management, you can cut down on customer service inquiries about order processing and package deliveries.
In uncertain times, you need an omnichannel e-commerce growth platform that is ready to keep your business agile and responsive to changing market and economic conditions. Sellercloud and our family of products provide online sellers with the tools they need to manage their inventory, listings, and costs in any sales climate.
Contact us directly for a free demo and see how our brand can help yours have the most successful year possible – no matter what the future may hold.