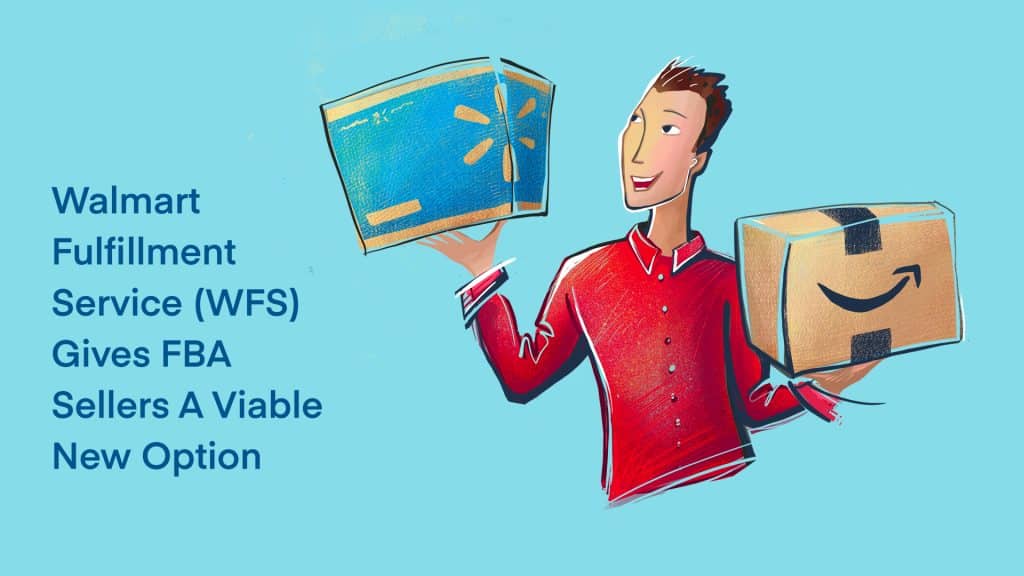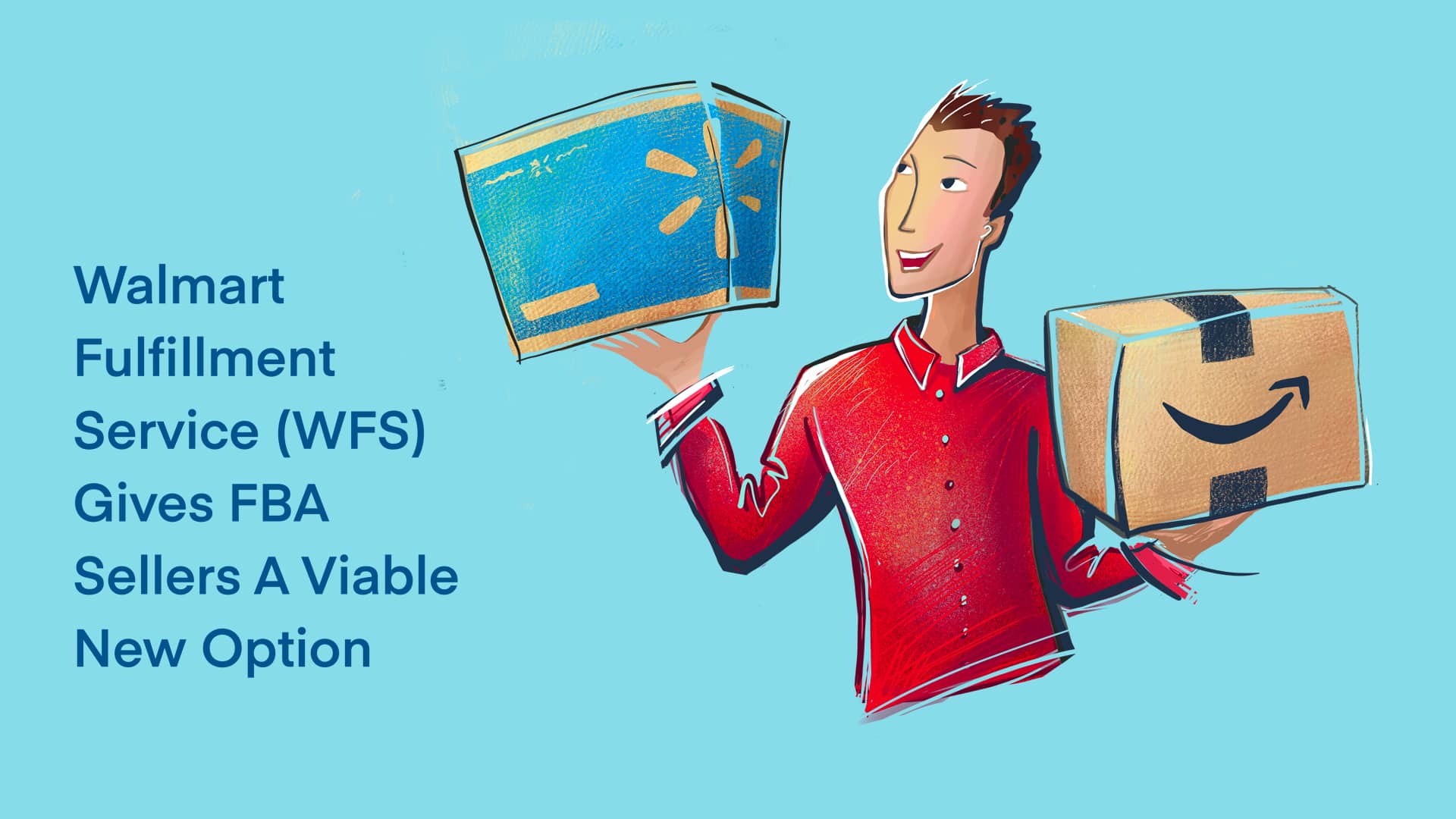 In the simplest of terms, Walmart Fulfillment Service (WFS) is Walmart's version of FBA. Both are marketplace fulfillment options designed to help make selling online easier.
WFS allows approved sellers on Walmart Marketplace to send their stock in bulk to Walmart fulfillment centers, which will pick, pack, and ship orders to online customers. Just like with FBA, once an e-commerce business ships their products to the fulfillment center, WFS effectively removes the seller from the rest of the logistical equation.
This concept of marketplace-based fulfillment provides serious benefits to e-commerce sellers of all sizes looking to scale and build an e-commerce business without having to create or modify their order-by-order fulfillment workflows.
Since its launch in February 2020, WFS has proven itself to be a worthwhile and reliable fulfillment partner. While there are several notable differences between WFS and FBA, many sellers will see value in utilizing both services as part of a broader omnichannel e-commerce business plan.
WFS vs. FBA – What Are the Similarities?
There are several key similarities between Walmart's and Amazon's fulfillment services:
Fast and Accurate Order Fulfillment
Both WFS and FBA handle the picking, packing, and shipping of your customer's orders for you. What's more, both services are able to leverage their robust infrastructure networks to do so quickly. Just ship your products to the fulfillment centers and let Walmart and Amazon take care of the rest.
One major benefit of this model is that Walmart and Amazon have logistics chains that can handle speedy fulfillment turnaround times. Depending on the product and the customer's location, this can range from two-, to one-, to same-day delivery.
As an added bonus, opting for a marketplace-based fulfillment service also means that your listings are guaranteed to meet the strict demands of the marketplaces' respective membership services – Walmart+ and Amazon Prime. 
When looking at listings, customers look for these labels, as well as shipping speed, when making purchasing decisions. According to a February 2021 Digital Commerce 360/Bizrate Insights survey exploring e-commerce conversion trends, "68% of consumers said fast shipping would lead them to place an online order." This makes WFS and FBA strong partners from both a logistical and marketing perspective.
Reliable Customer Service
Both WFS and FBA take responsibility for fulfillment-related customer service inquiries so that sellers don't have to. As anyone with customer service experience will tell you that shipping and fulfillment issues account for the vast majority of all customer complaints and issues. Removing these from the equation can free up valuable time.
Sellers still should keep tabs on their feedback, however. Complaints about product quality or manufacturing defects fall outside the purview of a third-party fulfillment provider. Failure to address these types of complaints can result in order defect rate (ODR) issues that can quickly damage your brand's reputation and even your ability to sell on certain marketplaces.
Simplified Returns
Returns are an inevitable component of selling products online. Every e-commerce business needs an RMA strategy to figure out what to do about products that get shipped back from customers.
Both WFS and FBA simplify the returns process by handling everything from the RMA requests to the shipping labels, on your behalf. Customers also have the option of returning their products to partnering brick-and mortar locations. The ubiquity of Walmart stores nationwide makes this an especially attractive option for Walmart Marketplace shoppers.
WFS vs. FBA – What Are the Differences?
On the surface, WFS and FBA are quite similar in the value they bring to both sellers and their customers. Digging deeper, there are some key differences that affect the types of sellers and products best suited for each service:
Who Can Sell on WFS and FBA?
FBA is open to virtually anyone looking to sell on Amazon. This means that sellers of all sizes and from all over the world have access to the same robust fulfillment support.
In contrast, Walmart vets and approves its third-party sellers before allowing them to list products on Walmart Marketplace. Participating in WFS is subject to approval, as well. This barrier to entry weeds out competition and aims to keep customer satisfaction high.
The results of this policy difference are eye-opening. Each of Walmart Marketplace's 33,000 sellers can expect to get approximately 13 times more listing views per month than Amazon's 2+ million sellers can. With that level of performance, Increased visibility can quickly lead to increased sales conversions.
Subscription Fees
A professional selling account on Amazon (a requirement for FBA) costs $39.99 a month. This may not seem steep – especially given the revenue the service generates for its customers – but Walmart does not charge any seller a subscription fee for WFS. We'd be remiss not to point that out.
Product Size Limits
Both WFS and FBA have limits on the maximum sizes of items that can be shipped using their respective services.
WFS has a hard cap of 30 lbs. And 25"x20"x14" per product.
FBA will accept oversized items up to 151 lbs. and a maximum package length of either  108" or a total length and girth of up to 165".
How Products Are Stored
WFS inventory is sorted by seller. Your products remain together and do not get commingled with other merchants' items. When a customer makes a purchase from your listing, it comes from your stockpile.
FBA inventory typically gets commingled. The idea is that if you are selling the same product as another merchant, Amazon will ship the item that is closest to the customer's address – regardless of which seller's pile it comes from. The result is the customer gets their product as quickly as possible. 
You can opt to have your inventory kept separate, but in some cases this can lead to a decrease in fulfillment speed.
The downside of commingled inventory storage is that your customers may be receiving damaged and/or inferior versions of the products you sell. Commingled inventory is particularly problematic when it comes to easily counterfeited items. If your reputation as a seller hangs in the balance, commingled inventory may pose too big of a risk.
Storage Fees
Both WFS and FBA charge sellers storage fees of $0.75 per cubic foot, per month from Q1-Q3. For items that meet Amazon's criteria for "oversized," the price is reduced to $0.48 pre cubic foot, per month (Walmart does not have an "oversized" product tier).
In Q4, due to heightened holiday demand, these fees increase.
For WFS, items stored during Q4, but for less than 30 days, are still subject to the same $0.75 per cubic foot rate, but stock older than 30 days increases to $2.25 per cubic foot, per month.
For FBA, there is no 30-day grace period. All products are subject to a $2.40 per cubic foot, per month storage fee. Oversized products are subject to a $1.20 per cubic foot rate.
Sellercloud users can take advantage of our cost of goods sold (COGS) reporting features (which include these storage fees) to help determine the most cost-effective options. 
Fulfillment Fees
WFS fulfillment fees are calculated using very simple formulas. Sellers are charged based on the weight of their shipment (using 1 lb., 2 lb., 3 lb., 4-20 lb., and 20+lb. increments) or the dimensional weight (package length x width x height, divided by 139) – whichever is greater.
FBA fulfillment fees are much more complicated, depending upon product size, type, and shape. There are too many tiers and possible charges to list here. For most smaller to medium-sized packages, the fees are competitive with WFS.
Dollar-for-dollar, it is impossible to make a blanket statement about which service is more cost effective. Again, Sellercloud's robust inventory management and COGS reporting tools can help sellers navigate these differences and give you a better idea of whether either or both services make sense for your products.
Access to Fulfillment Support Experts
Included with a WFS account is access to one of Walmart's fulfillment experts. These professionals offer support and guidance on how to best take advantage of WFS to grow your e-commerce business through the service.
FBA offers similar consulting services, but with a hefty price tag. Amazon's Account Manager programs require a $1,600 monthly investment, as well as an increased fee per sale.
All told, these differences matter, but neither fulfillment service is so drastically inferior to the other that it should be disqualified. The reality is, both WFS and FBA have their own unique advantages that can be leveraged to help grow your e-commerce business.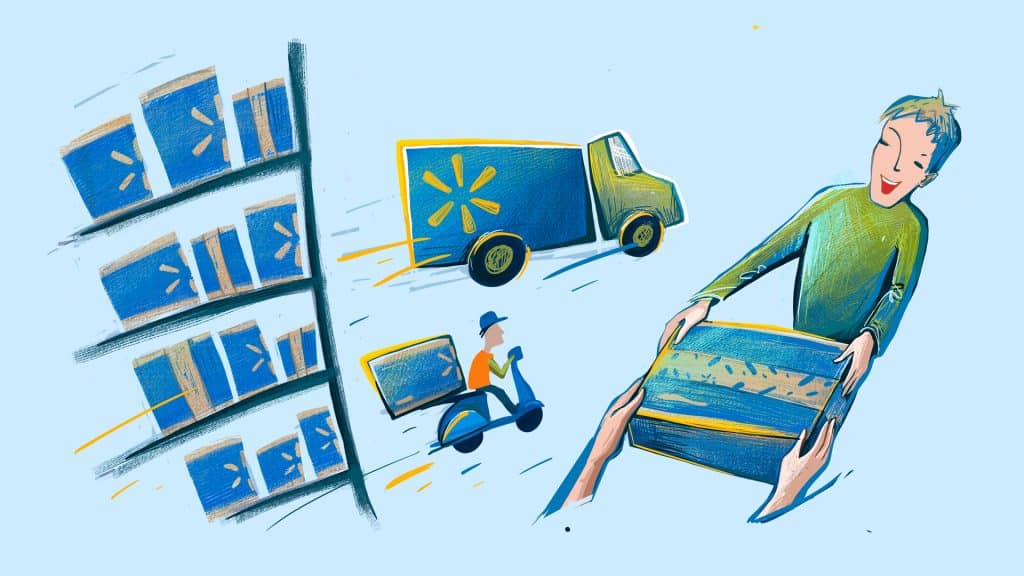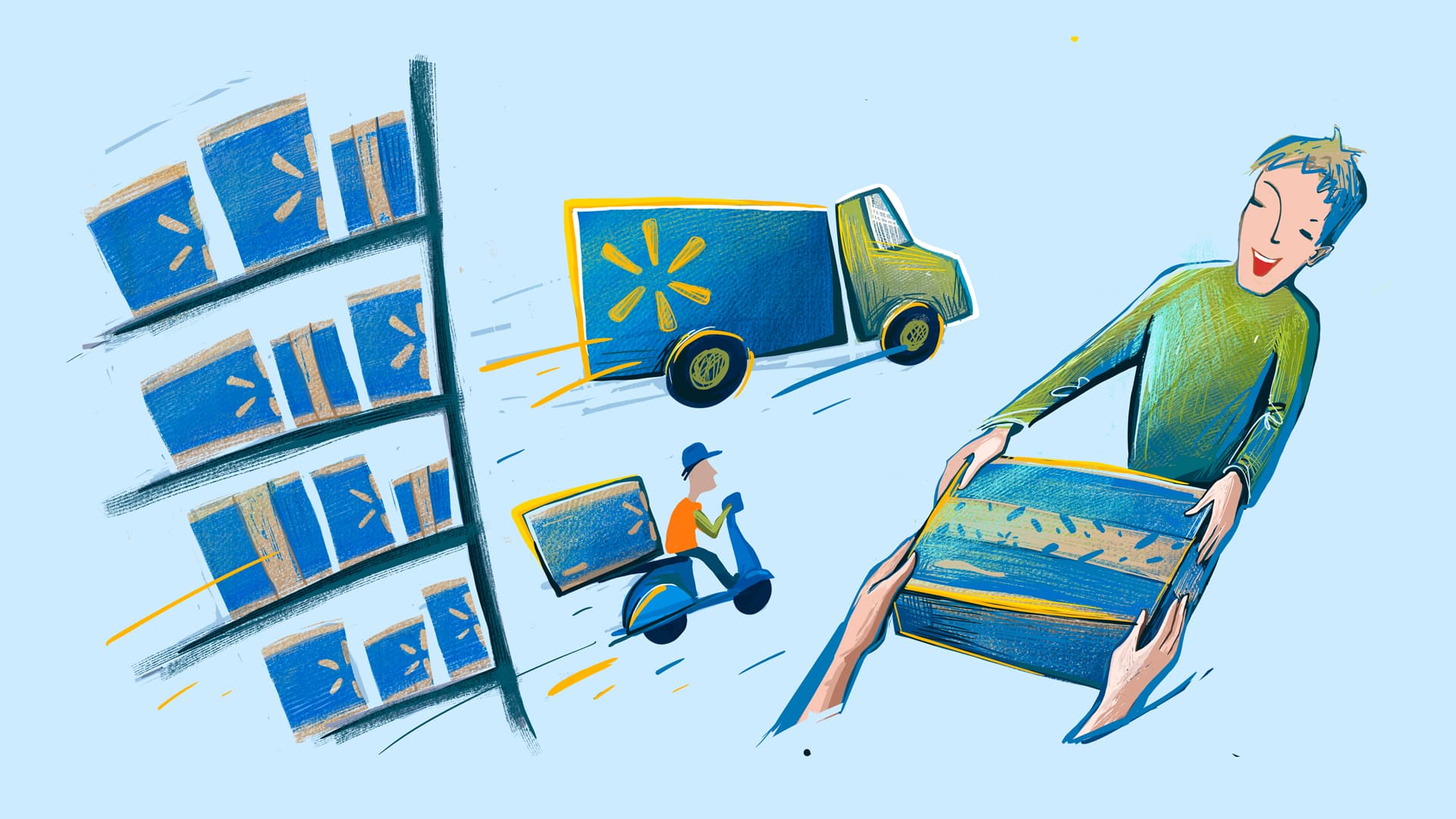 The Advantages of Selling on WFS
High Growth Potential
Sellercloud data over the past year has shown tremendous average month-over-month GMV and total sales growth for FBA sellers who have added WFS to their omnichannel e-commerce sales strategies.
Increased Visibility
Walmart's gatekeeping over third-party sellers on its marketplace means the sellers who are able to list there have less competition than more wide-open marketplaces like Amazon. WFS sellers get the added bonus of the coveted "Two-Day" shipping label, which can increase listing visibility in search results and lead to increased sales.
The Advantages of Selling on FBA
More Customers
Amazon's status as the industry leader for e-commerce in the US means it is the first stop for many people looking to make a purchase online. With over 200 million unique visitors per month, you almost can't afford not to sell on Amazon.
Prime Subscribers
As of April 2021, Amazon surpassed 200 million Amazon Prime subscribers. These subscribers pay a premium for the privilege of quick fulfillment; FBA gives you a way to both guarantee it and flaunt it. Gaining access to the coveted Prime label on your listings is almost a necessity when it comes to outranking your competitors in the search rankings. 
Larger Products
FBA's ability to handle fulfillment of larger items can drastically reduce your storage and shipment overhead compared to self-fulfillment alternatives.
To be fair, there is definitely a point of diminishing returns. Extremely large and/or heavy products can be subject to hefty additional oversized-item fees. Thankfully, Sellercloud's cost of goods sold (COGS) reporting can make it easier to figure out the most cost-effective solution.
"FBA or WFS?" is the Wrong Question – Sell on Both
Just because Amazon and Walmart are locking horns to see who can win the marketplace-fulfillment battle doesn't mean that e-commerce sellers have to pick just one winner.
An omnichannel e-commerce approach means that you don't have to choose between FBA and WFS. If anything, the competition between Walmart and Amazon helps build value for sellers looking to list their products across both services.
FBA's position as an industry leader is not in doubt – the letters FBA have become almost synonymous with marketplace-based fulfillment. Taking advantage of the logistical benefits of being an FBA seller can help you scale your e-commerce business and win buy boxes more reliably. However, FBA's popularity breeds competition with other sellers taking the same approach.
True, WFS has yet to reach the market saturation of FBA. Walmart Marketplace has a long way to go to reach the sheer size of Amazon's customer base. That said, while Walmart's 120+ million unique visitors per month is well shy of Amazon's 200+ million, it's nothing to scoff at. For third-party sellers who earn the right to sell on Walmart Marketplace, WFS can provide a path to earning more buy boxes and increasing overall sales.
The emergence of WFS has created a viable alternative to FBA, with less competition and strong potential to scale. But again, sellers don't have to choose one or the other. In fact, many Sellercloud users have been able to wield a combination of both services to fuel their business' growth.
Time and time again, our data has shown that modern e-commerce growth thrives with a diversified marketplace presence. Omnichannel exposure is key.
Whether you are looking to remain dependent on marketplaces and 3PL partners to handle your fulfillment needs or are simply looking for a new sales channel for your e-commerce business, WFS is proving to be a sound partner to bring aboard.
Sellercloud's integrations with WFS, FBA, and many more leading e-commerce channels make it easy to manage orders and track inventory across any number of marketplaces where you sell. In 2020, 80% of our users used our platform to actively sell on 6 or more e-commerce channels.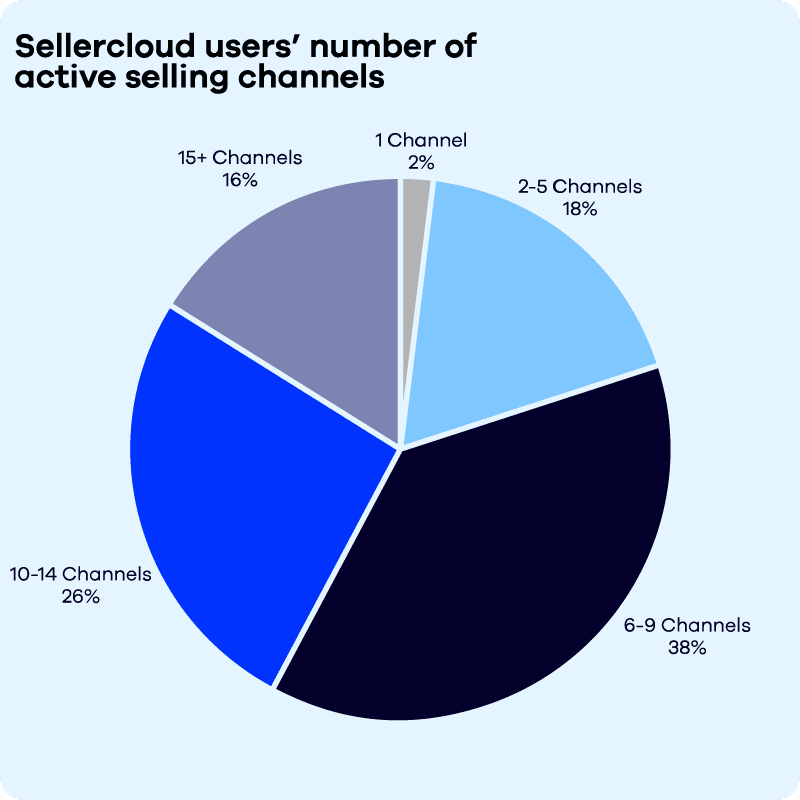 Contact us directly for a free consultation of how Sellercloud can help get you started with WFS and help scale your e-commerce brand.