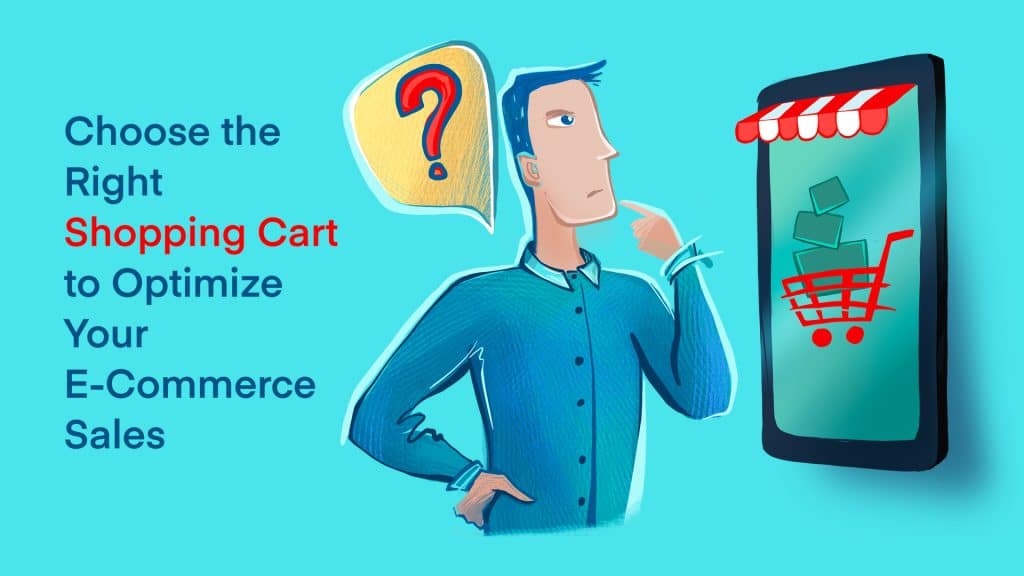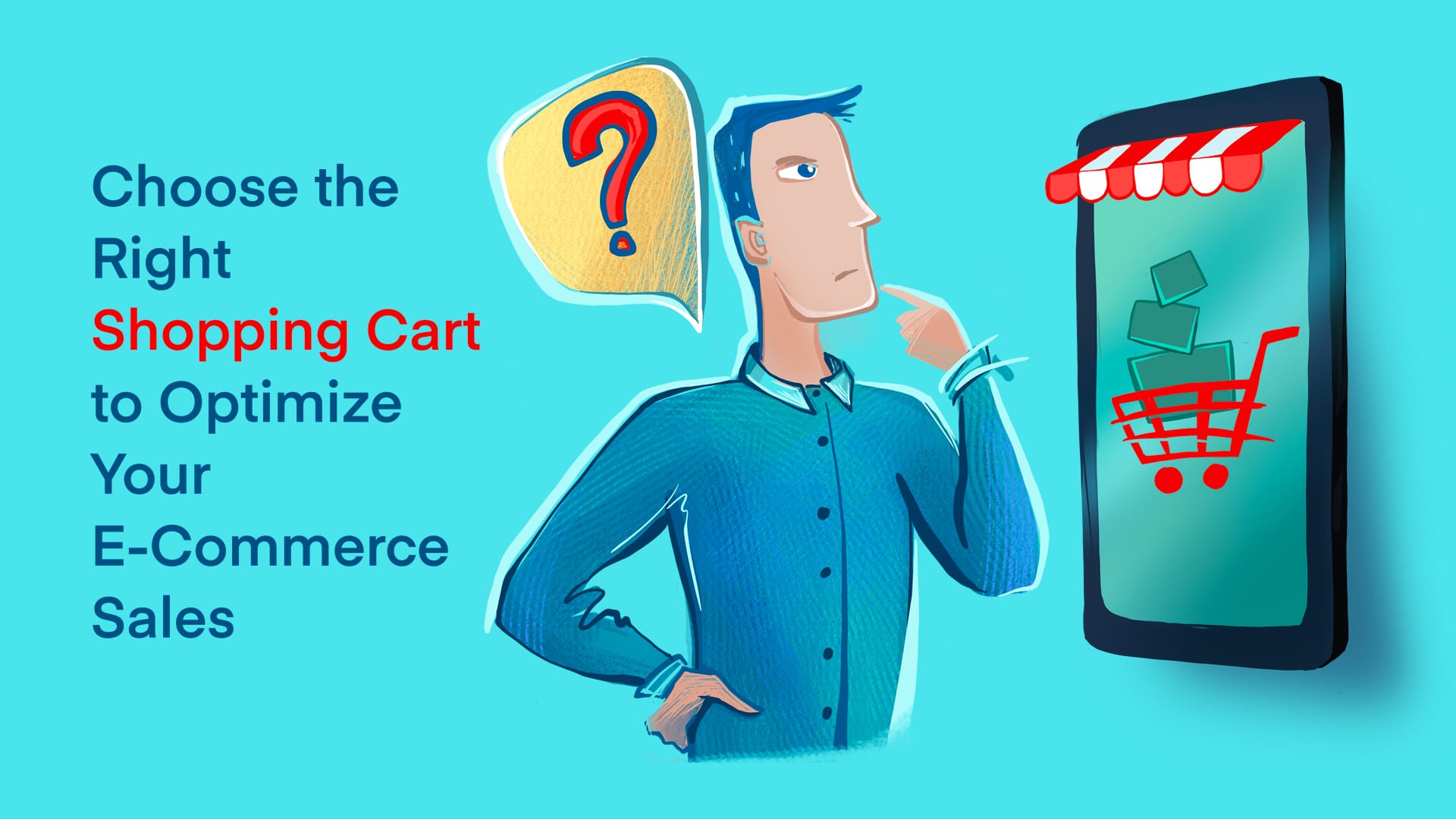 For an e-commerce business to transition from third-party to first-party sales, it needs a safe, convenient, and reliable way to both share a virtual catalog of its products and process payments from customers. One of the main allures of third-party marketplaces is that they take these responsibilities off of your plate. As a result, it is easy for sellers to become comfortable with their third-party status and, therefore, reluctant to leave the comfort their marketplace channels provide.
This is where shopping cart platforms come in. 
Shopping carts are software solutions designed to support several key e-commerce features vital to successful first-party sales. To start with, shopping carts provide options for storing, organizing, and categorizing product information for customers to engage with. Once a user is prepared to make a purchase, shopping carts securely accept and remit their payments. They then distribute relevant logistical information to both the seller and the customer so that the transaction can be completed smoothly.
Sellercloud integrates with many industry-leading shopping carts to help you conduct first-party transactions with confidence. That said, not all shopping cart platforms are created equal. There are different options whose fit with your e-commerce business will depend on your products, your first-party web presence, and general tech comfort level. If you aren't careful, you may find that you are investing time and money into the wrong shopping cart for your needs – missing out on lucrative first-party sales in the process (especially in the current e-commerce climate).
Here are several of the features you should consider before settling on the right shopping cart platform for your e-commerce business.
Hosted Versus Self-Hosted Shopping Carts
One of the major distinctions between shopping cart platforms is whether they actually host your catalog and transactional data on their own servers or if you need to provide a server of your own.
Hosted shopping carts typically provide features and a level of plug-and-play convenience that should be familiar to third-party sellers. Your catalog (including images, descriptions, customer reviews, Q&As, etc.) is stored and supported by your shopping cart provider. You don't need to know how to code or design a storefront. Just input your merchandise, payment, and shipping details and you are on your way to becoming a first-party seller.
Self-hosted shopping carts (sometimes referred to as seller-managed, licensed, or open-source shopping carts) can be a bit more complicated to set up and maintain than a hosted shopping cart would be. As the name implies, you are in charge of purchasing or leasing server space where your store's data will live. This adds an additional cost to consider and a fair amount of technical know-how to get everything running (and keep it running) smoothly.
The reward for this added layer of responsibility is a higher degree of customization for your storefront and its backend. Many seller-hosted shopping cart providers do include useful interfaces that make it fairly straightforward to add your product catalog and relevant business credentials; however, others either require or allow for the use of additional third-party plugins or add-ons to set up your e-commerce shopping cart exactly the way you like. Sometimes these plug-ins are free, but oftentimes they come at an added expense. Regardless, some general web design and coding savvy is often required to get the most bang for your buck when managing your own shopping cart hosting.
Designed well, a self-hosted shopping cart can create a unique and tailored online shopping experience for your customers that stands out from the common templated appearances of most hosted shopping cart options – delivering exactly the features you need with minimal bloat. If this seems too overwhelming, hosted shopping carts remain strong, reliable options as well.
Technical Specifications That Matter
Regardless of which type of e-commerce shopping cart platform you choose to enlist, there are some essential technical details you need to pay attention to. Many shopping carts operate different subscription tiers, which offer a range of both cost-effective and high-performance options to choose from. These tiered subscription models typically differ based on the following criteria:
Storage space – Whether it is the space allotted to you by a hosted shopping cart provider or the space you need to acquire to host your shopping cart on your own, you need to be sure you have enough. Every product, image, and video consumes valuable bytes. In some cases, email storage also counts against your storage cap – something to consider if email marketing, shipment tracking, and customer service are going to be handled through your shopping cart platform.
Bandwidth limits – You could have unlimited storage, but if you and/or your customers can't access the information they need when they need it, it doesn't mean much. Most shopping cart providers and third-party server partners impose bandwidth restrictions on how much data can be transferred to and from your shopping cart (typically calculated monthly). The more customers you have, the more multimedia included in your catalog, and the more edits you plan to do to your listings, the more bandwidth you will need.

In some cases, service providers will offer unlimited bandwidth. Be sure to check the fine print to see if there is a catch. Oftentimes, unlimited bandwidth offers come with speed restrictions (grinding the process of browsing and searching your catalog to a halt) or limitations on the size of your catalog.
SEO tools – A big part of selling online is ensuring customers can find your products. Unlike on third-party marketplaces where customers arrive and search on an established retail gateway, your first-party store relies on either customers seeking out your web address directly or using a search engine. Knowing this, many shopping carts build in search engine optimization (SEO) features that help boost the odds that search engines will match their users to your products. 
Sometimes these SEO features are baked in in ways you aren't expecting. For instance, shopping carts that allow you to add and organize categories and keywords within your catalog will make store navigation more intuitive for customers, as well as simpler for search engines to crawl and index.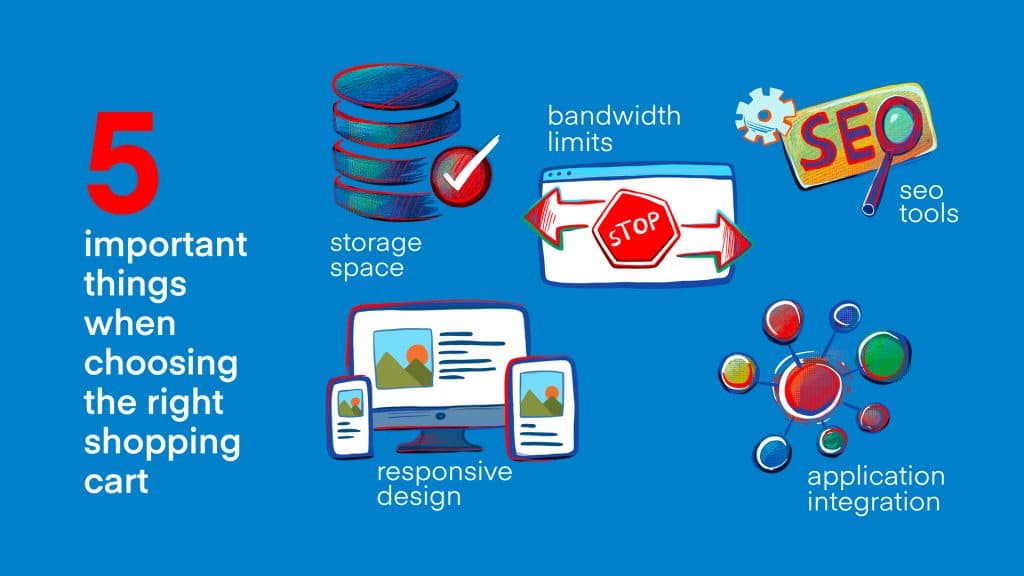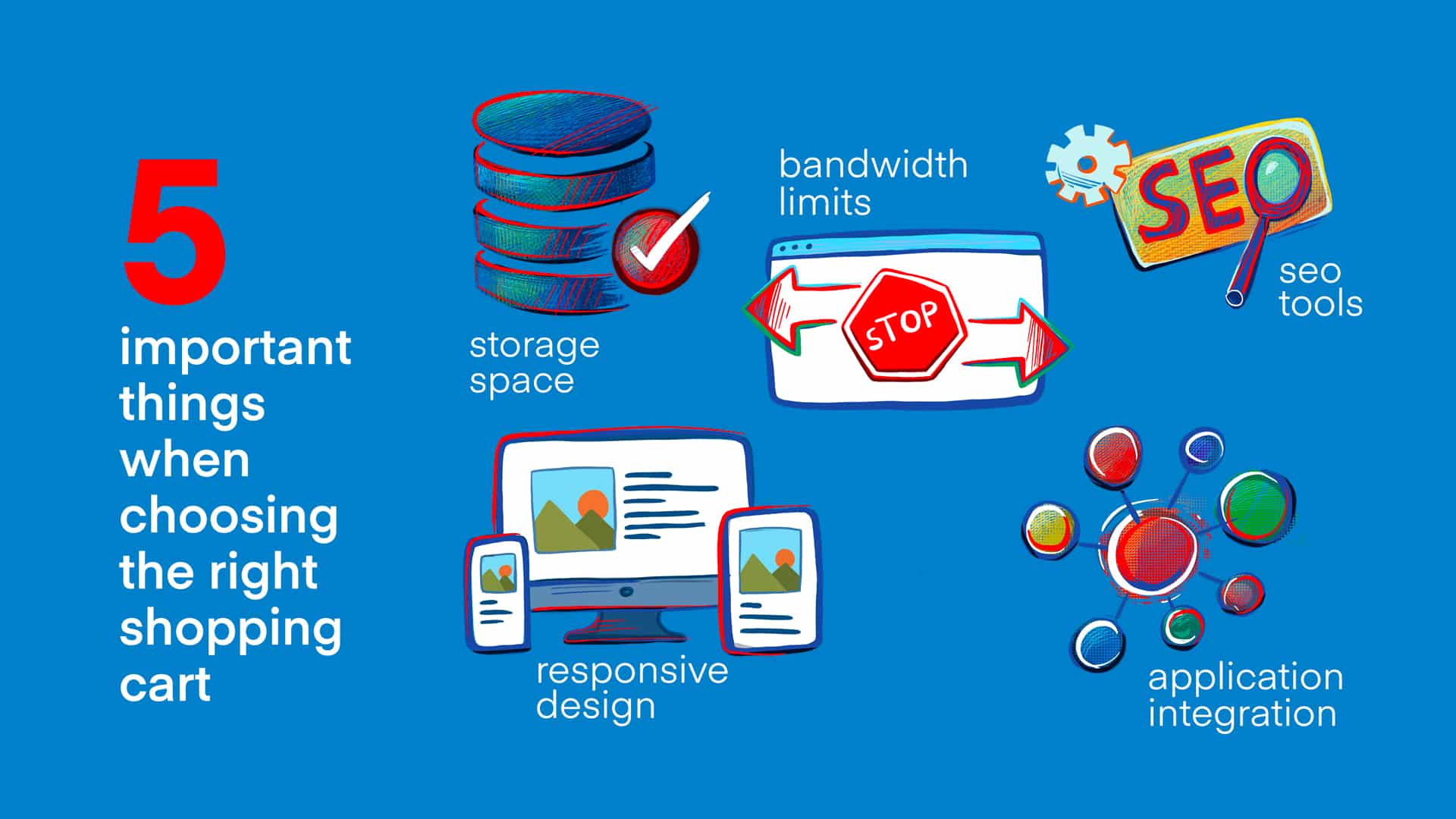 Appearance and Responsive Design
Technical specs matter, but so does appearance. Before settling on a shopping cart partner, evaluate whether the available aesthetic options and templates are a good fit for your brand and your customers.
The most efficient site design in the world may still lead to abandoned carts if customers don't feel engaged with your interface. Similarly, the most beautiful website in the world can still lose sales by forcing customers to click through numerous hoops and pages before finally checking out. Therefore, you need to choose a design that draws your customers in, makes finding products simple, and gets customers from cart to checkout quickly.
Also, consider how your customers engage with the web. Pay attention to how your catalog will appear on various devices: smartphones, tablets, computers, and even television screens. The best websites and hosts know to take this scalability – commonly advertised as responsive design – into account and provide options to automate page layouts accordingly.
Application Integrations
Diversifying your e-commerce presence is crucial to scaling your business. Listing on multiple channels is a key way to maximize your product and brand exposure. Shopping carts can help you do this.
Some shopping carts offer integrations with third-party marketplaces, which allow you to share your catalog directly with sites like Amazon and eBay. Other shopping carts require you to use external plug-ins to make everything mesh correctly. In either case, you are responsible for maintaining listings so they are compliant with marketplace channel terms of service. You also have to have a plan for keeping track of your inventory levels. Spreading an entire catalog's worth of listings across multiple channels can be a recipe for disaster without a plan to track and update inventory data in real time.
Thankfully, most shopping carts have other application integrations beyond just marketplace channels. The Sellercloud omni-channel e-commerce platform integrates with many of the most popular and reliable shopping cart providers. With it, you can manage your entire product catalog from one convenient location, while also ensuring compliance across all channels where you sell.
Perhaps even more valuable, Sellercloud features a robust, industry-leading inventory management platform that not only tracks where every piece of your inventory is, but uses cloud-based technology to keep your inventory levels up-to-date across all of the channels where you sell. What's more, predictive purchasing alerts let you know when it's time to restock. This makes life especially easy for e-commerce retailers looking to maintain both a first- and third-party selling presence. No more overselling products or out-of-stock listings.
For more on how Sellercloud's shopping cart integrations can help increase your business's visibility, convenience, and productivity, contact us directly for a free demo.