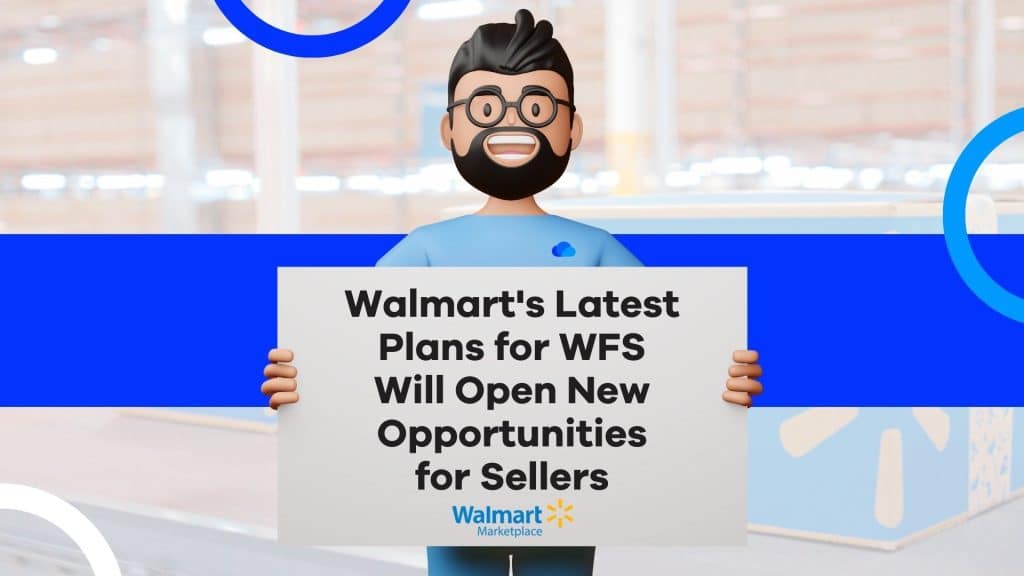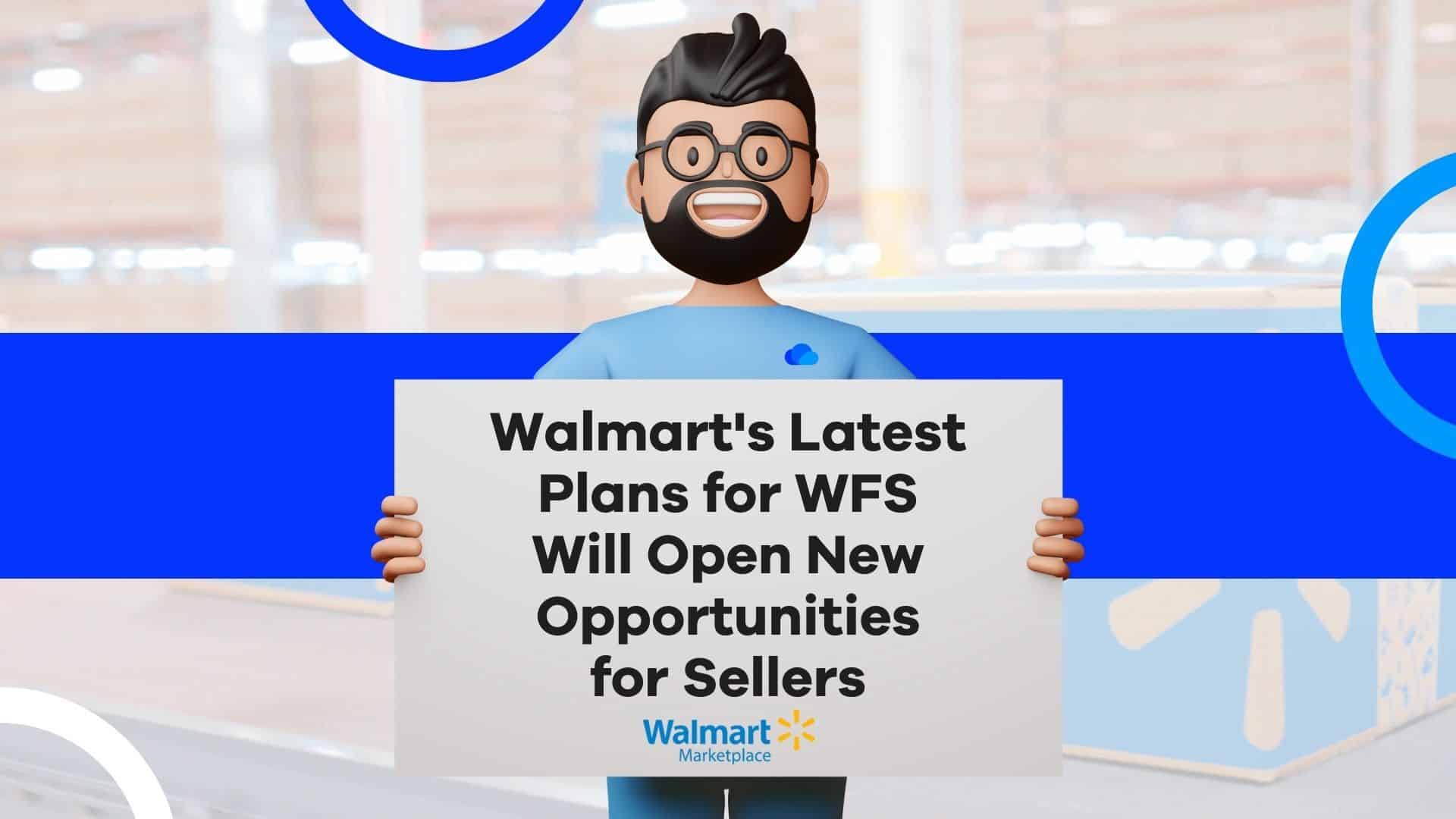 Walmart has unveiled two exciting new developments in their ongoing support of their Walmart Fulfillment Services (WFS). In doing so, they continue their commitment to developing one of the best third-party logistics options for e-commerce sellers, and add even more value to Walmart Marketplace as an online sales channel.
It starts with Walmart's construction of four state-of-the-art fulfillment centers (FCs) over the next three years. The first of these "next generation fulfillment centers" will open this summer in Joliet, Illinois, with additional locations to follow in Texas, Pennsylvania, and Indiana. According to a Walmart press release,
"These FCs will be the first of their kind for Walmart, using the powerful combination of people, robotics, and machine learning to set an entirely new precedent for us on the speed of fulfillment while continuing to create a positive work environment for our associates."
The technology that will drive these new FCs is already proving its value in Walmart's Pedricktown, New Jersey fulfillment center where the automated, high-density warehouse design has resulted in "more comfort for associates, double the storage capacity and double the number of customer orders [Walmart is] able to fulfill in a day."
The second element of Walmart's investment in improving their e-commerce fulfillment capabilities involves its most valuable resource – its network of over 4,700 brick-and-mortar retail stores. Many of Walmart's stores are already being used for buy-online-pickup-in-store (BOPIS) e-commerce as well as launching points for last-mile delivery of Walmart Marketplace orders – creating an impressive network of coast-to-coast delivery coverage. However, Walmart is reportedly planning to take this further by treating each of its thousands of stores as fulfillment centers.
This dual-purposing of Walmart locations opens the door not only to increased two-, one-, and same-day e-commerce order deliveries, but also more convenient WFS restocking shipment destinations. There is also speculation that successful Walmart Marketplace products could earn their ways onto physical store shelves, providing an exciting new way for e-commerce sellers to transform their third-party business into first-party sales.
New Walmart Fulfillment Centers Make Walmart Fulfillment Services (WFS) An Even Better Deal for Sellers
Opting into a third-party logistics program like WFS or FBA means the ability to offer reliable, fast, and cost-effective order fulfillment to a wide array of customers in ways that you may not have the capacity to do on your own.
As the number of Walmart's fulfillment locations increase, so does the speed of which you can get products into customers' hands. Add in the automation and artificial intelligence components of Walmart's FC plans, and the value proposition is even stronger. The improved efficiency of Walmart's fulfillment centers can lead to significant improvements in how your inventory is received and distributed.
Faster inventory processing – Before WFS can make your products accessible to Walmart Marketplace shoppers, they need to receive, unpack, and store your merchandise. Walmart's new FCs shorten this turnaround time dramatically by using an automated storage system to make sure that every item is stored quickly and accurately.
Improved order picking – When an order comes in, Walmart's new FCs deploy an automated inventory retrieval system to bring the purchased items to be prepared for packing and shipping. Walmart touts the benefits this has in reducing the physical toll on its workers, but sellers should appreciate the increased accuracy and speed that this system can offer over traditional, manual order picking.
Optimized packing and shipping – While orders are being picked, perfectly-sized packing cartons are selected and readied to receive the inventory to be packed. Once they arrive, items are added to the box, taped, and shipped.
Walmart estimates that the sum of these optimizations will allow their warehouse workers to "assemble up to four orders at once and send packages to be shipped in less than 30 minutes after the customer clicks to order." In some cases, this could likely lead to delivery speeds faster than those you could achieve through FBA or other 3PL partners that you are currently relying on to support your omnichannel e-commerce business.
As it stands, WFS is already one of the best deals in e-commerce fulfillment for omnichannel e-commerce sellers looking to both expand their reach and outsource many of their warehousing and shipping responsibilities. The improved accuracy and efficiency promised by Walmart's fulfillment plans only improve the prospects of WFS moving forward.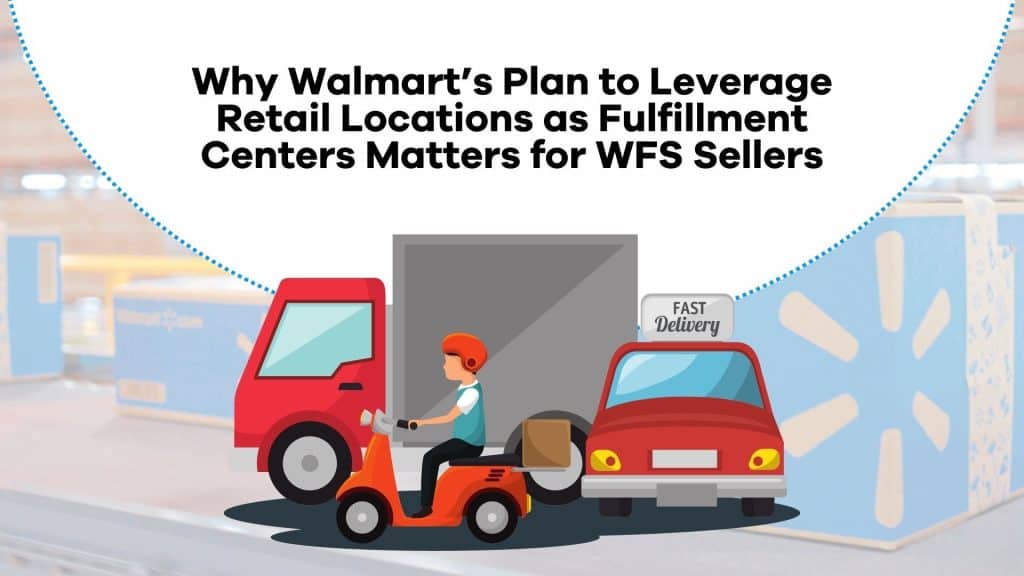 Why Walmart's Plan to Leverage Retail Locations as Fulfillment Centers Matters for WFS Sellers
The most intriguing value proposition for Walmart's continued investment in e-commerce comes from what Walmart has and that its competitors do not – one of the largest networks of retail locations across the United States. As Walmart continues to expand the role that these established brick-and-mortar stores play in the functionality and efficiency of Walmart Marketplace, they effectively shorten the distances between sellers and customers to an impressive degree.
According to Walmart, they "can reach 95% of the U.S. population with next- or two-day shipping, and by making use of the expansive reach of our stores, [they] can offer same-day delivery to 80% of the U.S. population."
This investment in quick commerce (sometimes referred to as q-commerce) is gaining traction for many retailers seeking to capitalize on customers' desire for convenient online shopping options and fast delivery. Walmart's continued developments in this area have shown that they are looking to get ahead of the pack.
For e-commerce business, this means that selling on Walmart Marketplace, and more specifically – taking advantage of WFS, is a great opportunity to put your products into this q-commerce ecosystem as it grows.
Furthermore, there are additional foreseeable benefits to your brand and workflows as retail location fulfillment and distribution centers come online:
Faster and cheaper inventory replenishment – The ability to send your bulk WFS inventory shipments to a nearby Walmart store location rather than the nearest Walmart FC could result in notable time and cost savings. This is a feature that Tom Ward, chief e-commerce officer at Walmart U.S. is "promising in the "near future."
The potential for brick-and-mortar exposure – Jare Buckley-Cox (Vice President, Walmart Fulfillment Services) has indicated that Walmart Marketplace success will be a pathway to gain placement on brick-and-mortar shelves – a proposition that becomes much more feasible and intriguing as e-commerce and physical retail continue to occupy mutual spaces. This adds a potentially intriguing new way for online brands like yours to transition from third-party e-commerce to first-party sales.
Marketplace competition could lead to omnichannel benefits
The perpetual competition between e-commerce industry players can lead to significant changes. Just as Amazon Prime and FBA undoubtedly inspired Walmart offerings like Walmart+ and WFS, this is an area where Walmart's leadership could force the hands of others in the space to keep up. 
This is yet another reason why an omnichannel e-commerce approach is so critical. By spreading your reach across multiple channels and maintaining an holistic vision of your business and brand goals, you put your products in a position to find customers and profits in a variety of ways. We at Sellercloud know the value of true omnichannel e-commerce. That is why we continue to innovate with tools and integrations that allow you to take full advantage of new developments from channels like Walmart Marketplace and utilizing services like WFS.
What's more, these latest plans from Walmart add even more reasons why your omnichannel e-commerce brand needs to be taking advantage of WFS. Sellercloud is a trusted Walmart integration partner and one of the first omnichannel e-commerce platforms to offer WFS integrations. Our continued and valued relationship with Walmart ensures that your omnichannel e-commerce business will always be equipped to make the most out of these and future Walmart Marketplace developments.
Contact us directly for a free demo today, and see for yourself how our unified e-commerce growth platform can help keep your omnichannel business on the cutting edge.