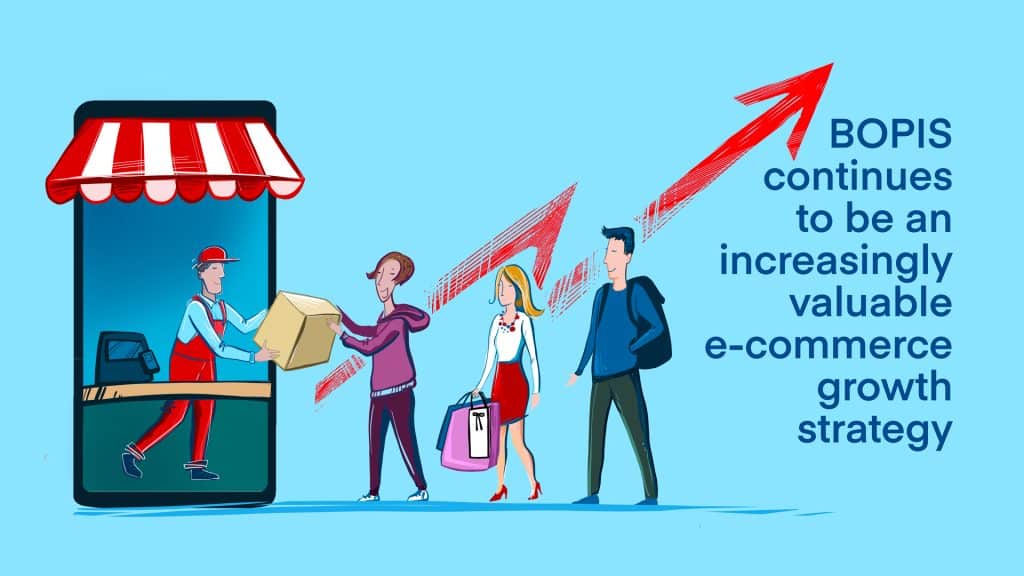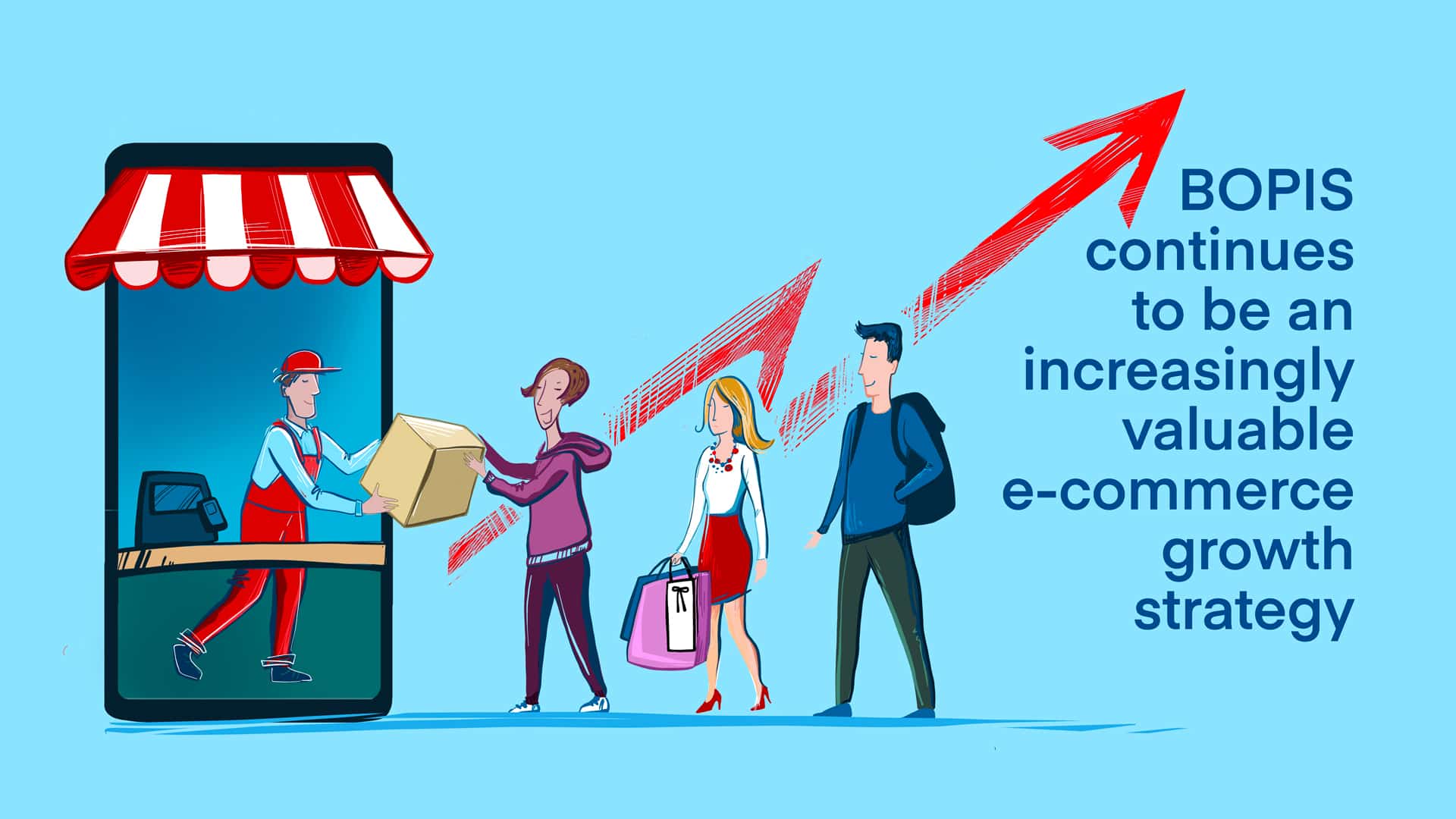 BOPIS (Buy Online, Pick up in Store) rose to prominence throughout the early pandemic as brick-and-mortar retailers were forced to make a quick pivot to new shopping models. Big box stores, grocery stores, restaurants, and boutiques all needed to find ways to remain accessible and relevant.
Allowing customers to make e-commerce purchases and physically retrieve their items from a local establishment or chain store created a safe and speedy way for customers to get their hands on their orders. This helped keep retailers afloat, and also provided a way to circumvent many of the logistical challenges and delays caused by an overstressed fulfillment industry.
In fact, much of e-commerce shopping cart service Shopify's tremendous quarter-over-quarter growth throughout 2020 and 2021 was built on the back of BOPIS offerings. As of Q2 2021, Shopify's point-of-sale system's omnichannel features – including buy online, pick up in store – "[were] adopted by 63% of Shopify's brick-and-mortar merchants in English-speaking geographies at the end of June, up from just 2% in February 2020."
As stores and public spaces have reopened, many of the consumer shopping habits and retail conveniences that customers have come to appreciate remain. Among those, BOPIS continues to emerge as a popular e-commerce checkout option for retailers of all sizes. E-commerce brands and physical retailers continue to see BOPIS as a net positive offering. So do we.
The Two-Sided Benefits of BOPIS Are a Perfect Match for Our Times
The beauty of the BOPIS model is the fact that it fosters synergies and logistical overlaps between e-commerce and brick-and-mortar retail. Instead of yet another industry development that feeds into the neverending narratives about how online sales will be the demise of physical stores, BOPIS (and it's cousin BORIS – buy online, return in store) are proving how e-commerce and brick-and-mortar not only can coexist, but support each other's growth.
From the e-commerce side, BOPIS allows buyers and sellers to lean on existing retail locations as the end of the fulfillment road – eliminating the need for traditional last-mile delivery costs and coordination. Inventory can be dual-purposed as both shelved and e-commerce stock simultaneously. 
For online shoppers, BOPIS can be both a cost- and time-saving option for those looking to get the most out of their online shopping experiences. BOPIS orders provide the convenience of getting hands-on merchandise without having to roam the aisles themselves. It also typically removes the need to wait or pay for shipping-and-handling.
On the brick-and-mortar side, both BOPIS and BORIS turn e-commerce into a way to generate foot traffic into physical retail locations. According to research from PYMNTS.com, "nearly 44% of consumers say that BOPIS capabilities would encourage them to shop at physical stores". All this is to say that we are likely to continue to see arrangements like 2019's BORIS deal between Kohl's and Amazon as well as Sellercloud's new BOPIS functionality for Amazon orders.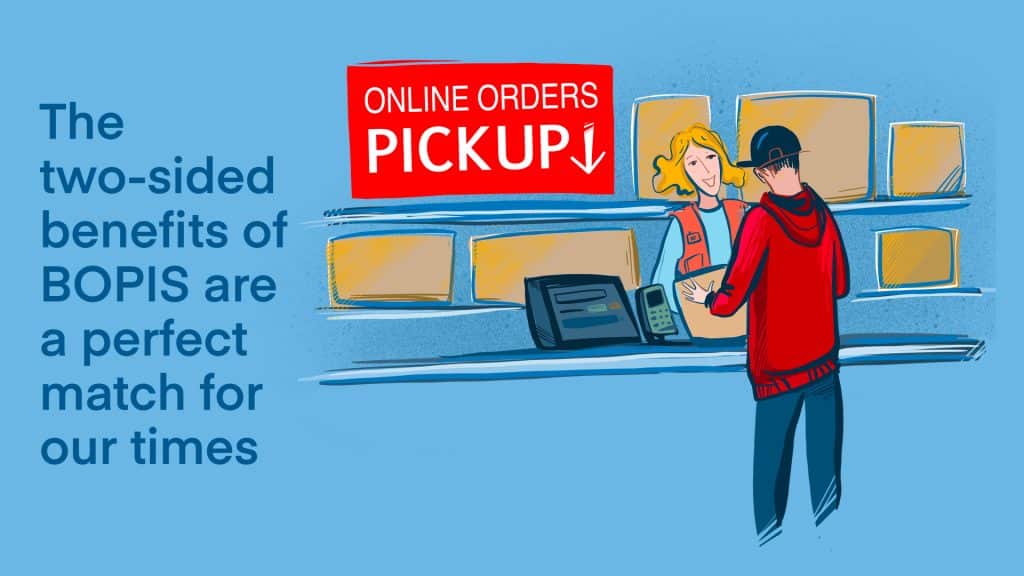 Amazon Adds BOPIS Features and Sellercloud Users Can Take Advantage
The potential and established success of BOPIS is not lost on the e-commerce industry's biggest names. As part of an initial rollout, Amazon has opted to work with e-commerce management solutions like Sellercloud to ensure that sellers can take advantage of Amazon's BOPIS functionality at this time.
Whether you are a high-volume e-commerce seller looking to leverage retail locations or a small, mom-and-pop operation looking to expand your reach online, Sellercloud's Amazon Local Shopping (BOPIS) functionality presents a low-barrier-to-entry option that is simple, reliable, and profitable.
Within Sellercloud's centralized, omnichannel platform, Amazon sellers, once approved by Amazon for their Local Selling program, can get started with BOPIS and start leveraging their e-commerce success to simplify fulfillment and increase brick-and-mortar traffic. It is as simple as setting a few parameters.
To start with, create the Amazon store or stores that you plan on using for BOPIS orders within your Sellercloud account. This process includes setting up essential store rules and parameters like hours of operation, pick up time availability, and hold times.
From there, be sure to update and allocate your inventory SKUs and quantities for your BOPIS storefront, also from within your Sellercloud account. Once you have the merchandise properly allocated and available, you can enable BOPIS functionality for these SKUs. 
When an Amazon BOPIS order comes in, it is instantly forwarded to the appropriate physical location for fulfillment. Should an order need to be shipped to a retail location, that can be initiated as well. Once the order has been picked and packed at the appropriate store location, it is marked as ready for pick up and the customer is notified.
Orders that are made with Amazon Local Selling generate unique tracking numbers that both allow the orders to be marked as "shipped" on Amazon. At the same time, this also makes it possible to keep track of the order across Sellercloud and the Sellercloud family of products. Furthermore, with each order, Sellercloud updates inventory figures (just like with Sellercloud's omnichannel functionality across e-commerce channels), preventing overselling or unnecessary pick up delays.
We, at Sellercloud, are excited to bring this exclusive feature to our users and see the potential it has for spurring long-term retail growth. For more about how Sellercloud's omnichannel growth platform can help you take your online sales to the next level, contact us directly for a free demo.