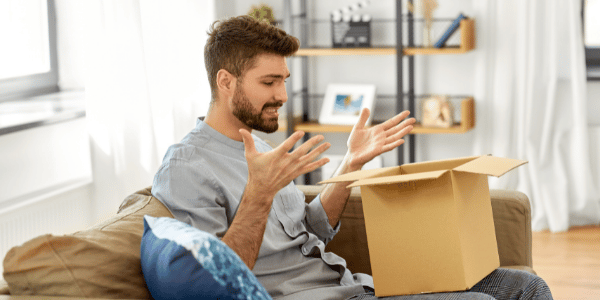 You've heard this before. Something that comes around and "changes everything". Usually that's not really the case. This time, however…
COVID-19 and eCommerce
COVID-19 has proven to be the single most powerful and influential catalyst for a paradigm shift in consumer shopping habits since the mid-90's when we saw the creation of major online eCommerce sites like Amazon and eBay. From the 1990's through 2020, the eCommerce growth trendline followed a safe, predictable path.
Then…COVID.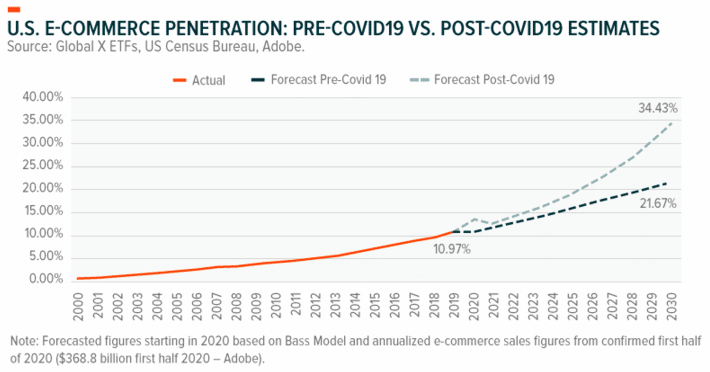 We began to feel the first effects of the pandemic with casual distancing, hand-washing, and maybe a mask. Then, seemingly overnight, retail stores shuttered operations and the streets were barren. Traffic was all but gone, but we had nowhere to go. 
A crack was exposed in our consumer culture, and eCommerce leaped to the forefront to fill it.
COVID-19, eCommerce, and Shipping Logistics
With every major sea change, you've got to keep an eye out for rogue waves.
For shipping carriers, those waves came in the form of higher-than-ever parcel volume moving through already established shipping channels. While most major carriers can employ methods and procedures that allow for more volume to enter the stream, everything has its breaking point, and carriers have been forced to find ways to increase their logistical efficiency in order to continue to deliver as promised.
This has not been easy.
This intense and rapid volumetric increase has resulted in slower-than-normal delivery timeframes almost across the board, but it has also resulted in a higher instance of parcels and the contents that they carry being damaged or destroyed. Additionally, a larger number of parcels have gone missing while in transit.
What Happens When Parcel Goes Missing or Sustains Damage?
This is the part where GREAT customer service should win the day.
While the shipping carrier may be responsible for causing the damage or losing a parcel, as the seller of the product(s), you are initially responsible for the damaged items. If a customer order leaves your facility in good condition and arrives damaged, it is your responsibility to take care of your customer…by law. And you have to make a decision and act on it quickly. A seller must take action to ensure that a the customer is made whole by one of the following methods:
Provide a full refund with or without the damaged product being returned
Provide an agreed upon partial refund without the damaged product being returned
Send a replacement with or without the damaged product being returned
You have to act, and you have to act fast. You must ensure that your customer is satisfied.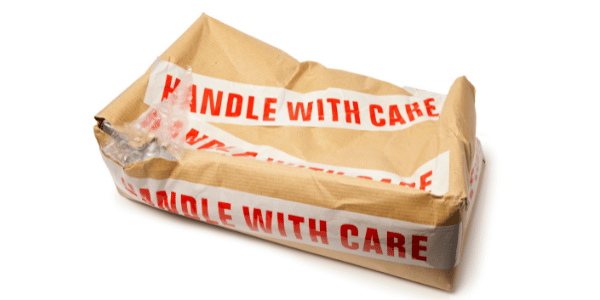 How Do You Protect Yourself?
Some carriers offer 'free insurance' or indemnity coverage up to $100.00 worth of value. If you routinely ship low-value goods and you ship using a method that offers the coverage, take it. This way if one of your parcels goes missing or the goods inside are damaged, you can refund or replace the item and file a claim with the carrier against that free coverage.
What if you ship more expensive goods?
If you ship items or parcels containing items that amount to more than $100 worth of value, this is when you really want to begin paying attention. Unless your model accounts for the inevitable, it can be a major challenge dealing with high value losses. The self-insurance model can quickly go awry when that $9,500.00 package goes 'missing'.
To address the risks of loss, damage, and shortage, many organizations look to parcel shipping insurance. Most major carriers offer their own coverage programs, and there are several options for third party shipping insurance.
What should you look for when comparing options?
Not all programs are created equal.
Your business goals should be clearly understood as you begin to do your research. Coverage rates can vary widely among the different options available between the shipping carriers and third party coverage programs. Here are some common goals that shipping insurance customers have:
Save time from having to investigate customer claims internally
Reduce overall shipping costs
Take care of upset customers faster
Centralize coverage for multiple carriers into one account
Protect against high value or high volume losses
What does it cost to ship insured?
Premiums for coverage will depend on what entity provides the coverage, the value of the goods that are being shipped, past claims history, etc. Coverage that is offered directly from or by the shipping carrier is typically based on a rate card that increases as the value of the parcel goes up. It is usually more cut and dry than a third party coverage option, which may offer a level of customization and discounts based on certain coverage aspects.
Most pricing is based on the DVU (Declared Value Unit). A DVU is typically equal to $100.00 worth of value. Major carriers normally display their coverage rates on their websites. For example, as of the date of writing, the United States Postal Service offers insurance on a domestic parcel valued at $300.00, for $5.05.
A third party shipping insurance company, like U-PIC Shipping Insurance, will typically offer more coverage for a significantly lower rate.
How does shipping insurance reduce my shipping expenses?
If you are already shipping insured and using carrier coverage options for parcels valued north of $100.00, it's likely that you can immediately reduce your overall shipping expenses by contacting a third party shipping insurance company for a rate quote. In almost all cases, the quote that you receive will amount to less than what you are currently spending.
Furthermore, some third party shipping insurance companies effectively remove the need to add more services (and fees) to your outbound parcels, due to the nature of their coverage. For example, when a carrier marks a delivery as complete, but your customer states that they never received it, U-PIC Shipping Insurance will accept that claim as valid and process accordingly. This effectively makes services like signature confirmation, which can cost anywhere from $2.90 to $9.30, or certified mail, which can cost $3.75 to $9.75 redundant and sometimes unnecessary expenses when a parcel is insured.  1
Is loss and damage really a big deal?
It depends on how you look at it. On a good day between the major North American carriers, tens of thousands of parcels will be damaged or lost while in transit. During the holiday season, that number can grow to hundreds of thousands of angry customers…every single day. While this number only represents a fraction of overall parcel volume, it is most certainly impactful when it's a package that you sent to your customer.
Considering the fact that in the United States alone, more than 240,000,000 people use social media every month, it should be clear as to why maintaining a happy customer base is invaluable. We have a tendency to expect good service from companies with whom we do business, and when we receive that good service, we don't make a big deal out of it. However, if anything goes wrong, we tell everyone on Yelp, Facebook, Twitter, TikTok, Instagram…the list goes on. For a business to survive and thrive in the digital world – especially an eCommerce business – it's imperative to maintain a happy customer base.
Rapidly taking care of customers whose orders are lost or damaged is a powerful way to ensure customer happiness, and customer retention.
U-PIC Shipping Insurance and Sellercloud's eCommerce continues to grow, our data tells us that an increase in lost, damaged, or shorted parcels should be expected. U-PIC Shipping Insurance and Sellercloud have teamed up to offer Sellercloud's customers a better shipping insurance experience by offering programs with reduced rates and easier claims. To learn more, visit www.u-pic.com. Make sure you put "Sellercloud" in the "How did you hear about us" section. You'll be connected with a licensed agent who will learn about what you ship, and engineer a program based on your needs.
_________________________
1 Source: USPS