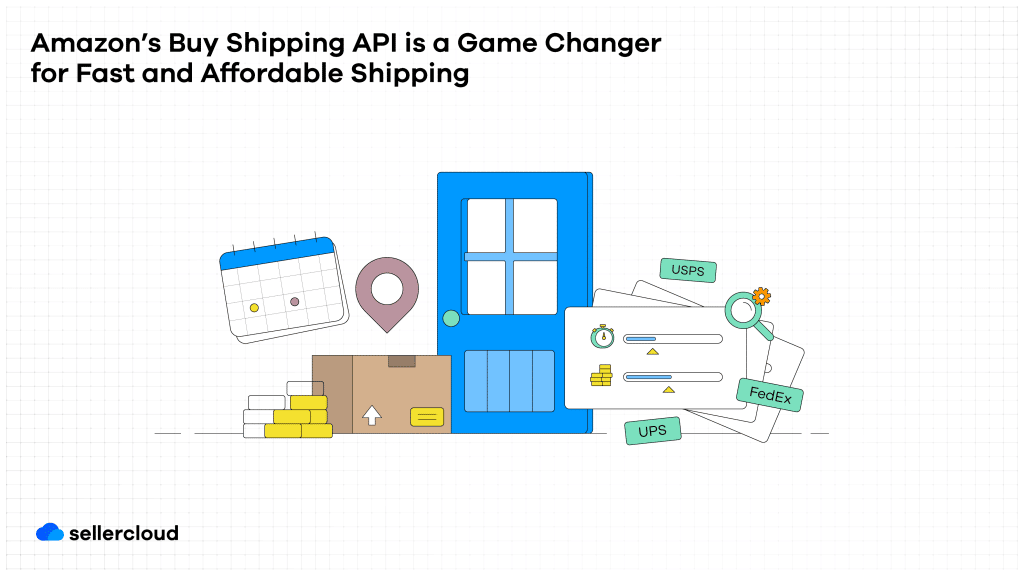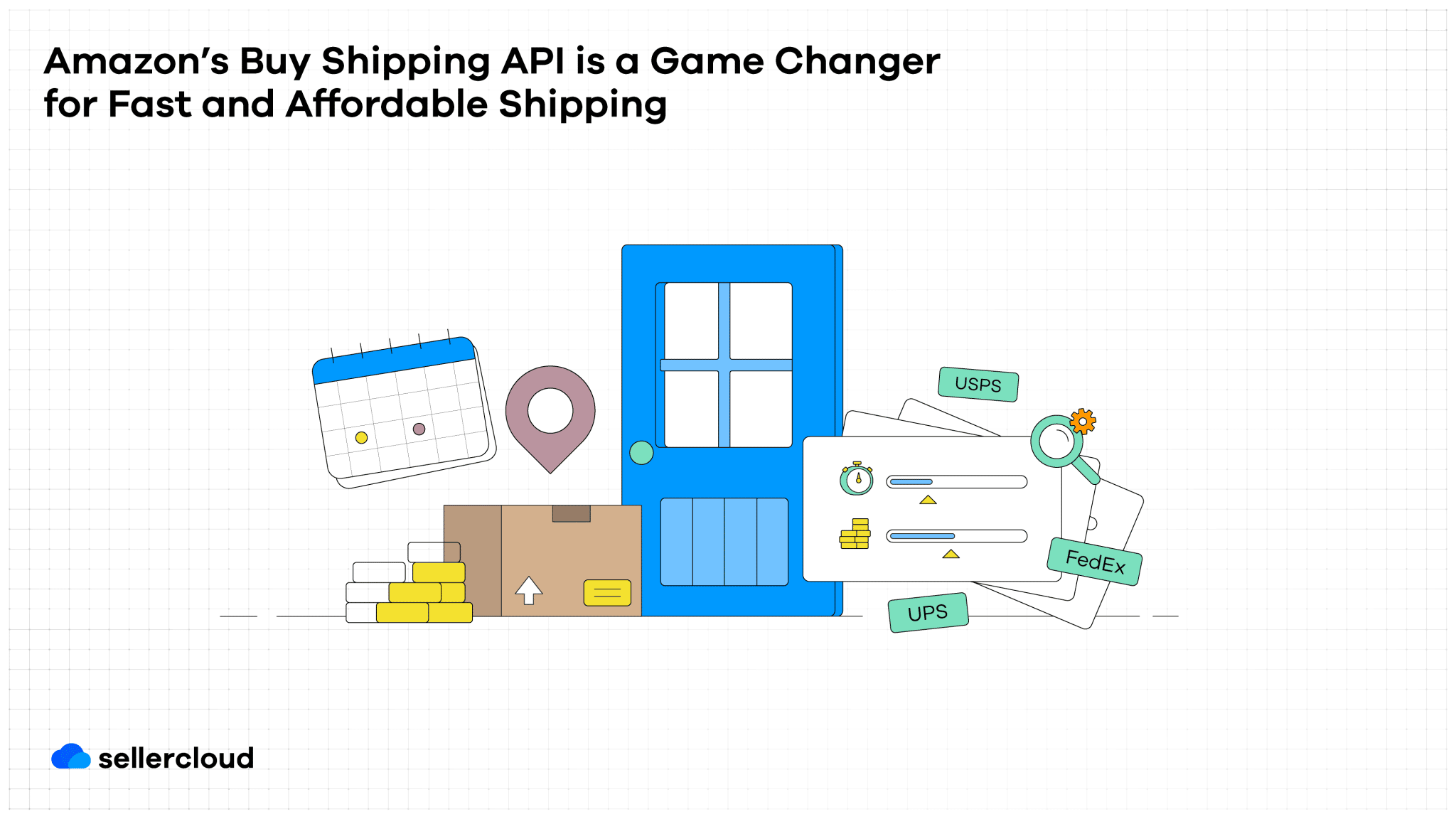 Online shoppers are increasingly considering shipping speed and shipping costs when it comes time to check out. The faster and less expensive the shipping, the less likely customers are to seek alternatives or abandon carts.
Similarly, online sellers are constantly looking for ways to improve order fulfillment times and reduce shipping costs. Optimizations in these areas improve an e-commerce business's overall competitiveness, especially on crowded marketplaces like Amazon.
Amazon's Buy Shipping API provides sellers with an excellent opportunity to find and purchase the ideal shipping services for each order based on projected fulfillment speeds and transit times. What's more, it provides critical account protections against negative repercussions caused by shipping delays or mishandling.
What is Amazon's Buy Shipping and How Does It Work?
Amazon's Buy Shipping is a program that allows sellers to tap into Amazon's network of carriers and industry-leading buying power to provide affordable and timely merchant-fulfilled shipping. Sellers get access to many of the same reputable shipping providers they already rely on—like UPS, FedEx, and USPS—but with discounted rates, bulk purchasing options, and other helpful benefits and protections.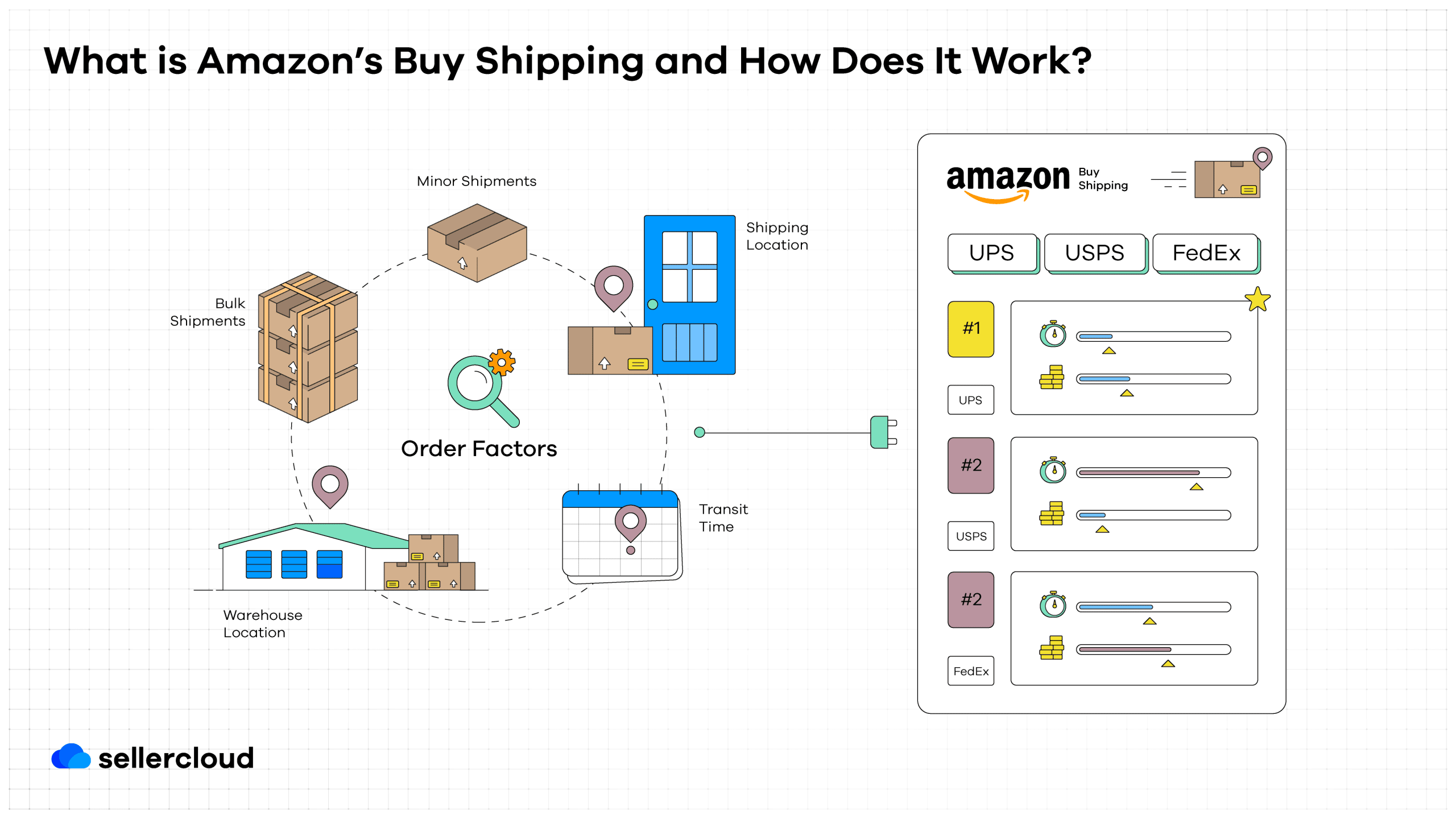 When a customer makes a purchase, Buy Shipping compares the estimated transit times of participating carriers and surfaces those that are most likely to be able to meet applicable delivery date promises. Inventory location, shipping destination, and the estimated ship date are all considered in this determination. Should a combination of these factors result in a carrier offering an expected delivery date that is past the seller's promised delivery date, the shipping option will not be available as a fulfillment option. Buy Shipping also gives sellers the ability to specify certain carriers to omit or, conversely, specify specific preferred carriers to always consider.
Once all of these conditions have been assessed, Buy Shipping automatically selects the most cost-effective shipping method that will arrive on time. Sellers are then given the opportunity to purchase shipping labels directly from Amazon's Seller Central—up to 100 at a time. Not only is this process incredibly convenient for sellers that fulfill their own orders, but the ability to purchase shipping in bulk can lead to further cost savings and a meaningful boost to profit margins.
What is Amazon's Buy Shipping API?
Application programming interfaces (APIs) are some of the speediest, most reliable and secure B2B connections available. They are used in a variety of ways to connect devices and systems across the internet. In e-commerce, they provide the critical pathways between merchants, marketplaces, fulfillment partners, and more.
Amazon's Buy Shipping API makes Buy Shipping's features even simpler to use and integrate into sellers' existing workflows. The Buy Shipping API allows sellers to access, purchase, and manage their Buy Shipping options through an integrated omnichannel e-commerce platform like Sellercloud. Labels can be purchased, printed, and voided through the API. Once an order ships, sellers can access order details and track packages as they would with any other shipping label purchase—all from within a single, unified interface.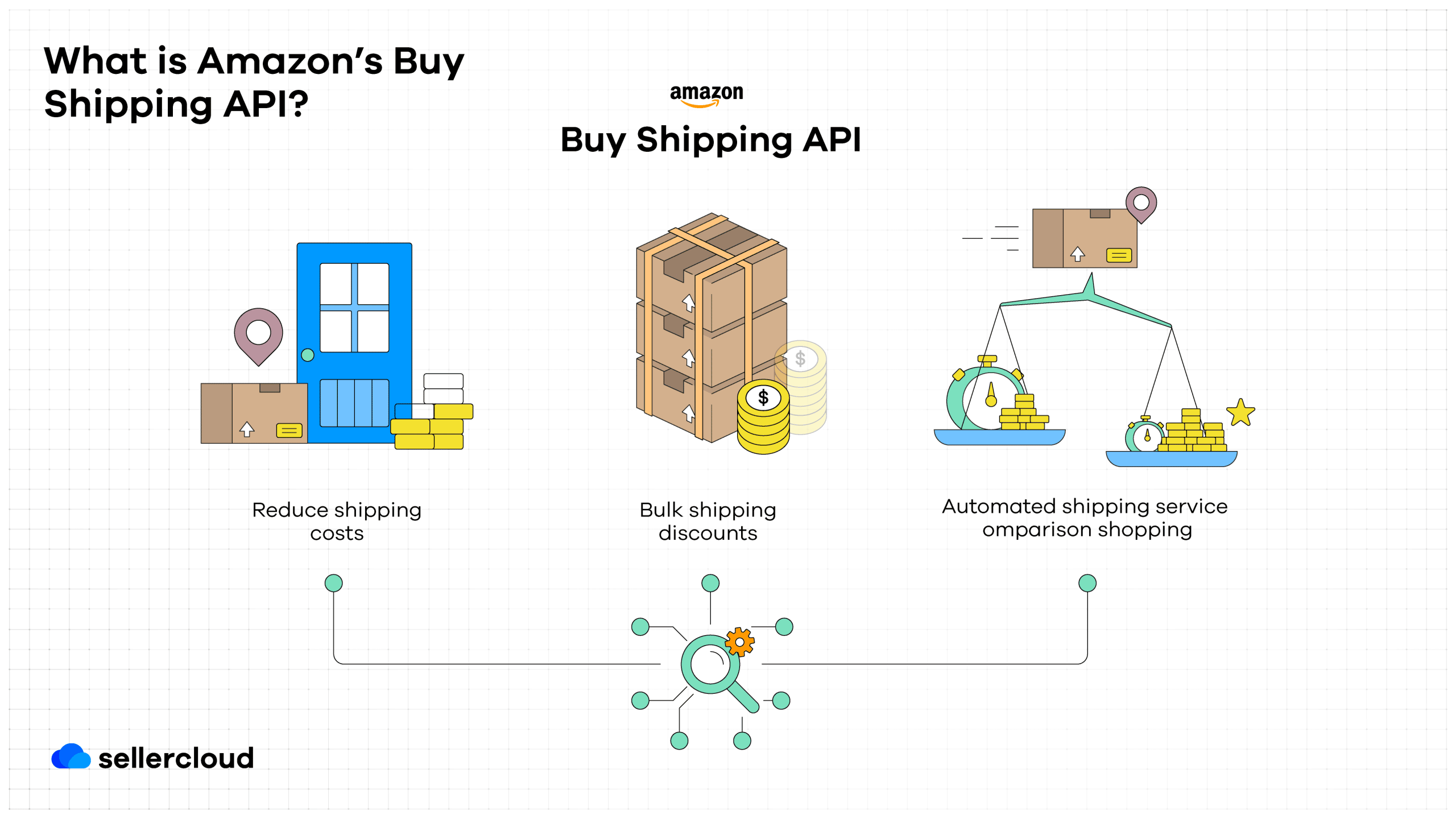 Under the hood, the Buy Shipping API works as an extension of both the Merchant Fulfillment and Seller Fulfilled Prime APIs, which means that all the conveniences and benefits of Buy Shipping are merely a few clicks away for sellers who already use one or both of these popular integrations.
How Does Amazon's Buy Shipping API Benefit Sellers?
There are a number of key ways Buy Shipping—and specifically the use of the Buy Shipping API—helps to improve sellers' fulfillment practices. Some of the main benefits include reducing overall shipping and fulfillment costs:
Reduce shipping costs

– The most obvious advantage of Buy Shipping is the ability to purchase discounted shipping for Amazon orders directly through Amazon. By leveraging Amazon's buying power, sellers can take advantage of lower shipping rates with major carriers like UPS and FedEx.

Bulk shipping discounts

– With the ability to purchase up to 100 labels at a time, sellers can achieve even greater shipping discounts than if labels were purchased piecemeal. 

Automated shipping service comparison shopping

– The fact that Buy Shipping calculates the optimal shipping options based on both cost and fulfillment speed on a per-order basis saves sellers both time and money. Not only does the service potentially reduce the overall cost of purchasing shipping labels, but it also reduces the labor costs that would be associated with performing the same optimizations manually.
One of the most noteworthy advantages of Buy Shipping, however, is less about cost and more about protecting the standing of your Amazon seller account. Buy Shipping participants receive A-Z Guarantee claims protections to ensure that should something go wrong with shipping purchased through Amazon, Amazon takes the blame, not the seller. If the order is not received, the order arrives late, or there are complaints about the order fulfillment process, the seller does not receive negative notifications or any negative impact to their Order Defect Rate.
In sum, these benefits are a clear win for Amazon sellers, but also a win for Amazon. Ultimately, Amazon wants to make it easier for sellers to utilize their shipping labels—it improves the delivery times and helps ensure that customers receive their packages on time.
How Your E-commerce Business Can Take Advantage of Amazon's Buy Shipping API Today
To enable the Buy Shipping API, sellers must first review and accept the terms and conditions for each supported carrier. If the terms for a particular carrier is not accepted, it will not be available (or even considered) as an available shipping option.
Once Buy Shipping is enabled in both Seller Central and your integrated e-commerce platform, you are ready to take advantage of the shipping savings and additional perks that come with the service.
Amazon has partnered with Sellercloud to make it easier for sellers to take full advantage of the Buy Shipping API and all of its associated benefits. To do so, Sellercloud has added features to allow sellers to ship in bulk using Amazon's discounted rates, and has also introduced new web-based shipping functionality specifically for the Buy Shipping API. These features include the ability to select orders in bulk and generate shipping labels in batches, all from within your Sellercloud account.
While other shipping integrators charge a fee for access to this service, Sellercloud offers Buy Shipping API integrations to our customers at no additional cost. We realize the difference this service can make in being able to compete for the Buy Box and optimize profit margins.
Sellercloud is used by over 1000 Amazon third-party sellers to ship out millions of merchant-fulfilled orders each month. Contact us directly for a free demo and experience for yourself how our over 120 integrations with leading e-commerce partners and services can help take your online sales to the next level.