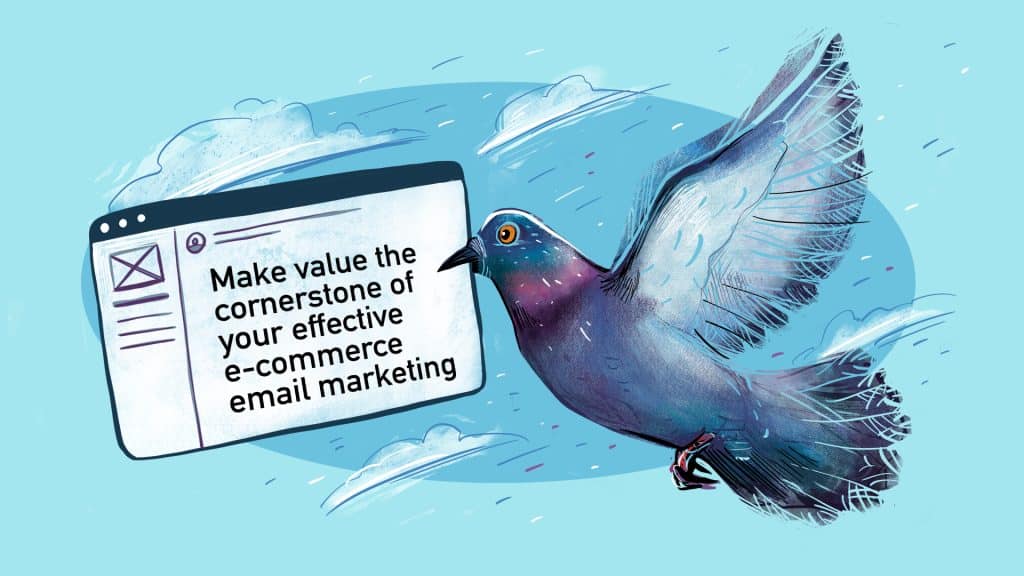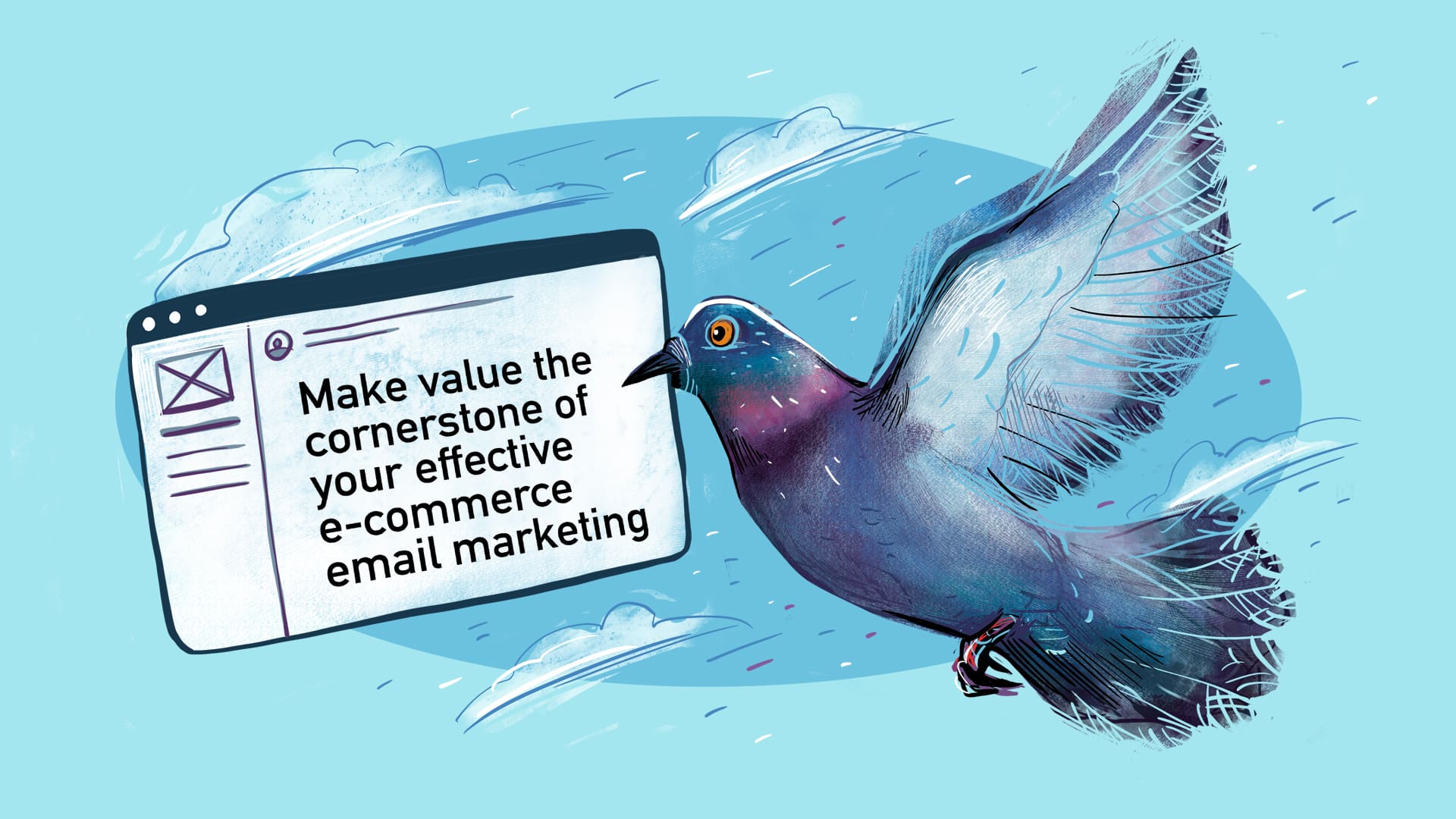 Marketing is an essential part of growing and scaling an omnichannel e-commerce brand. With the impending death of the third-party tracking cookie, many of the automated advertising and marketing tools your business has relied on will soon be gone. This means that you need to have a plan to maximize the effectiveness of your first-party data and marketing efforts.
Email marketing offers some of the best return on investment (ROI) of any digital promotional strategy. However, simply sending emails to your current and prospective customers isn't enough. You need to be offering recipients value in exchange for their time, attention, and personal details. Failing to do so will lead to low message open rates, rising bounce rates, and frequent unsubscription requests. 
When done well, email can be used for a variety of profit-boosting purposes:
attracting new customers
inspiring repeat orders
communicating order status
reducing abandoned carts
advertising new products
sharing sales and discounts
It All Starts with Purposeful and Transparent First-Party Data Collection
Email marketing starts with gathering the email addresses and customer information you will need to both make contact and make the most of your communication efforts. As with all things e-commerce, data-driven efforts are always the most effective. You will want to be sure that you are getting as complete a picture as you can of your email recipients before you push out new messages. The more targeted and purpose-driven your communications, the more likely they will generate the desired results.
Every time you receive an order, you collect valuable information about your customers. As long as you are complying with laws regarding data collection and privacy, as well as the terms issued by third-party marketplaces, you can quickly generate mailing lists based upon details like product preferences, geographic region, demographics, and order volume. Just be aware that in most cases you will need to both disclose that you are collecting said information and that you must give customers the ability to opt-out of having their data stored.
Collecting email addresses and useful demographic information from non-customers is subject to these types of regulations as well. However, there is an additional challenge in getting visitors to your website to voluntarily offer up email addresses and relevant personal information when they haven't completed an order. If they aren't receiving a product from you, what are they getting in return for their contact details and demographic data?
You need to give customers and non-customers alike a motivation for willingly providing you with their email address and/or any other identifying information. There needs to be some transactional value associated with the act. Even more, you must be willing and able to deliver on that value promise.
Email Marketing Must Deliver on Value Promises
Email marketing messages can take on a variety of forms and purposes. Some of the most common include:
Order updates and reminders
Discounts and promotional offers
Customer surveys
Practical news, videos, and blog articles
Product guides
Warranty updates
Obviously, not all of the aforementioned types of emails would be relevant to every visitor to your website or third-party listings. That said, each represents an effort by your brand to provide some type of value to the recipients. Part of designing effective email marketing campaigns is ensuring that you are delivering the relevant services and benefits that customers appreciate. Accurately matching the right emails to the right customers is the ticket to generating profitable sales and brand interactions.
Customers are more likely to opt-in to your communications when you are clear about the value you are promising. You reduce the risk of recipients clicking the unsubscribe button when you demonstrate the ability to consistently deliver on those guarantees.
The nature of that value can be provided through email marketing efforts and can vary dramatically depending upon where a customer is in the sales funnel. Some of the most common categories of marketing emails include those that deliver transactional value, promotional value, and informative value.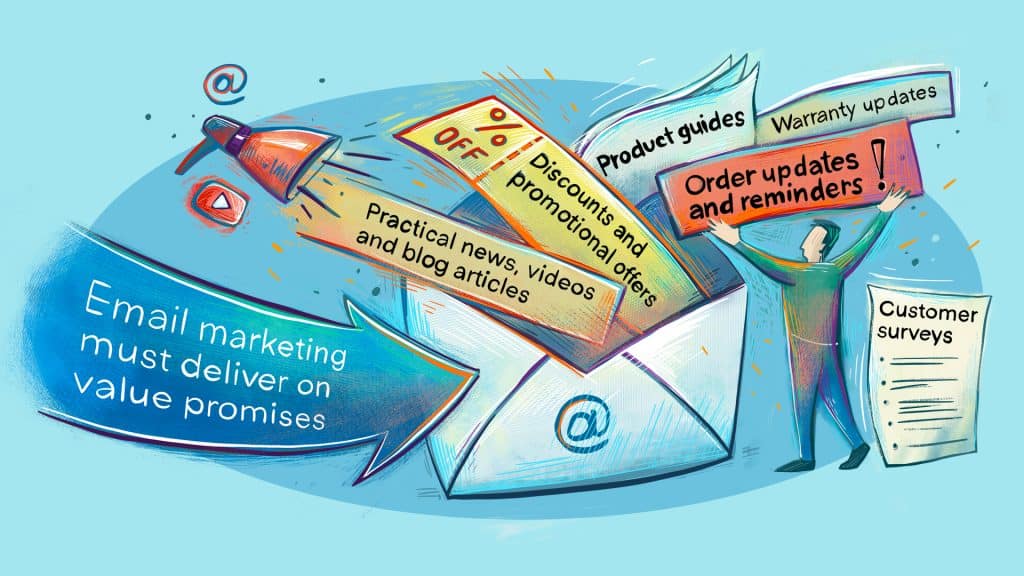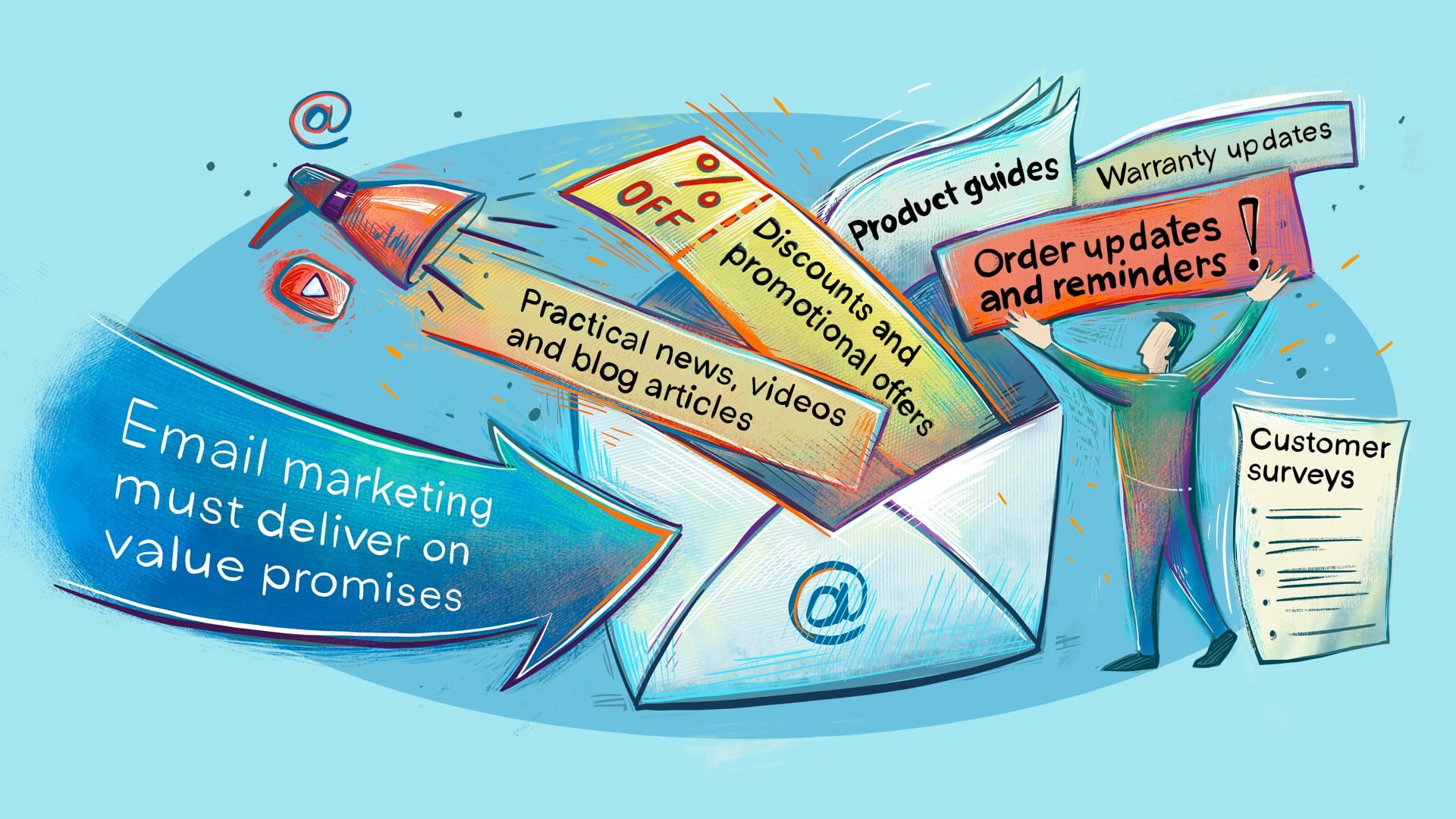 Transactional Value Emails
These email types are primarily focused on establishing that your brand stands by their products and services. These emails are tied to transactions and orders and can be a great way to establish positive email relationships. They are informative, but they are also specific to a customer's purchasing activity by nature.
Order updates and tracking – Keeping customers informed about their orders is a chief reason why customers are willing to register their email addresses with your e-commerce business rather than opting to "checkout as a guest." Not only does providing this type of communication show your commitment to excellent customer service, it can be a great way to keep customers from sending your future emails to the spam folder or trash bin.

The Sellercloud inventory management platform provides you with all the information and tools you need to keep customers up to date on their order status. Our integrations with all of the leading domestic and international shipping providers makes it possible for you to generate the most accurate and current information automatically or manually – all from a single interface.
Warranty and product updates – Email can be a great way to show customers that you haven't forgotten about them just because their payments have cleared and their orders have been fulfilled. Following up with information about things like warranty coverage, firmware updates, product manuals, and product usage tips can be a way to maintain a relationship with an existing customer and promote repeat orders.
Customer surveys – Surveys can be a great way to gather additional information about what customers think about your products, brand, and service. They can lead to useful customer testimonials that can be used in future marketing efforts. Surveys can also provide additional data about how these opinions relate to the different demographics you reach and serve. Some customers will see these types of feedback requests as a sign that your brand values customer opinions, but many will require some enticement to participate. That's where tying in other types of value propositions comes in.
Promotional Value Emails
The call to action (CTA) of promotional emails usually focuses on returning to your site or listings to make a purchase. To be effective, these emails need to lead to actionable landing pages where customers can take advantage of your emailed value propositions with minimal clicks or additional effort. The more direct the pathway, the more likely customers will take advantage of the offers you are sharing.
Coupon codes – Emailing customers promotional codes that can be redeemed for free shipping or order discounts is a great way to attract visitors to your site and product listings. Not only that, but when customers realize that reading your emails can lead to monetary savings, they will be more likely to continue to opt into receiving them.

Coupon codes can be sent as standalone messages, attached to transactional emails like receipts or customer surveys, or generated as part of any of the other promotional email types below. 
Personalized discounts – Customers are more likely to offer up their personal information if they can see a direct link to how it will benefit them. Creating promotional offers tied to customers' birthdays, reordering patterns, and interests can be a great way to offer targeted value that makes customers feel seen and appreciated.
Similarly, email follow-ups triggered by abandoned carts or upcoming reorders that include relevant coupon codes or offers can be a great way to show how much you value email subscribers' business and attention.
Subscription services – Subscriptions have become an increasingly popular way to spur repeat e-commerce business. You can email subscription offers and promotions as a way to better serve repeat customers or to try and transform one-off orders into recurring ones.
Sales events – While some promotional emails are hyper-focused on specific members of your mailing list, advertising sales events can be a great way to cast a wider net. Giving your email subscribers advance notice of what, where, and when products are going to be on sale can be a great way to offer promotional value with a healthy dose of exclusivity. Recipients get the opportunity to feel like they have exclusive insider information that the rest of the shopping public does not.
Informational Value Emails
Not all emails will be tied to specific purchases or discount opportunities. Informational emails can still provide value to customers and help establish your brand's tone at the same time.
Newsletters – These regularly scheduled informational emails can be used in a variety of ways: showcase new products, highlight relevant current events, feature testimonials, tease upcoming sales, preview new products, or offer fun content tied to your products and brand. You can also use a newsletter to showcase top-performing content from social media or other channels that some customers may have missed.
Blog updates – If you are creating and maintaining a blog as part of your first-party e-commerce strategy (and you should be), your customers should be kept informed about new and top-performing posts. Whether you opt to push out emails every post or offer up a recurring recap featuring several posts at a time, blog content lends itself very well to email marketing. 
Multimedia – Images and videos sell. If you are spending the time and money to develop high-quality visual content, you should be finding ways to integrate it into your email marketing efforts. Whether it is sending a video manual to customers who purchase a certain product, or a teaser of new products or brand developments, media can be a great way to help your email campaigns stand out.
No matter what type of email marketing value you are looking to offer your customers,  Sellercloud's integration with Zapier can help you deliver. The popular and versatile automation platform allows you to automate and customize a whole host of omnichannel e-commerce workflows. Zapier integrates natively with Sellercloud and over 3,000 other web-based applications, allowing users to intuitively and creatively craft Zaps – webhook-powered application interactions and automations.
Sellercloud's industry-leading family of products has been designed from the ground up to help you scale your omnichannel e-commerce business. Our unified platform ensures that you have the data and information you need to provide top-tier customer service, the tools to create and manage your listings across every channel where you sell, and the fulfillment workflows to keep every customer satisfied. Contact us directly for a free demo to see how we can empower your business to deliver the value customers expect.