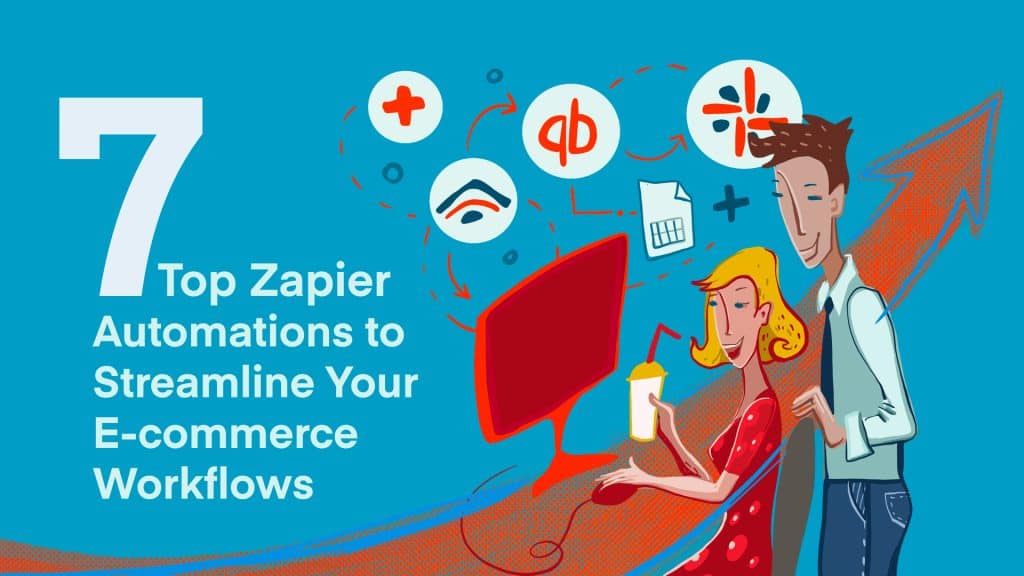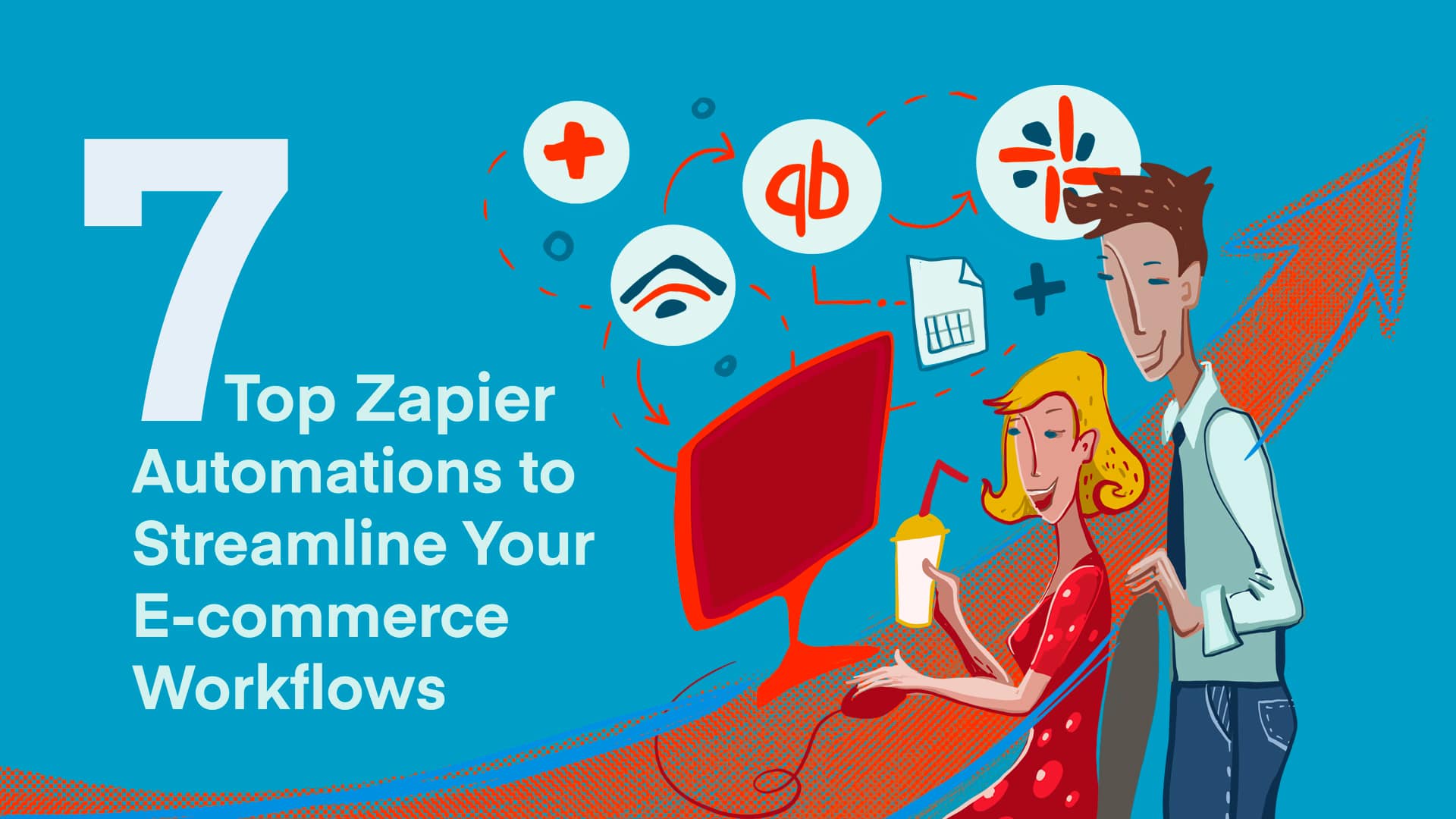 As we shared earlier this year, Zapier is a user-friendly automation platform that allows over 2,000 different web-enabled applications to interact with each other, work together, and streamline your most repetitive tasks – all without requiring any complex programming or scripting knowledge.
Sellercloud's own integration with Zapier has opened the door to many efficiency-boosting use cases including:
Purchase order updates
Record-keeping
Inventory tracking
Customer creation
Email marketing
Internal communication and reminders
Of course, this only scratches the surface. Zapier uses webhooks that allow you to use most common (and even some uncommon) application actions to trigger a follow-up action. These automations (called Zaps) can be chained together to span both multiple actions and multiple applications to create sequences that are tailored to your e-commerce business's needs. The possibilities are truly endless.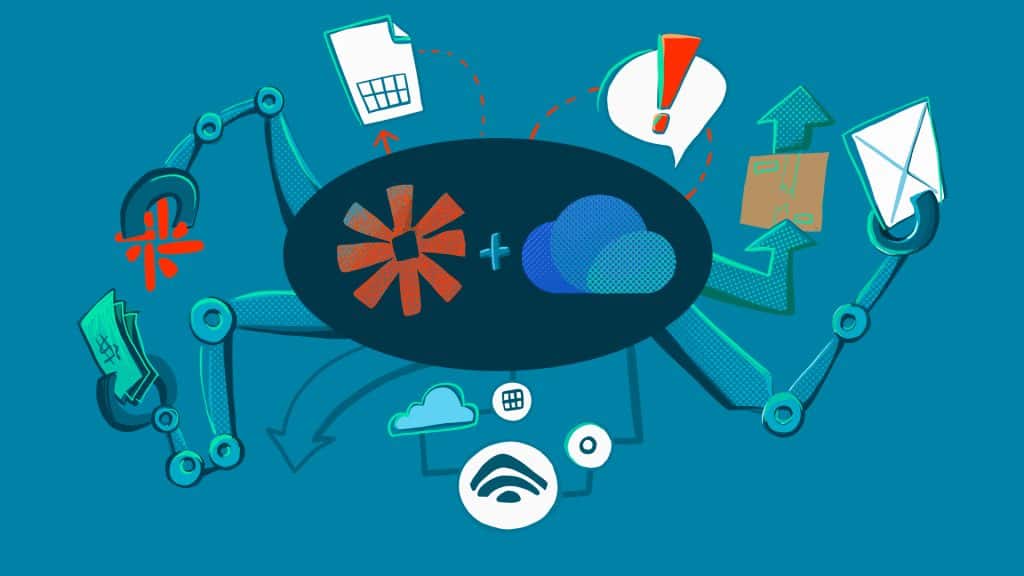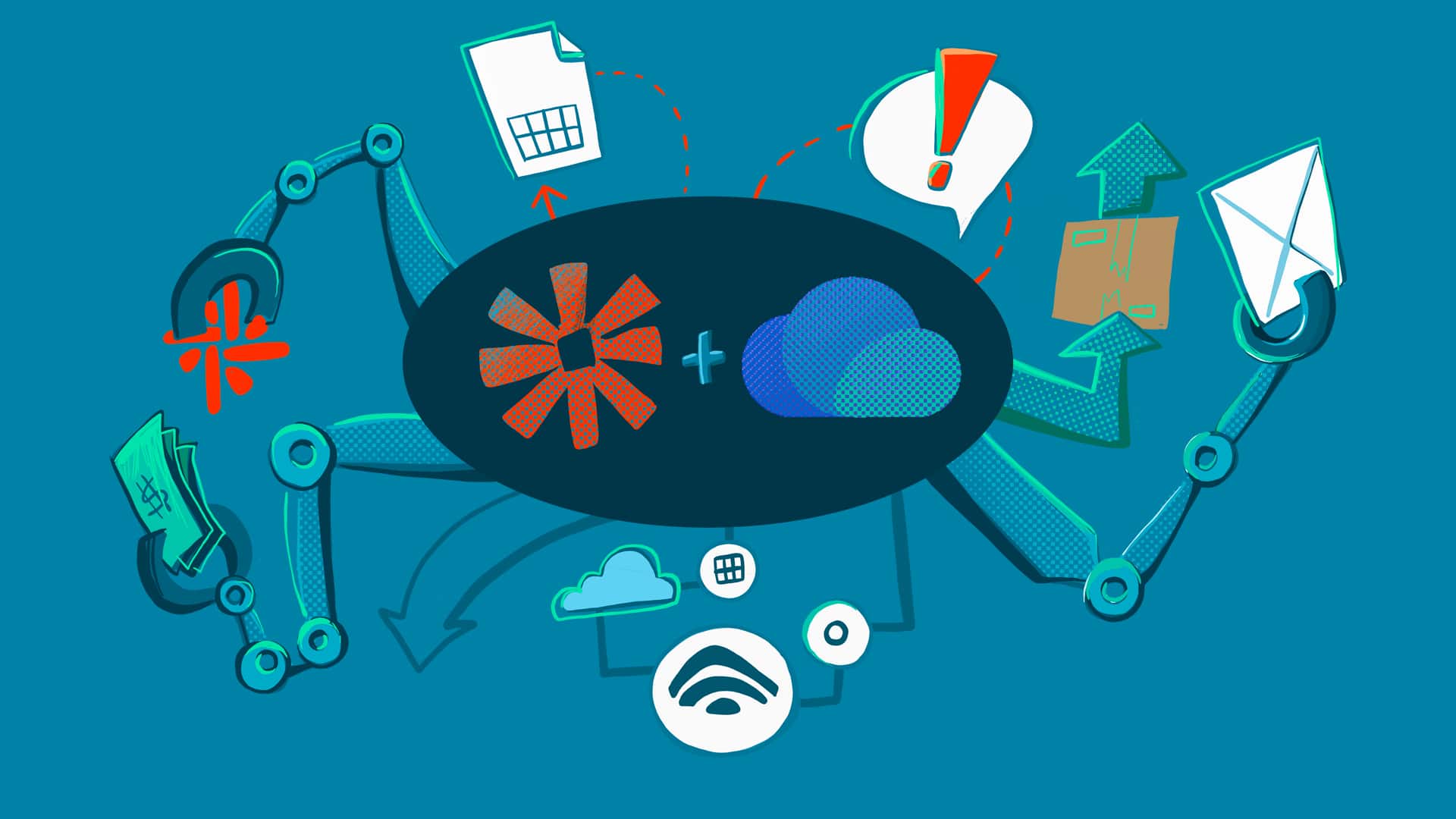 That said, you don't have to reinvent the wheel. There are several premade Sellercloud Zaps that are ready to add to your workflows today. Here are some of our favorites:
Zapier Connects Sellercloud and Google Sheets
Google Sheets is a powerful, cloud-based spreadsheet tool that makes it easy to organize data, keep records, and surface useful insights into your e-commerce business's operations. Zapier offers a host of triggers, actions, and searches that integrate directly with Google Sheets. When combined with Sellercoud's Zapier integrations, there are numerous time-saving possibilities.
Automatically add new inventory records
When Sellercloud detects a new piece of inventory, Zapier can trigger Google Sheets to instantly create a new row in an existing spreadsheet, and then populate it with relevant information. This saves you and your team from having to waste precious time on manual data entry and ensures everyone with access to the Sheet has the most up-to-date details about your inventory.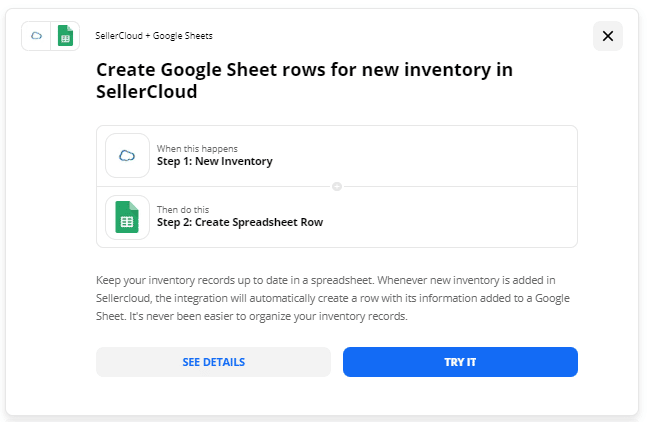 Create orders from a spreadsheet
Just as Sellercloud can trigger actions in a Google Sheet, the reverse also works. If your order processing workflow starts with spreadsheet data, you can save time by having Zapier create Sellercloud orders automatically from your entries.
This Zap detects when a new row is added to a specified spreadsheet. It then pulls relevant data from the Sheet fields and creates an order record in Sellercloud.
Use a spreadsheet to keep shipping statuses up-to-date and easily accessible
Taking things a step further, Zapier can help simplify the process of creating and maintaining shipping and tracking information. If you currently use a spreadsheet for order tracking, this Zap scans each order's row for changes in tracking order number status. When a change is detected in the Sheet, it is automatically updated in the corresponding Sellercloud order record, as well. This simplified, cloud-based input method can speed up your order tracking workflow while also allowing you to take full advantage of Sellercloud's robust order-tracking featureset.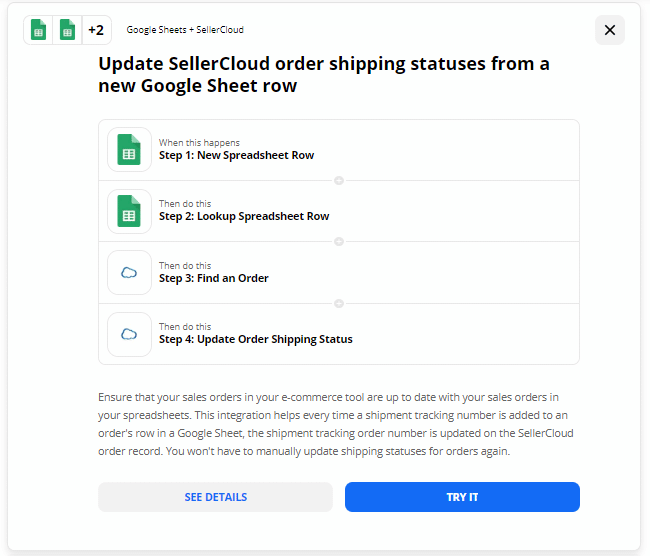 Use Zapier to Automate Crucial Communications
Zapier integrates with many of the popular mail, messaging, and marketing applications that your e-commerce business already uses (as well as some that you might want to consider trying). This opens up numerous possibilities for how your company can quickly and efficiently communicate vital information both internally and to customers.
Notify vendors of purchase order status changes
Zapier can use an updated purchase order in Sellercloud to trigger a host of different actions. One of the most useful is composing and sending an email to your vendor when their purchase order has been approved. Zapier can populate the email with relevant status updates and order details.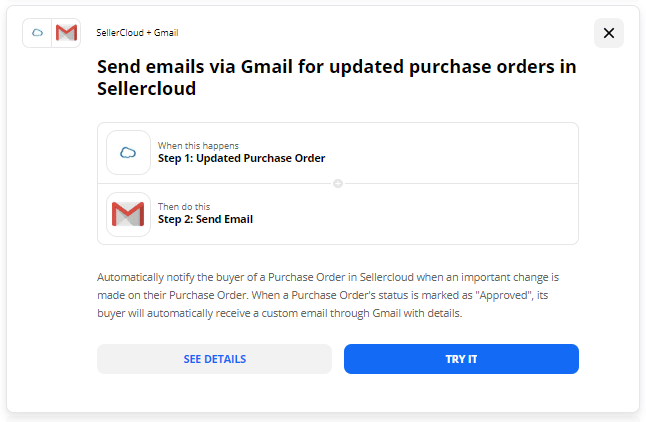 Keep your employees informed about unexpected issues
Just as Zapier makes it quick and easy to keep customers informed about their orders, it can also be used to keep your employees up to speed.
For instance, the Zap below is triggered by your Sellercloud job queue. When a new queued job appears, Zapier can send a Slack message to a specific channel, employee, or group notifying them. Zapier's wide range of integrations means that similar Zaps could also be created generating emails, text messages, and to-do list entries.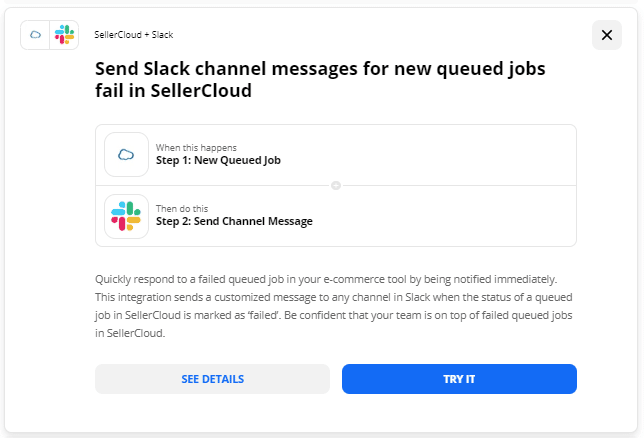 Zapier Streamlines Customer Creation and Communication
Creating and maintaining accurate customer records is a key component of successful e-commerce business growth. Not only does it ensure that orders can be processed quickly and accurately, but it sets the table for an ongoing customer-brand relationship that could pay dividends moving forward.
Typically, collecting and organizing customer information is a tedious data entry exercise. As you might expect, Zapier is an incredibly useful tool in streamlining and automating that process.
Populate Sellercloud customer data from Quickbooks
One of the most problematic aspects of manual data entry is inconsistency. When customer information does not match across multiple platforms, it can create issues that compromise the integrity of your data. Thankfully, Zapier allows you to move this customer data from application to application seamlessly.
For example, you can use Zapier's integration with Quickbooks to populate your Sellercloud customer records. When a new customer is created in Quickbooks, the Zap below automatically creates a corresponding customer in Sellercloud. By automating this process, it removes the chance for typos or other data entry issues that may create conflicts and affect your ability to reach customers and fulfill their orders accurately.
Add new customers to your email marketing subscription list
E-marketing is a key component in fostering relationships between your customers and your brand. There are several email marketing platforms that integrate with Zapier. This means that you can easily use your Sellercloud customer data to trigger a host of marketing-related actions.
For instance, the Zap below is triggered when a new order is placed. The customer data is pulled from Sellercloud and used to populate the relevant fields for a new subscriber in the Klaviyo marketing app. This ensures that your customer marketing reaches even your newest customers – allowing you to reach your widest possible audience with your digital marketing efforts.
These are just a few of the ways that you can take advantage of the pairing of the Sellercloud omni-channel e-commerce growth platform and Zapier. They only scratch the surface of Zapier's unique ability to synchronize all of the web-enabled apps that your company relies on. What's more, Zapier does so with an interface that is both intuitive to use and ripe for creative implementations.
For more on how the combination of Sellercloud and Zapier can propel your e-commerce business forward, contact us directly for a free demo.