If your e-commerce business sells to customers in California, you need to be familiar with the California Consumer Protection Act (CCPA).
Since January 1, 2020, companies that interact with California residents have been required to take extra care with what personal information they collect, store, share, and sell.
The basic requirements of the CCPA law include:
Businesses must disclose what personal information they collect about California residents.
Businesses must disclose what personal information they share and/or sell about California residents.
California residents may request copies of any and all of their personal information a business has collected (businesses must comply within 45 days).
California residents have the right to request that any or all of their personal data collected by a business be corrected or deleted (businesses must comply within 45 days).
Businesses must disclose to whom they share and/or sell any personal information about Californians.
Businesses must allow California residents to opt out of the collection, sharing, and/or sale of their personal information. Should someone opt out of data collection and/or sharing, the business cannot treat that individual any differently than someone who did not choose to opt out.
Failure to comply with these regulations can subject a business to costly fines (up to $7,500) and lawsuits (ranging from $100 to $750 per incident per affected California resident). 
As with any law, ignorance is no excuse for noncompliance. To protect your e-commerce business from crushing financial penalties, you need to be careful with how you collect, store, and share customer and website visitor data.
Personal Information Has a Broad Definition in the CCPA
It is important to pay attention to what qualifies as personal information according to the CCPA. The term "personal information," itself, shows up in the text of the CCPA law 586 times.
Some personal information are identifiers that a customer may not want being freely sold and shared on the open market. There are some obvious examples:
Names
Addresses
Phone numbers
Emails
User names
Birthdates
Government-issued ID numbers (social security numbers, license numbers, etc.)
Biometric data
Employment information
Educational background
Racial/cultural background
But the CCPA goes further than that. The law also extends to how Californians use and access digital media. Information like search histories, browser choices, operating systems, and device types also qualify as personal information under the CCPA.
All of these pieces of data are extremely valuable to marketers looking to target advertising and evaluate customer behavior trends. Historically, this information has been collected without any explicit approval or even awareness that it was happening.
With the CCPA, the state of California is following the likes of other consumer protection initiatives – like the European Union's General Data Protection Regulation (GDPR) or Amazon's Personal Identifying Information policies – designed to give people more control over their own personal digital footprints.
Who Must Follow CCPA Regulations?
The CCPA is not a blanket law that applies to everyone doing business in California. According to the letter of the law, your business must meet one of the following thresholds for the CCPA to apply:
Annual gross revenues in excess of twenty-five million dollars ($25,000,000).
Alone or in combination, annually buys, receives for the business's commercial purposes, sells, or shares for commercial purposes, alone or in combination, the personal information of 50,000 or more consumers, households, or devices.
Derives 50 percent or more of its annual revenues from selling consumers' personal information.
If you are a smaller e-commerce brand, particularly one that does not make money by selling customer data, you may not be subject to the CCPA yet. That said, the moment in a given year when your business makes a penny over $25 million or collects the 50,000th customer's data, you are expected to be fully compliant with all CCPA regulations.
As mentioned previously, failing to comply can be a costly proposition. As your business continues to grow, you must prioritize compliance with these types of laws in order to seamlessly scale.
All this is to say, if you haven't already adapted your business practices to align with the CCPA, it's time to start.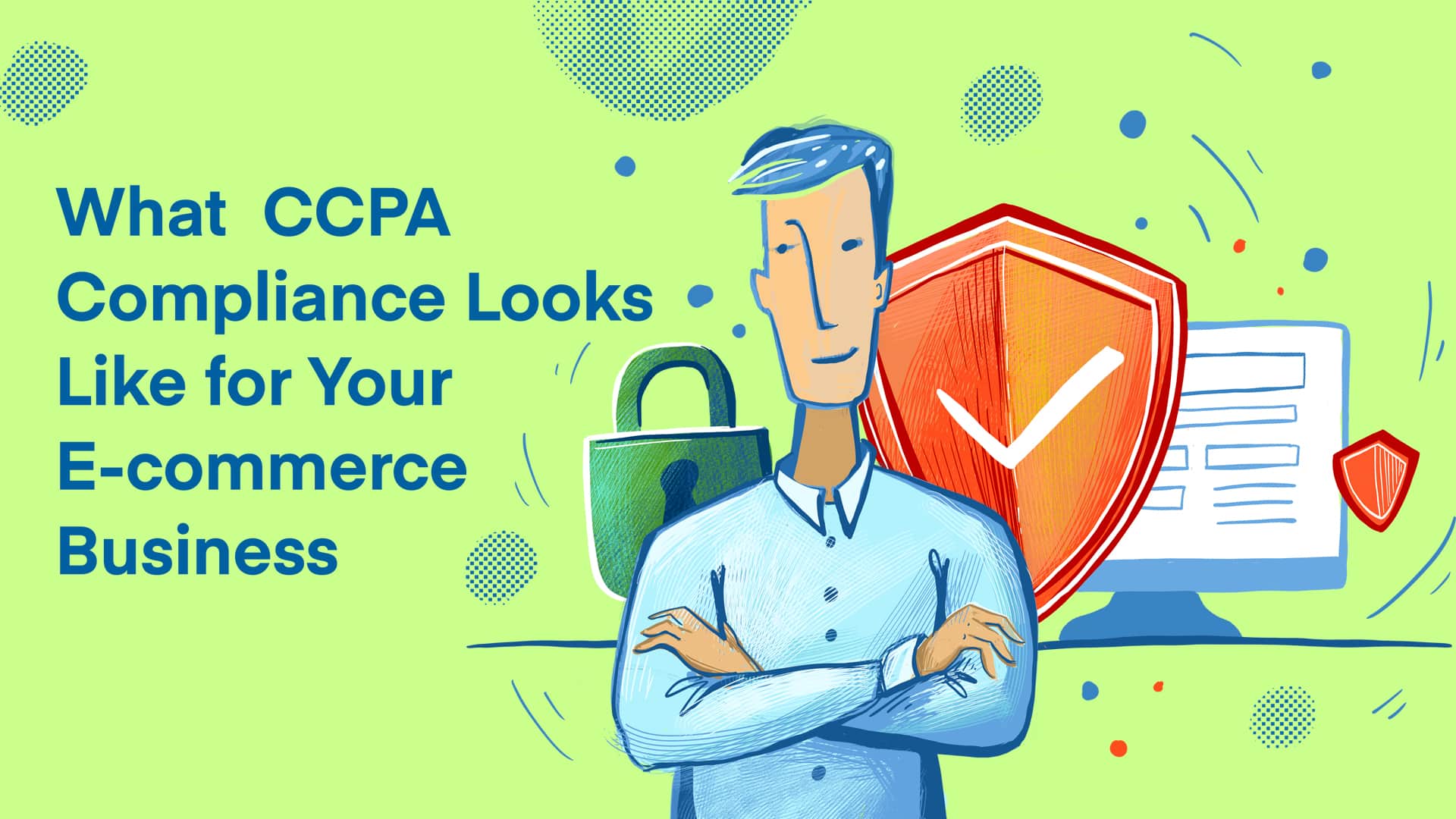 What CCPA Compliance Looks Like for Your E-Commerce Business
CCPA applies to all sorts of companies. However, it is particularly relevant to e-commerce businesses due to the amount of customer data that is used to complete transactions and assess customer behavior. CCPA does not mean that you have to stop these practices, it just means that you need to be sure you are doing so in a way that conforms to the law.
Some of the forward-facing pieces that need to be a part of your CCPA compliance plan should include:
Visible and accessible notice to consumers that you plan to collect some element(s) of their personal data.
Multiple channels for customers and website visitors to contact your business about accessing, correcting, or deleting their personal data.
Clear opportunities for consumers and website visitors to opt out of data collection and/or the sale of their personal information.
There are additional considerations when it comes to data collection and information storage. When a customer's request comes in, you only have a 45-day window to fully comply. In the case of an alleged CCPA violation, you only have 30 days. In that timeframe, you must be able to locate and either deliver or delete all of the information relevant to the request. If you have to scour multiple databases and applications for each request, it can be easy to waste time – or worse, make a costly error.
To keep these requests from grinding productivity to a halt, CCPA compliance needs to be as quick and painless as possible. Your business needs a way to keep customer data centralized, organized, and instantly accessible. This is one of the prime benefits of adopting an omnichannel e-commerce platform like Sellercloud.
Make CCPA Compliance a Priority for Your E-Commerce Business Now, Not Later
Sellercloud makes it convenient to record, store, access, and delete relevant customer data. We know how important this type of compliance is and will continue to be to online merchants.
Even if your online sales business does not yet meet one of the thresholds that compel you to abide by CCPA, it is best to be prepared. Odds are, many of the parketplaces where you sell have their own PII requirements that you must adhere to.
As you scale, you can be confident that your data tracking and storage protocols align with industry best practices. Our security safeguards and data handling practices have been vetted through tough audits by leading e-commerce marketplaces.
What's more, when a consumer information request comes in, our omnichannel toolset allows you to access the data and take swift action to process their request.
Schedule a free demo and see for yourself how Sellercloud can streamline your e-commerce workflows, while providing essential compliance features like these.