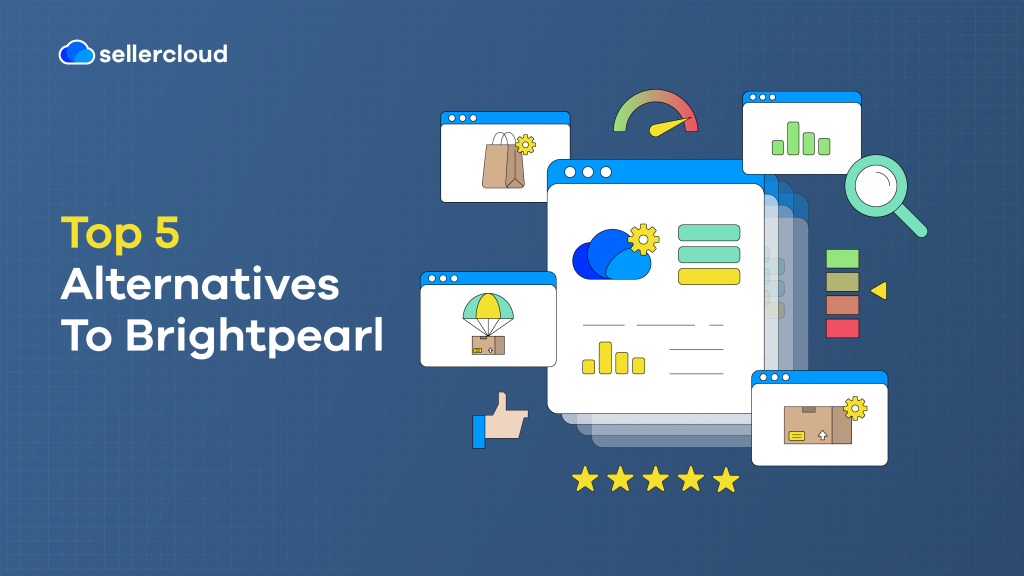 Founded in 2007, Brightpearl is one of the most prolific ERP (Enterprise Resource Planning) software on the market today and is trusted by numerous sellers across the US.
In 2021, Brightpearl was acquired by multinational conglomerate Sage for $360 million. Several years before Brightpearl's acquisition, it bought out Warewolf, which provides Brightpearl with much of its WMS (Warehouse Management System) functionality.
Unfortunately, Brightpearl still has considerable gaps in its service, and though they are trying to make it work, some vital features are unavailable to sellers.
For example, you can't list products on marketplaces with Brightpearl, a make-or-break feature for many sellers. That's a considerable blow considering the high cost of Brightpearl's service.
In this article, we'll cover the top five Brightpearl alternatives and explain what makes them stand out.
What Are the Best Brightpearl Alternatives
Here are the top five alternatives to Brightpearl.
1. Sellercloud
If you are looking for an all-in-one solution, Sellercloud can manage the entirety of your e-commerce, shipping, fulfillment, and inventory management operations.
Sellercloud's biggest advantages over Brightpearl are its shipping features, ability to list on marketplaces, superior WMS, and crucial features such as managing refunds and cancellations.
What's more, Sellercloud is the only alternative to offer customization features, which enable sellers to modify how they use Sellercloud and even create custom plugins, so there's no service they're missing out on.
Sellercloud is also well-priced at a minimum of $1,100 monthly, plus $0.30 and $0.11 per order for FBM and FBA orders.
Top Reasons to Consider Sellercloud:
280+ integrations

(80+ more than Brightpearl)

, plus the option to create custom plugins for additional and customized functionality.

More advanced

reporting

, including returns and refunds, shipping costs, inventory aging, and financial transactions—none of which are available to Brightpearl users.

Native warehouse tools

Skustack

,

Skublox

, and

4D Scale

to help sellers manage orders and inventory—all work directly with Sellercloud.

Integrated with all major US

shipping carriers

and consolidators.

Shipping software at no extra cost (

Shipbridge

) with the ability to scan items before shipping, set shipping preferences for each product, and create shipping rules to automate processes.

List the same product in multiple categories with shadow listings.

Retrieve product info from multiple sources, including

Amazon

listings and vendor feeds.

Amazon Software Partner with options for blank box fulfillment, consolidation of

FBA

shipments,

Amazon Buy Shipping In Bulk

,

Vendor Central

, and direct fulfillment.

A dedicated customization team that can help with customizations for customers, including custom plugins.

Premium and Platinum support options.
Check out how Sellercloud compares to Brightpearl. Request a demo to see for yourself just how advanced Sellercloud is.
2. NetSuite
NetSuite has a lot in common with Brightpearl. Both are ERPs, and both are owned by larger companies. In NetSuite's case, they were bought out by Oracle in 2016.
NetSuite also has a similar price range to Brightpearl. However, NetSuite is more established and geared towards medium-sized companies, while Brightpearl is better for smaller companies.
That aside, NetSuite has one of the same problems as Brightpearl—it isn't integrated with many marketplaces, so it's not the best option for multi-channel sellers.
Top Reasons to Consider Netsuite:
A great option for centralizing all your business's software.

Well-established alternative with over 40,000 users.

Available in 27 languages, NetSuite is ideal for international companies. The help center also uses several languages.

High level of security—NetSuite uses multiple layers of security backups, which are monitored, and automatic security updates.
Limitations of NetSuite:
Brightpearl was built for e-commerce, while Netsuite requires custom development to meet the requirements of an e-commerce business.

Not as user-friendly as Brightpearl.

Extravagant operating costs—aside from the cost of using NetSuite, customers must pay high fees to integrate new channels and e-commerce functionalities.

Every NetSuite customization is a significant investment and can take years to be developed, tested, and implemented.

On top of the base package, NetSuite charges licenses on a per-user basis, so you must pay more for each additional user.
3. Linnworks
With approximately 4,000 customers and many G2 awards, Linnworks is a well-respected Brightpearl alternative and a particularly good option if you need shipping features.
Another key thing to note is that while Brightpearl has more integrations, Linnworks offers customization options, so you may be able to tweak Linnworks to get any features it lacks compared to Brightpearl.
Unfortunately, Linnworks is also costly to use. Onboarding can cost between $4,000 and $22,000, and Linnworks requires a 1% revenue share based on order volume.
Top Reasons to Consider Linnworks:
Manage multi-channel listings from one place, which you can't do with Brightpearl.

Returns and refunds, shipping costs, and financial transaction reporting—all of which are unavailable to Brightpearl users.

Integrated with all major US shipping carriers, many of the top European carriers, and shipping software is available at no additional cost.

Similar ordering features to Brightpearl—manage sales channels from a single interface, automatically import orders, and update channels with shipping and tracking.

Similar Amazon features, such as Direct FBA fulfillment and Amazon Multi-Channel Fulfillment, with the addition of

Amazon Buy Shipping In Bulk

.
Limitations of Linnworks:
Around 100 integrations—half of what Brightpearl offers.

Sellers must pay for an external WMS that lacks a full integration to Linnworks.

Customized fields are an additional expense.

While Linnworks offers shipping features, there are still considerable gaps in its functionality.

Businesses must pay extra for customized fields.
See how Linnworks compares to Sellercloud.
4. Cin7
Boasting over 700 integrations, Cin7 is another comprehensive ERP alternative, a good option for merchants looking for a similar service to Brightpearl with more features.
Cin7 is also significantly cheaper than Brightpearl, costing a minimum of $325 monthly. Implementation also costs between $750 for a group and $1,500 for an individual.
While Cin7's features are impressive, just like Brightpearl, its biggest flaw is it lacks shipping features. You also will not have customization options.
Top Reasons to Consider Cin7:
Almost four times more integrations than Brightpearl.

Significantly more advanced reporting features—returns and refunds, shipping cost, and inventory aging, to name a few.

Greater purchasing options.

More inventory management features, including multi-warehouse management and the ability to reserve inventory for specific deals and channels.

Amazon features—Vendor Central and Direct Fulfillment.
Limitations of Cin7:
No listing features.

Cin7 cannot be customized, and marketplace integrations must be requested before configuring.

Many monthly expenses can be hard to track.

No shipping software.

Though Cin7 is slowly starting to penetrate the US market, most of the company is based in Auckland, New Zealand.
See how Cin7 compares to Sellercloud.
5. ChannelAdvisor
ChannelAdvisor's primary advantage over Brightpearl is that you can manage all your marketplace listings in one place, which is ideal for multi-channel sellers.
Furthermore, ChannelAdvisor offers a slightly wider range of integrations than Brightpearl, which may be useful to some sellers.
However, if you're looking for software that solves your WMS woes, ChannelAdvisor might not be for you. ChannelAdvisor also lacks shipping software, just like Brightpearl.
Top Reasons to Consider ChannelAdvisor:
260 integrations—60 more than Brightpearl.

Manage all your multi-channel listings in one place—a feature currently unavailable with Brightpearl.

Blank box fulfillment from Amazon.

Manage all channel sales from a single interface, automatically import orders, and automatically update channels with shipping confirmation and tracking, as you would with Brightpearl.

Profit and loss, sales, and orders reporting, as you would with Brightpearl.
Limitations of ChannelAdvisor:
Very expensive—not only do companies need to pay $1,000 monthly but a 1.3% to 1.7% revenue share, which increases to 2.3% to 2.4% if revenue is exceeded.

No WMS or warehouse management features.

No shipping software whatsoever and limited Amazon features.

No purchasing features, and missing vital reporting features.

ChannelAdvisor's support has a poor reputation.
See how ChannelAdvisor compares to Sellercloud.
Why Do Businesses Search for Alternatives to Brightpearl?
Businesses look for Brightpearl alternatives because it is still catching up with the rest of the market regarding functionality.
Brightpearl is built for DTC (Direct-To-Consumer) sellers, so you will notice gaps in their service in multi-channel selling.
While they might be great when selling products from your branded site, they're not the most suitable for selling on marketplaces like Amazon.
This is primarily because Brightpearl doesn't offer listing capabilities. This means sellers still have to manually update their listings instead of updating them from a centralized interface.
Brightpearl is also still improving its WMS, which is only available to customers at an additional cost.
One of the biggest flaws of Brightpearl's WMS is that you cannot scan products. Instead, you must input SKUs (Stock Keeping Units) manually. Not only is that time-consuming and expensive, it increases the chance of error and overselling.
Brightpearl's WMS also does not work well for sellers with multiple warehouses, which is not ideal for businesses that have grown a single warehouse.
Elsewhere, merchants using Brightpearl can tire of its lack of shipping software. 3PL software is needed for an additional price. Furthermore, sellers cannot create or consolidate shipments.
The additional costs for WMS and 3PL software all add up and can cost Brightpearl users significantly more than they signed up for.
Other pain points include an inability to manage refunds and cancellations and update inventory from vendor feeds.
You're also out of luck if you need customizations. Brightpearl's software cannot be customized, which is becoming a growing requirement for many businesses.
How to Choose the Best Alternative to Brightpearl?
When looking at Brightpearl alternatives, focus on where Brightpearl falls short for your business. Not every business is the same, so your solution will differ from others in the same situation.
It is important to decide only when you fully understand what Brightpearl lacks. You can only do this by discussing it with everyone in your business who often works with Brightpearl's software.
After shortlisting several appropriate software alternatives, reach out to them and arrange a demo to see how their software works and ask questions.
Furthermore, ensure that before you make the switch, the alternative you choose isn't missing features you depended on from Brightpearl.
Take your time when analyzing the alternatives. Source for one that features everything Brightpearl offers and more. The best alternative should be one that enables your business to grow.
Looking at what Brightpearl doesn't provide, your best alternative should:
Enable your business to list on marketplaces.

Include a WMS that enables you to scan products and works with multiple warehouses.

Offers industry-standard shipping software.

Offers customization.
Why Is Sellercloud the Best Alternative to Brightpearl?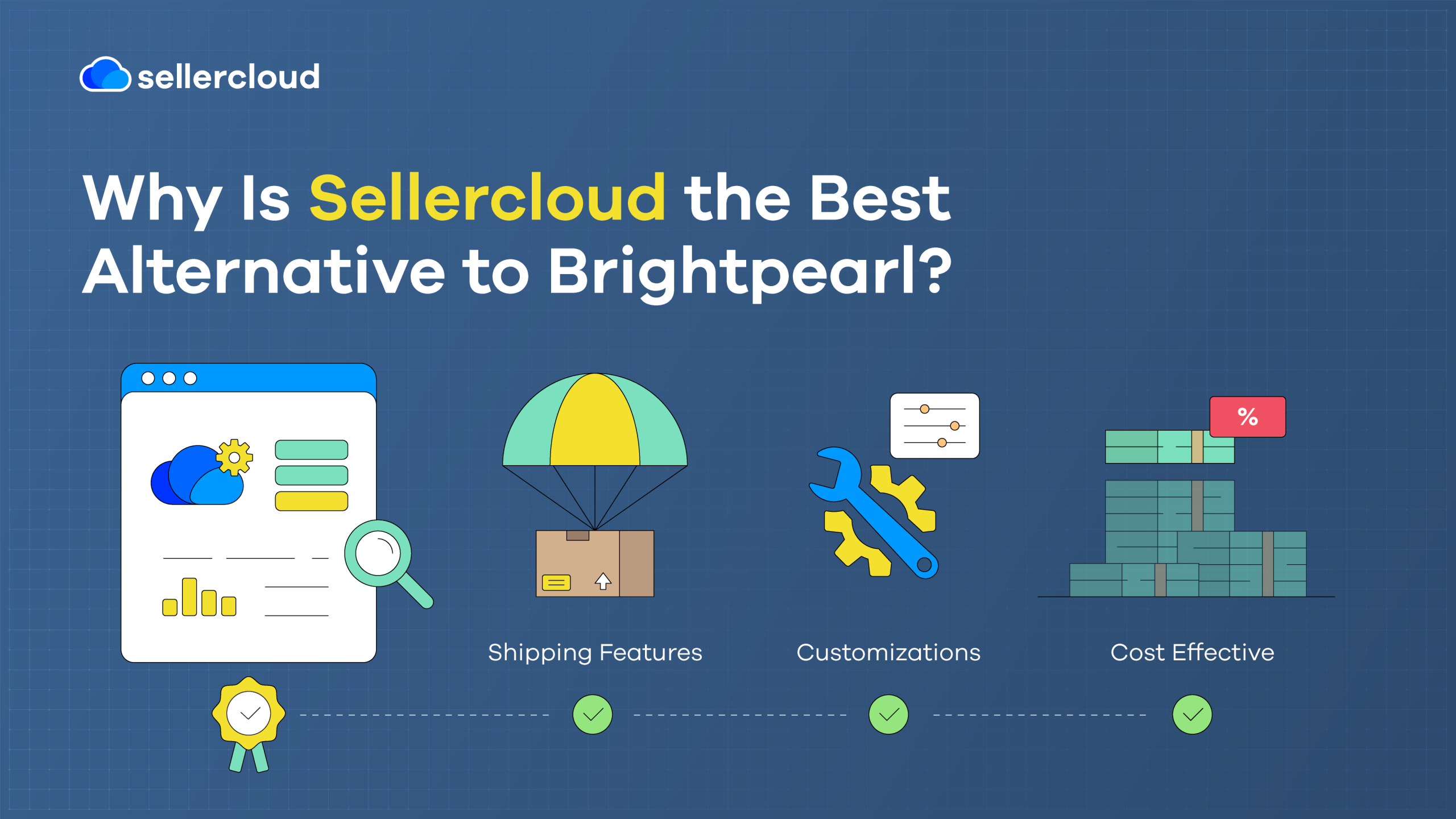 Sellercloud is the best Brightpearl alternative because its offerings cover many gaps in Brightpearl's service.
This is especially the case regarding shipping options and Amazon services. However, you will also find that Sellercloud offers a wider range of services in other areas, such as cataloging products and warehouse management, purchasing, and reporting.
But customization is the cherry on the cake—note that Sellercloud is the only software to offer customization by an in-house development team at hourly rates that triumph over other custom development companies.
Customization is a big deal because it means Sellercloud is more adaptable to different e-commerce businesses. The seller has the power to change the service according to their needs.
This is particularly the case with custom integrations. You don't just have to rely on the 280+ offered by Sellercloud. You can request custom-built integrations for your business and integrate whatever service or solution you need.
As the most adaptable service, Sellercloud is the best option for growth.
Check out how Sellercloud compares to Brightpearl and other software services.
Key Points
If you're still hunting for a Brightpearl alternative, keep in mind these key points.
Brightpearl is a top ERP software primarily for DTC sellers. Founded in 2007, Brightpearl acquired Warewolf WMS, and in 2021, Brightpearl was acquired by Sage.

The best Brightpearl alternatives are Sellercloud, NetSuite, Linnworks, Cin7, and ChannelAdvisor.

Sellercloud is an overall improvement to Brightpearl, filling most of its gaps and offering a more comprehensive range of products and services.

Many companies search for an alternative to Brightpearl because it lacks critical shipping features and cannot manage marketplace listings.

When looking for an Brightpearl alternative you must analyze where it falls short for your business and look for services that cover those areas. Remember to always get a demo.
Brightpearl FAQs
What Is Brightpearl Used For?
Brightpearl is an ERP, so its software is generally more applicable to manufacturers and companies that want to use software to run every aspect of their business. Brightpearl is best for DTC sellers.
How Much Does Brightpearl Cost?
Brightpearl quotes can start from $10,000 monthly, though they maintain that you only pay for what you need. Some of the integrations Brightpearl offers are paid, which can be a further expense.
Brightpearl may research your company beforehand to understand your needs and provide a quote based on this information.
Though their website boasts transparent pricing, you won't know how much Brightpearl will charge your business until you reach out to them and get a quote.
What Does Brightpearl Integrate With?
Brightpearl has over 200 integrations. Some of the most popular include Amazon, Walmart, and eBay marketplaces, shipping solutions such as ShipStation, and accounting services such as QuickBooks.