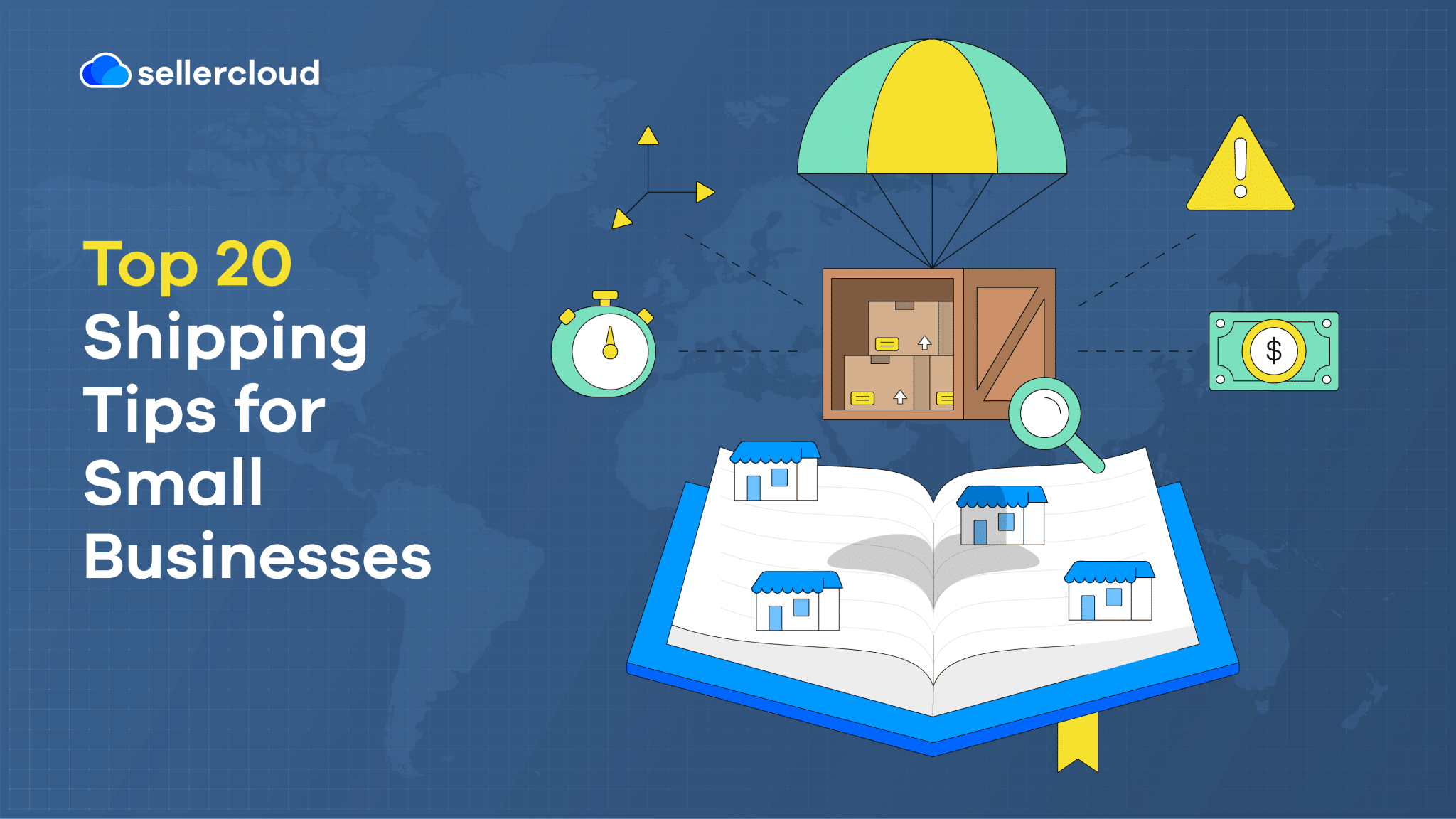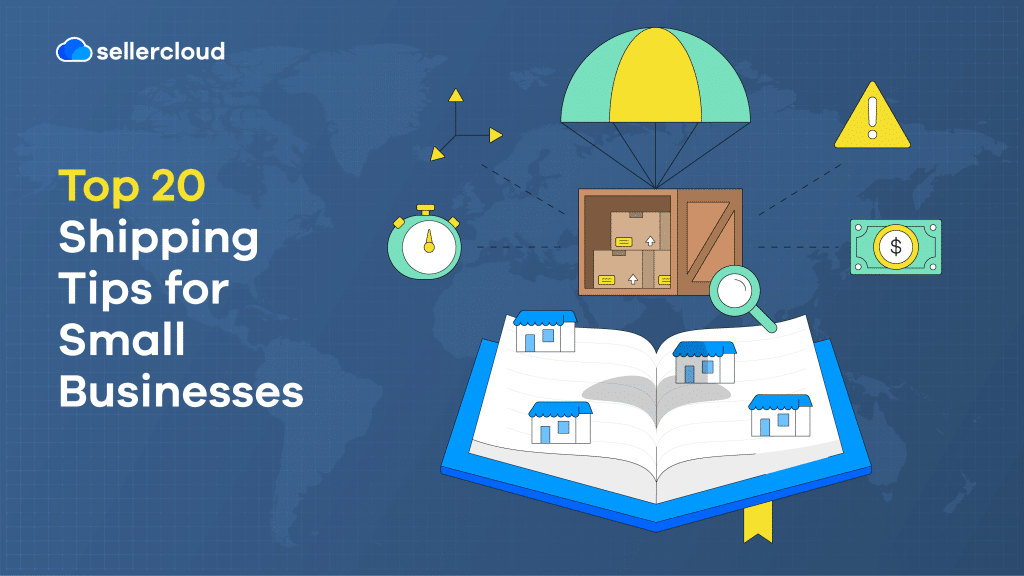 Shipping for small businesses doesn't have to be a minefield. These top 20 practical tips will save you time, money, and stress. Ship smarter, not harder.
Congratulations! Your small business is entering the world of e-commerce. And well done; it's wise of you to start researching before you begin shipping.
At first glance, shipping products may seem simple—box it and pay a company to send it out—but there's a lot to consider.
Things can and will go wrong but keeping customers happy doesn't have to cost your e-commerce business an arm and a leg.
Whether you're selling on your own site, Amazon, eBay, Etsy, halfway across the country, or to another country entirely, we've got some valuable advice.
In this article, we'll go through 20 of the most helpful shipping tips for small businesses, plus some extra tips on shipping to far-off lands and using different e-commerce platforms.
Amazing Shipping Hacks for Small Businesses
These 20 hacks will save you from some of the common pitfalls small businesses fall into when they start in e-commerce.
We put them in order of what you should know first.

1. Understanding Shipping Rates and Costs
Shipping rates should never be an unpleasant surprise, and developing an understanding of how they work is always the first thing a small business should do when it starts taking online orders.
At a glance, your package's size, dimensions, and weight are the three biggest factors. Typically, whichever of the three a carrier can charge you more for will be the price.
And then there is distance and delivery time which will also impact shipping costs.
The further the distance between the origin and destination, the pricier the delivery will get, and faster delivery options will cost more than slower delivery options.
2. Be an Expert on All the Shipping Regulations Related to Your Business
You should be able to recite shipping regulations related to your small business backward. Just like shipping costs, you should never be caught off-guard.
This is crucial if you sell products that might not be legal in different states or territories outside the US.
Check on a federal, state, and local level what regulations you need to follow, and if you're unsure, reach out to a lawyer. Good places to start include:
Once you understand the regulations you must comply with, teach your employees, so there's no risk of your business not being compliant.
3. Know When and Where to Pay Sales Tax
Sales tax can be a slippery snake that can be hard to grasp.
Most states have different sales taxes, and on a local level, there may be further sale tax to pay. Plus, there are some states with no sales tax at all.
However, it's also important to note that in most states, you don't have to pay sales tax until you make over 200 sales or generate over $100,000 in revenue from that state.
So, it might not be something small businesses need to consider now, but as you expand, you must ensure you're compliant.
You can use tools like sales tax calculators to better understand the potential tax you'd have to pay in different states.
4. Scope Out Your Competitors
You absolutely want to outdo your competitors in every way possible, including when it comes to shipping. 
Get a delivery from them, see how much they cost and how they handle it all, and learn from what they're doing right and wrong.
Ask yourself the following questions: 
What carrier did they use?

How long did it take?

What's their packaging like?

What was the online experience like?

Is their process more efficient than yours?

Are they providing something you're not?
5. Choose the Right Shipping Carrier(s) For You
To the untrained eye, shipping carriers may seem all the same, but that's far from the truth. You need to research what they include and don't include and check reviews.
It's essential because if customers have a bad experience with your carrier, it'll reflect poorly on you.
Aside from checking their shipping options, you can also give them a ring to see how accommodating their customer service is, just as you might if you were testing your competitors.
You'll also want to ensure this carrier reaches industry standards and what extra features they offer that may be useful to you. For example, you should be able to track your packages (more on that in a bit).
Digging a little deeper, be sure there are no hidden fees. Ideally, shipping costs should impact the product's price as little as possible.
It's also worth considering how far they can ship. How far they can take your package limits how far you can deliver and how many potential customers you can reach.
In the end, you may use various carriers for different purposes and types of deliveries.
According to data from Statista, the following shipping providers have the largest share of online stores in the US.
USPS, 54%.

UPS, 47.7%.

Self-collection/click & collect, 42%.

FedEx, 37.3%.

DHL, 5.7%.
6. Be Transparent About Shipping Costs
Whatever you do, don't leave shipping costs until the very end when the customer is about to check out and pay.
According to Bolt, an extraordinary 75.7% of online shopping carts are abandoned, and hidden shipping fees are often cited as a primary reason.
People want the price they see for a product to be the total price—shipping included. To them, it feels dishonest to mention additional fees, like shipping, as they reach the checkout. 
The best way to avoid this conundrum is to factor in shipping costs to the product's price. You can then market this as 'free shipping.'
Free shipping is appealing to consumers and tells them they don't have to worry about astronomical shipping costs at the end of the checkout process.
If, for whatever reason, you can't do this, then at the very least, clearly explain shipping costs on your site and put them on product listings.
7. Keep Your Operations Tightly Managed With Software
As you start handling online orders, you'll see that there's a lot to watch over—costs, order tracking, customer communication, and the list goes on.
Before you know it, your orders are being processed over several different programs, which isn't always practical. It can make it harder to monitor deliveries and can increase errors.
What you'll need to handle these orders is called 'e-commerce order management software,' and Sellercloud's Shipbridge is a top example.
Sellers can import orders from platforms like Amazon and eBay to Shipbridge, which can then be sent to carriers like UPS and FedEx and shipped to customers.
Users handling multiple businesses and accounts can also greatly benefit from being able to handle it all from one interface and set rules for how orders are completed for those entities.
As a small business, such software might seem pricey, but as you scale upwards and outwards, it'll make handling your e-commerce company enormously easier.
8. Use Consolidated Shipping Whenever Possible
Got several packages going to the same receiver? Don't send multiple separate packages when you can package them together and save precious time and money.
'Consolidated shipping' is where you do just that—bundle several packages into one larger package. It reduces the amount of work required by the carrier and saves them space.
Consolidated shipping can, at times half the price of your shipping and is one of the most cost-effective shipping methods. It can also reduce the chance of items disappearing.
Consider looking at different consolidated shipping options from your carrier partners. Sellercloud, for example, can always offer the cheapest rates based on ZIP code ranges.
9. Consider Fulfillment Services Like FBA
If you've gotten this far down the list and this is all feeling way too much, you might want to use a service like FBA (Fulfilled By Amazon) or WFS (Walmart Fulfillment Services).
They handle storage, delivery, customer service, and even returns. FBA is particularly popular, with approximately 73% of US Amazon sellers using it, according to Statista.
But it's not just Amazon sellers that use FBA; many merchants that sell on other channels use FBA to fulfill orders because it saves them a great deal of time.
Note that you'll still need to ship your products to Amazon or Walmart fulfillment centers to use such services.
10. Consider Dropshipping
Dropshipping might not be an option for your business, but it's still one you should know about.
For those that don't know, sellers that use dropshipping don't actually hold the product; that remains with the product's supplier.
What happens is that the buyer makes an order with the seller, and the supplier ships it to the buyer. As a seller, your role is essentially reduced to a marketing middleman.
A report by Grand View Research suggests that roughly 1 in 4 online deliveries are completed using dropshipping, and the dropshipping market in North America is estimated to grow.
11. Have the Right Supplies Ready
A super practical step, you can't start shipping products without a quick trip to the stationary store!
You'll probably need tape, air bags, bubble wrap, poly mailers, but most importantly, the right size boxes, which means knowing the dimensions of your products.
Furthermore, you need to consider the extra space you need within your boxes to pad products safely, plus certain items may require special packaging.
It might be wise to get supplies delivered to your business, perhaps arranged every week or so, but it should reflect how many orders your company makes (you don't want shipping supplies to get expensive).
12. Take the Opportunity to Brand Your Packaging
This is your chance to get creative. Brand your packaging and add some promotional materials. Don't just send a blank box.
Use your colors, logo, imagery, and stickers but remember to keep the branding you use on your packaging consistent with the branding you use elsewhere.
You want to ensure the customer remembers where they got that package.
If you want to go the extra mile, add a personalized thank you note for the customer, which can even include promotional offers with codes if they order again.
You can also consider sustainable packaging options. For many people, this is increasingly important.
McKinsey's 2020 US consumer sentiment survey states that "60 to 70 percent of consumers said they would pay more for sustainable packaging."
If you decide to go the sustainability route, ensure it's clearly stated to the consumer, as it's not always noticeable.
13. Safely Package Your Products for Shipping
While it's important that packaging looks nice and helps with branding, its primary purpose is to protect goods in transit, and proper packaging will save you a fortune.
It's obvious—damaged goods get sent back. In the US alone, about $1 billion worth of goods is damaged during shipping every year, according to a post by Lantech.
You'll likely need to issue the customer a refund or send another product in its place, and sending products back and forth like that also costs money in shipping fees.
To prevent this, you must identify which products are more fragile and need better packaging.
It's worth paying more to protect more expensive items—sometimes simply adding a label that says 'fragile' can be a huge help.
However, packaging shouldn't be overbearing and take up too much space.
14. Stick Invoices and Other Info Inside Packaging
Invoices and other shipping info are vital to provide to customers. They break down costs so they can clearly see the price of each item if there is more than one.
You may also have customers who make many online purchases and are never sure what they are receiving. Furthermore, some customers may need an invoice if the product is for work.
Including this info on the outside of the packaging can get damaged or removed during shipping by accident.
When placed on the inside, there's no way these documents can get separated from the package, and the customer can claim to have not received them. 
And if the customer ever decides to return the product, it'll be much easier to identify the order with an invoice.
15. Print Out Barcodes Stickers
This is perhaps one of the best tips we can give you—print your own barcodes with all the info carriers need before sending them out to the buyer.
Doing this means less work for carriers so they can get the job done quicker, and you won't need to pay for them to do this for you. It's also an opportunity to add some branding.
You can also reduce carrier errors, such as products going to the wrong address or getting lost.
Of course, your small business will need a printer. You will also need additional software that you might not have at your disposal yet.
Still, keep this tip in mind.
16. Track Deliveries and Communicate With Customers
According to a survey by 4over, 96% of people track their deliveries, with 43% doing it daily. So, people like to know where their products are.
You should track every package from the moment it leaves your store or warehouse to the moment it reaches customers' homes.
If a customer ever asks, "where's my package?" Your answer should never be, "I don't know." That'll surely get them frustrated, especially if the package is late.
You should inform customers if their package is coming later than expected. Ideally, they shouldn't find out by asking you.
So, make sure you devise a strategy for dealing with late products. If you can, offer something for their trouble, a discount, or a small gift to apologize for the late delivery.
Using the right tone is also vital when customers ask for updates. Remember that the purpose is to keep the customer happy and assure them that their product is on its way.
You want to receive positive feedback from the buyer and, hopefully, for them to return (the average returning customer is worth up to x10 their initial purchase, according to OmniShop).
17. Be Prepared to Handle Returns and Refunds
Before you ship a single item, you need a solid return and refund policy. It should be clear to you, your staff, and—most importantly—your customers.
It should be crystal clear how returns and refunds are handled. If a customer complains, you should give them the same reasoning explained on the product page.
A robust policy will also help you keep scammers at bay. While on the other hand, a poorly devised returns policy can easily be manipulated by scammers.
However, don't make it a minefield for customers to return their products to you. Again, your reputation is at stake if a simple return is such a hassle.
If you have just ventured into e-commerce from a brick-and-mortar store, note that returns are typically higher in online stores.
Some sources say online returns can be as high as 20-30%. However, the return rate differs depending on the type of product.
Consumers may want to return an item for many different reasons, and it's always good to find out why and find a way to reduce that if recurring.
A great way to do this is by offering consumers the chance to exchange the product for another from your store. Converting refunds into exchanges is a great way to protect your bottom line.
You can also check out Sellercloud's Frisby, a service that can help you automate the returns process.
18. Follow Up With an Email to Ask About the Experience
Not all people write reviews online, whether they're happy or not. Though reviews can be highly influential, only around 5-10% of consumers write reviews, according to WebsiteBuilder.
Something could have gone wrong that you didn't hear about, and the customer kept it to themselves, not wanting to make a hassle out of it.
Following up with an email is an excellent idea if you are starting out in e-commerce and want to hear firsthand what customers think.
You can even ask them to fill out a survey if there are specific questions you're interested in and incentivize them with something to encourage responses.
19. Learn and Improve From Mistakes (And Successes)
As the saying goes, if you don't learn from your mistakes, you're doomed to repeat them. 
This is why it's crucial to follow the whole process from start to finish and ensure everything goes smoothly, customers are happy, and always think about how to improve.
Remember that if your business is new and small, you must be open to learning and not get frustrated by mistakes. This also means testing out new ideas here and there.
20. Incorporate Shipping Into Your Company's Growth Plan
It's easy to take shipping for granted when considering company growth. It's probably not something you'd consider at all.
As your company expands, it will need better, if not multiple, shipping solutions to handle more orders, and the workload becomes harder to organize and handle.
As mentioned before, you'll need software, or you won't be able to scale. You may also need to negotiate with carriers for better rates and find faster, cheaper ways to do things.
For shipping, this is particularly important when monitoring a high number of shipments.
Shipping Tips for Far-off Places
If you've got to send packages far off, it can get a little more complicated for small businesses. Here are a few extra tips for long-distance shipping.

Tips When Shipping Products Across Country
If you stick to many of the tips in this article, you will mostly be okay shipping goods across the US. The two most significant things to consider are the distance and state regulations.
When shipping across the country, your products may pass through many states, and as we said earlier, different states may have different rules on certain goods.
Because of this, you need to research the rules regarding those goods in those states. Avoiding or using alternative transport to leapfrog those states entirely may be wiser.
The distance your products travel is also essential to consider in two ways. Firstly, if you have perishable goods, will they survive the journey?
Secondly, your goods will be in transit for a long time, which means there's an increased risk of them being damaged, so you may want to package them more thoroughly than usual.
International Shipping Tips
International shipping can get quite complex and expensive, not just because of the distance but because of the customs regulations, applicable customs duties, taxes, and fees.
Of course, these vary dramatically depending on the country you are shipping to, so always research them beforehand.
You may also want more rigorous packaging to ensure the package survives the distance, and shipping insurance can also make international shipping more expensive.
Ultimately, if you don't properly consider the additional costs, shipping internationally could cost you more than anticipated.
Tips for Different Platforms
While most of the practical tips we've laid out above will work for you on all e-commerce sites, there are some specific tips for certain platforms.

Amazon Shipping Tips
As the most prominent e-commerce platform, it's highly likely you'll be selling on Amazon, and they offer quite a few shipping options.
The most well-known is FBA which we mentioned above (though you don't necessarily need to sell via Amazon to use FBA).
Remember, over 70% of sellers on Amazon use FBA, so it would be wise to test it out. However, Amazon also has several other shipping options, including:
Amazon Seller Central.

Shipping with Amazon.

FBA Onsite.

Seller Fulfilled Prime.
Not all these fulfillment options are available to every seller. For some of these options, Amazon will select sellers.
Additionally, some of these fulfillment options will have multiple workflow options. For example, 'Send to amazon' is a workflow of FBA that requires fewer steps.
Or, in the end, if you decide you want to carry out the shipping yourself, there's always FBM (Fulfilled By Merchant).
We wrote a comparison of FBA and FBM here, and about some of the common challenges FBA sellers run into here (plus how to avoid them).
eBay Shipping Tips
eBay has a 'venue' approach to selling products online, meaning they view themselves as little more than the place where sales take place.
That said, similar to Amazon's FBA, eBay launched 'Managed Delivery,' however, it works a little differently—instead of doing everything in-house, eBay uses local fulfillment partners.
So, if you decide to sell and ship through eBay, check out this service.
Another interesting thing all small businesses on eBay need to check out is their shipping supplies coupons which give you access to free boxes and other shipping supplies.
Using this coupon will save your business a ton of money.
Etsy Shipping Tips
Like most platforms, Etsy works with many of the big carriers. Because of this, it may be wiser to use Etsy for shipping over going directly to a carrier because Etsy has negotiated rates.
Etsy also allows you to track orders and create 'shipping profiles' so you can add shipping costs to the price of items.
On top of that, check out Etsy's 'Free Shipping Guarantee' program, which offers additional visibility to businesses that offer free shipping.