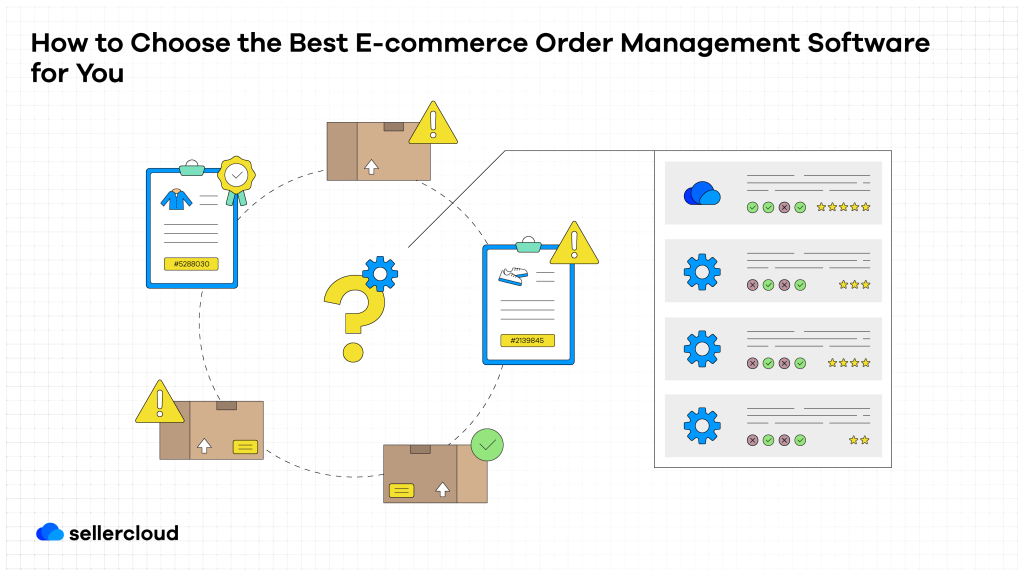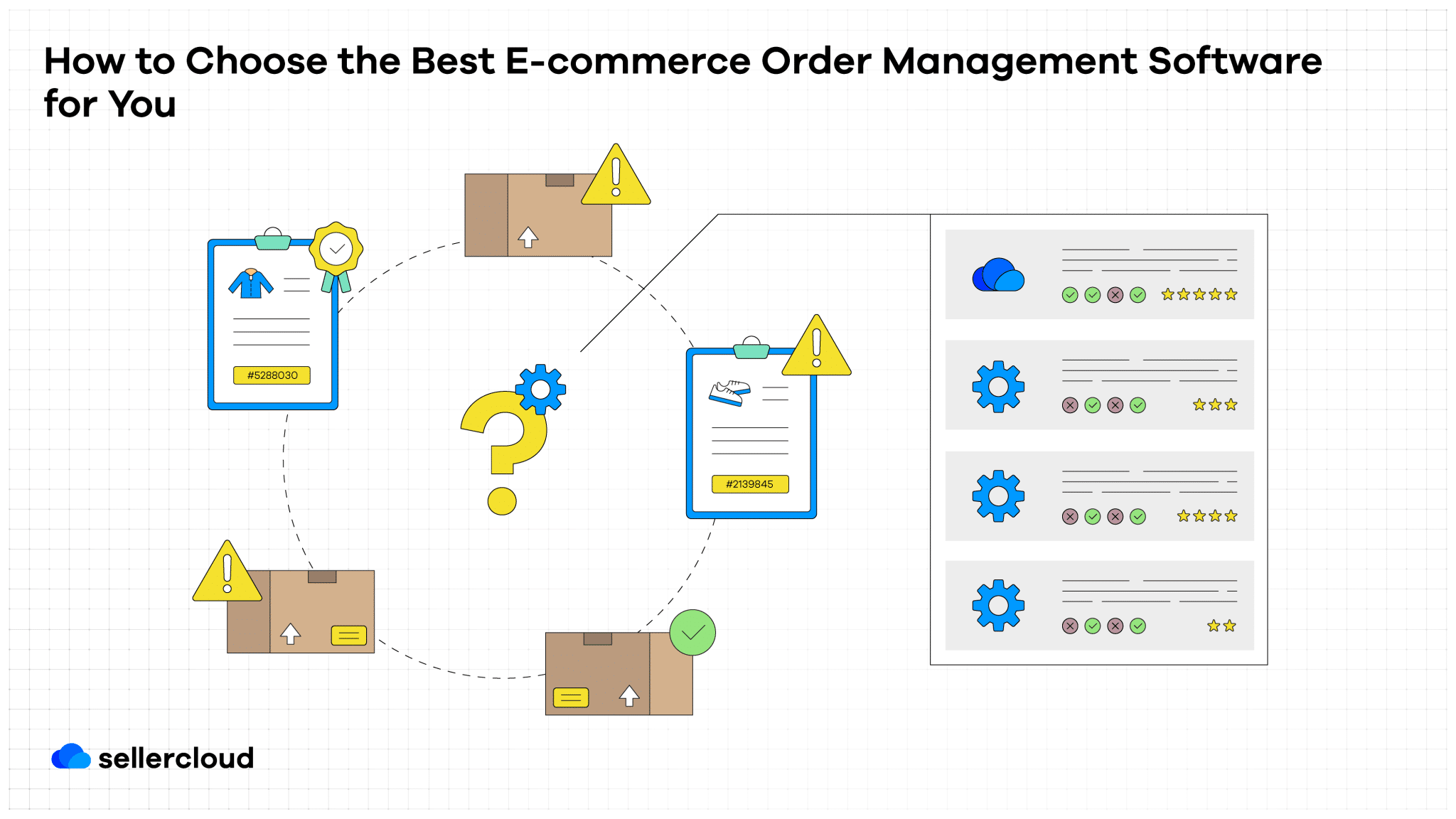 Improve e-commerce operations with order management software that meets your needs. Here's how to find the right OMS for your business.
Determining which e-commerce order management software ('OMS' or 'Order Management System') best suits your business needs can be challenging.
Without an e-commerce OMS, you must manually process orders and shipments and handle returns, which can take a lot of time, especially if your business is growing rapidly.
Choosing the wrong e-commerce OMS can cause delays, lead to expensive mistakes, and, worse of all, lose customers.
In this article, we'll explain why sellers need e-commerce order management software and how to decide which order management solution is best for their business and workflows.
Top E-commerce Order Management Software Solutions
There are several excellent choices for e-commerce order management software in 2023. However, the closer you look, the more differences you will find between them.
Some may be perfect for your business but don't include critical features and integrations. And then there will be some that are exactly what you need but cost far too much.
Let's look at some of the most popular solutions today and what makes them stand out.
ChannelAdvisor
Having been around since 2001, ChannelAdvisor is one of the most established e-commerce OMS on this list, which is great if you're looking for experience.
What's nice about ChannelAdvisor is that clients can choose a marketplace to sell on, and they forward them to people in that marketplace who can help them sell there effectively.
ChannelAdvisor is also a strong choice if sellers want to focus on catalog growth and brand growth, as ChannelAdvisor is known for its ability to publish listings on multiple channels.
However, Sellers are limited to the channels offered by ChannelAdvisor. On top of that, they do not provide a WMS (Warehouse Management System), and their order management system lacks many vital features that smaller and cheaper solutions offer.
Successful sellers can quickly grow out of ChannelAdvisor's order management capabilities and need another solution.
A big deciding factor for sellers is the comfort of knowing that they can rely on getting the support they need when they need it most.
ChannelAdvisor has a poor reputation when it comes to customer support. At the time of writing, it has a Trustpilot rating of 1.5 stars out of 5, which is considered 'Bad.'
Cost: ChannelAdvisor requires a multi-year subscription service and is not cheap. It can cost you $1,000 per month plus 1.3% to 1.7% of your revenue share or 2.3% to 2.4% revenue share if revenue is exceeded.
And then there are channel integration fees. For example, ChannelAdvisor can cost sellers $750 per month to integrate with Amazon.
Sellbrite
Sellbrite targets small to medium-sized businesses and is a good tool for listing, shipping, and inventory management, though it lacks some valuable tools.
However, Sellbrite might be the right e-commerce OMS for you if you don't need too many features. After all, what's the point of investing in features you'll never use?
Like ChannelAdvisor, Sellbrite offers great order management software until your business reaches a certain size and can no longer provide real scalability.
There are still many processes that sellers must handle alone. Furthermore, Sellbrite is not very configurable and has only a few integrations.
All in all, this might be problematic if you later decide you need more functionality. You might have to switch to another OMS, which will be time-consuming.
Cost: Sellbrite starts from $29 per month for up to 100 orders a month and to $1,718 per month for up to 100,000 orders. FBA orders will cost another static $19 per month.
Sellers can also expect to be charged an onboarding fee.
Brightpearl
Brightpearl offers an exceptional range of advanced features and integrations and is better for larger companies that need more services to scale out.
For example, you can expect advanced purchasing and forecasting from Brightpearl. They also claim to offer real-time inventory updates and approximately 200 integrations.
However, Brightpearl doesn't offer WFS (Walmart Fulfillment Services), which is becoming increasingly popular among e-commerce sellers.
On top of that, while Brightpearl has a WMS, a separate company provides it, which is problematic if they need to update or fix it.
Brightpearl also lacks round-the-clock customer support, and its order management software has some reputational damage they are trying to fix.
Cost: The cost of Brightpearl is quotation based and modular. Brightpearl claims that "you pay for what you need," though some quotes start from an enormous price of $10,000 per month.
Typically, Brightpearl will scope out a client's business and give an offer, so most likely, they'll contact the seller first, not the other way around.
Sellercloud
With more than 270 active integrations, Sellercloud has the most integrations on this list. It also offers the most features, so there is little you won't be able to do.
Whether it's serialized items, multiple warehouses, or free shipping software, Sellercloud offers limitless potential in its order management software.
Sellercloud is built for sellers with a strong focus on customization and customizable plugins. Any customization you need to help your workflow can be built quickly, in-house, at an unbeatable price.
You can also create a custom order rule engine and manage RMAs.
Sellercloud is particularly good for resellers and refurbished products because its inventory management tool lets you easily create and clone listings.
As an omnichannel solution, Sellers are also not limited to Sellercloud's channel; they can sell wherever they like.
Sellercloud is also a centralized software which makes it easier for them to find problems and fix them. It also doesn't use third parties and is privately owned and operated.
One thing to consider with Sellercloud is that it is a US company that operates primarily in North America.
This means some parts of the software are very US-focused. For example, reports are only in USD.
Cost: Sellercloud costs a minimum of $1,100 per month until the cost of orders exceeds this price.
It's also worth noting that the price per order decreases each time you pass a certain threshold of orders.
You can also opt into additional features such as Skustack WMS or Skublox, which eliminates any space for human error when sorting or fulfilling orders.
Sellercloud does not try to lock sellers into big contracts and is transparent with its pricing, which you can find out more about on the Sellercloud pricing page.
SellerActive
SellerActive is similar to Sellbrite in that it is quite a simple service that provides few features and 22 integrations.
It works well for small and medium-sized businesses, but again, as you reach a certain size, it might not be enough to satisfy all your e-commerce needs.
In many ways, SellerActive is closer to an application, not software. It's not too configurable, and sellers will lack crucial features like dropshipping, RMA, and accounting.
It's also worth noting that some of the services offered by SellerActive are provided by third parties, such as WMS and shipping.
Again, you may regret not having some useful features later, so you must clearly understand what you need.
SellerActive doesn't have too many Trustpilot reviews, but the ones it does have don't paint a pretty picture. At the time of writing, it has an average of 2.8 stars out of 5.
Cost: Sellers can pay a one-time fee of $500 for a 30-day implementation or a $1,250 one-time fee for a 90-day implementation. Sellers must pay to be onboarded.
SkuVault
SkuVault is another great e-commerce order management software with partnerships with Sellbrite, SellerActive, ChannelAdvisor, and around 52 integrations.
However, SkuVault is heavily reliant on third-party tools and services. These include repricer, MCF (multi-channel fulfillment), POS, shipping, and order and business rules.
This could be problematic because it's not centralized, and relationships with partners or their technology could change, which can cause integration issues.
Cost: SkuVault offers different pricing tiers, starting from $329 per month to over $1,150 per month. There are also costs for additional users from $80 to $130 per month.
Sellers also must pay to be onboarded with SkuVault.
Why Online Sellers Need E-commerce Order Management Software
Here are some top reasons sellers should use e-commerce order management software.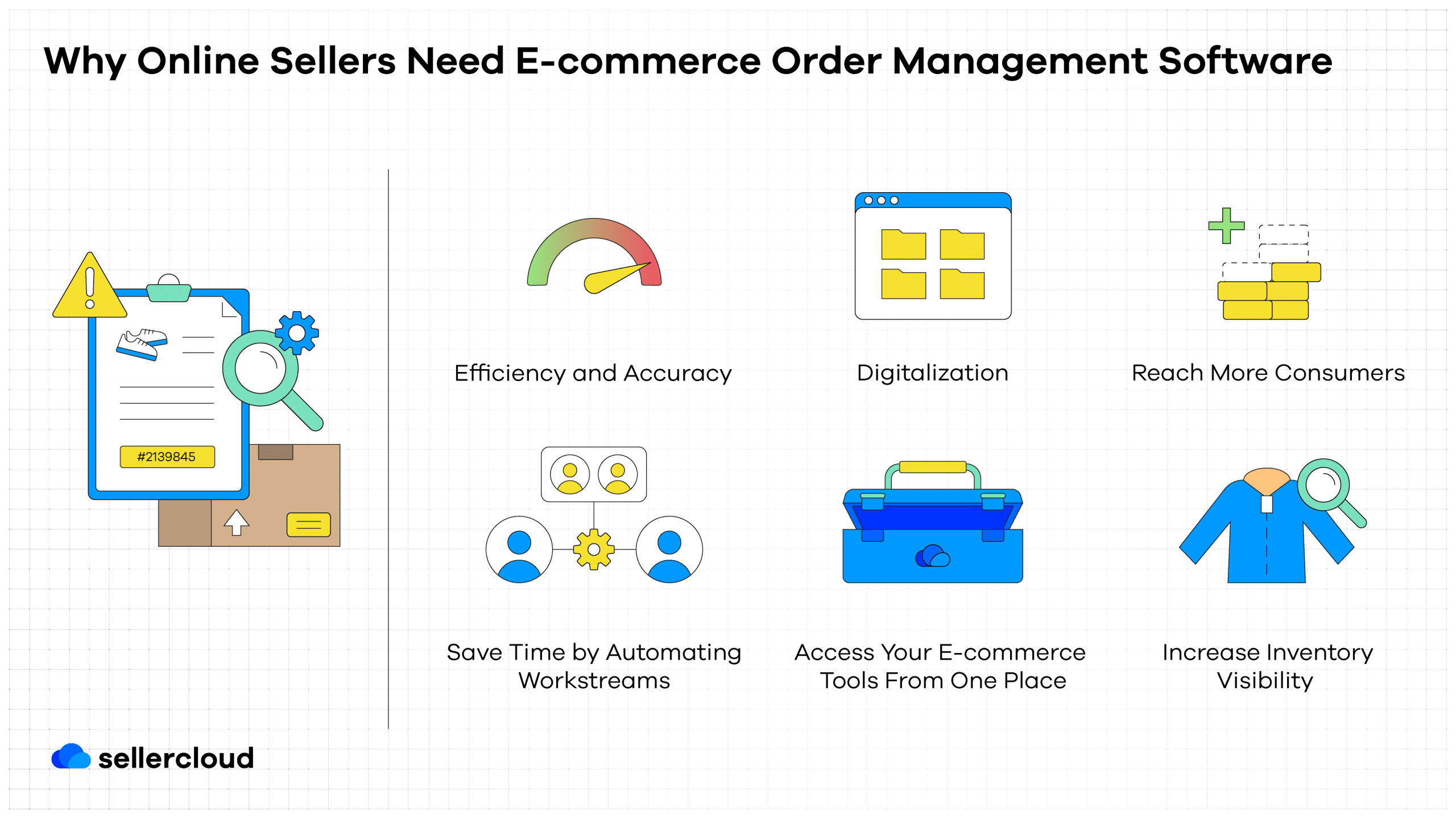 Efficiency and Accuracy
Efficiency and accuracy are the top reasons sellers should use e-commerce order management software.
If you're selling products online without an e-commerce OMS, managing all the processes involved can get more complicated as your company grows.
Sellers must make changes manually, increasing the chance of errors, especially when selling on multiple channels.
Just dealing with simple things like changing stock information or product descriptions can become a major hassle if you do it across multiple channels instead of once.
Or imagine you've reached the point where you're now handling thousands of orders a day. How do you manage to keep up with all the orders?
Or, to make things even more complicated, how on earth do you manage the reports without it becoming a major chore?
Could you be operating at a loss? If you get too big, it's hard to keep track.
As a result of improving accuracy and efficiency, your operational cost may decrease as fewer errors occur.
Digitalization
Digitalizing your business is vital to avoid falling behind your competitors. If your competitors are taking advantage of e-commerce order management software and you're not, you risk them surpassing you.
They're becoming faster, more efficient, and saving time to work on other things that will help their business grow. Meanwhile, you'll be struggling with the same old problems.
Reach More Consumers
E-commerce order management software can connect you with many new channels through APIs (Application Programming Interface) and EDI (Electronic Data Interchange).
The reason is pretty simple—the more channels you're on, the more consumers you can reach. Naturally, sellers want to sell everywhere their customers shop. 
Save Time by Automating Workstreams
Automating e-commerce processes can save sellers time and reduce human error. However, what you can automate depends on the software you use.
Sellers can also speed up order fulfillment processes that don't depend on them to be completed.
With more time, you can focus on other vital areas to grow your business, but that doesn't mean you shouldn't keep an eye on it!
Access Your E-commerce Tools From One Place
Minimize the need to have several tools or dashboards open at once. With increased visibility on the e-commerce process, you'll be better able to analyze your sales data.
Again, though, it depends on the features of the software.
With better insights, you can find areas to improve and potentially reduce costs and make better decisions for your business based on accurate data.
Increase Inventory Visibility 
Locating products in your inventory will be much easier. Find them in your warehouse, in transit, and all the places in between.
Better visibility will help you solve problems faster and give accurate information to consumers.
On top of that, sellers will be better informed if they need to purchase more products to keep up with demand—or, the opposite, cut down on inventory if demand is lacking.
How to Choose the Best E-commerce Order Management Software for You
Deciding which e-commerce order management software you should use isn't a decision you should make lightly.
As we've repeated a few times already, you've got to know what you need and ensure those needs are met by getting the right features, not ones you won't need.
Make sure you check the reviews on platforms like Trustpilot. You should be aware that there are sometimes fake reviews online, both positive and negative, so be careful who you trust.
You may want to research the reviewers—have they only ever left one review? Do they seem to be suspiciously promoting another software?

On top of that, it's always a good idea to look at customer testimonials to make sure you see what the subscribers themselves have to say.
There's also the possibility that their complaints are unrelated to the software. Sometimes they're just not using it correctly.
However, many will also comment on pricing and support, which are both critical.
The price should be worth the features and time you get back from integrating it into your e-commerce business.
You should understand your budget and potential earnings well enough to know if using e-commerce order management software is right for you.
Elsewhere, poor support can be costly to your business.
Imagine your order management software crashes, and you can't solve the problem because you can't reach support.
Poor support could mean your business is out of action for days in some cases, or even worse, the problem is never solved, and you decide to go with another service.
Lastly, it should be easy to use. You shouldn't have to be a hacker to get your head around it. Features should be easy to find, easily adjustable, and well-explained.
The size of your company is also essential when deciding which e-commerce OMS to use.
If you're a small business that only sells on Amazon, a large e-commerce OMS with various features might be a bit too much for you, though it does leave room for later growth.
Typically, you won't need something sophisticated if you're only looking for a listing tool. However, if you want inventory management features, look for something more complex.