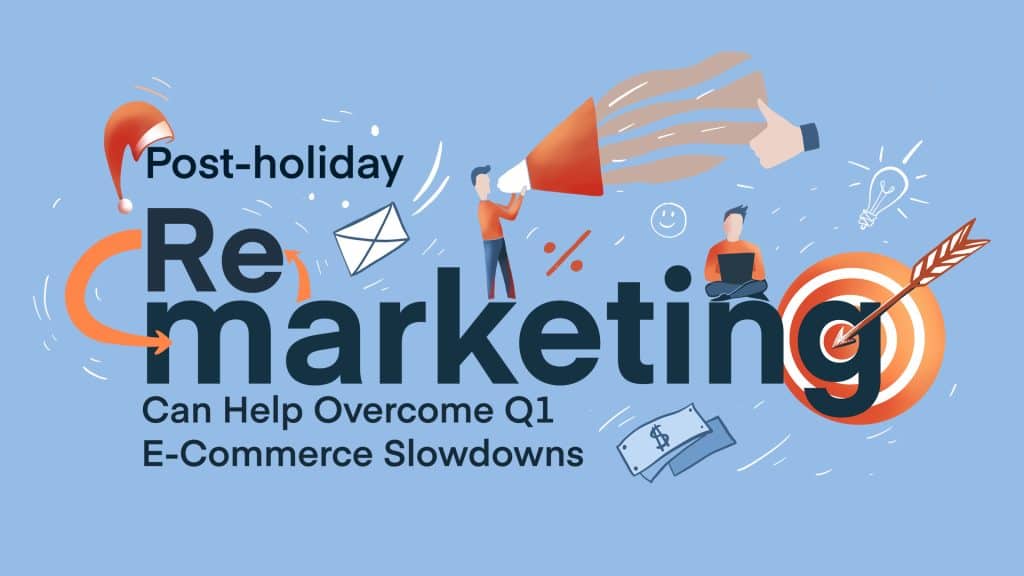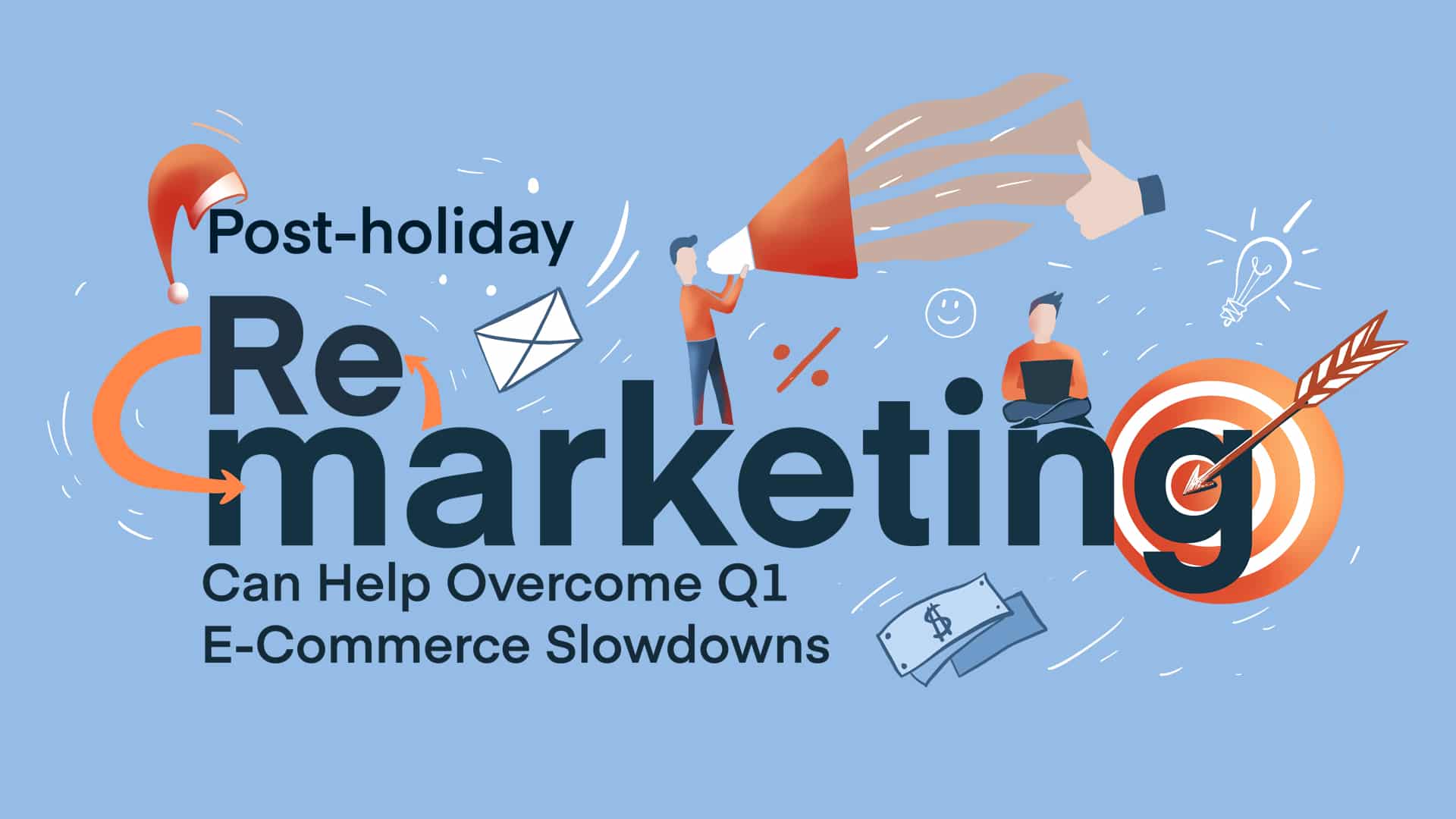 The holidays are a prime opportunity to grow your first-party e-commerce sales, but they are often followed by a sales dip in Q1. You can reverse this annual trend and build on your holiday success with an effective remarketing strategy.
This year, one way you can optimize your e-commerce growth in Q1 is by targeting your marketing toward customers at specific points farther down in the sales funnel. Some of the most profitable customers to market to are those that have already purchased from you in the past. These repeat customers are the first you need to be focusing on with your post-holiday marketing efforts.
You should especially be identifying and connecting with customers that made their first purchases from you during the holiday season. Whether it was for themselves or a gift for someone else, these customers found what they were looking for from your e-commerce business. With the right approach, you can turn these one-off sales conversions into long-term customers. This is the essence of remarketing.
Remarketing is one of the most successful types of marketing an e-commerce brand can take advantage of. Since the target audience that you are investing in targeted ad buys and marketing campaigns for is one that you have already been able to convert, you are more likely to do so again – particularly compared to shoppers near the top of the sales funnel.
Retargeting vs. Remarketing 
While these two terms are often used interchangeably, there is an important distinction between retargeted advertising and remarketing. Not only that, since many of the most popular e-commerce advertising services also vary in how they distinguish between the terms, understanding the differences for yourself is key to making sure that you are actually crafting the most profitable marketing campaigns you can.
Retargeted advertisements are aimed at potential customers who either have visited your site, seen your listings, used your app, abandoned a shopping cart, encountered your brand on social media, and/or been exposed to your ads in the past. These are leads near the top stages of the sales funnel that have yet to convert into completed sales.
Because of the prerequisite that ad viewers are presumed to have seen and/or engaged with your brand or products in some way, retargeting is one of the most efficient ways to move potential customers from the awareness and interest stages of the buying journey to deeper stages of evaluation and engagement. With retargeted advertising campaigns, you are able to create more sophisticated marketing efforts that are less about defining your brand and merchandise and more about fostering an intent to purchase.
Ultimately, success with retargeted advertising can be hit or miss depending upon the net you cast. For example, retargeting prospective customers who have abandoned carts is likely going to produce higher clickthrough and engagement than retargeting people who have simply seen your brand without interacting at all. Simply put, the farther down the sales funnel the target, the better the conversion odds and the more bang for your advertising buck.
Remarketing is retargeted advertising taken to the next level. Instead of focusing on prospective customers, you are focusing on actual former customers. These leads have already trusted your brand and have been drawn to your products enough to convert. All the improved click-through-rate (CTR), cost effectiveness, and conversion rate benefits of retargeting campaigns are amplified when you focus on your existing customer base.
What's more, remarketing campaigns can be more personalized and selective than general retargeting. One of the big reasons why is that by completing a purchase, customers have given you access to additional layers of first-party data including contact information, demographics, and behaviors. This data gives you the ability to initiate more direct marketing efforts via email, SMS, and even physical mail rather than relying on marketplace, search engine, and social media advertising platforms. This also allows you to be deliberate and granular with who receives certain versions of your marketing materials and promotions.
Coming off of one of the most successful holiday seasons the e-commerce industry has ever seen, remarketing can be your key to keeping the ball rolling into Q1 2022.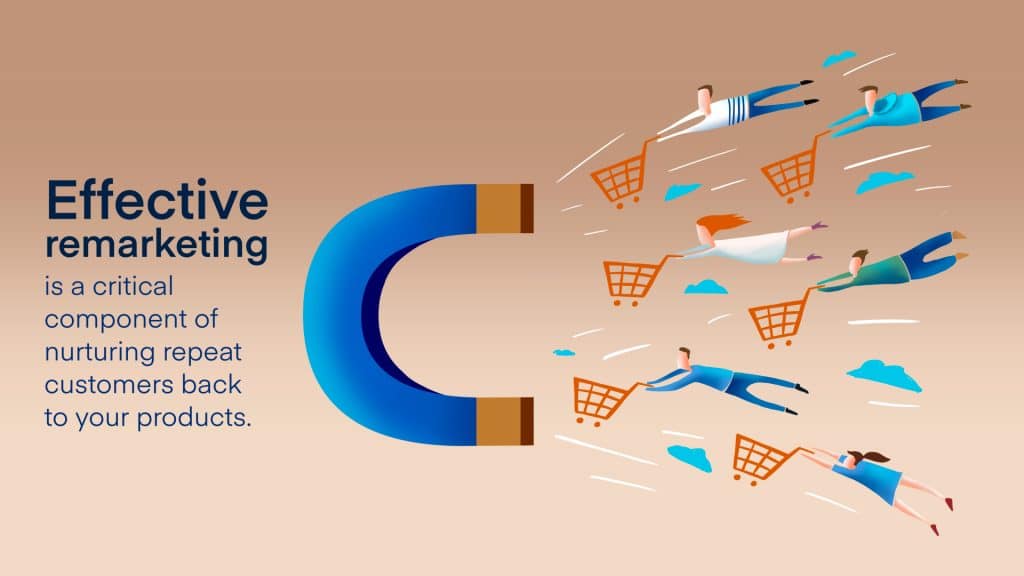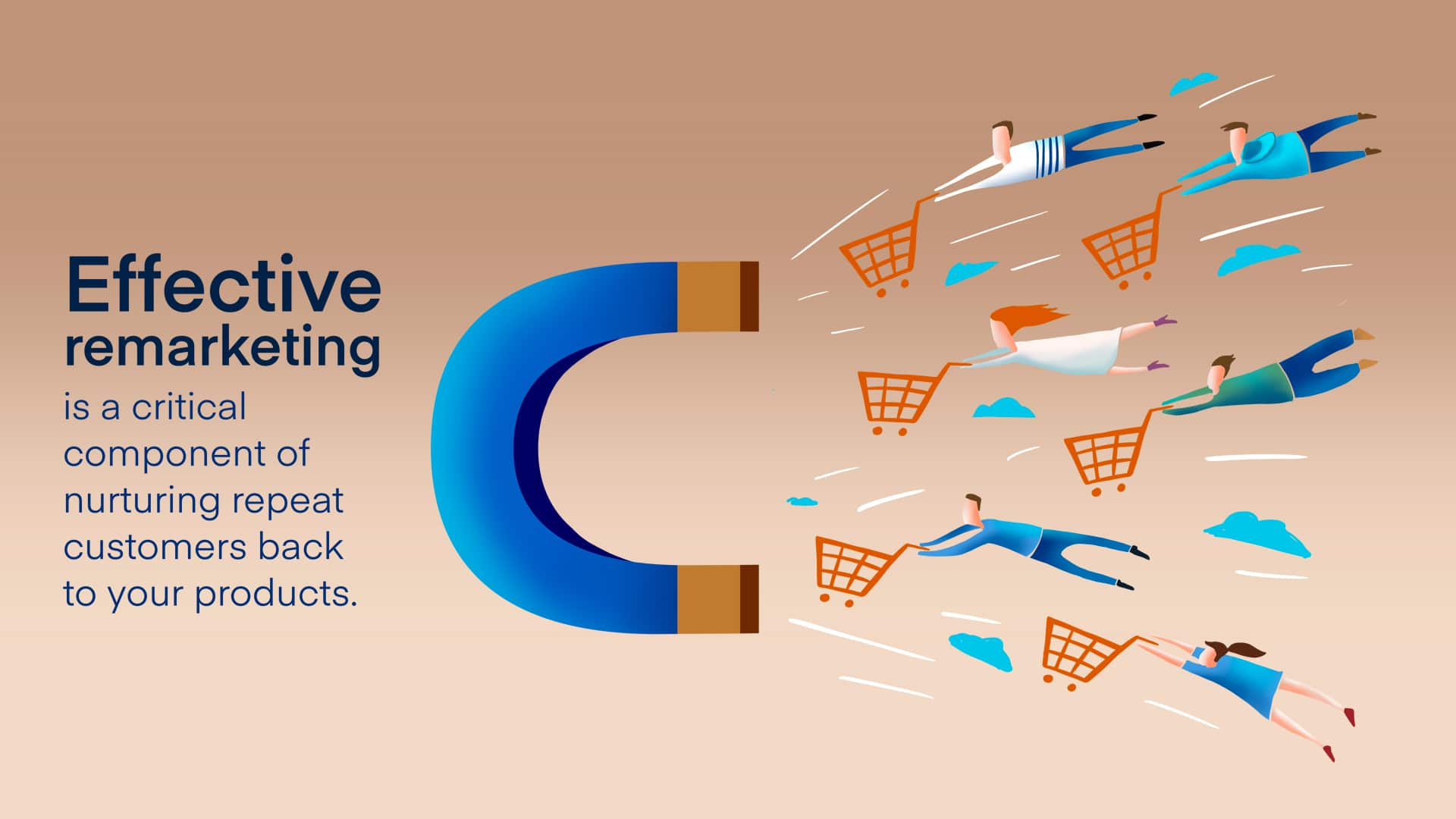 Tips for Executing a Successful Q1 Remarketing Campaign
The most important thing to know about effective remarketing is that there is no one-size-fits-all approach. The more data-driven and thoughtful your planning, the more success you are likely to have. That said, there are some crucial considerations you need to keep in mind:
Get specific with your targeting. Remarketing is already focusing on a very specific subset of leads: customers who have completed a purchase. While targeting this group en masse is likely to produce better CTR and conversions than more generic efforts, it still isn't the most optimized approach. Digging deeper into your metrics and data will allow you to achieve better odds of success.

Look for additional trends like SKUs that sell particularly well to certain ages, genders, regions, or other demographic classifications. Identify digital behaviors like browsing patterns, landing pages, and time spent on-site and how they correlate to purchasing behaviors. These specifics are useful in determining a customer's intentions and likelihood of repeat business. Designing offers, promotions, and content tailored to narrow sectors of your customer base shows customers that your brand is paying attention to both who they are and what they want.
Cross-sell and Upsell. Remarketing should be considerate of customer's prior purchases. Notice popular product pairings and use them to initiate cross-selling suggestions and promotions to former customers. Giving a product or set of products as a promotional call-to-action is a more specific and deliberate form of marketing that could lead to higher odds of conversion.

Furthermore, even if items were purchased in Q4 as gifts by holiday secondary audiences, suggesting compatible products could plant the seed for future gift-giving occasions and/or spark enough interest for a gift-giver to purchase a little something for themself.
Create and choose purposeful landing pages for remarketing contacts. Rather than just steering customers to a homepage or a listing, you can (and should) create landing pages tailored to the promotions and customer appreciation that you are trying to foster. This can create the impression that being a former customer comes with perks not readily available or accessible to the general public.
Be timely. The longer you wait between a purchase and a remarketing followup, the more likely your efforts will be ignored. In most cases, the sweet spot for a remarketing followup is under 30 days from the last purchase. Wait longer, and you diminish the return on investment and increase metrics like cost-per-click and cost-per-conversion.
Set limits. Not everyone who has purchased from you will do it again. You need to recognize when it is time to cut bait and let a customer go. For example, consider excluding former customers from your remarketing efforts who do not respond or interact after 90 days. You can consider reaching out again next holiday season or as a part of larger, more general retargeting efforts, but there are definitely one-and-done shoppers who you will never re-engage – no matter how hard you try or how much you spend.
Return business is one of the brass rings of e-commerce. It can fuel your brand to scale quarter-over-quarter and year-over-year. Effective remarketing is a critical component of nurturing repeat customers back to your products and stoking the type of loyalty that increases your bottom line.
The Sellercloud omnichannel growth platform and family of products are here for you year-round to help ensure that you can deliver optimal e-commerce experiences for your customers – both new and old. Contact us directly for a free demo and see how our catalog, fulfillment, warehousing, and tracking tools make it simple to scale your business across first- and third-party platforms.